Pabllo Vittar, a Brazilian drag queen and pop star, is, of course, an icon. Vittar's road to fame within the performance art and music worlds seemed to happen overnight, but they've been building their profile for years behind-the-scenes. It's easy to get confused about just where Vittar came from, because when they emerged in their first Brazilian television appearance in 2014, it was to sing Whitney Houston's "I Have Nothing," and Vittar's impressive stage presence and vocal ability was already fully formed.
Vittar's talents as a multifaceted performer ultimately led them to viral success. (Catch this recent televised performance of "Halo" by Beyoncé, one of their favorite artists, and tell me you don't see a star at work). When they made "Open Bar," a Portuguese-language flip on "Lean On," the ubiquitous Major Lazer hit with Danish pop auteur MØ, it caught the attention of Major Lazer's founding producer, Diplo. Vittar collaborated with Major Lazer again on different songs and videos, including "Sua Cara" with fellow Brazilian pop star Anitta, and shared a sensual kiss with Diplo in the video for "Então Vai," — more on that in a moment. Both videos, it is definitely worth noting, including the one for breakout single "K.O." have collective views in the billions.
The latter singles are from Vittar's debut album Vai Passar Mal, a Portuguese-language album with club bangers that double as self-penned empowerment anthems. In Vittar's highly visible art and persona, and even in pronoun usage — Vittar has no particular preference for being addressed as either "he," "she," or "they" — there is always the presence of fluidity in gender expression and identity. It's always an homage to "the feminine gays," who Vittar says they make music for.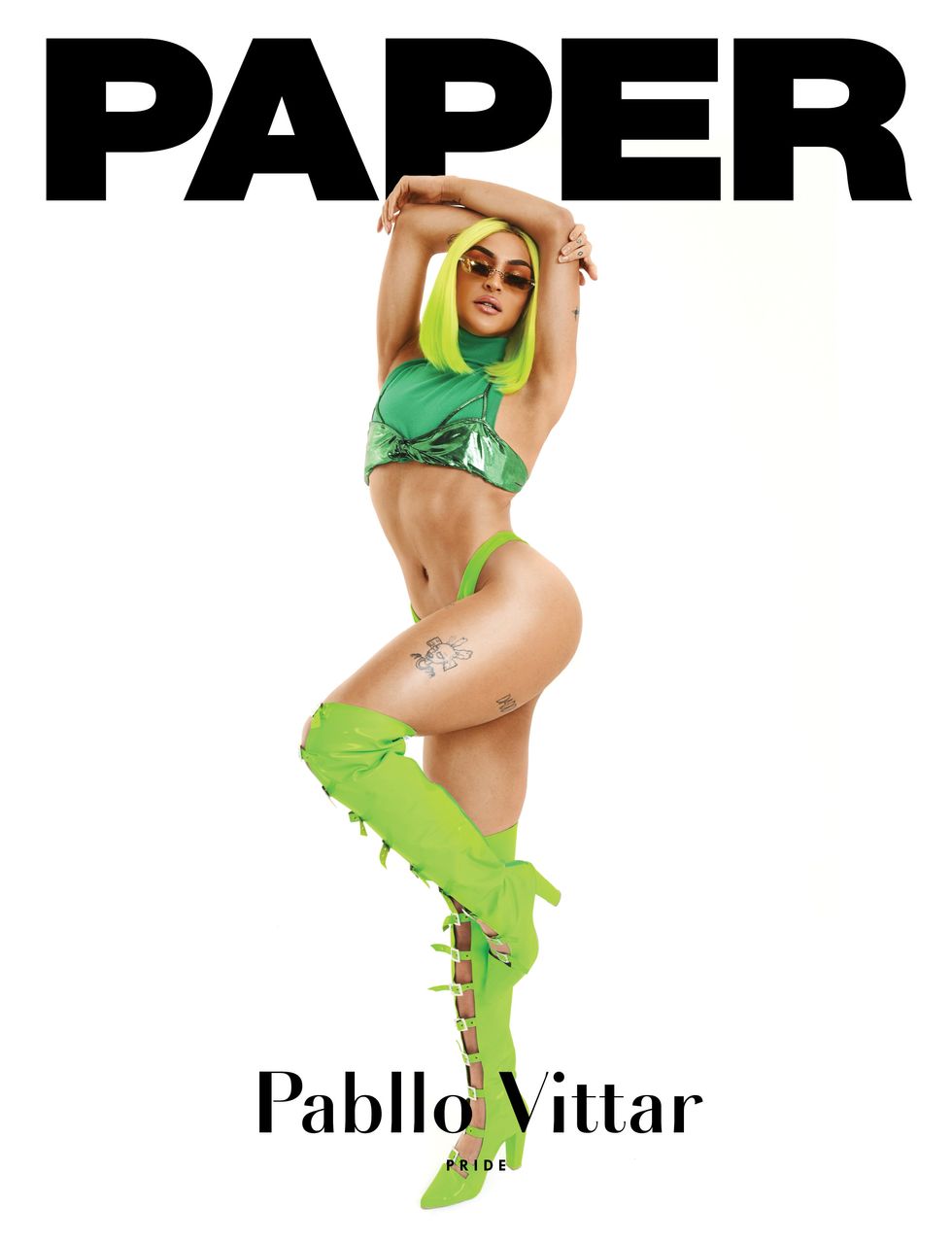 Sunglasses by Pabllo Vittar for Chilie Beans, Turtleneck by Frou Frou, Top & Panties by Amir Slama, Boots by Fernando Pires
There seems to be, in Vittar's work, something for everyone. Furthermore, in a fraught political climate, where LGBTQ communities worldwide still face persecution — including in Vittar's native Brazil, a country that currently has one of the world's highest murder rates of trans women — Vittar's mere existence is revolutionary. So it is easy to see why Vittar has fast become one of the world's most emblematic queer figures.
Related | SOPHIE's Whole New World
The inclusive nature of Vittar's work eventually drew the attention of Charli XCX, the British artist and hitmaker. Charli's release of last year's worldly, futuristic pop opus Pop 2 gained immediate popularity within LGBTQ circles. The fact that it was stacked with collaborations ranging from SOPHIE and Kim Petras to Cupcakke and Vittar only further cemented Charli's own status as a powerful ally. Vittar sings on one of Pop 2's standouts, "I Got It," featuring the aforementioned Cupcakke and rapper-singer Brooke Candy. And of course, as only Vittar can, they sing about their special kind of magic — in Portuguese, of course — her verse roughly translating to lines such as: "I control anyone with my witchcraft... Enchant, addictive... I get what I want if I grind it like this/ There's no one here like me."
Indeed! Read on, as friends Vittar and Charli, an unabashed Pablo Vittar fangirl, chat about everything: from what it means to be an influential LGBTQ icon, dream diva collaborations, nights out in Brazil, Vittar's crush on Diplo, and more.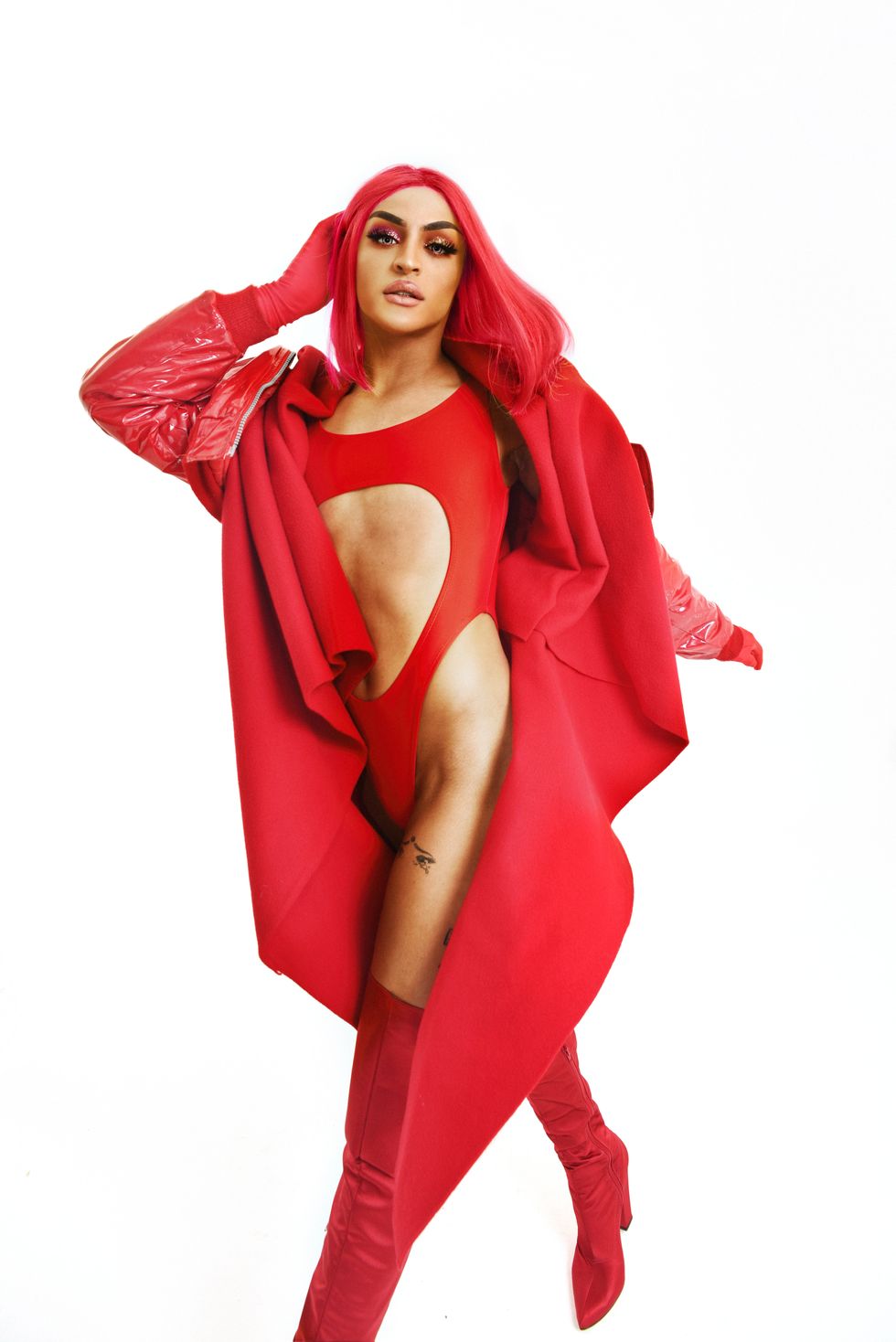 Swimsuit by Nephew, Coat by Das Haus, Boots by Victor VIcenzza
Charli XCX: When I went to Brazil to play this festival and meet and greet with my fans, I asked them, "Who is the best artist in Brazil right now?" They all said Pabllo Vittar and started sharing with me your music videos and were like, "You have to check out Pabllo, she's the best person in Brazilian music and represents the Brazilian LGBTQ community." You are such an important figure in the LGBTQ community, how does it feel to represent your community on such a huge level?

Pabllo Vittar: I feel very happy about it because it's great to represent my community in such a huge way, and we live in the hardest time ever, and to be able to represent this community gives strength not just for my fans, but also for myself, to keep on doing the work we do, which is very important. Doing this portrays such an important message to kids and teenagers who have been suffering and bullied like I did when I was that age.
I see Brazil as being such a vibrant place, but I know that there still is a lot of prejudice against that community. What was it like growing up as a member of the LGBTQ community in Brazil? Was it hard?
It was very hard in the beginning. I always dreamed of being able to perform, being on a stage, singing, acting, and making art, but at the same time I didn't have much hope because of all the bullying I had been through. People at school would say that I would never be anyone, and for a long time in my life, I believed that, but when you have your parents, your family and friends supporting you, everything is easier. I feel blessed for having such good people around me.
Related | Big Freedia Is Taking Over
Does performing makes you feel free?
Totally. It's what makes me feel the most free. If I couldn't do drag, sing or do what i do, I would feel really sad. I would feel like a bird out of the nest.
I hear that. So, what is your favorite Beyoncé song of all time?
[Screams] I'm really into the new Everything Is Love album by her and Jay-Z, but the song I will always love and perform is "Crazy In Love."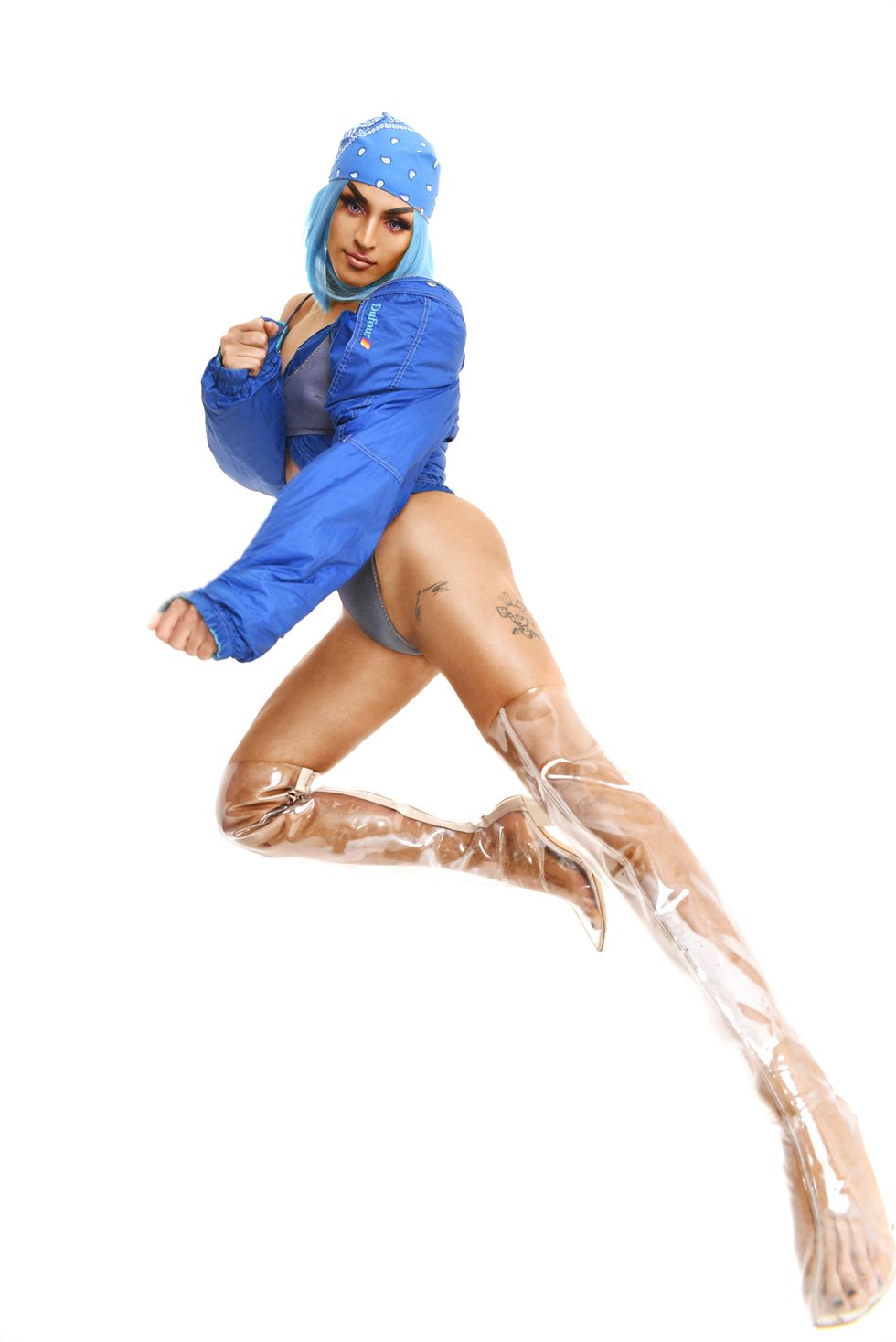 Scarf by B.Luxo, Jacket by Capricho Atoa, Bikini by Sub, Boots by Victor Vicenzza
You and I have done a song together ["I Got It" from Pop 2], and I'm so happy that we got to work together with Brooke Candy and Cupcakke. I feel like we created a song that, whenever I play it live people just go fucking crazy. Do you ever think we will be able to perform this song together? I would love to perform with you and I would love to perform in Brazil because I hear that Brazilian fans are the best in the world.

OMG I really want that. Every time I am with my friends, we like to listen to that song. And they always ask me, "Oh, when are you going to perform that live with the girls," and I always say that I hope we can do that really soon.
Related | Paris Hilton Interviews Kim Petras
Your outfits are always on point. I love your Instagram, I feel like you're always dressing up. You're always in colors and have your hair and makeup done. Do your hair and makeup show your mood? Or are you always the same person, and you just want to experiment on top of that?
Every time I do drag I feel totally different. Drag is that. Every time you do drag you can be a different person. For example, today, I have pink hair, looking very Kylie Jenner. But every time I do drag, I try to be my best, and to make everybody happy.
How many wigs do you own?
Counting on the one you will give me when we see each other, I will have 25.
Wow, I only have two, so I'm impressed. OK, so this is a question that I have been dying to ask you: what's it like making out with Diplo?
I know you must have some friends who must have been there and done that, but from my point of view, Diplo's mouth and mine were meant to be together. His lips are sweet and soft, it felt like eating Jambo, which is a very sweet and delicious fruit from Brazil. I don't have words.
Related | WTF Is Jambo?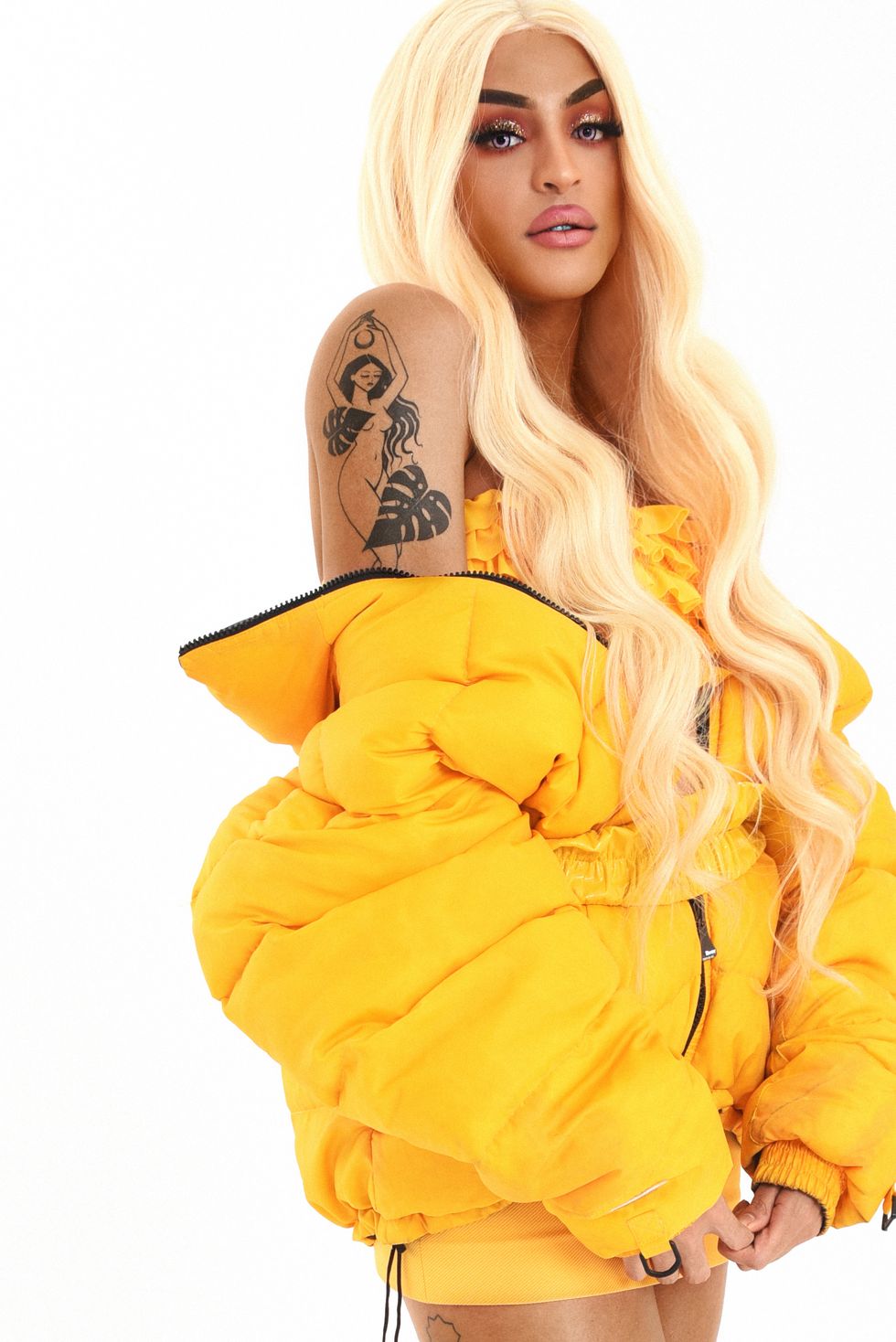 Top by Adriana Degreas, Jacket by Casa Juisi, Skirt by Frou Frou, Belt by Minha Avó Tinha
How was it working with Anitta and Diplo in "Sua Cara"?
I love Anitta and Diplo a lot. When I started I always wanted to collab with Anitta. And I have always been a Major Lazer fan, that's no secret. I've loved him since I started making music, so when I had the opportunity to work with Anitta for Major Lazer's album, it was like fulfilling two dreams at once. It was amazing. It was so hot there, but I would go through all that warm weather and I would eat all that sand again just to be close to Diplo and working with Anitta once again.
Every time I meet him, he talks about how hot you are. I think he has a crush on you.
Diplo! Come to me, my darling. I think he has a crush on me, and I also have a crush on him. I was just in LA recording my new album, but he wasn't there. That was sad. But to breathe the same air as my "daddy" was really good.
Related | Olly Alexander Is Done Being Repressed
How is the new album going by the way?
Vai Passar Mal [my last album] is a very good album, but it's time for the following one to come. And I am very happy because people will hear all the same Brazilian music influence, from the north and northeast of Brazil. On this new album, there will be Latin and international pop music influences, and I am very happy with the people that are featuring on it — people who are growing and that I was already friends with. And I am very excited to release the next single. I am about to make the video for the next single and I am happy about that.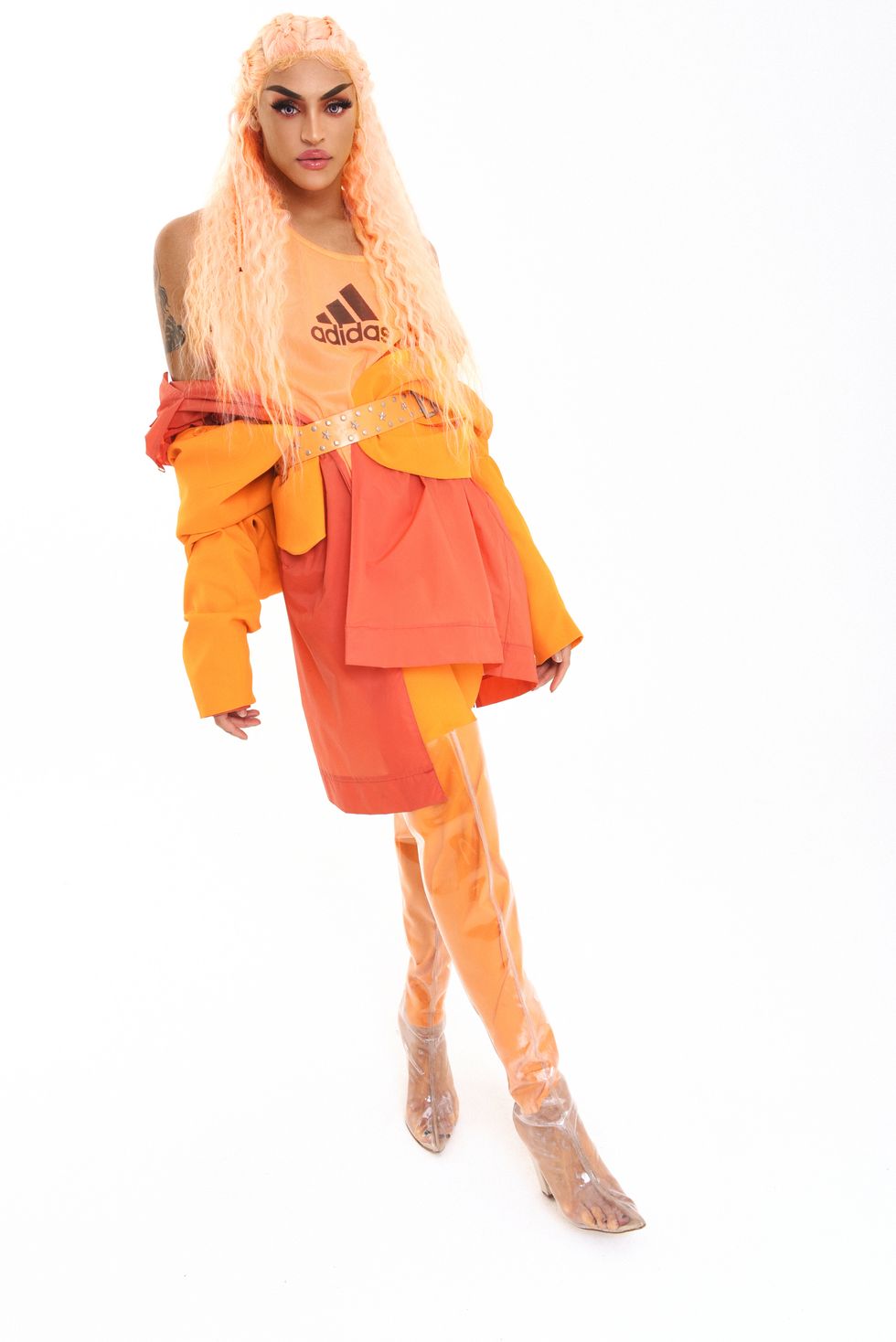 T-Shirt by Adidas, Parka, Suit & Belt by Minha Avó Tinha, Boots by Victor Vicenzza
What's the most inspiring thing in Brazil for you?
The LGBTQ+ community. The feminine gays. I make music for them. They are a wonderful part of the community... and not only the feminine gays, but the community as a whole, and we are a very strong community. That makes me feel happy about being born in Brazil. If I could have chosen where I was born, I would have wanted to be born here anyway, because the LGBTQ+ people here in Brazil are very strong. I don't mean that the community is not strong in other places, but here we have a job to do — to unite as people.
If you could work with any diva, past or present. who would it be? What is your dream collaboration?
I would love to collaborate with Demi Lovato. I love her. Also Beyoncé and Rihanna who have amazing vocal range. I think mostly Beyoncé and Rihanna.
Related | Kehlani: the Softer Side of Savage
Oh, I love that! That's like the best girl group ever. I want to know what is the ultimate night out with Pabllo Vittar is: Where are we going? What're we drinking? Are we dancing?
Can I say it all? [laughs] My party night out is to get together with my friends, to listen to hip-hop, PC Music artists, pop music, Brazilian music specially, and to drink everything we can. Gin and tonic and Jack Daniels' Tennessee Honey are my favorite drinks.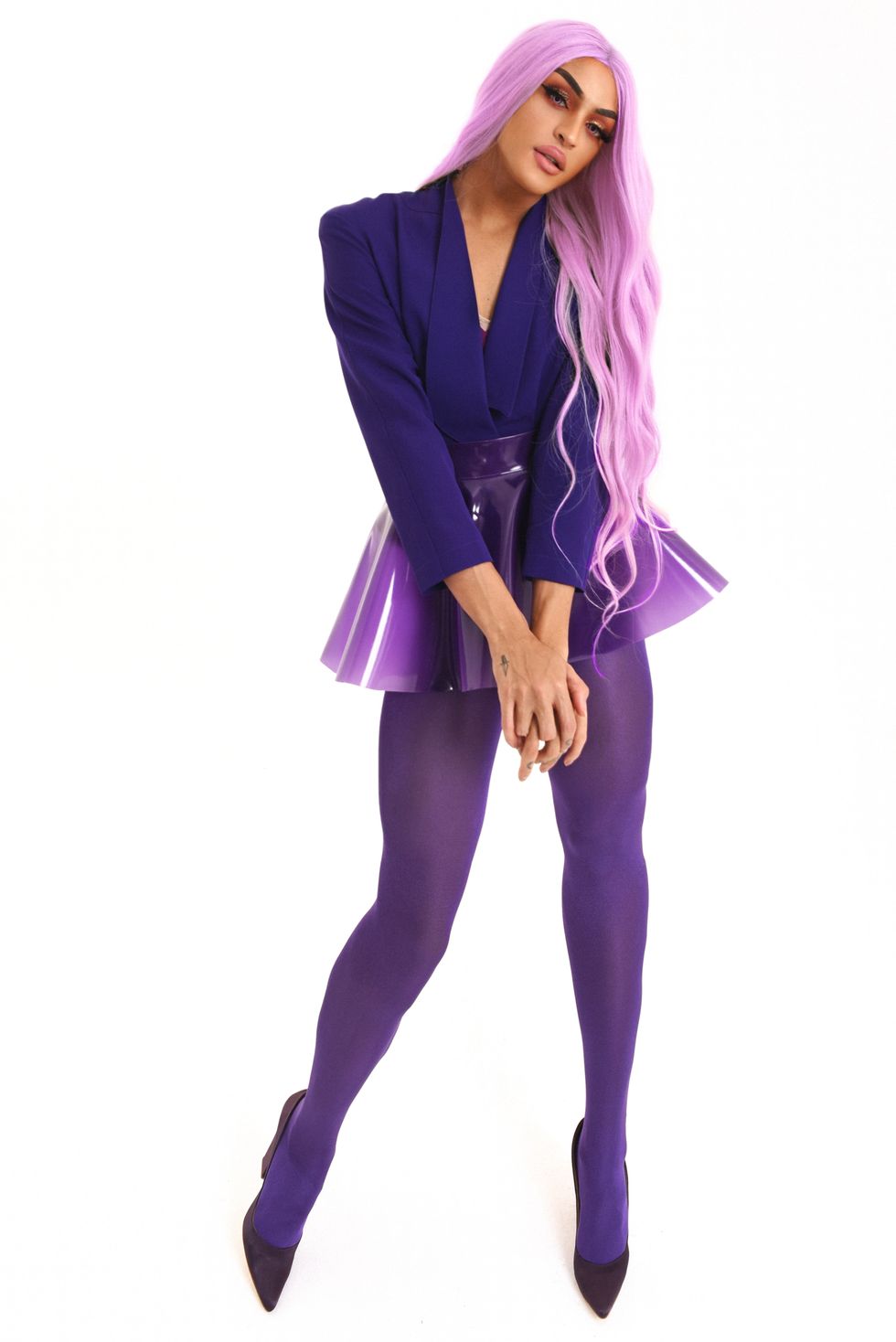 Blazer by Mugler for Trash Chic, Top by Adriana Degreas, Skirt by Paulo Tawdr, Tights by Lupo, Shoes by Victor Vicenzza
Do you think about touring outside Brazil? Are you planning to go to other festivals and tour the world in the future?
I really feel like doing that next year. I don't think I am prepared yet. I am very focused now on my new album for now. I do feel like going abroad to watch concerts from the artists I like, but performing I guess only next year. and I am very excited do take my music to places I haven't been yet.
Related | Liniker Is Changing the Way Trans People Are Seen in Brazil
Amazing, thank you for chatting Pabllo. You're amazing! I can't wait to see you.
Bye, Charli, I love you very much. And even though we already worked together, I am a big fan, since like, ever. And "Drugs" [with ABRA] is my favorite song of your's by the way. You should totally do more collabs like those.
Stream Vai Passar Mal by Pabllo Vittar, below.