It's Pride in New York. Under the hot June sun near McCarren Park in Brooklyn, Olly Alexander's British pallor is beginning to flush pink — this despite the cooling effect of his silken harem pants and skimpy top, and the sensuously protective layer of sunscreen he periodically applies. On the way back to the not-exactly-boutique hotel his label has housed him in, Pride-goers of every shape, size, and color are filtering out of subways, their pastel balloons bobbing behind them. A few young marchers, their cheeks decorated with little face-painted rainbows, eye Alexander nervously; one says, "hi;" then the whole lot rushes over. Selfies are taken, autographs signed.
At 27 years old, the lead singer of Years & Years has a short acting career behind him and a soaring music career ahead. A number one album in the UK already under its belt, the band's second release Palo Santois now out. Like Communion before it, the album is packed with ear-wormy hits. But it's also bigger, possessing of a certain competent ambition hard for queer artists, long suffering under the yoke of the straight male dominated music business, to achieve. Alexander seems to be aiming high with Years & Years' trajectory, heading straight to arena tours, radio play, international number ones — true pop stardom on a mega level.

Related | PAPER Pride
An hour later Alexander's Uber drops him off outside Brooklyn Steel, the venue he's performing in that night. The sun hasn't gone down yet, and it's still insanely sweaty outside. Nevertheless, with many hours till show time, at least 100 fans are already in line — it's an explosion of rainbow face paint. The faces are young and of every shade and gender. Again, selfies are taken. Some have gifts for him. Alexander's not so new to his success to be shocked by this reception. But it's all new enough that you can tell he's wondering if he should pinch himself. And in fact, you can see in the eyes of his fans that they kind of want to pinch themselves as well. They're cognizant how special it is to be young and queer and getting to wait in line all afternoon with all of their young and queer friends — all to see their young and queer idol perform.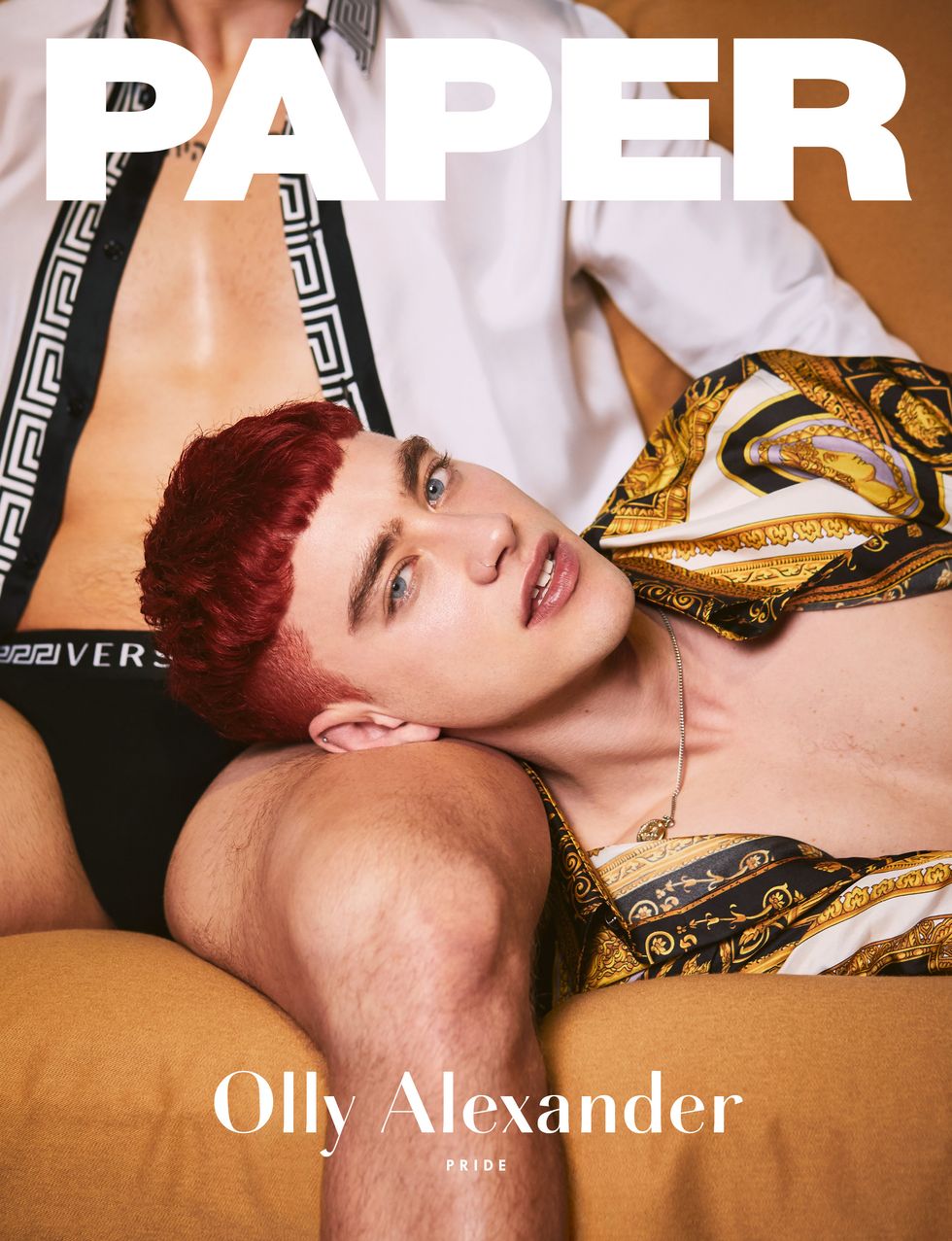 On Olly: Shirt by Versace, Necklace by Simon Harrison; On Model: Shirt & Briefs by Versace
None of this is lost on Alexander. "In many ways, this is the very best time to be a gay artist ever," he says. "We wouldn't be where we are today without all the gay artists that have come before us and broken down so many barriers. But barriers aren't gone. Particularly for less privileged members of the queer community. There is this very insidious casual homophobia that exists in the fabric of everything including the music industry. Labels and people in positions of power pay lip service to supporting LGBTQ artists. And that's great. But when are we going to see a gay artist really thrive and succeed? Selling out arenas, hitting number ones. I guess that kind of happened with Sam Smith, but I just think from my personal experience, the amount of comments like 'Oh, this is very gay' or 'This is going to turn some people off' is a real problem. I would hesitate to say, Yes, I'm engineering this brave new frontier of queer music to infiltrate the masses with my gay agenda. But that's kind of what I want to do and has always been one of my goals. Now seems like the right time."
His point about timing is important. The fact that Alexander spent a years as an actor (he had roles in films like Gaspar Noe's Enter the Void, and on TV shows like Skins, and Penny Dreadful), may have meant that he started in on music just as the world was primed for him. Even on Years & Years previous album Communion, Olly was somewhat circumspect when it came to the genders in the love songs he wrote.
"We wouldn't be where we are today without all the gay artists that have come before us and broken down so many barriers. But barriers aren't gone."
"I don't think I could've written the new songs 10 years ago," he agrees. "Even when we made our first album Communion just a few years ago, I was so scared. I only put a few male pronouns in the songs, and it was very subtle. That album was a bit more ambiguous in terms of it's gay narrative. Of course, there's no single gay or queer experience — everyone is going to write their experience differently. But we're just now seeing openly queer artists truly write their own music and speak their voices into the world."
Love, rejection, and unrequited desire — every pop star sings about these themes. And every human being experiences them regardless of their sexuality or gender expression. But certainly those of us who are queer share a unique cadence of lived emotional experience. And like no one else before him, Olly Alexander is transmitting those cadences uncensored into the rhythms and melodies of his songs. It's not a certain lyric or musical phrase you can put your finger on; it's more ephemeral than that; but it's undeniably there. And it's damn irresistible — to LGBTQ+ audiences, but also to everyone else. Raw emotional honesty always sticks into you deeper and resonates louder.
Related | Kehlani: the Softer Side of Savage
"When you are writing truthfully about your own experience people will recognize your honesty."
"We can have different emotional languages stemming from our cultures and friendship groups," says Alexander. "There are all these specificities that maybe queer people finally get to grasp onto with my songs. But at the end of the day, everyone experiences the same emotions or at least has a reference, a way into that emotion. I have always tried to explain to people that it doesn't shut them out. When you are writing truthfully about your own experience people will recognize your honesty."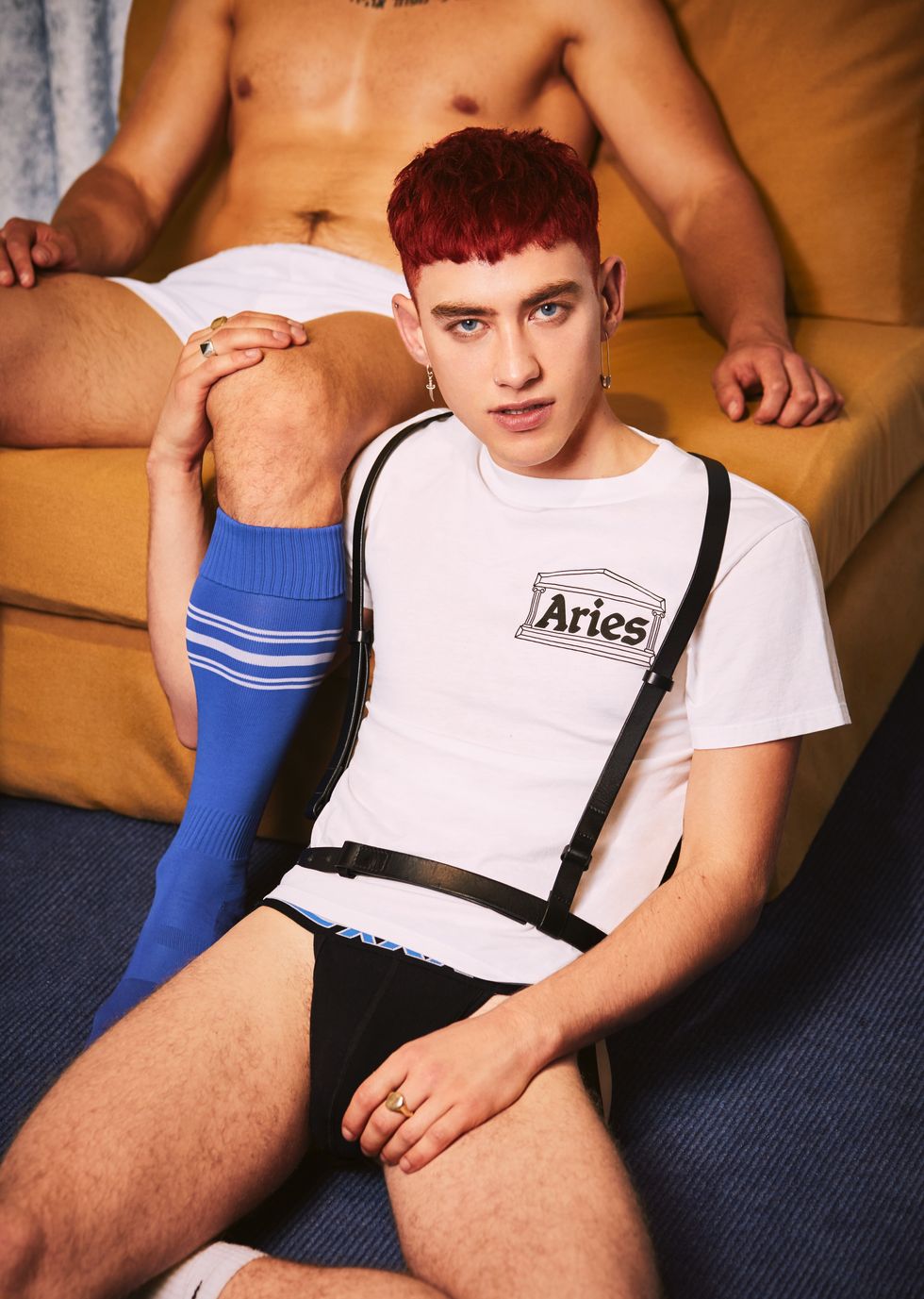 On Olly: T-Shirt by Aries Arise, Harness by Fleet Ilya, Jockstrap by Nasty Pig, Earring by Steph Metal, Silver Ring by Rachel Entwistle, Gold Ring by Conor Joseph; On Model: Shorts by Sunspel, Socks by Fetish Gear
And for straight men? Super gay music may be exactly what they need, whether they know it or not. "That's a prison unto itself, straight culture," says Alexander. "There are all these invisible lines that people draw in front of themselves — you can't say that, and you can't get too emotional, and if you are a straight dude, the whole culture of masculinity is super oppressive. I wouldn't say I have sympathy exactly for straight guys but I do have compassion. It's not easy for anybody."
Straight fans notwithstanding, gay sex is an undeniable part of the Years & Years story. Primal urges undergird every great pop moment, and Alexander is just as horny as '80s Madonna in her black bustier, '90s Britney in that problematic schoolgirl uniform, and even those promise-ring toting Jonas brothers singing over the orgiastic screams of their 2000s tween audience. But queer sex scares people — or used to (particularly label executives). All the iterations of possible body part combinations seem to freak out anyone who want to gloss over the obvious sexuality of the songs they sing from their showers. So the pressure has long been to hide the queerness in innuendo, leaving fans to pore over lyrics in search of subtle clues.
"Oh yeah, I had that with Jeff Buckley," laughs Alexander. "He has this one song called 'Opened Once' and the first line says, 'I once was open and one with a traveling heart, I loved this sweet guy.' So I was like 'I knew it! Gay!' But there was no real evidence of that. I think the first gay artist I was aware of was George Michael, because my mom liked him and she would play his music. I was at an age that where I didn't actually understand the situation but I knew that he had done something scandalous."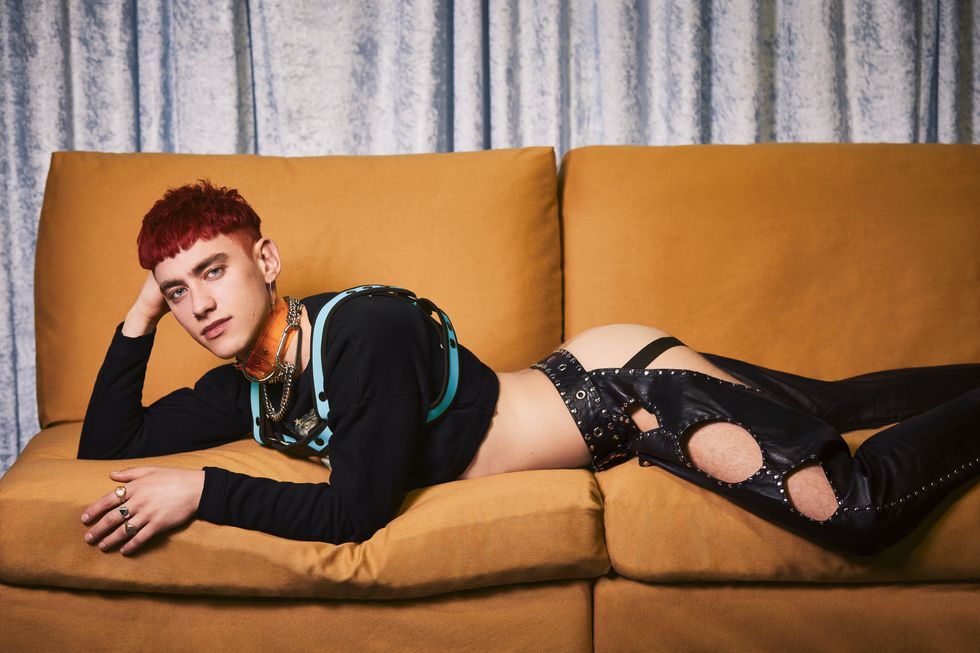 Neoprene Harness by Mr. S Leather, Sweater by Fiorucci, Jockstrap by Tirus, Chaps by The Arc London, Choker by Jivomir Domoustchiev, Earring by Steph Metal, Silver Ring by Rachel Entwistle, Gold Rings by Conor Joseph
If Years & Years success means that the cyphering dies out, Alexander is ok with that. "Nostalgia can be a trap," he says. "Codes are fun — and they are such a part of our history. I love the symbolism of it all. But I think we should be taking that as inspiration to create new ways to communicate with each other. That's what I'm trying to do anyway."
Palo Santo doesn't hold back in this regard. The pronouns are clear. The videos show every permutation of writhing gender combination. In one of the album's most charged moments, the song "Sanctify" repeats the chorus: "So don't break. Sanctify my body with pain. Sanctify the love that you crave. Oh, and I won't, and I wont, and I won't be ashamed." Kinky gay sex with a little sacrilege — it's hot.
"Yeah there's this S&M vibe," says Alexander — possibly with a bashful giggle. "I'm definitely interested in that part of the human psyche, that pleasure and pain kink zone — our deepest sexual fantasies and desires. And I wanted to write something that spoke to how painful the experience of being gay can actually be. How we kind of interrogate our desires, and there's a part of us that wants to be hurt and we enjoy the pain. For me anyway, I've kind of known that about myself for a while. Thankfully now I'm in a different place with these things. But when I was a teenager, I was self-harming and I was bulimic — I've been very open about this. I don't want to draw parallels between that kind of personal experience and what it means to be queer in general, because that's wrong. But specifically for me and this song — and maybe for some others — that's part of where it comes from."
"I'm definitely interested in that part of the human psyche, that pleasure and pain kink zone — our deepest sexual fantasies and desires."
He continues, "I talk about sex like this a lot — especially in the press — because so many people are afraid of it. I understand that some people don't want to and that's fine that's their choice. I mean, every time I do it I know my family is going to be so embarrassed. My mom reads everything I do, but whatever she's cool with it and has seen it all before. But with so few vocal gay people in the world, I've noticed that some people get upset when I talk about sex because they say it's perpetuating this stereotype that gay men are just promiscuous and want to fuck anything that moves — and I say, listen some gay men are like that and some aren't and that's ok. There's more than one way to be gay, or queer, there's not just one. So, I'm trying to get that across, to get across my experiences."
It's important that none of this paint Alexander as some sort of self-righteous sex crusader. Nor as some kind of gimmicky wannabe pop-star trying to sell his music with fake sex. Nothing could be further from the truth. The core differentiator when it comes to Alexander versus other gay artists is that he's simply done being repressed. It almost feels like, and this is meant as the highest of compliments, he's performing with the fun sexuality of that one person who sings Beyonce — and nails it — every Friday at your local gay karaoke night. Which actually makes sense since, what with the lack of out gay male pop stars, it was the great women of pop who inspired Alexander.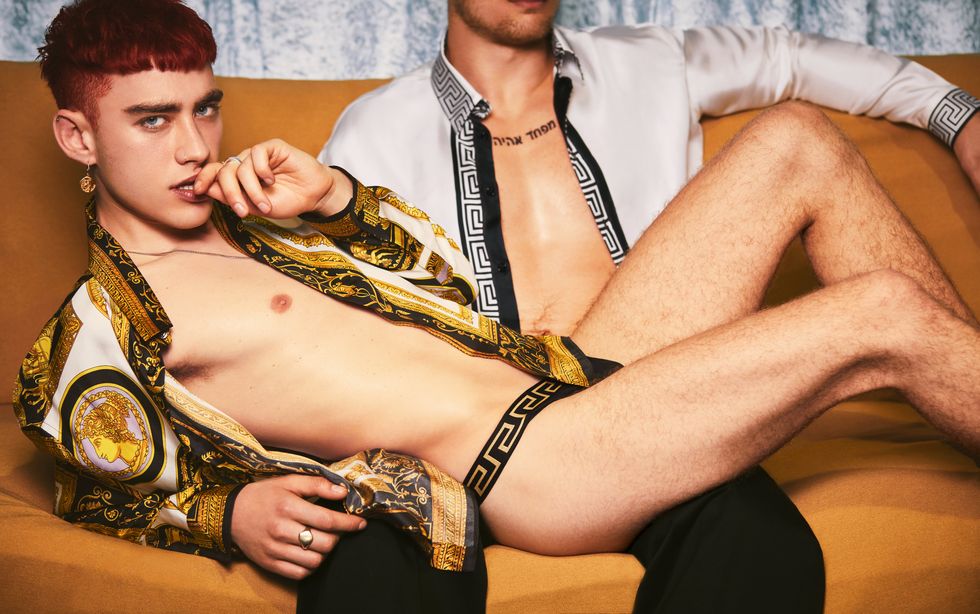 On Olly: Shirt & Briefs by Versace, Necklace by Simon Harrison, Earring by Conor Joseph; On Model: Shirt & Trousers by Versace
"As a kid there was this 80s greatest hits cassette that my mom had, and I would play it all the time because it had 'Material Girl' on it and I loved 'Material Girl'. I would put it on in my room and dance around. I didn't know why, at the time, but I was instantly drawn to these female singers and female artists. As I grew a bit older, it didn't feel like there were any men I could identify with — or that didn't feel like a safe kind of zone to be in, especially for a gay boy. Well, except Stevie Wonder; I loved Stevie Wonder. But there was just something about these women who were so idolized and were so in command of their bodies and sexuality, and everyone was so invested in them and their narratives as women. I mean, much smarter people than me have written about this and why gay men in particular kind of love divas. But I just felt like I wanted to sing like Whitney Houston and everyone on that tape."
Their influence on Alexander is obvious, but he walks a delicate line with that influence perfectly. On stage at Brooklyn Steel, the references are all there. Dancing. Backup singers. The whole shebang. But it's also very much singular to Olly Alexander. Things are both muted and exaggerated. Take his choreography — it's professional as befitting a sold out show of two thousand, or as anyone who's seen his moves in the recent videos might expect. But it doesn't overwhelm Alexander's naive inner gay boy — that 15-year-old who, though bullied mercilessly at school, never broke; who must have been unbearably adorable bopping to Christina Aguilera and Beyoncé in his little bedroom in Yorkshire. We all know the indefatigable enthusiasm of the teenage queen who, home alone, escapes into his own limitlessly worshipful fandom. That enthusiasm has never left Alexander, and he's inviting us to escape into it once again.
Photography: Joshua Wilks
Styling: Nick Royal
Hair: Shiori Takahashi
Makeup: Elaine Lynskey
Model: Laur N (Ripped Models)
Stylist Assistant: Letizia Maria Allodi, Jose Panadero
Set Designer: Stefania Lucchesi