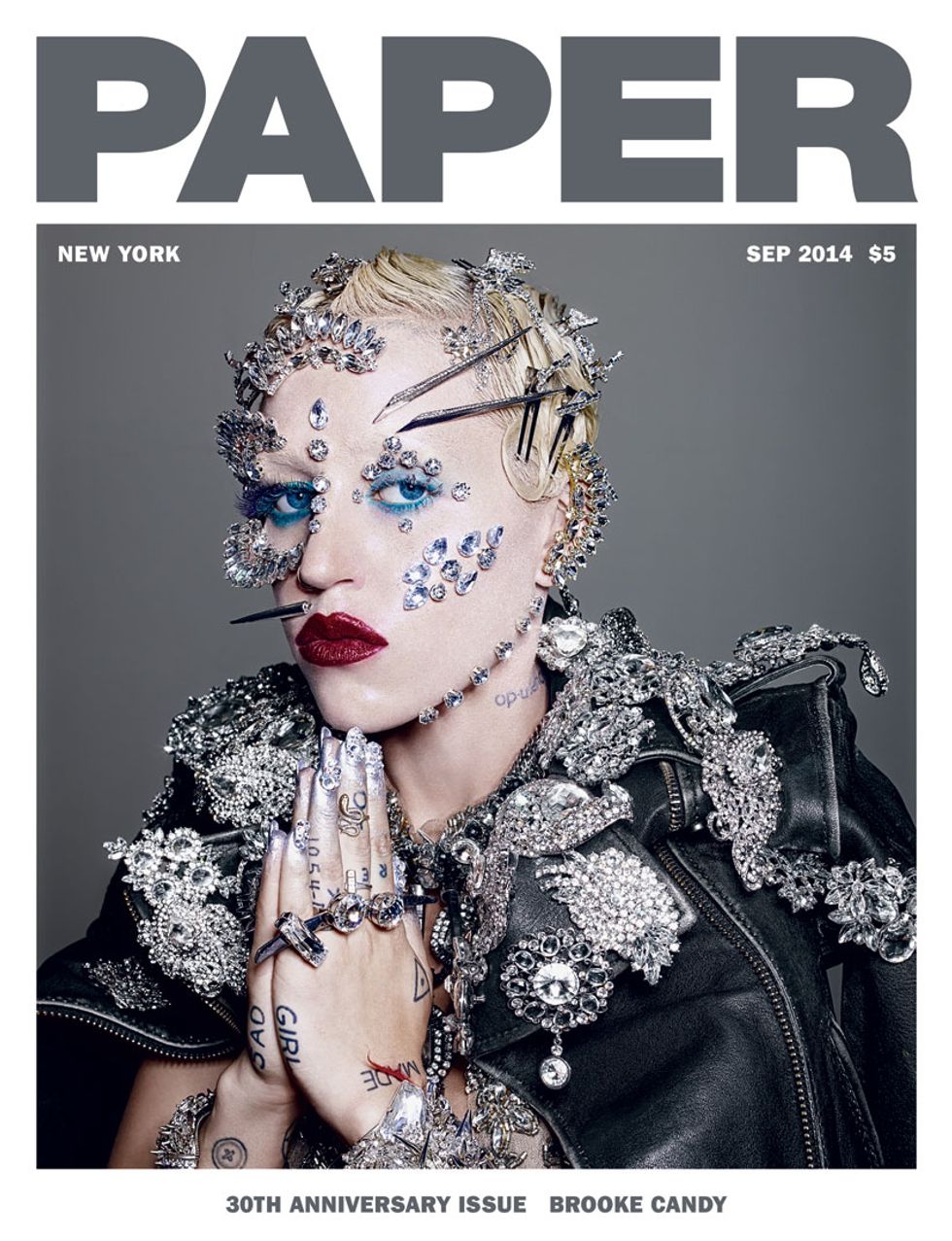 All I want is to go to Brooke Candy's house. I imagine some insane Beverly Hills mansion with black roses lining a perfectly manicured driveway. The "butler" will be some glamazon goddess wearing a necklace of live snakes. Then on my way there I get a text. "Change of location. Meet Brooke at studio." What? I punch in the new address as my dreams evaporate into freeway smog. "It's not a big deal," I assure myself. "I won't even bring it up."
Within 30 seconds of meeting Brooke Candy I bring it up. Candy has a dainty, Betty Boop face. Her smile spreads from cheek to cheek like wildfire, fire being key because Candy is both hot and warm. "Do you have a car?" She asks. "You can see my house after the interview... if you drive me." Brooke Candy -- hustler to the core -- needs a ride home.
Brooke Candy (her real name) is from Agoura Hills, California. Her parents divorced when she was eight; her mother worked as a pediatric nurse and her dad, more famously, as the CFO of Hustler. Candy recalls being a little kid and hanging out in Larry Flynt's office: "[It was] so gaudy and amazing. I'd eat ice cream and watch TV and just go from that to being with my mom, who had nothing. It was strange... It's this whole idea of duality that I'm just obsessed with."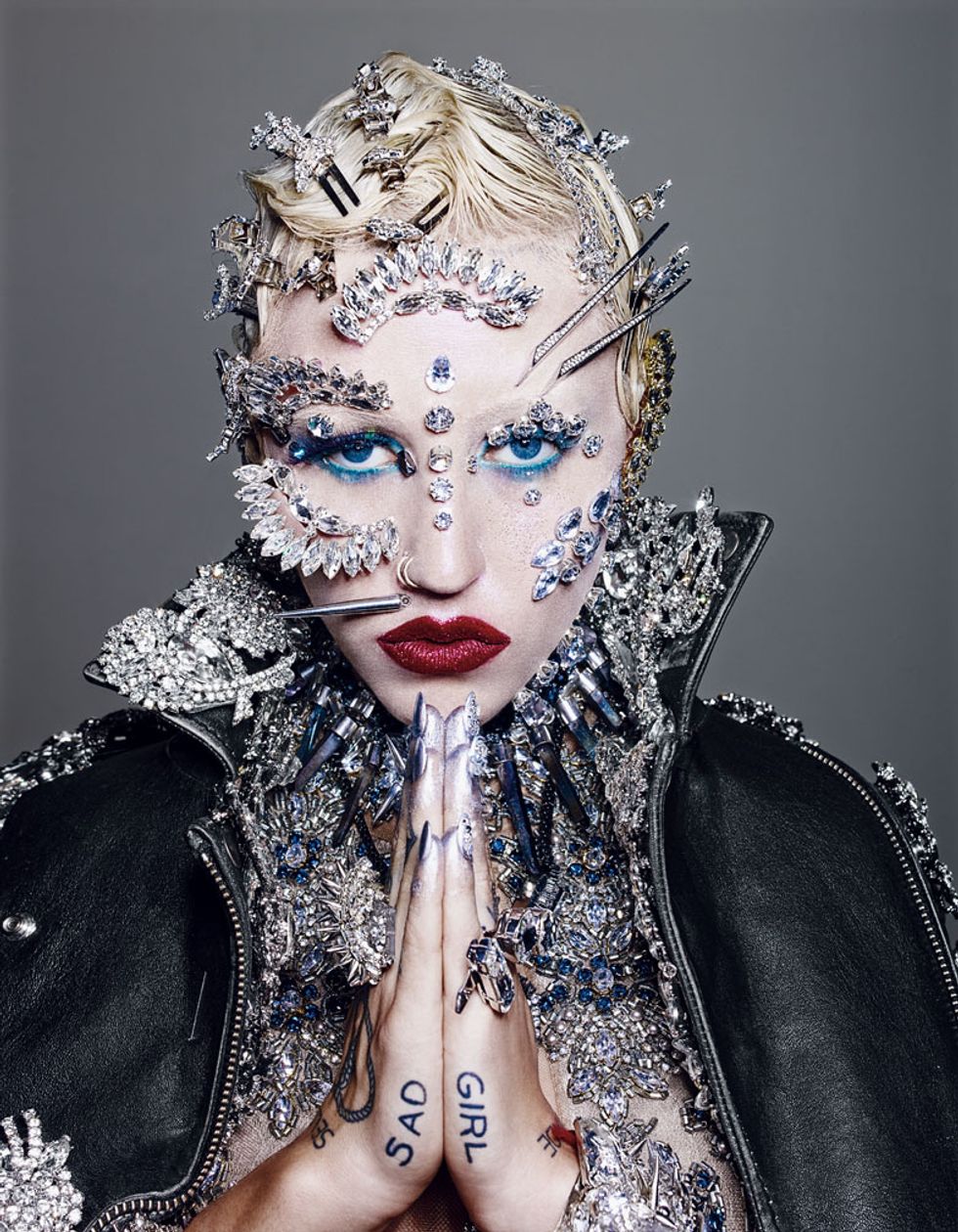 Brooke wears a Diesel jacket covered in crystal brooches, Patricia Bonaldi romper and jewelry by Erickson Beamon, Alexis Bittar and Rodrigo Otazu and Assad Mounser.
Oh wait -- I just got super ahead of myself! Do you even know who Brooke Candy is? She's a pop singer-rapper! She was in a Grimes video! She used to be a stripper! She's gay! No wait... she's bi...?  "I identify as Q. It stands for Queer or Question mark."
These days, she's also identifying as a dominant fashion darling.
Her most recent music video, for "Opulence" from her debut EP, which was released in May, is directed by fashion photographer Steven Klein ("He's part of my spiritual gang") and styled by Diesel's new artistic director Nicola Formichetti (as is this cover story). Gaga's former stylist first spotted Candy wearing a metal bodysuit, platform sneakers and butt-length hot pink braids in the Montreal-based singer and Tumblr sensation Grimes' "Genesis" video. Candy is also now the face of Diesel accessories. "[Nicola] was one of the first people to ever stick [his] neck out for me," says Candy. "He told me I have the soul of a Japanese girl."
The opening shot of the video features a bald Candy killing a man in her stilettos, later she dons a diamond-encrusted Hannibal Lecter mask. There's an orgy, a car crash and, later, shots of Candy sitting on a throne with two hairless cats. How is decadence not dead yet? "The video is meant as satire," she says. "It's based on the  story of the Golden Calf. Decadence is peaking. Everyone is slowly awakening. Even me. I think we're moving into a period where spirituality is going to be much more prevalent than fucking cash flow. I don't give a fuck about anything in excess. I just want  to make art and help people. That's it. 'Opulence' makes fun of all that."
As a performer, Candy swings somewhere between Lil' Kim and Riot Grrrl. The type of performer you'd expect to find in some underground sex lair hissing at you from atop a chandelier. In real life, however, Candy talks like any other 25-year-old. "I believe in sexual freedom, I promote it, but me personally? I haven't had sex in six, eight months, maybe longer. I think to have sex you should be in love... I'll meet the love of my life when I meet the person who can see through every layer I have that's meant to distract you and throw you off. I've been mistreated and abused my whole life, so I have these barriers up and I'm waiting to find the person who sees through that." 
Despite Candy's dad being a bigwig at a huge, flashy corporation, Candy climbed her own way up the financial ladder, supporting herself with what she refers to as "dirty jobs." "I worked at the Hustler store, a weed store, lived on the street..." Later, she worked as a stripper and underground rapper.  "I've never gotten any help from my dad, no way. If he had helped me I'd be, like, sucking my thumb in Texas or something with a bunch of girls in Juicy Couture sweatsuits."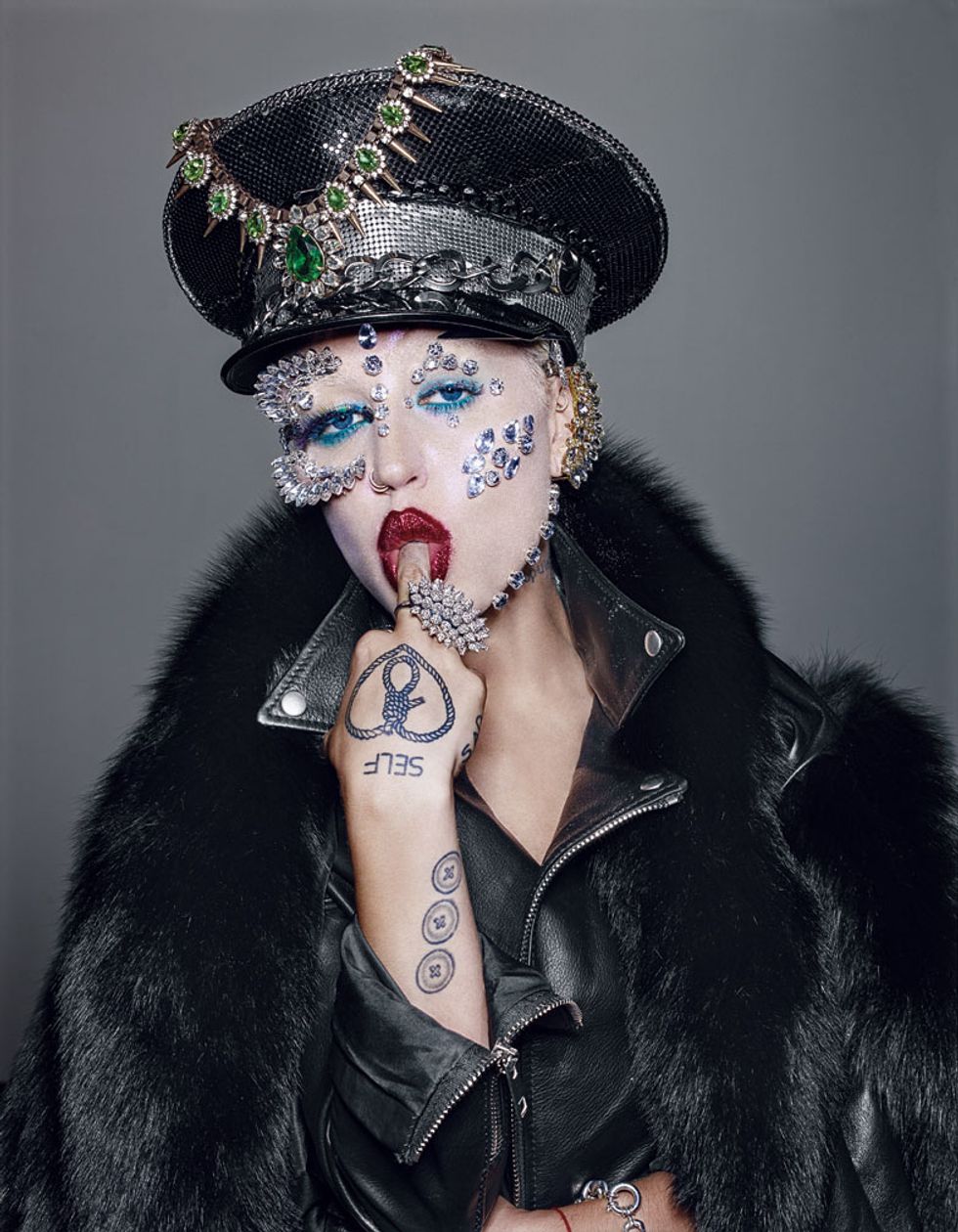 Brooke wears a Diesel dress, Reem Acra jacket, hat, necklace and ring by Rodrigo Otazu and bracelet by Kyle Hopkins.
In 2013 Sia, the avant-garde singer-songwriter turned pop chart sensation, came across Candy's
Instagram account
. She told Paper in April, "I saw a lot of myself in [Brooke] and I thought I had to help her not make the terrible decisions I had made." The two hit it off and now she's the executive producer of Candy's forthcoming debut album, out early next year, on their shared label RCA.
"I don't believe in 'selling out,'" says Candy about entering the mainstream. "I'll wear the glitter that'll get your attention because underneath that, I actually have something to say... Pop music gives me this huge platform to reach tons of people and actually stand for positive change. I don't think that's a problem but a lot of people see that as threatening." 
And with that, we leave the studio and head to Candyland. As we pull up outside a Spanish-style West Hollywood apartment complex, Candy cautions: "My house is crazy. It's dark, it's creepy, I have like dead animals and stuff everywhere." The car parked out front has a shattered windshield. "My friends told me to make sure I wiped my prints," she jokes. As I enter, disappointment sets in: it looks to me like a standard one bedroom. There's a sectional couch and bananas in the fruit basket. Sure, there are eccentricities -- crystals, candles, a skull here, a bunch of wigs there -- but it's only when I step into Candy's bedroom that my dream is realized. The walls are black and decorated with leather whips. Opposite her bed is a vanity table so extravagant and mesmerizing, I half believe I'll see a younger version of myself staring back at me. Here is the portal of transformative magic I've been anticipating. This is where I can see Candy changing from a warm-hearted pussycat into a badass lady lion. I think back to our early conversation about duality. Brooke just happens to let these two selves coexist simultaneously.
Hair by Wesley O'Meara at Brydges MacKinney for AG Hair
Makeup by Sammy Mourabit at Streeters for MAC Cosmetics
Nails by Julie Kandalec at Bryan Bantry Agency for Paintbox.

Makeup Assistants Nicole Cho and Kaya Hall
Hair Assistants Dallin James, Katherine Ostergaard and Daisy Schiff
Stylist Assistants Haley Pisaturo, Ian Milan and Derek Murdock
Interns Haley Sherif and Katy Miller.