Big Freedia has brought bounce music to the world. She got her start as a choir director and subsequently worked multiple jobs, including one as a event decorator, while touring non-stop to eventually get her music recognized. All the hard work clearly paid off. Since then, Freedia has collaborated with some of the biggest artists in the world, has starred in her own reality show, Big Freedia Bounces Back, and wrote a critically-acclaimed autobiography, God Save The Queen Diva.
Though Freedia's voice has been featured on huge pop tracks like Beyoncé's "Formation" and Drake's "Nice for What," in conversation, she emphasizes that her top priority is representing the New Orleans community and bringing its fast-paced, energetic hip-hop that originated there to billboards, awards shows, and radio channels across the world.
Her debut EP, 3rd Ward Bounce, released this month, is a five-track pulsating, ecstatic work of electronic, synth-heavy bounce music. The opening track on the EP, "Karaoke" features "Good As Hell" singer Lizzo. Together, they detail a night of losing yourself in the joy of dancing and paying no attention to anyone who's trying to stop you. "Oh, bitch you betta," Freedia repeats, before Lizzo's powerhouse vocals take over the chorus.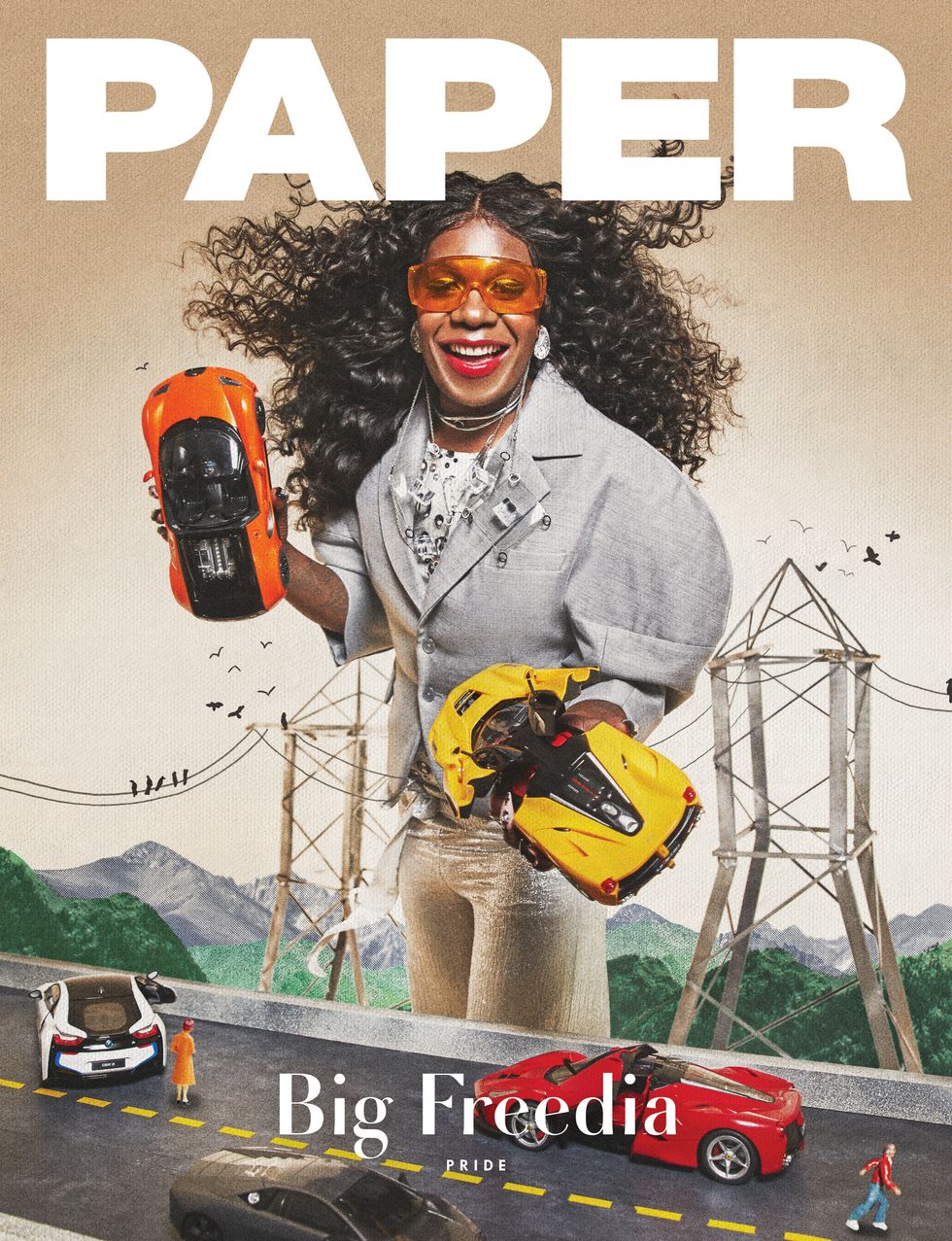 Jacket by Qian Wu, Top by Rochambeau, Pants by Ralph Lauren, Glasses and Necklace by Misa Wang
For Pride, PAPER asked the two artists to chat about making the 3rd Ward Bounce standout, the way mainstream pop music erases the stories of queer artists, and Freedia's journey to bring her music and her community the attention they deserve.
Related | PAPER Pride
On the phone, their energy was just as electric as the music they make together — they greeted each other by singing each other's names, and Lizzo immediately showered Freedia with warm affection, recounting the first time she went to a Big Freedia show and how the booming beats and opportunity to dance made her feel less lonely.
Lizzo: Oh my god, It's Big Freedia!

Big Freedia: Lizzo!
You already know! Well first of all, I wanted to say happy pride to you.
Same to you, my honey.
And I want to say that I am proud, even though I look up to you, so it's weird to say... I am so proud of you and the moves that you make, and how you influence the culture is incredible. So I just want to wash you with all the praise.
Thank you baby, I really appreciate that.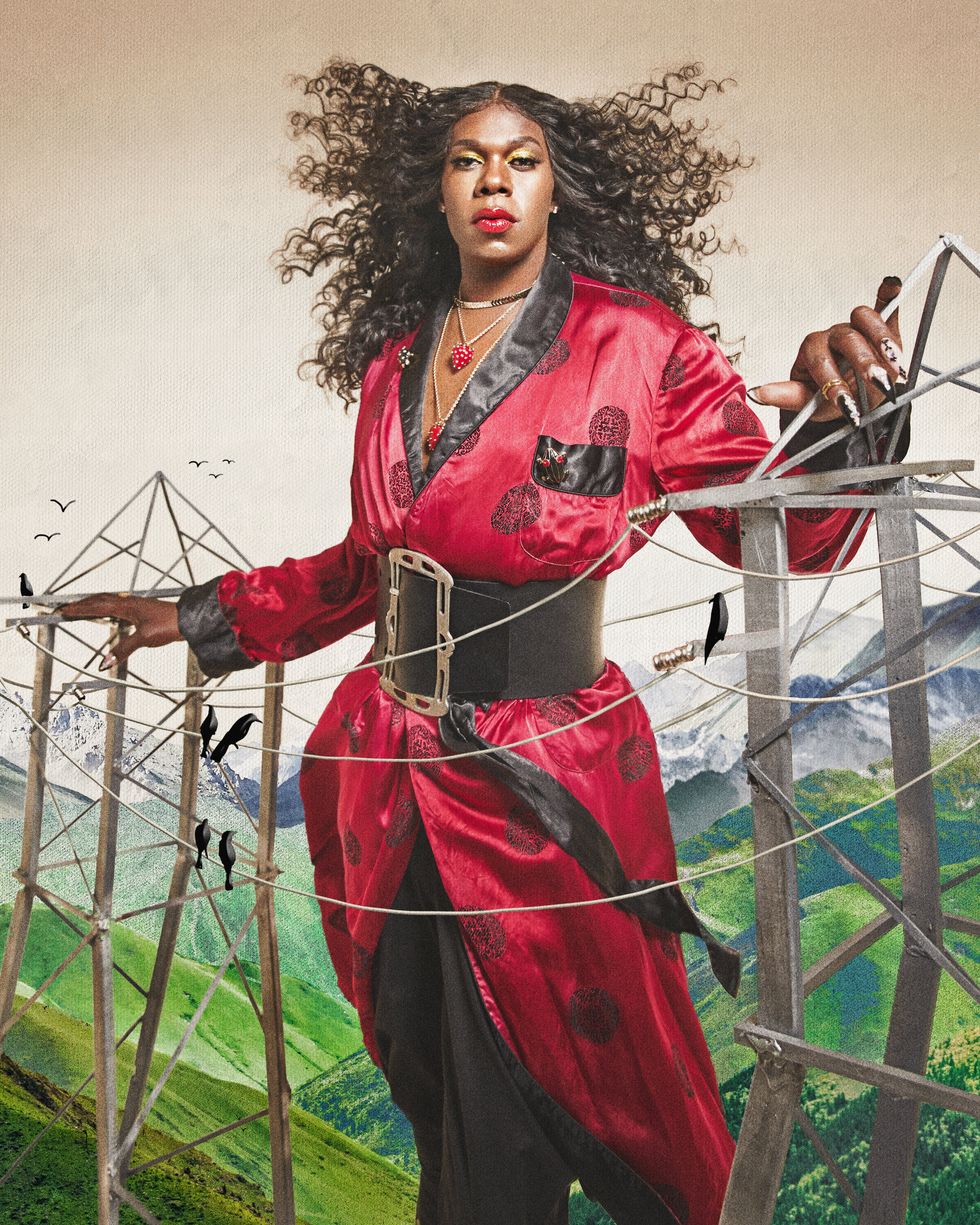 Robe and Pants by Screaming Mimi's, Belt by LUAR, Necklace by Roxanne Assoulin, Necklaces and Brooch by Kenneth Jay Lane
Congratulations on 3rd Ward Bounce. Thank you for including me.
Yes, honey. You slayed that "Karaoke."
Thank you! I wanted to ask you about that because you sent me the song and you were like, "Yo, she's gotta be on this one." Why did you choose to have me on that song and why did you make it the first track?
Well, when creating the song, it was like, "Who fits the personality of 'Karaoke?'" And you know, us both being artists, we're always on stage and we know how to deliver in such a great way. I was like, "Lizzo would be perfect for this song." It was just all right timing, right idea, perfect song. It was inspiring to have you on that one. Something moved the spirit, honey.
Related | Kehlani: the Softer Side of Savage
Gotta move them spirits. And you have other features — Erica Falls and Goldiie. Are those New Orleans artists?
No, Erica Falls is, and Goldiie is based in California, in LA. But Goldiie's mom is actually from New Orleans, so she has a little New Orleans in her, you know what I'm saying? She gave me some New Orleans when she came. I was like, "Girl, you are from New Orleans, you just don't know it".
Right? Like, it's an energy. It really is!
It is.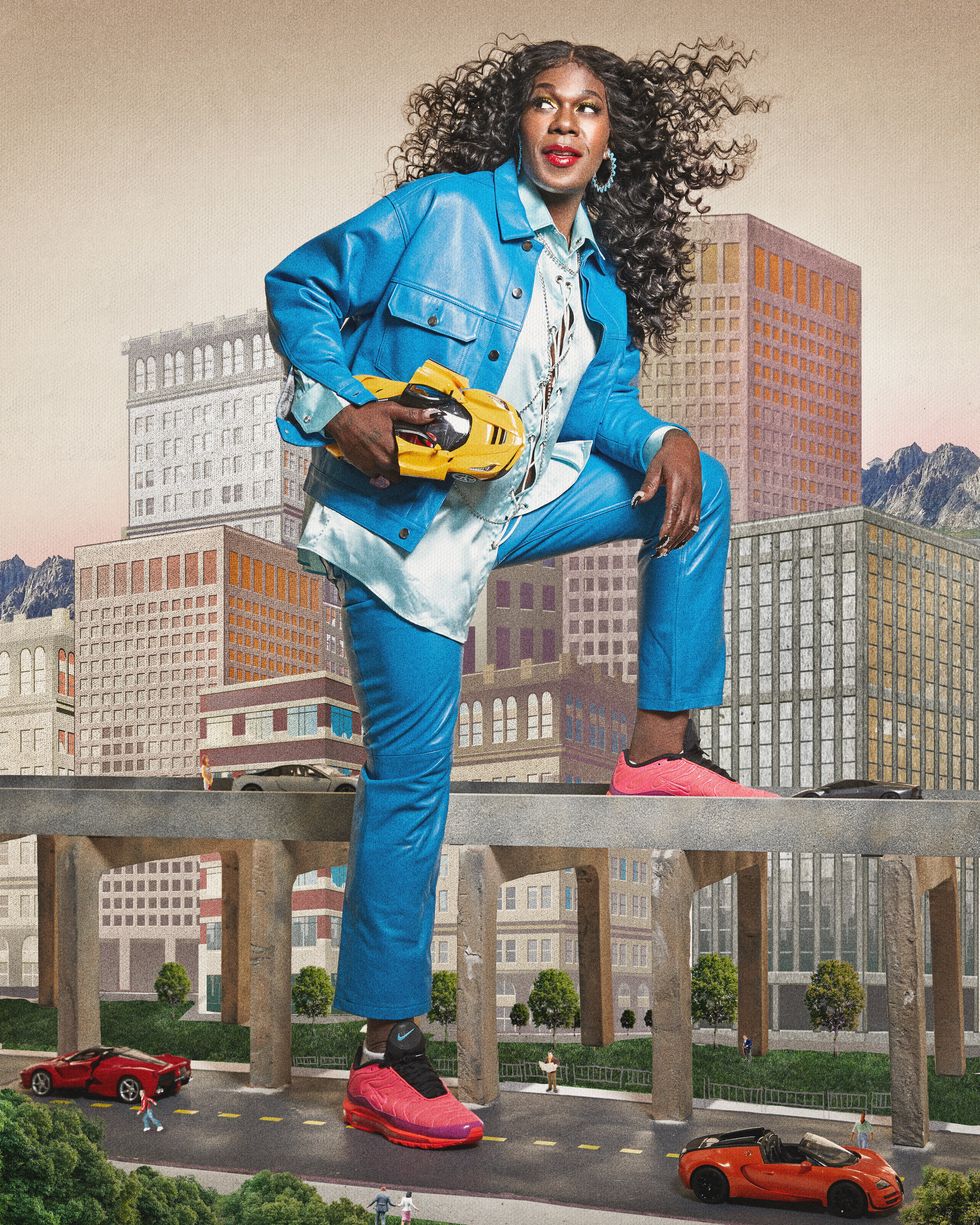 Jacket and Pants by Rochambeau, Shirt by Theo Philio, Earrings by Baublebar, Ring by The Shiny Squirrel, Sneakers by Nike
I grew up in Houston and I felt like every time I was in the club, I learned how to twerk through bounce music. That's where I got it from.
Oh yes.
I love that song! Let's talk about New Orleans and bounce. What you are doing is revolutionary because when I think of bounce, I think of popular songs put on top of a beat with somebody hyping up the track. But you are a bounce artist.
I have to keep inspiring kids and letting them know that you can go further than just using someone else's track and putting a bounce beat on top of it. You can do so much more and create your own sounds. And that's what I've been doing — standing in my own lane and creating my own sound. I want to be able to have my song cleared with no problems and no sample. I have been working really hard on all of my projects over the years to become the first bounce artist to be able to have worldwide albums and EPs and tracks that are cleared and freed of anybody else's work.
Related | Hayley Kiyoko Knows What She Needs
You are literally the first of your kind and I think that's really special. You are bringing New Orleans into the world!
That's right! When I travel, I say I am going to represent New Orleans. I'm gonna bring New Orleans to y'all because y'all can't come to New Orleans at the moment. That's how I look at it when I go to a concert.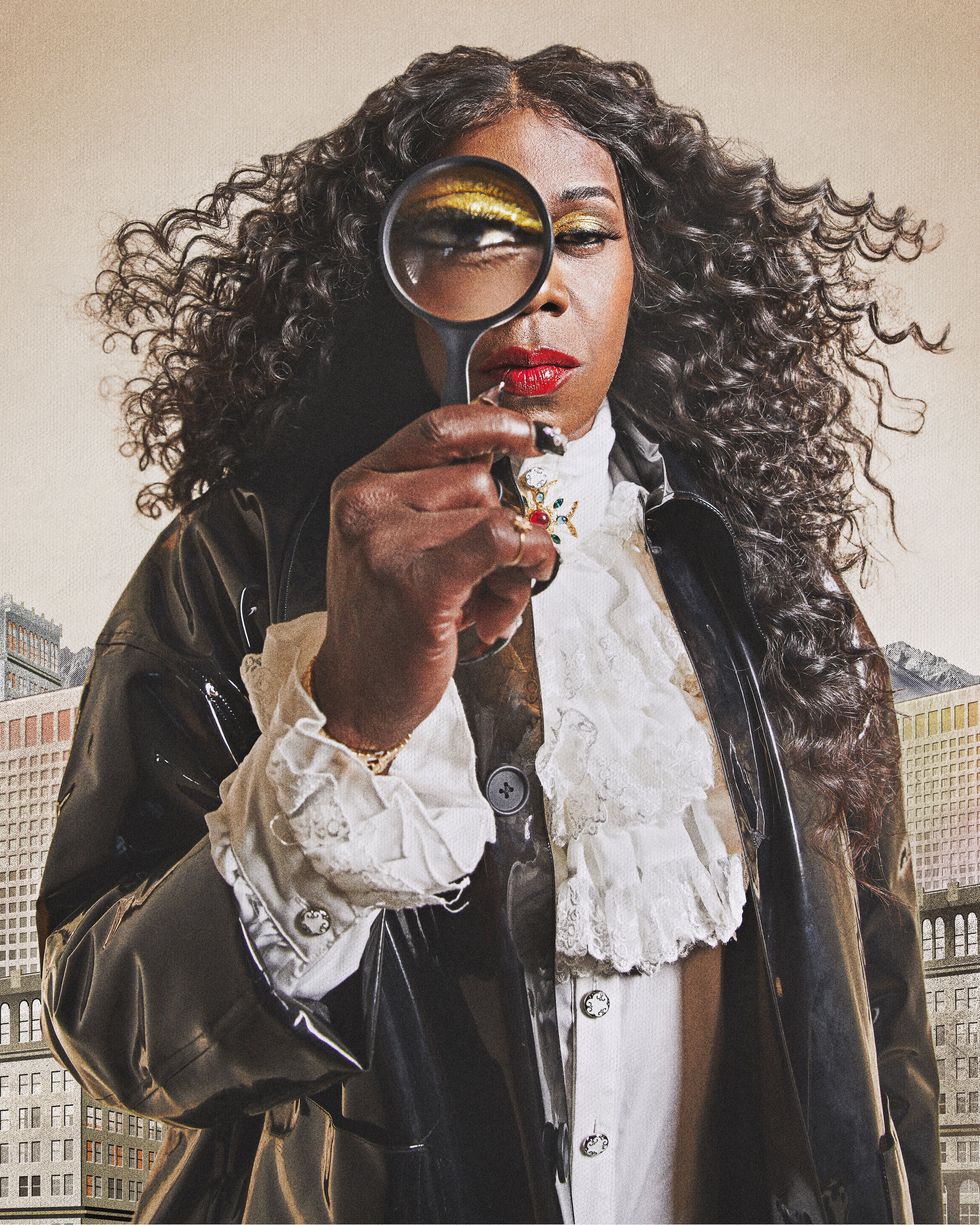 Jacket by Qian Wu, Shirt by Screaming Mimi's, Bracelet by Roxanne Assoulin, Ring by The Shiny Squirrel
How do you do that? Give me examples.
Well, I just pretend that everybody is in the club and from New Orleans. And we're in one of the hood clubs, you know, and we're tearing it down and we're ass-shaking. I just get in that mind frame.
That's what I'm talking about! You don't know how special that was to me. The first time I ever saw you was in Minneapolis. I had just moved in from Houston. I got to hear bounce music again. For the first time, I got to twerk again. You had a dancer on stage named Altercation, who just had no care. She was just twerking. That reminded me of being in the club when you just gotta grab onto that chair or to the edge of the stage because you've been twerking so much you don't know if you can stand anymore. I think that's incredible, I love that. I want to ask you more about New Orleans. What's your favorite thing about your city?
My most favorite thing about my city is the culture and the love that we bring to the rest of the world. We're a special city. We have great culture, we have great food, we have great music, we have great people here, and it all comes together. It's like a big pile of gumbo, what we're known for. It has so many different meats and ingredients and flavors and that is what I love about my city. It is a touch of gumbo that inspires the world.
"If you put your mind to it, you can grow to be whatever you choose to be in your music."
Why you making me hungry, though? What do you want the world to see about New Orleans through you?
Well, I want people to know that New Orleans is here and that we are a city that has much, much talent. And don't take us for granted because we have so many wonderful artists here that are on the rise and have musical backgrounds and work really hard. I want the world to be able to see where I started from and where I've grown to make these projects work. [I want to] keep inspiring other young artists all around the world no matter if they're black, white, gay, straight, whatever, to know that you can come from one place and this is where you can go. If you put your mind to it, you can grow to be whatever you choose to be in your music.
That's beautiful. Also, I heard you started off as gospel choir director?
Well, I started singing in the gospel choir first. And then over the years, I became one of the choir directors and then I went back and taught at the high school after I graduated. And then I sang with multiple choirs around New Orleans that were very well-known. And we traveled the world. We sang, we won choir competitions.
Oh my god!
It was a journey. Fun times, and meeting lots of great people and enjoying traveling and seeing a lot that inspired me musically.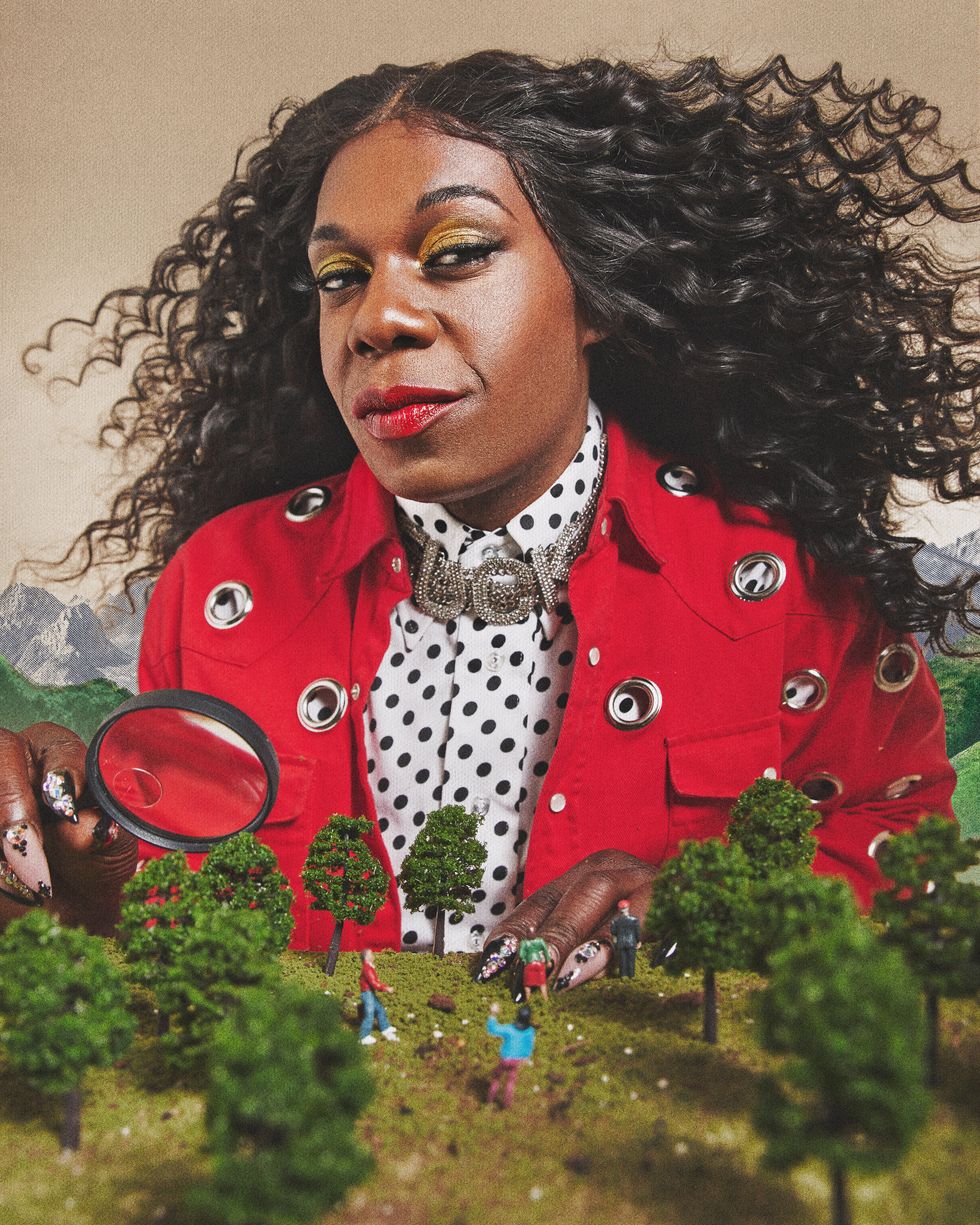 Jacket by Theo Philio, Shirt by Screaming Mimi's
That's incredible. How did you get from singing in the choir to twerking in the clubs?
Yeah, that was a transition. I started to help Katey Red, my friend, who was the first transsexual person to come out with bounce music in 1998. That's how I got in the game. And then, maybe a year or a year and a half later, everybody was like, "Oh my god! I love your voice. I love the sound." Because I was always howling in the hallways somewhere in high school or walking in the neighborhood and people heard me coming from around the corner hitting this choir boy or choir girl note.
I decided to do it one day. I got on the mic at a block party and it was the creation of something new for me. That's when I got my big break and started representing New Orleans at all kinds of block parties and clubs and one-of shows. I was working seven nights a week, sometimes three or four times in one night, bouncing from club to club and doing birthday parties. I also was a decorator, so in between decorating your party and then going back to rap at night, I was doing it all. Multitasking. You got to hustle to make money. Because it was no big money we were making way back then. So I was doing everything possible to make some money.
"I want to see bounce music on billboards and award shows. I want to represent the culture for what it really is."
You're one of the artists that's setting the foundation for going global. When you were in Drake's "Nice for What," I was like, "Oh my God!"
Yeah, girl. When they called about it, I was super excited, but I never like to count my eggs before they hatch, so I didn't really confirm in my mind until the paperwork was signed. Then one day, one of my friends called and said, "I just heard you on the Drake song!" and I'm like "Oh my god it's out." The same thing happened with Beyoncé. It's just such a blessing to be able to be part of their projects and to continue to help bounce music grow in a further direction. I want to see bounce music on billboards and award shows. I want to represent the culture for what it really is.
You're simultaneously representing bounce and the LGBTQ+ community. Both of those things haven't had the opportunity to be mainstream, especially the black side of all of those things. Not to make this a black or white issue, but you know, I'm calling it like it is. Do you feel like that sometimes makes it a little more difficult? Do you face more obstacles?
Well, in the beginning, I felt like, "Oh my God I'm a black artist trying to get out there, and I'm gay. I may be limited." and then, once I kept on pushing through and knocking down doors and breaking barriers, there was no turning back and no looking back. People started seeing that my work speaks for itself and my dedication to my music speaks for itself. I continued to work hard, and people started booking me more, and my name started getting bigger, and my agents and my managers and my staff started working even harder. Things have been rising. I'm very blessed and humbled to continue my journey of setting the foundation for other artists that are coming under me.
Related | SOPHIE's Whole New World
I did see that people in the LGBTQ+ community were a little upset with their representation [in media]. They say, "Our voices are used but not our bodies. You don't put us in videos." And they use you as an example for that, especially in the "Nice For What" video. Do you know how that went down?
Well, not really. But I told people I don't have to be in everything digitally as long as you recognize who the voice is and the check cleared. Over time, things will continue to grow. In this community, things don't just happen overnight. I have had my own TV show. Other people are on all different kinds of TV shows now. They had the gay Queer Eye For The Straight Guy. We are out there visually. We got Laverne Cox, we got RuPaul, and we got Drag Race. Baby, we have come from nothing to way more something than we've ever been, so we have to take what we get and use it to the best of our ability. And keep continuing to grow. Patience is the key.
Amen. And also, seeing you on stage with Beyoncé at the Formation tour? Visibility!
Baby, I died and came back to life, honey. I was getting ready to go up and she came and kissed me on my cheek and baby, I died right there before I could even go on stage. Next thing I knew, I was walking out and she was rising from the middle.
Oh my god! that's so incredible! I am so happy. You just made me so happy. You represent so many things to me. You brought the sauce to Minnesota when I was so alone and felt so weird. You inspired me to twerk on stage way before Miley was doing it. You are a living legend. Time will tell that. You are gonna do all the things that you say that you are going to do, I truly believe it. Thank you so much for fucking with me!
You already know it, you're my baby.
Aw, well I'll see you soon. I'ma see you at Pride.
You will. And we got to get together for the BET awards.
Oh my god! Yes, we have much to do Freedia, much to do. Representation, honey.