Lindsay Lohan is nervous.
Six months after canceling a shoot in Greece for TheNew York Times on the same day it was supposed to take place, Lohan has agreed to participate in a full shoot and profile for us. But despite being all in, the actress is wary of opening up.
"I would love to know why I get constantly clobbered in the press," Lohan says. "I could do 99 things right and one thing wrong, but it's that one thing that will be focused on. Behind the scenes I do what I can to be the best version of me, which never gets mentioned. I am also human. I make mistakes. That's all that seems to get reported."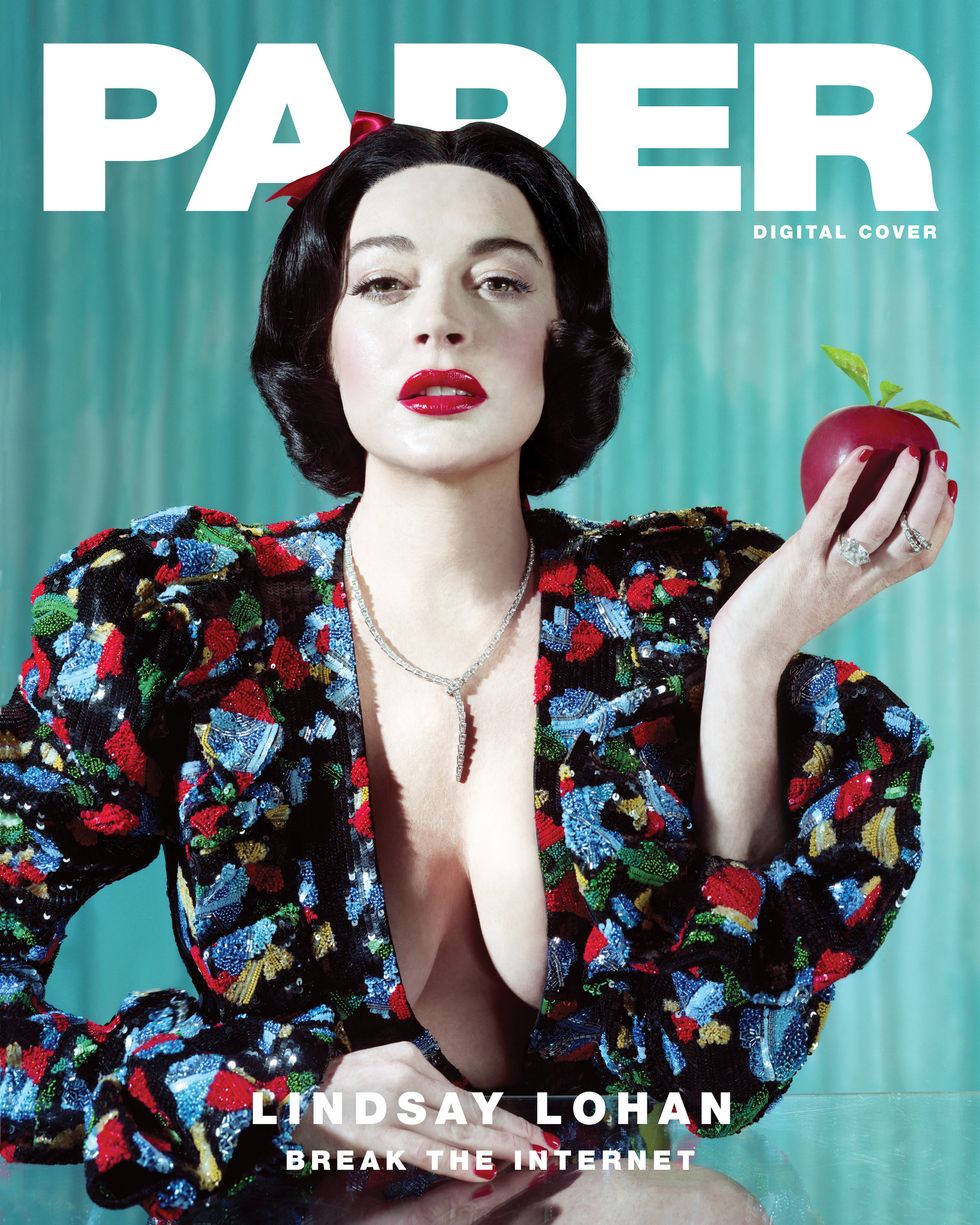 Dress and shoes: Saint Laurent by Anthony Vaccarello; Necklace and ring (worn throughout): Bulgari

Lohan's mistakes are stuff of celebrity folklore, having been reported ad nauseum for decades, her every movement surveilled by men with long lenses. A video shot from a rooftop watching her complete court-ordered community service at an LA morgue comes to mind, as do the infamous "upskirt" shots of herself and contemporaries like Britney Spears and Paris Hilton in the early 2000s. At 20 years old, Lohan had already spent a decade in the limelight, having become a household name in 1998 with the release of Disney's The Parent Trap and a cultural icon following the commercial and cult success of Freaky Friday and Tina Fey's Mean Girls.
Signed to Ford Models at the age of 3, Lohan appeared in over 60 television commercials before she was 10 years old, including a Jell-O spot with Bill Cosby. "I was always running around my house singing Madonna songs or watching Judy Garland," she says, noting that she and her grandmother, an early radio soap star, would watch classics like Murder She Wrote and Gone with the Wind together. "I was obsessed with Shirley Temple. Maybe it was just in my genes?"
Ahead of the shoot, Lohan chats with us from her home in Dubai, where she famously moved due in part to its criminalization of paparazzi (she won't confirm when she moved there, but says it was before 2015). Over the phone, Lohan sounds grounded and prepared, if a little guarded. She's clearly decided to stay away from topics that have earned her outraged headlines in the past. On whether she pays attention to politics, for instance: "It's not that much of a thing here [in Dubai]. People don't emphasize negativity." Instead, she says, the city is a "health-conscious place" that "promotes positivity and a positive attitude. It's not like New York, the city that never sleeps."
All things considered, Dubai makes a lot of sense for Lohan. It provides a swath of protection from the prying eyes of the press and distance from her own ambivalent relationship with America. She can't remember the last time she set foot in Los Angeles, and even feels nervous going back to her native New York for business trips and family visits. "I'll feel like I need a greeter and someone to walk me out [of the airport] — if I'm flying alone, if there's cameras," she says. Sometimes, her concerns are as relatively simple as not wanting to have her picture taken. ("In the press, if you sneeze, they'll make it look like you were crying.") Oftentimes, it's an even more insidious violation of boundaries. "In America, even once they get the picture, they still follow you. It does bring out a serious kind of anxiety." She adds that in Mykonos, where one of her Lohan Beach House resorts is located, there are only two paparazzi, and she knows both of them.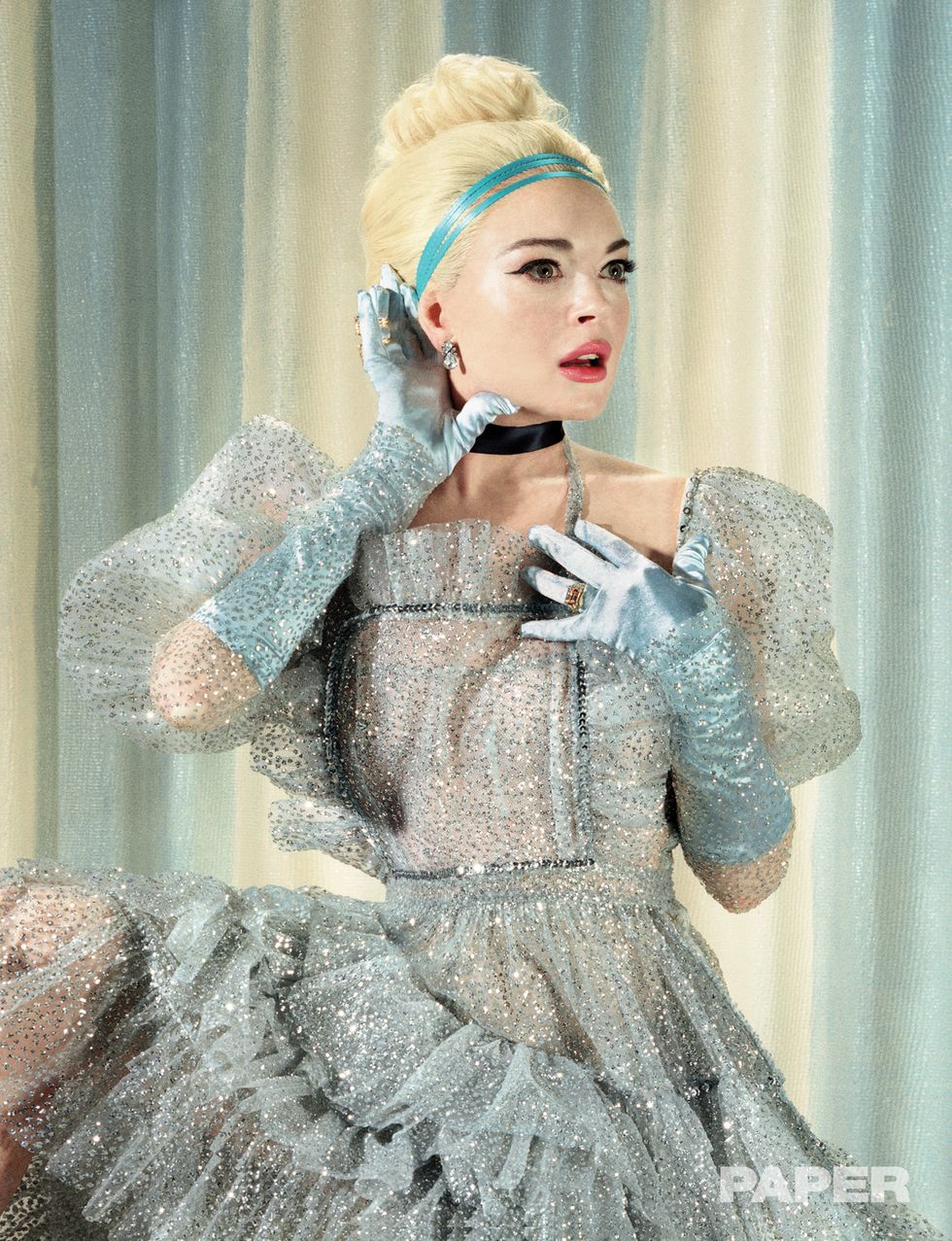 Apron and dress: Discount Universe; Shoes: Rene Caovilla
The Mykonos resort is the setting and the subject of Lohan's upcoming Vanderpump Rules-style reality show, Lindsay Lohan's Beach Club airing on MTV on January 8, 2019. Located near the beach where Lohan's ex-fiancé was filmed assaulting her in 2016, the resort is both Lohan's powerful reclamation of a painful memory and a savvy business move. On an island known for its all-night parties and Ibiza-style clubs, Lohan Beach House caters to an underserved market: "I really wanted to make it a family-style beach. A place where people can go with their kids and feel safe," she says. "They can have fun and there's not cameras every second. It's not just a party thing; you can have a nice lunch."
Hospitality makes sense for Lohan, a self-described caretaker with plenty of experience staying in hotels (including living on and off at the Chateau Marmont from 2003-2006). That penchant for nurturing both begins and ends with her family, for whom Lohan Beach House is also a convenient place to gather for the summer. Though she may have put literal distance between herself and the rest of the Lohan clan, it's clear she's especially devoted to her three younger siblings. On the phone, she's quick to mention her 24-year-old sister Ali's budding music career, and she emphasizes how much she enjoys staying in at night cooking for friends and family. In the ten years since the height of her tabloid fame, Lohan has become something of a homebody.
"I am who I am. I'm a good person," she says. "I take care of myself. I'm healthy. I like to have fun, but that doesn't mean I need to go out and drink and be crazy. I have a good relationship with that. It's funnier to watch other people party. My brother and his wife came out to Mykonos and everyone wanted to go out every night, but I pretty much just went home; some of my friends didn't want to go out, so they'd come and I'd cook. I like cooking for people and having people over and listening to good music."
Her unscripted series, of which she has far more creative control than the average reality star, is amazing, she says, because it isn't about her personal life. Rather, it paints Lohan as the big boss coming in to reprimand the attractive young people hired to run and promote her resort, and all the attendant shenanigans that come with such a venture. Being the de facto adult on set is surreal for Lohan.
She says, "To kind of have to calm other people down when they're stressed out, which was me in the past — I think back like, 'Oh my God, did I act like that? Ten years ago?'" Where her reputation as a coworker and employee used to precede her, now she has a new level of propriety to maintain. "I want to make sure these kids are responsible for themselves, but it's a liability and a legal issue, too. We just trademarked my last name."
'Troubled former child star' may be an archetype America has come to know well, given that we raise them to be so, but Lohan simply refuses to accept the label. "There's always going to be things that have happened," she said, "and things people have said in the past that you can't control. But the past is in the past."
If Joan Didion argued we should stay on nodding terms with our past selves, Lohan is more about waving from a safe distance.
That doesn't mean the rest of the world has forgotten the old Lindsay. New generations continue to discover and celebrate her films, solidifying her icon status. Popular Instagram accounts like @shesvague and @popculturediedin2009 post images and videos from Lohan's wilder days alongside nostalgic early-aughts fashion looks — super low-rise jeans, chunky highlights and halter tops abound. Photos of Lohan looking upset, lipstick smudged, or provocatively biting down on a knife while an anonymous hand pulls down her top inspire hundreds of comments declaring "this is so me" from fans either too young to have witnessed the destruction Lohan went through, or old enough to remember it but with an apparent fondness and respect for her glamorous self-assuredness in spite of it all.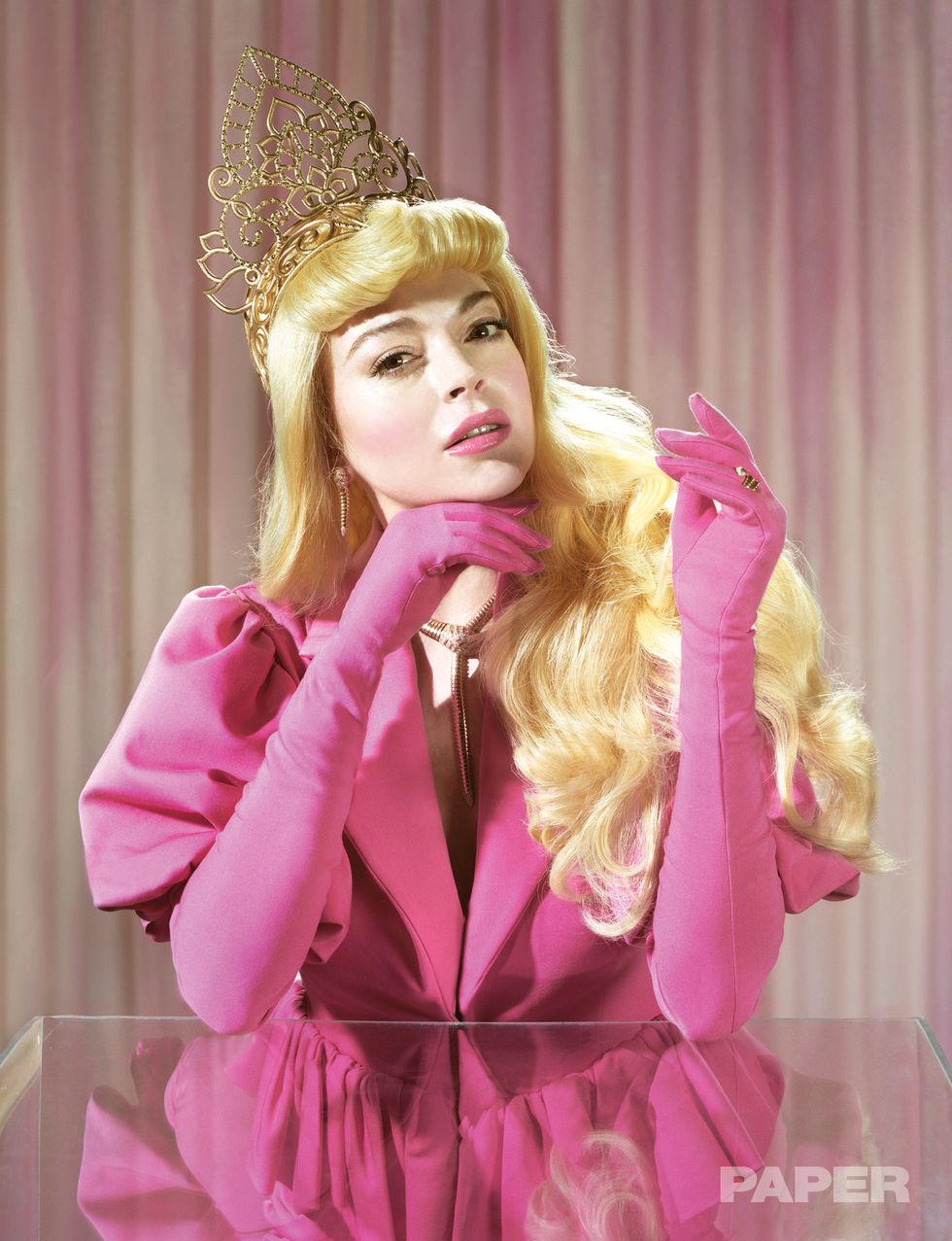 Jacket, pants and gloves: George Keburia; Tiara: Kova; Shoes: Giuseppe Zanotti
There may be few paparazzi in Mykonos, but at the end of the summer a candid video of Lohan dancing on stage at her resort in a silver jumpsuit, thick red hair swinging, long limbs flinging, instantly went viral. Something about America's wayward daughter looking so happy, free and fierce was reassuring. If Lindsay can navigate life's turbulence and make it out alive and sane, maybe we can, too.
Lohan, for one, seems to see herself neither as victim nor survivor. When I mention that the way we talk about women in the public eye seems to have changed — at least slightly — in the past ten years, she jumps in, saying, "I don't really get involved in that. I'm all for empowering women and sticking by each other, but I'm not really — I haven't experienced a lot of that stuff, so it's not something I can really quote on."
---
"My grandmother said, 'Only boring people get bored,'" she says. "But that's not really true, because I'm definitely not boring and I get bored a lot." To stay busy, in addition to the Mykonos location of Lohan Beach Club and the MTV show documenting it, there's a second resort by the same name that opened last summer in nearby Rhodes; the Athens nightclub she initially lent her name to in 2016; the UK comedy Sick Note on which she appears regularly; and the work she's doing to get a film based on the novel The Honeymoon off the ground, which she optioned last year after seeing herself in one of the characters. According to Lohan, all she's ever wanted was to work.
"That was kind of taken away from me for a while, when I was going through a lot. I was spending money on going to treatment centers because the court was making me. It was hard for me to continue working, because when would I even find the time?" She mentions her work on a BBC documentary filmed in India and her collaboration with Oprah on a documentary about her recovery as evidence of how she's changed. "I love working with kids and I love giving back," she says, but "people don't like talking about the good stuff. It's really crazy to me and makes me really sad. A lot of people do a lot of good things for other people, and it's like a flash in the pan, where if it's something negative it sticks with you forever."
Something negative, for instance, like a video she livestreamed of herself in September approaching what appeared to be a homeless family whom Lohan believed to be Syrian refugees. In the video, Lohan speaks in a strange accent and offers to take the children home to her hotel. When the adults — presumably the children's parents — rebuff her advances, an emotional Lohan accuses them of human trafficking and grabs for one of the children's hands. In the next second, we see the mother punching her in an attempt to push her away and Lohan falling back, crying.
The media response to the video was swift and the headlines multitudinous. It seemed for a moment the curtain had been pulled back to reveal the Lindsay we knew way back when. For Lohan, who came up in an era populated by cameras but devoid of the type of looping content we've all become accustomed to, the impulse was to take the incident and "erase it and throw it in the trash." When asked over the phone to further elaborate on what transpired, Lohan says, "Let's talk about it in New York. It's better if we speak face to face about it. So you can actually understand what really happened."
If she's not quite ready to discuss the message, she is more comfortable talking about the medium. "There's actresses, there's several of them to my knowledge that don't use Instagram or Twitter," she says. "But I feel like you sort of have to. It's your way of controlling the narrative. I recently made the mistake of having my phone recording live video, and that I learned from," she says. "But I think it's also important because if you're doing something and you want to give direct access to your fans, you can contact them and see their thoughts and get an opinion. Whereas in the past, you didn't have any control over it."
The metrics by which we judge public figures has certainly changed from even ten years ago, and where a character like Lohan fits into the new rules of engagement is still being worked out. "Stars: They're Just Like Us!" tabloid spreads are unnecessary; we can observe the similarities (human, banal) and differences (stark, capital) in real time, with our own eyes.
Online, where we're all public figures, we demand performative accountability in exchange for a more forgiving eye for private tumults. Today, if a young woman announces she's checking into rehab or struggles openly with mental health issues, we collectively offer support and write think pieces admonishing those who don't. In 2018, we Leave Britney Alone. But our curiosity about each other remains inevitable in theory, if sometimes toxic in practice. Grabbing a moment in the spotlight is easier than ever, but remaining there is a different gambit, as one wrong move can leave you canceled.
On set in New York, Lohan — who arrives on time, her publicist asks me to note — is alive with nervous energy, modeling one extravagant Disney princess look after the next, in a nod to her career beginnings. (She mentioned that one day she'd love to star as The Little Mermaid: "It's not a secret that I'd love to be Ariel.") Thumping music keeps a very jet-lagged Lohan awake, and Ali buzzes around the set in a model-off-duty Balenciaga denim jacket, loose-fitting jeans and a bodysuit. She spends the day joking with the crew, trying on clothes and adjusting the music at her older sister's behest. She's already visited Dubai five times, she says, echoing Lindsay's comments that the people there are "so, so kind. Including those Saudi princes," she adds with a playful grin.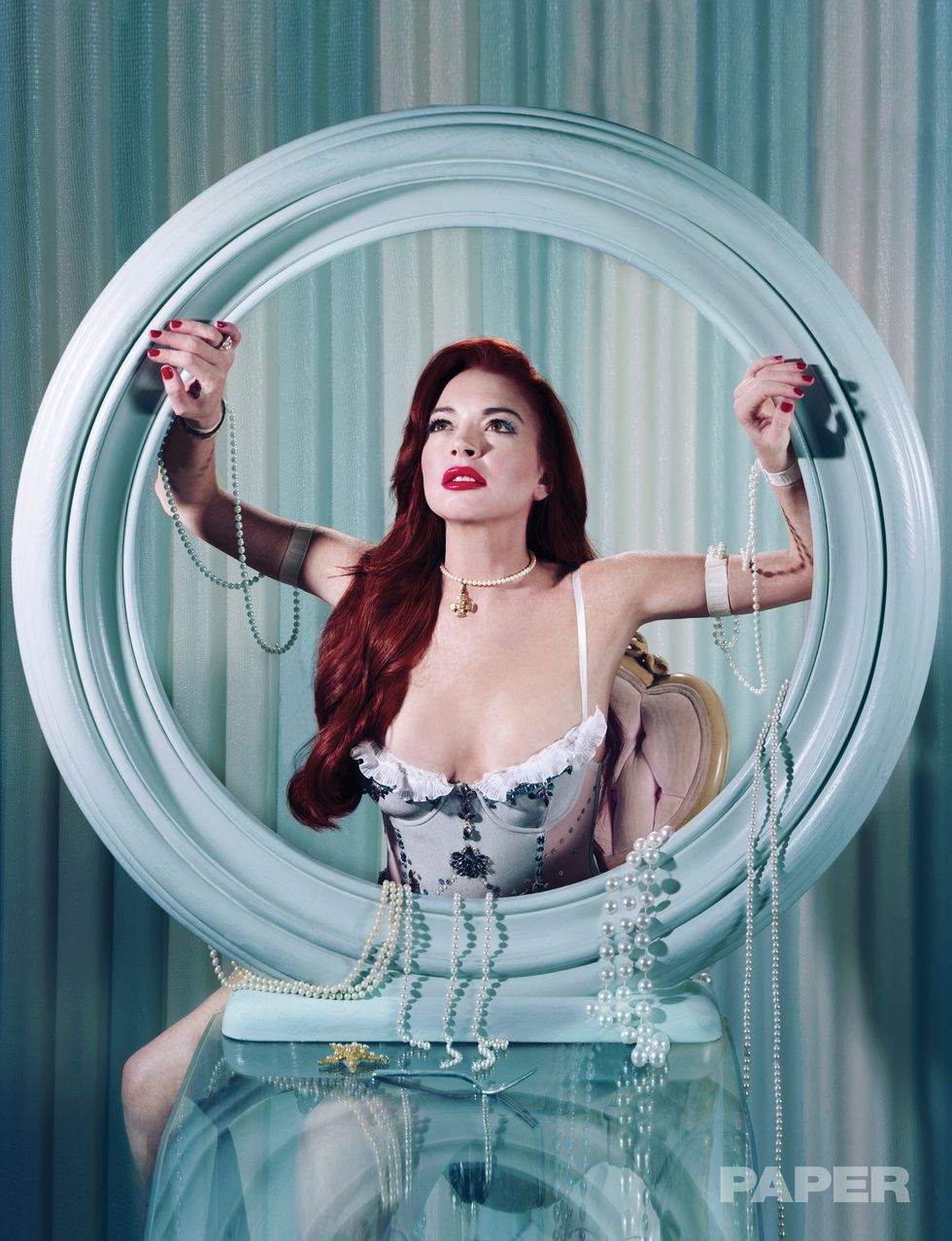 Bodysuit and pearls: TDF Costumes; Shoes: Giuseppe Zanotti
Lohan and I exchange a friendly wave as she glides by me dressed as a barefooted Cinderella, and I'm told we'll speak as soon as her mood is right. But when the shoot wraps nine hours later, Lohan, sitting in a nearby makeup chair on her phone, is too tired to speak.

Regarding the incident with the family, she offers later through a rep over email: "I read the situation wrong. I've learned from it. And that's all I have to say."
As familial as we feel with Lohan, she's learned how to keep herself safe from us by always remaining just out of reach. Tapping into her preternatural comedic timing, she has a knack for whipping out her wry charm in a pinch to turn an ambivalent situation light-hearted. We saw it in her self-deprecating ambassadorship for Lawyer.com, and her captioning the video of her unbridled dancing in Mykonos #DoTheLilo. It's an alchemy that serves one well in these mercurial times.
When we first spoke on the phone, Lohan said in that signature, scratchy drawl, "I've realized, you just have to smile and wave. 'Smile and wave boys, smile and wave.' I always tell my sister: Just smile and wave."