Join us at PAPER in June and July as we celebrate Pride online with a series of digital-only covers, features, and galleries celebrating and supporting the diversity, beauty, resiliency, and humor of the LGBTQ community. For our first digital cover, we spoke with the Supermodel of the World and Drag Race host RuPaul on winning Emmys, Lady Gaga, and why drag will never be mainstream (even as its popularity grows).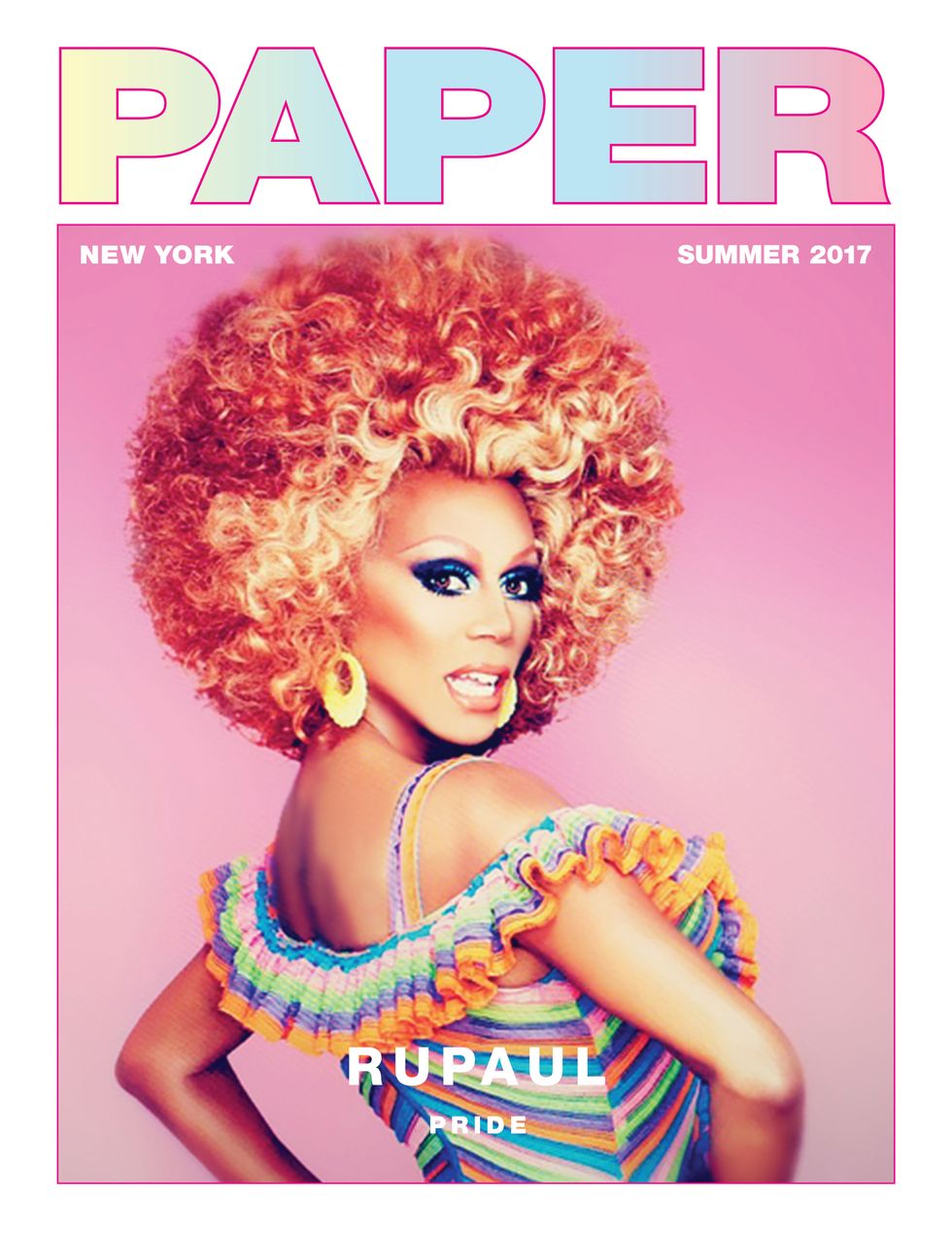 On a recent beautiful Friday evening in late May, I found myself crammed alongside hordes of other queer men inside a well-known gay bar in Brooklyn's heavily gentrified Williamsburg. In about a half an hour, a large screen plastered onto one of the bar's walls would project a live stream of the newest episode of the wildly popular drag queen competition show RuPaul's Drag Race. During the commercial breaks, two New York City-based drag queens—Thorgy Thor, a contestant from Drag Race's eighth season, and Aquaria, a popular choice to join the franchise's next season—would entertain the audience with improvised banter about the show and, well, whatever else was on their minds.
The show—a drag queen-centered version of reality competition shows like Project Runway and America's Next Top Model—is currently in its ninth season (plus two seasons of its spinoff, RuPaul's Drag Race: All Stars), and has been responsible for launching the international careers of 113 different drag queens to date. As the show's viewership has grown, skyrocketing from 300,000 viewers for its second season premiere to close to one million for its ninth, so too has its cultural impact. In recent years, gay bars across the country have started to take advantage of fan demand for viewing parties, figuring the three-month stretch in which any new season of Drag Race is airing is just as important to queer communities as any football season is to straight men at sports bars. The tradition has become so embedded in modern queer culture, in fact, that the show's move this spring from Tuesday nights to Friday was met with some tension because of the negative impact it might have on gay bars' bottom line.
Queer people have always managed to create spaces to commune and celebrate, but not until Drag Race has there been such a universal feeling of identification and solidarity directed towards one single aspect of pop culture.Fans across the LGBTQ spectrum (and beyond) have embraced the show, transforming drag performances and queens from cult icons to mainstream figures, and the credit for that shift falls almost exclusively to Drag Race's eponymous creator, RuPaul.
It's no surprise, then, that when I referred to RuPaul as "a" drag queen, he felt the need to correct me. "I'm not a drag queen," the legend retorted in a tone that was surprisingly self-serious for someone who would later say his career has always been about pursuing "what feels good" in life.
"I'm the motherfucking drag queen."
Born on November 17, 1960, Andre Charles spent his earliest years in Southern California's coastal San Diego before moving to Atlanta as a teenager to study theatre. In the 1980s, he settled in New York, where he would go on to make a name for himself as the larger-than-life drag queen RuPaul. With a killer body towering over everyone at almost seven-feet in heels, it was only natural that RuPaul started to refer to herself as the "Supermodel of the World" (which was also the title of her first album). By the mid '90s, she had reached international superstardom with the Billboard Hot 100-charting single "Supermodel (You Better Work)." RuPaul went on to grace magazine covers (including PAPER), produce another 10 albums, sign modeling contracts with industry leaders like MAC Cosmetics, write autobiographies, and host her own VH1 talk show, The RuPaul Show.
It's the Tuesday following the premiere of Drag Race's ninth season (the finale of which will air this June 23) and our conversation is coming in the middle of what has already been a long press day. Nevertheless, RuPaul was bright and chipper, and as loquacious and expressive as he is on camera. Known for his signature one-liners on the judging panel ("Your bunny look did not make the judges hoppy," to name a personal favorite from this current season), he was just as witty and shady on the fly. In response to one admittedly very convoluted question, he had no qualms about playfully calling me out: "There were several mini-questions in there, but let me see if I can decipher what you mean." Later, as our conversation ran long, he joked, "Let's get cracking, bitch. I've got some shit to do."
In July 2016, seven years after the Drag Race pilot originally aired on LOGO, RuPaul made history when he was nominated for his first Primetime Emmy. The category, Outstanding Host of a Reality or Reality Competition Series, pitted the Drag Race host against heavyweights like Ryan Seacrest, and Heidi Klum and Tim Gunn, many of whom (with the exception of Seacrest) had won the award in previous years. (Hollywood Game Night's Jane Lynch has even taken home the trophy more than once.) Despite the stiff competition, RuPaul took home the statue at September 2016's Creative Arts Emmys.
When his name was announced, he first turned to hug his lifelong friend and Drag Race co-host Michelle Visage, then walked up to the stage dressed in a Pepto Bismol-pink polka-dotted suit, with a monogrammed Gucci handbag slung on his wrist. His acceptance speech started like many others—with a long list of people he felt the need to thank—but he concluded by doubling back on some comments he had made to Vulture's E. Alex Jung only six months prior. "Earlier this year, I was quoted as saying, 'I'd rather have an enema than an Emmy," he said with a knowing wink while fake-crying. "But thanks to the Television Academy I can have both."
It was a huge moment that, for many, seemed to solidify drag's ascendance to the mainstream—but not for the Emmy-winner himself. "Drag is still not mainstream and it will never be," he said. "Drag is the antithesis of the matrix and the matrix is a consumer-oriented program. For a consumer storyline to work, you have to have people choose an identity and stick to it so that the matrix can market things to you."
But even if a drag queen may be above marketing, drag culture itself can be a valuable commodity. This year, Drag Race was picked up by VH1, a network that clearly believed in its ability to market the show to both its viewing audience and its advertisers. And they should: Drag Race has spawned an empire. The third annual DragCon drew a record 40,000 attendees and will expand to New York this fall, and production company World of Wonder's YouTube channel boasts over 720,000 subscribers. Lady Gaga sat on the judging panel for the RPDR season nine premiere (an experience RuPaul describes as a "love fest" that "could not have been more perfect"). MTV personally invited the All Stars season two cast to walk the Video Music Awards red carpet. Saturday Night Live aired a skit poking fun at the number of straight men who have found themselves (secretly) following the show, and a few weeks later, musical guest Katy Perry invited several drag queens to perform with her on that same SNL stage.
At the very least, this embrace of the show must signal a positive change for LGBTQ representation in popular media. But for Charles, it just echoes the discussion surrounding Will & Grace when it first started airing. "Everyone thought, 'Now we've got Will & Grace on the air. Things have got to be more progressive.' But no, think again."
While he acknowledges there is progress, RuPaul still believes that society will always be taking steps backwards. "People are more comfortable with fear than they are with love and openness, so you get this ebb and flow tide," he explained. "It's this pendulum swinging back and forth because that's who we are." He compared it to past cultural shifts. "The openness we witnessed during the disco era, where men were flaunting their bodies in ways that had, in recent history, never happened? Well, we thought that was going to last forever, but no bueno. That was shut down so fast."
The election of Donald Trump this fall (and the cascade of regressive arguments and legislation that came along with it) seems like a sign of that inevitable progressive ebb. "This election and what is currently happening politically is a result of the fear of them losing their grip," RuPaul said. "They've only been in the White House for a few months and it just gets uglier and uglier every single day." Despite that, he also feels it "was a good thing, because it's igniting that rebellious spirit."
"I think young people are waking up. They are picking their heads up from their smart phones and they are waking up, and I think that's a good thing." But he also expresses ambivalence that the younger generation—the same one directly impacted by the success of his show—will ever be able to learn from the historical pendulum. "The young mice always think they can outsmart the mousetrap," he said. "Is there any way to keep [the youth] from going back into the Dark Ages? No. There isn't. It just has to fucking happen."
But the youth-oriented obsession with things like social media has played a large role in expanding the influence of drag and pushing the boundaries of the art form. Even RuPaul himself, whose Twitter and Instagram accounts boast more than two million followers combined, uses these platforms to promote his show, discuss important issues, and post political memes in equal measure. Yet, his attitude towards social media is still decidedly blasé. According to him, it's neither good nor bad. "It's just different," and while this "technology has ultimately changed our world," it does not divorce drag from its fundamental skills. "You could be famous on whatever social platform you're famous on," he explains. "But at the end of the day you still have to know [the craft] and have what it takes." Sometimes it works, like for the show's seventh season winner, Violet Chachki, who amassed an extremely dedicated Instagram fan base prior to appearing on the show. Ru describes her as "an exception" because she was "smart enough to be diverse, and bring the looks." As for others, well: "If you are a social media queen, a lot of times you can't deliver. You just don't have the experience."
While RuPaul is unquestionably the most experienced drag queen working, in recent years, he has only appeared as his female alter-ego when sitting on the Drag Race judging panel. Nowadays, his funky take on male dressing—immaculately tailored suits, but always in a bold pattern or color—is just as recognizable as the heavily hair-sprayed wigs he wears for his grand transformations.

"If the money is there, you'll see me in drag," he explains. "I don't walk around in drag just because I'm going to this movie premiere or that one." He then takes a quick pause. "I mean, drag is something I do for money."
It was initially jarring to hear the most well-known player in the game speak of drag in such pecuniary terms—especially since so many competing queens have described the art form as inextricable extensions of their identity. But this doesn't negate the fact that drag shows are also a business and their stars are professionals. After all, musicians don't sell their music for free.
When asked what about his success makes him the most proud, RuPaul responded that he enjoyed "creating a platform for these 113 queens to launch their international careers." Less than a decade ago, drag wasn't even understood as an art form by most of America. Today, RuPaul's Drag Race has made being a drag queen a viable career path, and those queens lucky enough to compete on the show celebrities in their own right.
It's clear that reaching a point where he could compartmentalize these different sides of his celebrity was always a part of RuPaul's master plan, and he also clearly has a desire to keep certain aspects of his personal life private.
When we spoke, it had been only a week since he went public about his January 2017 marriage to Georges LeBar, his boyfriend of 23 years, and it was only natural that I congratulate him on his union. But an inquiry about maintaining a long-distance relationship for so many years (LeBar lives on a ranch on the border of South Dakota, while RuPaul is based in L.A.) made the usually forthcoming RuPaul a little reticent.
"Well, you know, he's someone who…" he said and paused for a second. "He's just the person on this planet who is just my favorite person I have ever met. It's really just as simple as that. I like him a lot. A whole lot."
In the wake of this busy spring, RuPaul has not shown any signs of slowing down. Drag Race has been renewed for its tenth season, and RuPaul is fresh off of several high-profile guest appearances on shows like Netflix's Girl Boss and Comedy Central's upcoming fourth season of Broad City. Perhaps most excitingly, the mogul is set to executive produce (alongside J.J. Abrams, no less) a half-hour dramedy series about his life as a club kid in '80s New York—an era he describes as brimming with "social rebellion to the Reagan conservatism that had swept our country with yuppies and all this cookie-cutter gay storyline."
The show will touch upon the way in which "drag has always been used as a political statement against conforming or having to choose one identity and stick with it," but its relevance in today's political climate is not why he has chosen to pursue its creation now. "I think that people in the entertainment industry are looking for things that spark fire in young people," he said. "I think a lot of things that you'll see coming out of Hollywood now will reflect that kind of fire."
After experimenting with gender-bending androgyny during his "punk rock" days and becoming a household name as today's high-femme seven-foot glamazon, the self-proclaimed Supermodel of the World seems most fit for carrying on the torch to ensure that this fire never burns out. Referring to drag queens as "shape-shifters," he declares, "Drag is a performance and that performance is still a threat to the ego because the ego is all about established identity." The resistance of drag is all about refusing to compromise one's identity, and even in the face of struggle, RuPaul makes it clear that he's in it for the long-haul. "I think we are headed somewhere interesting," he said about the future. "But let me tell you something. It's not going to be easy and there will be blood."