By any measure, February 10, 2019 marked a high point in Kacey Musgraves' career. That night, the country artist took home four Grammys, including the evening's big prize, Album of the Year, for her 2018 project Golden Hour. Yet it was another triumphant night in February, a little over two weeks later, that may have eclipsed even her big awards-show win.
On February 25, Musgraves delighted the crowd gathered at the annual Houston Livestock Show and Rodeo with a performance that included a cover of Selena's "Como la Flor" in tribute to the late Queen of Tejano and fellow Texan who was murdered 24 years ago. Fans, including Selena's sister, took to social media to praise Musgraves' sensitive rendition of the song. But it was her entrance that cemented Musgraves' place in internet pop culture and created an indelible viral image in the process.
Resplendent in a white lace Michael Kors flared jumpsuit, with her long black hair teased high and curled in waves that hung halfway to her waist, Musgraves, 30, entered Houston's NRG Stadium on a beautiful brown horse, looking like a cross between Bianca Jagger making her iconic entrance to Studio 54 and Love Is the Foundation-era Loretta Lynn. In many ways, this duality — the glamorous jet-setting disco queen meets the coal miner's daughter — serves as a useful lens through which to understand Musgraves' music, personality and even her fans.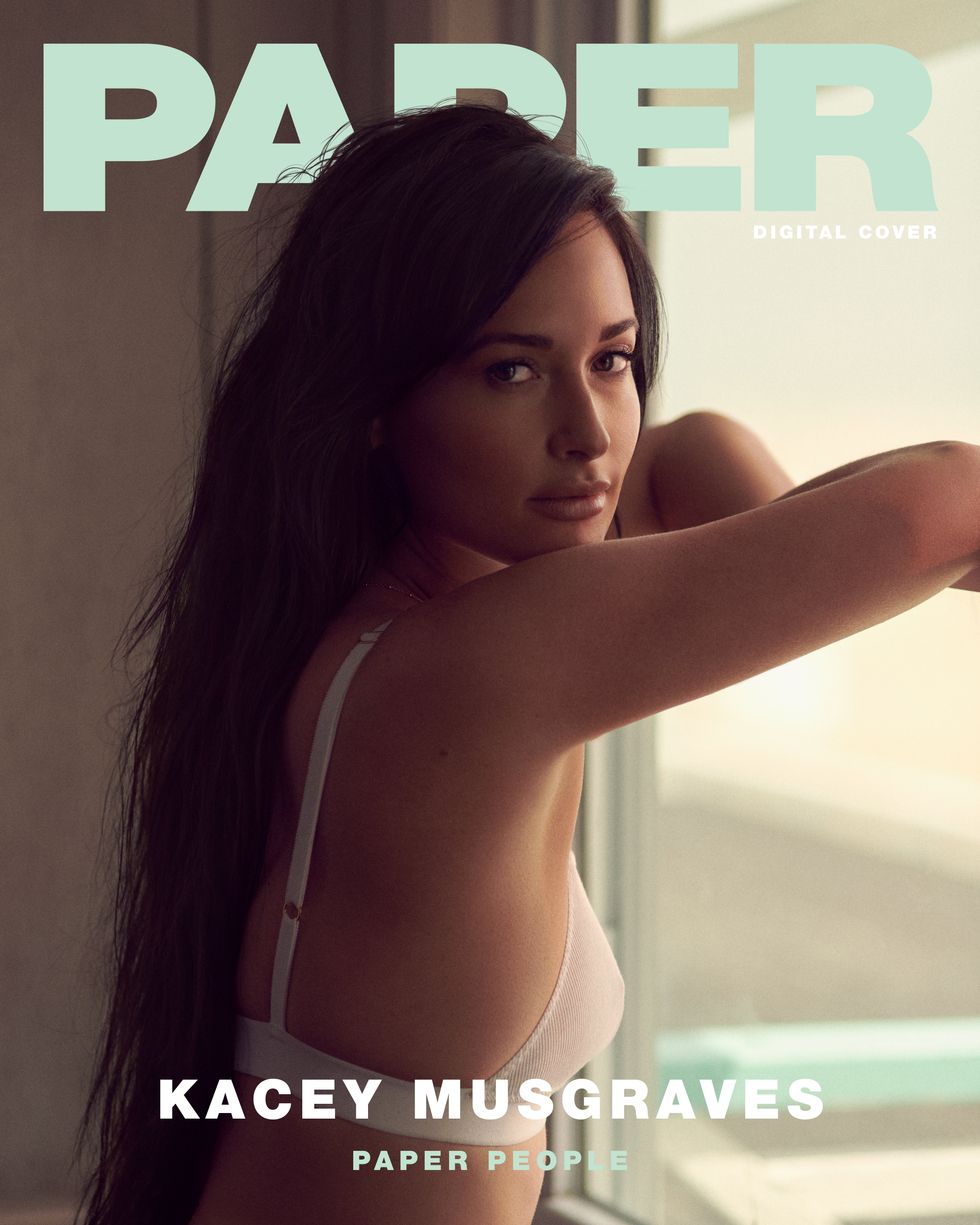 Bra: Araks
Since she made her major label debut with 2013's Same Trailer Different Park, the singer and songwriter has caught the world's attention with lyrics that reflect the challenging realities that often accompany a working-class, small-town life as well as progressive views on topics like drugs and sexuality. Thanks to songs like "Follow Your Arrow," in which Musgraves sings, "Make lots of noise / Kiss lots of boys / Or kiss lots of girls / If that's something you're into / When the straight and narrow / Gets a little too straight / Roll up the joint, or don't / Just follow your arrow," it became clear that a new kind of voice was emerging in country music. Her open-minded views and embrace of the LGBTQ+ community (her release party for her sophomore album, Pageant Material, was held at a Nashville gay bar and featured lip-syncing drag queens) exist side by side with a deep respect for traditional country music hallmarks like banjos and pedal steels and aesthetics like fringe and cowboy boots.
But as much as these qualities have led music writers to spend thousands of words describing Musgraves' remarkable ability to appeal to seemingly disparate (and often reductive) groups — red states and blue states, die-hard country fans and "everything but country" music listeners, small-town folk and city slickers — perhaps more than being someone consciously trying to evolve a genre (and the people who listen to it), Musgraves is simply sharing her own life experiences with listeners. And, like many fellow Millennials who came of age on the internet, embracing all of the world's — and web's — myriad communities, ideas and styles along with it.
"One of my greatest fears is the thought of losing touch with reality and with humanity. It just grosses me out to think that. And I've seen it around the industry before."
Although she came up through country's traditional route — years spent penning songs for other artists before landing a record deal of her own — Musgraves is an artist both of, and for, the internet. It's something we often associate with young musicians working in hip-hop, electronic or pop but that's rarer in country, a genre that, rightly or wrongly, remains equated with a certain conservative, old-school or analog outlook. And, whether she realized ahead of time that her horseback entrance to the Houston Livestock Show and Rodeo would go viral or not, it's this kind of fluency with internet culture, memes and the web's visual language as well as an omnivorous appetite for different styles and sounds that can perhaps best explain Musgraves' broad appeal and embrace by so many different communities.
"I don't feel any kind of pressure to stay beholden to any style," Musgraves says of her music. "I love to include these intrinsic country sounds like banjo or pedal steel and figure out how those can live in harmony with some of my pop influences. And I think there is a world where it all can fit. And the beauty of music is that, especially these days, it can be whatever anybody wants."
She goes on to add, "I've never been fully comfortable saying, 'I am a country artist,' because I can't tell you that I am. I'm just an observer of life, I'm a songwriter."
Growing up in Golden, Texas, a small town an hour east of Dallas in the state's "Bible Belt," as she puts it, Musgraves started performing country and western music as a young kid while learning to play the guitar and mandolin. "I became known as 'the singing girl,'" Musgraves recalls. Though she says her "friends were supportive," she adds that "no 13-year-old in a 10-gallon hat and jeans with a 9-inch zipper feels confident in front of their peers when everyone else is listening to other things." As she got a little older, she started getting into music by "Dashboard Confessional, The Used, Alkaline Trio and Avril Lavigne" and says in early high school she "chopped off all of her hair" and went through somewhat of an emo phase, MySpace account and all. Even then, she was open to exploring other scenes and to creating a more expansive identity for herself that wasn't limited to certain cliques or social tribes. But she never fully abandoned her love for country.
She moved to Austin, Texas after finishing high school before eventually settling in Nashville to pursue a music career. "I never had a back-up plan," she said of this decision. "There was never a question that I wouldn't do this." After several years writing songs for other artists like Miranda Lambert and Martina McBride, she signed a deal with Universal Music Group Nashville in 2012 and went on to release four records with the label (the three mentioned earlier as well as a Christmas album). But a curious thing happened: Country radio stations weren't giving her singles much play (perhaps, as Musgraves has alluded to in previous interviews, because her songs were often more "down-tempo" than the modern country that music listeners have come to expect from hitmakers like Florida Georgia Line or Luke Bryan), yet nevertheless, thanks to the internet and critical recognition from the music press, fans were discovering her music on YouTube and streaming sites.
This seemed to be proof of concept that a new kind of country artist could not only exist but thrive outside of the normal industry confines, both literal and metaphorical. And it further supported Musgraves' sense that she shouldn't waver from who she is or how she feels. "I've always had a really strong core [sense of] myself," Musgraves says. "I've always known really strongly what I do and don't want." She continues, "I don't feel like I'm ever losing my sense of self. I've worked really hard to maintain that. One of my greatest fears is the thought of losing touch with reality and with humanity. It just grosses me out to think that. And I've seen it around the industry before." She shares that as part of staying connected to who she is, she looks for honesty at all times from loved ones like her husband, musician Ruston Kelly, and her sister, Kelly Christine Sutton, a photographer and graphic designer who has worked with Musgraves on her visual presentation, including shooting all four of her album covers. "If [my sister] doesn't think something's cool, she'll just be like, 'This is so dumb.' You kind of need that," Musgraves says.
While Musgraves is still in the midst of a tour and not yet back in full-on writing-and-recording mode, she says she has been working on new material here and there. Though she won't go into specifics, if her dream collaborators — Daft Punk — are any indication, there might be more songs like Golden Hour's "Oh, What a World," where listeners heard Musgraves experiment with blending country elements with synth-heavy electronic sounds. "I'm inspired by this world in my mind where really rootsy, organic materials can meet clean, futuristic ones," she says. "Pedal steel and vocoder... banjo and synth. All of my past and future coming together and colliding in a way that feels melt-y and balanced and not contrived."
Aside from Daft Punk, Musgraves is also attuned to the numerous collaborations the internet has been dying to hear (and tweeting about). "I'm down for so many collabs," she says. "Post Malone's from Texas and I think we would probably create something dope. I love what Billie Eilish is doing and what Lil Nas X is doing. I love Lana Del Rey. I would love to write with her. And I love Sufjan Stevens. I would love to create something with him."
"I'm inspired by this world in my mind where really rootsy, organic materials can meet clean, futuristic ones."
But for now, Musgraves is firmly in the moment and soaking up new experiences on the road, like a recent tour date in Shanghai where she encountered thousands of fans wearing cut-out masks of her face. "It was the most insane, excited, over-the-top, loud, exuberant crowd I've ever seen. I just didn't expect it," she recalls.
"I get excited and so focused on what I'm doing in the moment that I don't really take as much time as I should to pause and let something really soak in," she continues. "That's something that I try to be conscious of, but also I think that if you try to do that with every moment, it would probably just freak you out. So I kinda just roll with it, ride the wave and enjoy this while I'm able to do it because it doesn't last forever." But when she needs a minute to recharge or re-center, a good meme never hurts. "The Internet is a lawless but hilarious place," she says. "Dude, that Area 51 shit is making me laugh."