The club circuit affords a certainty of exposure and stability of income for RuPaul's Drag Race alum — but it's just not Miss Fame's gig. At least not today, three years after joining the ranks on the show's seventh season, and nearing five years of marriage to husband Patrick Bertschy. Miss Fame — real name Kurtis Dam-Mikkelsen, the artist behind the persona — says the pair is actively focusing on their well-being.
Not long ago, they relocated to Brooklyn, where there's more floor space at home and more parks nearby for their two dogs, Mina and Shaya. In thinking about their mental wellness, they wanted "an environment that caters to a little more stillness," Dam-Mikkelsen says.
Miss Fame fans already know that she won't be touring or performing live anymore. She announced officially on Instagram in February this year, about a month after sharing that she'd signed to Wilhelmina Models. Nobody truly versed in Miss Fame's work should be shocked: Beauty and fashion have always been paramount. The news isn't so much a shift, but a return to the industry in new form. Rather than modeling as Dam-Mikkelsen, it's Miss Fame, in all her glamour and glory, behind the lens.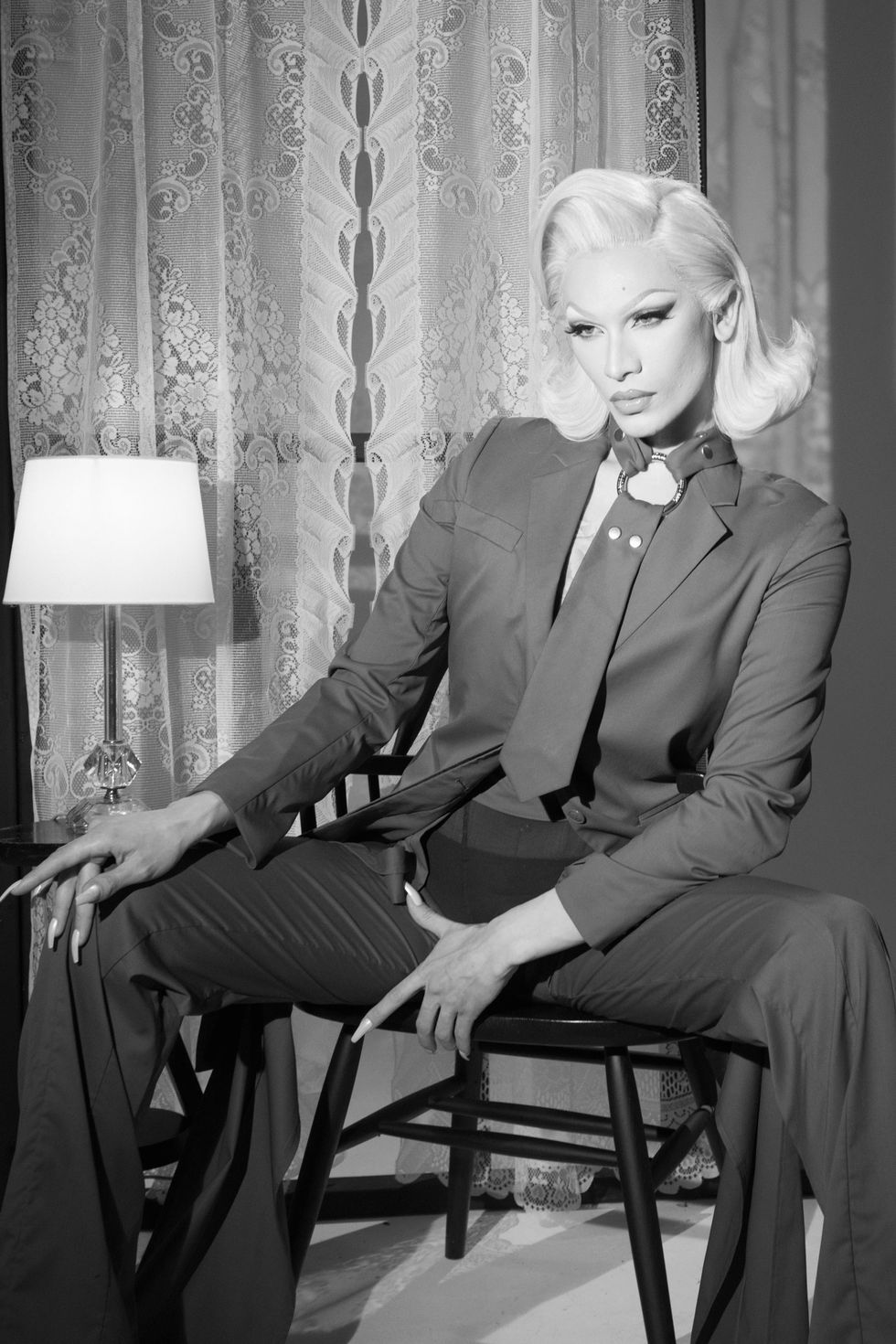 "I wanted to model, I wanted to be able to be in front of cameras, I wanted to be able to work with photographers that I respected when I was a kid," Dam-Mikkelsen says. "I wanted to be able to create the visual that I was looking at in Vogue, these really powerful women that looked like their hair was flying. I just didn't realize that I had to actually become forward-facing female to get exactly what I once saw. And it just feels so right."
He'd modeled as Miss Fame before Drag Race; he's been signed to IMG Paris for two years now, and served as spokesmodel for L'Oréal Paris in 2016, during which he attended Cannes — the first drag artist ever to walk the festival's red carpet, and later shot additional campaigns. Dam-Mikkelsen had also already spent years as a professional makeup artist, having trained under Pat McGrath, working with celebrity clients and designers like Prada and Versace.
Related | The World According to RuPaul
But early in his modeling ambitions, he struggled with presenting a male in typical forms expected by agents. One even told Dam-Mikkelsen to "go hang out in a butch bar and tone it down."
"That is so crazy that someone can tell another person that their character is a distraction and they need to eliminate it in order to be able to work," he says.
That was seven years ago; who it was, Dam-Mikkelsen says, he can't even remember.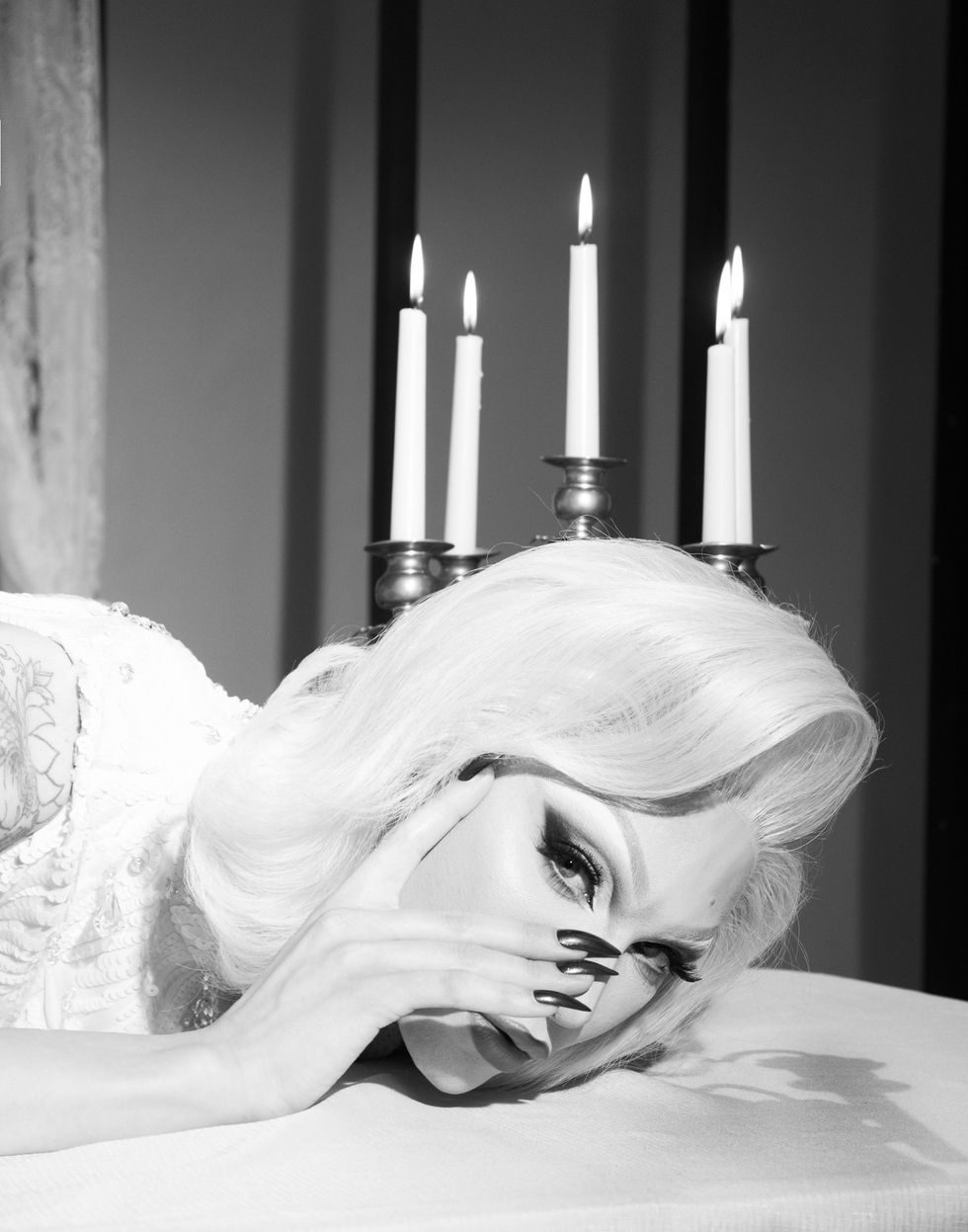 "It wasn't like I'd gone to a heavy-hitter and I got told that from the high ups. I got told that from somebody that was getting a power trip on reading me for being feminine," he says. "But I started to lean into my femininity, and not listen to the haters that were trying to tell me that I was too much of something as a man. When I moved in fully to my feminine side and discovered that this was my calling, immediately the doors opened. They finally understood my personality, they understood the way that I walked, they understood my passion for artistry, the way I move my hands."

Today, Dam-Mikkelsen approaches everything with fresh eyes — a steadfast vision built on the kind of sturdy foundation you can only achieve through understanding and accepting yourself.
"When I moved in fully to my feminine side and discovered that this was my calling, immediately the doors opened."
"I've gotten to learn about my self-identity through the art of Miss Fame," he says.
Last August, Miss Fame made the pages of Vogue Germany — 10 of them, in fact, both in and out of drag, and states of in between. At the same time, US Vogue was running a gender fluid-themed story that featured Gigi Hadid and Zayn Malik as emblematic of gender fluid identity. Miss Fame fired back on Twitter, calling out the publication for what basically equates to high-fashion exploitation of a community of people. Backlash for speaking out against the publication while simultaneously appearing in another of its editions was a risk he was willing to take.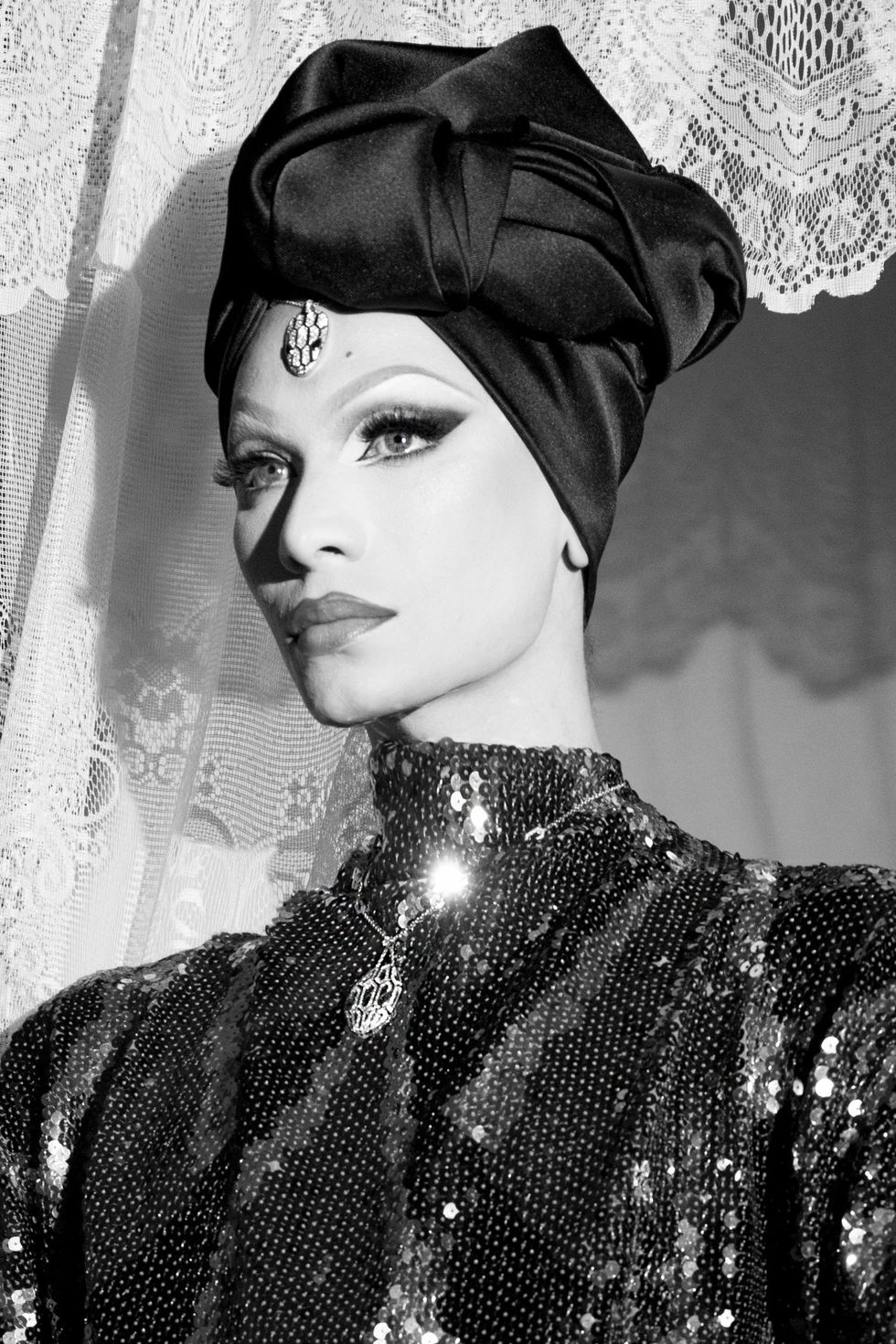 "I didn't care to lose. I'd stand for truth," he says. "That's more important than the validation I got for being in the editorial. I loved the editorial, but truth is what we should all stand for, and that was where I felt like I started to have more purpose, when my identity started to make more sense to me."
Reading the definition of the term was an epiphany for Dam-Mikkelsen. In feeling offended by the Vogue story, he clarified his own gender fluidity.
"When I hear drag, I feel like it's not enough. It's one element of what I do, but I don't feel like it encompasses who I am, you know? I feel like my insides are female. I feel like my soul is female. I feel like what people see is male, but I'm never offended if someone calls me her. I'm just grateful for the fact that I live in this body and I also get to be feminine and I don't have to answer to anyone about that. That's why gender fluidity is my title."
"I feel like my insides are female. I feel like my soul is female."
In the wake of that revelation, Miss Fame has continued to build on an already stellar modeling career: Editorials in V Magazine, LOVE, Tush, and more. He's done makeup for Marc Jacobs too, and sat front row at his shows with supermodels Karen Elson and Eva Herzigová. ("It's amazing to see the collection, then I get to wear the collection to watch his collections walk. It's like the coolest stuff ever.")
Miss Fame was invited to the designer's birthday party just weeks ago, where she found herself the subject of photographers alongside Naomi Campbell.
Related | Naomi Campbell Remains On Top After 30 Years
"Like, this is a moment in my own personal story where I felt so impressed that I got to a point in my career where I could be in the room with such profound influences in fashion," Dam-Mikkelsen recalls. "And I felt like family."
Jacobs frequently introduces Miss Fame as his niece — to Campbell, and others, like Lil' Kim, who wants Fame to do her makeup.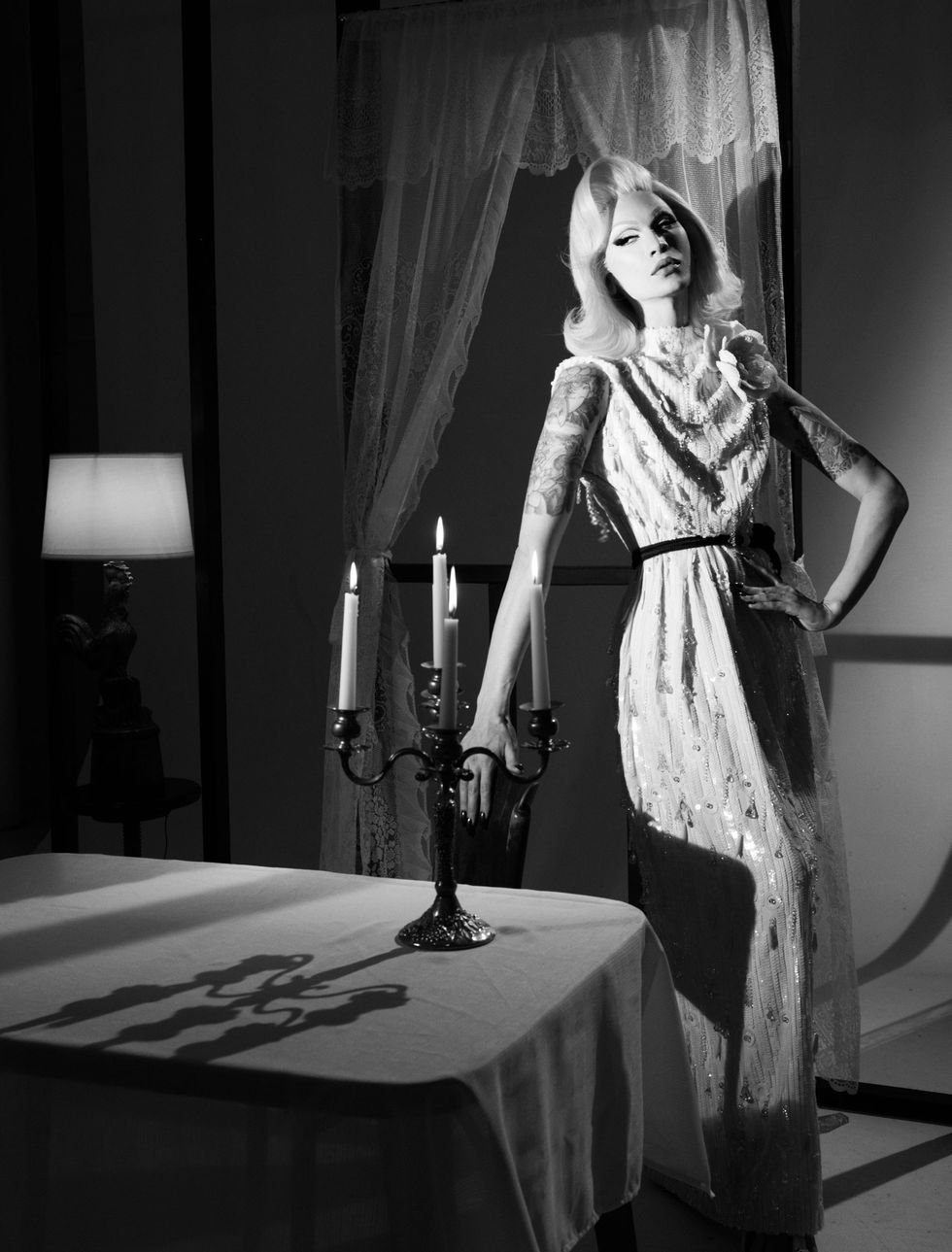 Having grown up small-town style in California (on farm with chickens, a fact made famous by her clucking on Drag Race), raised by his Danish grandfather and Mexican grandmother, Dam-Mikkelsen says any flash of flamboyance was discouraged. Targeted for being sensitive and emotional since childhood, and with limited queer community around him back then, it wasn't until he was older that he was able to better grasp his identity — in part, through his magnetism toward Miss Fame, and also through his trans sisters, who he says have been "a loving and supportive community" throughout the process.
"It's just been a complete resurrection of my soul," he says. "That's why I discovered that I can actually have the soul and spirit of a woman and be the man that sits on the couch with my husband, and I'm allowed to push the boundaries of my body, and I'm allowed to push the boundaries of the way I present myself."
"I'm the same person in and out of makeup [...] I'm just a higher version of myself when I'm in my glamour."
There will always be people who don't comprehend, at least at first, what modeling in drag means. Dam-Mikkelsen sometimes has to show them Miss Fame's work. Often they don't recognize him — but close friends clearly see Kurtis Dam-Mikkelsen in any presentation of Miss Fame, he adds.
"I'm the same person in and out of makeup," he says. "I'm just a higher version of myself when I'm in my glamour."
Dam-Mikkelsen points to the potential for evolution, though. Empowered by newfound self-assurance, if change comes, he'll let it flow.
"My trans sisterhood has allowed me to express my femininity and find that I'm taking time to kind of discover if there's more to me that I want to look at or if I'm comfortable with where I'm at today," he says. "I will continue to evolve. It's like, to be continued. We'll see who I am in the years to come."
And sharing that journey will be part of the process. His perfectionist tendencies kept him from speaking out as much in years past; fear of mistakes prompted privacy, and he worried he'd offend family. But you can't live your life "just trying to make your aunts and uncles happy," he says.
While Miss Fame continues to transform both the modeling industry and what it means to be a drag artist (and what spaces are available to that artistry), there's opportunity for change in mainstream society and culture, too.
"It comes down to being really solid with your own identity and expression and kind of walking through life, that's where people get to learn and grow. We all need to participate in our authenticity so that people around us can learn that the world is built off of dimension, and people with texture."
"We all need to participate in our authenticity so that people around us can learn that the world is built off of dimension, and people with texture."
Being himself – and Miss Fame – is now an even brighter ray of queer visibility. The reach is further and the platform is higher. Dam-Mikkelson has always believed in himself, but it seems he understands better now how powerful that energy can be for others.
Cozy with his husband in their quieter Brooklyn home, he's able to feel loved and heard, to hold his dogs while he sleeps. It seems to ground him.
"I think about Miss Fame from the moment I wake up to the moment I go to sleep," he says. "but I need these things outside of myself, that aren't so self-centered because being an artist, it's about looking at yourself and then hopefully sharing your art and then talking to your audience as a way to connect to this selfless act. Those are things that I'm looking at now, like what can I do to help? I need to start being more connected to the world because I think that's where I get to not be so contained within my own ego. I want to help."
Photographer: Marcus Cooper
Stylist: Lisa Jarvis
Hair: Lorenzo Diaz
MUA/Talent: Miss Fame
Nails: Riwako
Set: Taylor Horne
Video: Phil Daniel
Fashion: Marc Jacobs