Australian singer songwriter G Flip, real name Georgia Flipo, can't stop talking about her girlfriend. She's been on tour this past month, playing Lollapalooza and Reading and Leeds, and the brutal 12-hour time difference makes it hard for the two of them to stay in touch. "When I wake up, she's going to sleep," Flipo explains. "I don't even know what day it is anymore."
Most touring musicians experience some version of this struggle, but for G Flip it's hyperpersonal. Most of her songs are inspired by the relationship she left back home, and this Friday she'll release her debut LP About Us, a concept album telling the whole five-year-long love story from start to finish. "The first track starts off like the exposition of a Shakespearean play, where it tells you what's gonna happen, but doesn't tell you the end," she says. "The whole album just continues 'till you get to the last track, which is almost like wedding vows, where I'm making promises to be better and be hopeful about the future."
If this all sounds a bit Taylor Swift and sentimental, be assured G Flip is more interested in writing songs about rough patches than smooth ones. Lead single "About You" is apathetic about long term commitment, "Drink Too Much" brings to life a messy and depressive post-break up phase, and "I Am Not Afraid" acknowledges the inevitability of being single again someday. It's the kind of nonlinear millennial love story that doesn't get much representation in romcoms: hook up, break up, someone sends a late night text, hook up again.
G Flip's first love was actually a drum kit gifted by her uncle when she was nine years old. A high school music teacher encouraged her passion. "She was the first person I identified with, not only as a female musician but also who she was as a person — she was a tomboy, I was a tomboy," she recalls "You know, back then normally when I turned on the TV a lot of female artists were so sexualized, shaking their booties and stuff. She was like just this sick chick drummer that was killing it." After completing a music degree, Flipo started drumming for local bands while DJ-ing weddings on the side.
Towards the end of 2016 the band she thought was going to make it big called it quits, jolting her into action. Having written songs alone in her bedroom for years, Flipo taught herself how to produce them and then started cold emailing Soundcloud links to everyone she could think of. An early version of "About You" submitted to radio station Triple J's "Unearthed" platform was her big break. Now she's flying back and forth from Los Angeles to Melbourne, and working with the likes of Justin Tranter and Ariel Rechtshaid.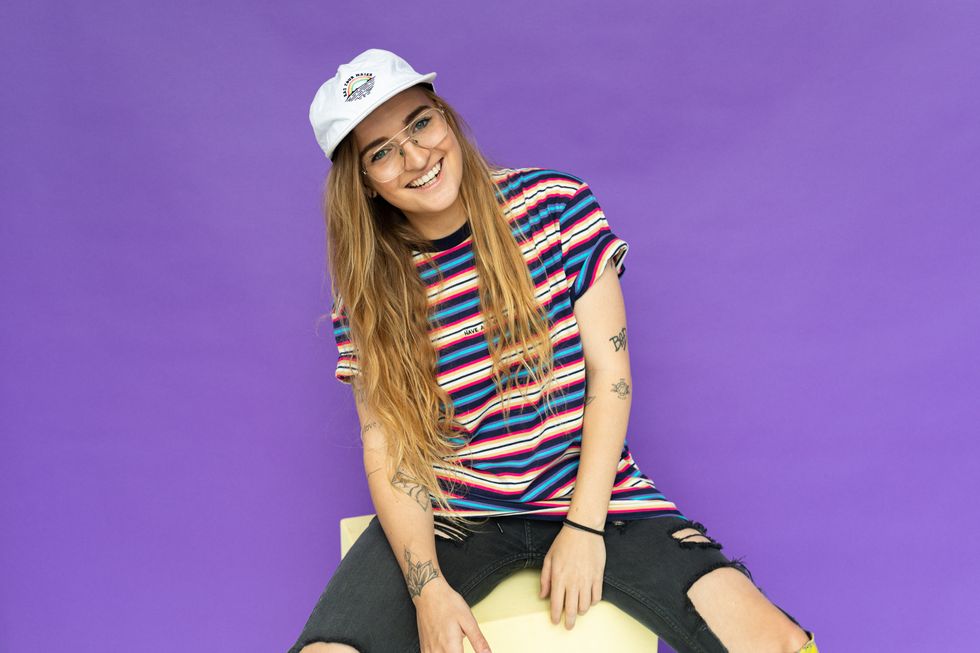 What's it like to finally release your debut album?

It's awesome. I feel like this album was a big chunk of my life, it's like a big diary entry of a period of time. It feels good to just have it out, 'cause I've been playing these songs for so long.
How does your girlfriend feel about being your muse?

I love telling this story. So it's 2017, and we were totally done. We didn't talk to each other for the whole of 2017, then at the end of 2017, 15th of December, she rocked up at my house, gave me half an hour's notice, I didn't even know she was in the country. I was actually deathly hungover, I remember lying on the couch, trying to drink a Corona to make myself feel better. 'Cause sometimes when you're really hungover, you can have a bit of alcohol to make you feel better.

That's the only thing that helps.

I was just lying there. Anyway, she rocked up and she was like, "What did you do this whole year, like what have you been up to?" I was like, "Well I've decided to go solo and I've written a lot of music and I'm just gonna do a solo career now." She's like, "Let me hear your music." I think we had a few glasses of wine and we ended up being in my bedroom studio, and I just kind of pressed play on basically the whole album, every song I'd written. She just sat there listening, and then she started crying. I started crying. Then we both started crying. Then we started making out, and then we kinda got back together. She actually hasn't left me since. She was surprisingly cool with the songs being about her, and that's why I called it About Us. It's literally about us.

How was it working with more established songwriters on some of the newer tracks?

That's been really cool. There's a few songs on the album that came from my first ever writing session. I love writing sessions — from the get go, I was just like, "I love this." I think because I spend so much time doing it by myself. I'll sing like three different chorus ideas and not be able to make up my mind. But if I have someone there, they'll just be like, "number two!" The decision's made, and you're going quicker. Working with Justin Tranter wasn't planned, I played SXSW and his manager was at one of my shows. She comes up to me straight up — and it was like my fourth show ever — and she's like, "Who writes your songs?" and I was like, "I write my songs." We get talking, then the next Tuesday I was in the studio with him. Justin just has this aura I can't describe. I just sat on a couch with a guitar, and I was telling him what was going on in my relationship. We wrote the song "Stupid" in less than two hours or something. I also worked with Ariel Rechtshaid, which is fucking insane. Because he's one of my favourite producers and I'm such a fan. I sent him a bunch of bedroom demos that I produced, I came to LA to finish it with him. He was just kinda like, "I like these weird shitty sounds that you have." Most of that song, I made with shitty preset sounds on Logic and he liked it.

Any other big names you want to work with in future?

I'd like to work with Mark Ronson. Just because I feel like I use a lot of real life instruments. I feel like that's kind of part of his vibe, there's a lot of musicality to his work. I dig that. I think it'll be cool to work with Pharrell. I'd like to just pick his brain.
Songwriting seems to come naturally to you. Would you do it for other people?
Definitely. I think some of my main goals are actually that exactly. I want to write for other people. Write a lot, to the point where I write so much that I can't release all of it.
Give it away!
I've done a few sessions, only like two, writing for other people and I enjoyed it so much. I'm pretty confident; I feel pretty confident about it. I'd love to produce as well for others, and just sit in the producer's seat. The thing I'm trying to get better at is, when you're sitting in the producer's seat for the session you gotta be quick. And I have the ideas, but I'm just a bit slower to get it. It's just 'cause I need to spend more time sitting on my laptop and working, I've got to plug in to get the sounds that I want.
I feel like my happiest place is literally just being in a studio. When you get that moment, when you're like, "Fuck, this song is good." And then you're like listening to it on your phone or your laptop, or in the car on the way home. That's my favourite feeling, so I want to do more of that.
What do you think is the best pop song of the past five years?
Ooh, that's a very hard question. Well I feel like in the last year, I really love Joji and King Princess's stuff. In the past five years, this isn't even pop but I love Leon Bridges. 2016 was a good year, I really like some of the music playing at that time. I love Miguel's
Wildheart
album. I think that was great. I love Rihanna's
Anti
. I love the darker tones in that. Then I love The Internet's
Ego Death
. But these aren't really pop.
What's something that people would be surprised to find on your Spotify?
Jazz trios. I just want to listen to Jazz trios. They're so sick. That's probably the weirdest.
You've been playing some huge festival bills. Are there any people you've been starstruck by?
It's funny, I don't normally get star struck that much. But I totally went full fangirl when I met Tobias Rylander, who's actually a lighting designer. I love his lighting though, he's worked with Kanye and The 1975. And I was supporting the band The Payaways in the UK, and he did their lighting and he put together a rig just in soundcheck and it was phenomenal. The way his mind works is very simple but so effective. When I met him I was like low key freaking out.
He's probably the one I freaked out the most. Childish Gambino walked past me in the airport lounge couple weeks ago and I was totally like, "Woah he's wearing an orange beanie, I wanna wear an orange beanie now."
What's the weirdest place that you've heard "About You"?
I've had people be like, "Yeah, we were just having sex and then your song came on the playlist, and I was fucking to your voice, it was so weird that I actually had to stop and change the song." So when my friends tell me shit like that, that's the weirdest possible. Other than that, probably the local shopping center. Although I'm pretty deaf from playing drums my whole life and not wearing earplugs.
You've got two pretty full sleeves — tell us a story about one of your tattoos.
This one says, "Deeds not words." I had my high school reunion, and at my high school reunion, everyone gets pretty drunk and parties very hard. I made a bet and I lost and I had to get our school motto tattooed, so that's actually my high school motto, it's "Deeds not words." Everyone handed around and put money in a cup for me to go get the tattoo. So I had a cup full of money to get it. So at least it was covered financially.
Another one of your trademarks is wearing Crocs.
I love Crocs. I don't know, I tend to always love things that everyone hates. I don't know why, but that's in me. I was at a shopping centre and my girlfriend was in another store, and next door is Crocs. And I was like, "I'm just going to wait out the front." Secretly, I was going into Crocs. By the time she came in I'd already bought them. They're comfy, if you get them dirty, you could put them under a hose or a tap and get them clean again. They're good for your posture and back. I fucking like them.
Let's get you a branding deal.
I'm trying so hard to be an ambassador. If you actually go on their Instagram @crocsaustralia you can see all my fans have written, "make G Flip an ambassador." I woke up this morning and literally my whole notification was this girl writing that on literally every single Crocs photo.
Crocs need you, quite frankly.
'Cause I actually like them! It's not like I'm being made to wear them.
Which Australian musician should more people be listening to?
There's so many people in my head, I'm just trying to think of which one I should go with? I'm going to go with Ruby Fields, 'cause I'm seeing her later today, she's here in New York.
On "Drink Too Much" you admit to having a crush on the influencer Steph Claire Smith. Has she ever reached out about it?
Yes, and we've become friends! And I'm also friends with her fiancé. It's very funny. It's like, if you want to get in contact with your crush, just write a song about it. It's actually so easy.
What's the best industry advice that you received?
I don't know if this is industry advice, this is advice that I just found myself: "Create the things you wish existed." No one in the pop industry gave me that, I think I found it on Pinterest.
Last question: What does the future look like for G Flip?
The future looks very eventful, and very fun. I'm super excited about it. I'm excited to just be in studios more and not in my bedroom. Like to be in studios and to work with other artists, and write and produce for other people. That's what I'm super stoked about doing. And spending more time in the US, shit's thriving over here. There's so much going on.
Photos courtesy of Future Classic
Sign Up for the Morning PAPER