Puffers have abounded on the runway this season. There have been a number of absolute units, like the giant Tenzing Norgay-esque jackets at Chengpeng and Burberry. There were elegant, waist-cinching, floor-length versions at Bevza in New York and Asai in London. Collections for Moncler Genius, in which Pierpaolo Piccioli turned puffers into evening gowns and Craig Green transformed them into life rafts, were the recipients of a very loud buzz.
But the style that has captured my attention fully is that of the tiny puffer. The cropped puffer. The early J. Lo puffer. A puffer that demands to be named "puff" instead — a diminutive, counterintuitive garment that serves to keep your arms warm and midsection cold. I need one!
I thought I had missed the boat on the small puffer. There's a plaid JW Anderson number that's been making the rounds for a few seasons now, and I keep seeing people in SoHo with puffs about the exact same length as their shirts, just slightly dipping over the tops of high-waisted jeans (which — kill me — seem to be on the way out). But designers have favored the mini puffer this season.
I first spotted one in a Magic Dragon-style look at Maryam Nassir Zadeh; it was lace-trimmed, rendered in paint-splattered print, paired with a rainbow catsuit. It seems destined to sell out. The designers at Gauntlett Cheng have been selling a cheery cropped bomber scattered with illustrations, and this season they went smaller, showing a little tinsel number featuring a print of blooming violet flowers.
My beloved Marine Serre showed puffs today that had been transformed into poofy mini-dresses; one was cropped with a structured middle section that sent me back to early 2000s-era video girls. Ottolinger did a baby puff with a tightly cinched waist, and versions of a parka that felt almost tailored, like they were ready for the slopes of Gstaad. MM6 Maison Margiela's take came in blinding white; Christopher Kane's black version had it both ways, trailing to the model's ankles with a cropped bolero-like overlay. Every influencer's (including North West) favorite brand, Saks Potts, showed puffs with luxurious collars that were short but not quite cropped, with matching ties at the waist.
Puffers on the whole are a sensible trend — they're warm and cozy and good for increasingly extreme weather. When cropped, they're a sexy alternative to sad sleeping bag coats (though the original, by GOAT Norma Kamali, is amazing) or those omnipresent (among real adults, at least) Amazon coats.
But as iconography, these styles are interesting for what they signal. A few of the more parka-like styles scream "white person dons Bogner ski suit in Aspen." But puffers, invented by Phantom Thread–spiration Charles James in 1937, on the whole nod to hip-hop. They were omnipresent on '90s rappers and the kids who tried to look like them — brands of choice included Ralph Lauren and Tommy Hilfiger (who both have complicated relationships with the rappers who made their clothing sell. Rumors of racism, started by an email chain, have hounded Tommy Hilfiger since 1996; groups like the Lo-Lifes, who steadfastly collected Ralph Lauren, have been ignored by the brand for decade). And cropped versions were for the girls; consider Lil' Kim in gleaming Chanel at the dawn of the new millennium.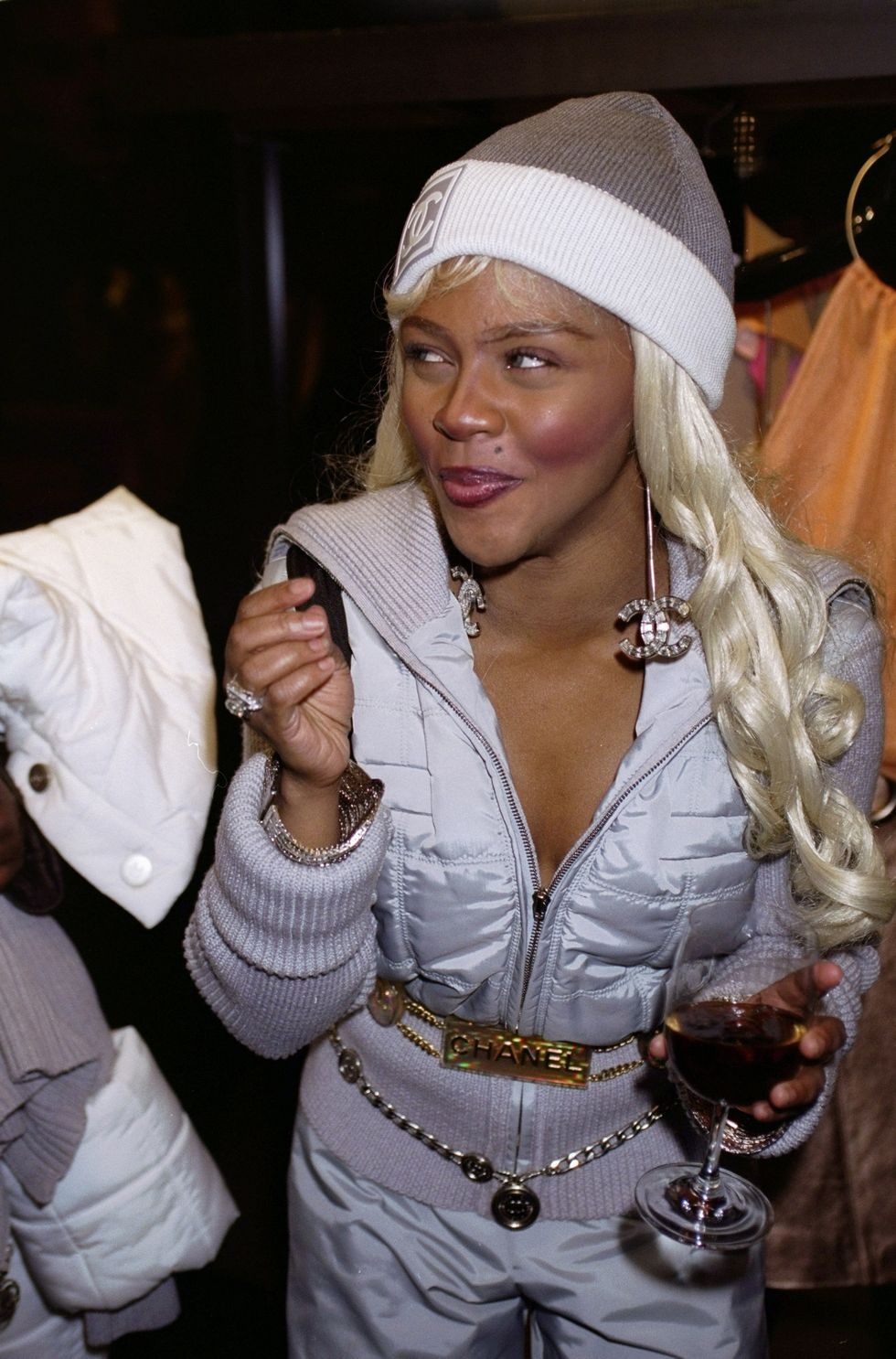 Puffs have been back in fashion again since at least early 2016, when Demna Gavsalia's enormous multi-layered creations stormed the Balenciaga runway. But they're still going strong. I want a mini one. We all need mini ones! Go get one before the planet melts.
Runway photos courtesy of Imaxtree / Lil' Kim photo courtesy of Getty