After six years of fans waiting with bated breath for Christina Aguilera to drop new music, their queen is back with a vengeance and her eighth studio album, Liberation. We've already gotten a taste of Aguilera's new sound with four released singles — the Kanye West-produced "Accelerate," featuring Ty Dolla $ign and 2 Chainz, a fempowering Demi Lovato duet "Fall in Line," the emotional power-ballad "Twice," and the sultry slow jam "Like I Do" — but come June 15 and we'll have our entire summer soundtrack. In a follow-up interview since our Transformation cover story, we caught up with Aguilera to get the scoop on which track she says would make a good wedding song, her mysterious collaborator and whether she'd reunite with her iconic "Lady Marmalade" girl gang.
Related | Christina Aguilera Is Back With a New Transformation
You broke the internet with your PAPER cover. Did you expect that kind of reaction to your more stripped-down image?
You know, I've approached everything this go-around with no expectations. I just had to get back to a place where, as we had talked about, being an artist, feeling good, and owning the woman that I am today, and allowing that to be the forefront. It was super scary — I'm not gonna lie — to see all my freckles out for the first time on the cover, and the lack of makeup. All of that is very new to me, and I've never been that sort of naked before on a cover. Out of all my covers that I've worn less, I've never felt so naked as that cover. But it was so amazing to get the incredible reception that it did get. It was rewarding that it was just me. It wasn't anything flashy or over the top that gained the best reception, and it felt really, really great to honest, to be appreciated for truth.
"Out of all my covers that I've worn less, I've never felt so naked as that cover."
How exactly do the new songs reflect your new image?
The new songs are about finding your innocence. The record opens with the strings and the sentiment of finding myself again, sort of finding my innocence. My daughter's laughter is embedded underneath that opening intro of the strings and sort of her giggling and being pure. From that introduces, "How do you solve a problem like Maria?" where we're referencing the Sound of Music. Maria von Trapp feels herself trapped in a world that she feels misunderstood in. And then it goes into "Maria," the actual song where I talk about feeling as if I've gotten really far removed from myself and unable to feel good about looking in the mirror, because I don't feel like I'm connected with my truth. So, that's how I think it relates with the PAPER cover and with the image of stripping back, and getting back to my roots of soul and doing things that I believe in again.
For example, "Masochist," "Twice," and "Unless It's with You" are songs about love, but they're not about white picket fences and roses and everything being fluffy and perfect. Because love is anything but that. I think it gives a good juxtaposition of the truth again where it's like, okay well, we all do things in love that are self-torturing and aren't necessarily the best thing for us, but it's truth, and life is not all perfect all the time. But then you have your escapes where it's just like, ah, I wanna just live life and be fun and free again and just turn up the volume and be able to have a good time, and that's where "Accelerate," "Right Moves" and "Pipe" come in. And then you have the moments of where I speak my mind about where I feel about where I've been sitting, and being able to break out of that mold and strip things back and get back to my truth and what I really love doing. I think that's where everything ties in.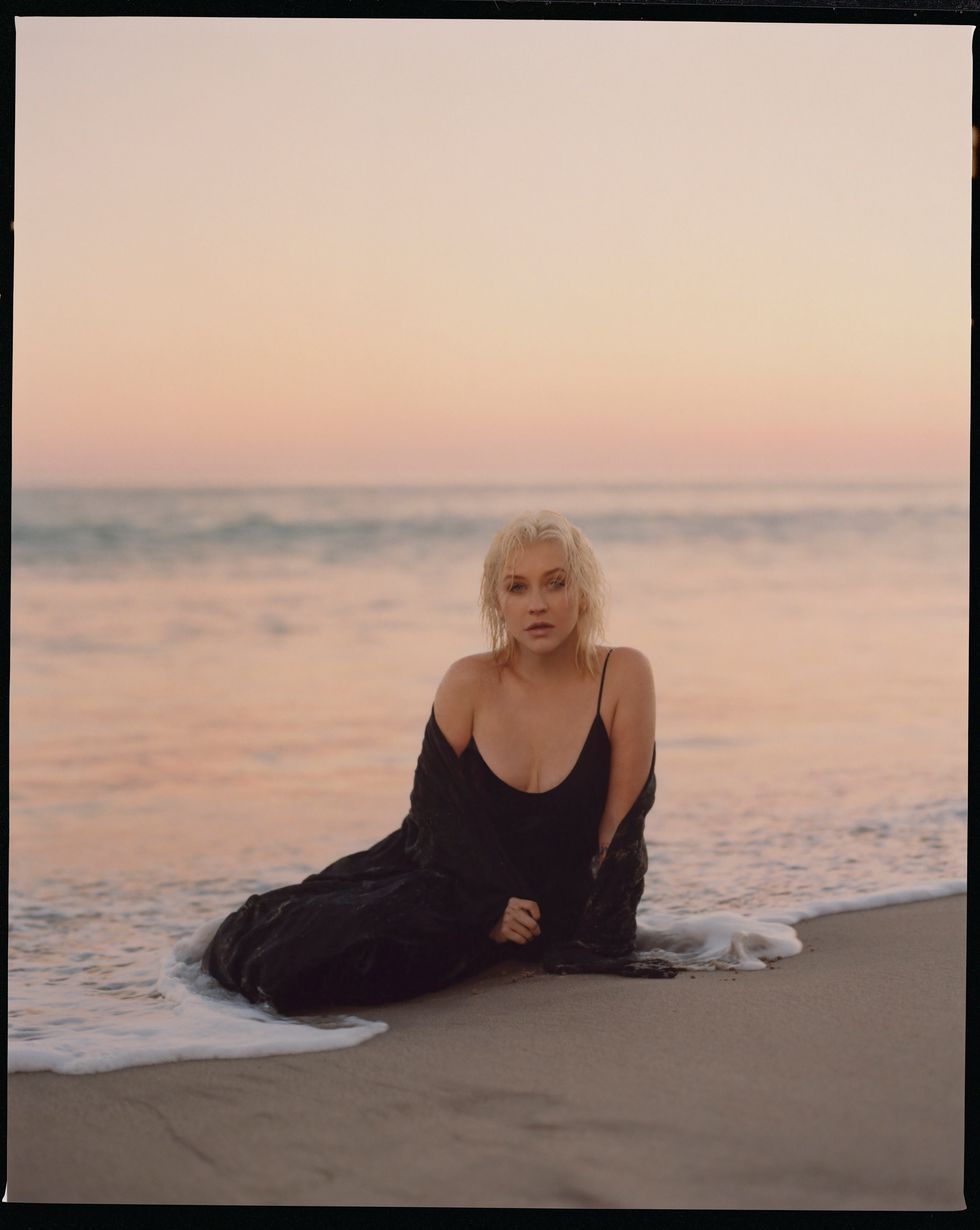 Photography: Luke Gilford
"Unless It's With You" is such a romantic song. Was it inspired by your personal relationship at all?
It ends up being that way, huh? Like kind of a hopeful note for the future. But yeah, I have been engaged for a number of years now since I've had my daughter. And marriage isn't something that I've, even in my first, is something I've never truly — I've never had a great example of what being married is first-hand growing up, that's for sure. So, there is a little bit of well, realism, in my view of marriage and love, but there's definitely a hopeful romantic there and someone that believes that you have to work to have a relationship. Being in love is not hard. Being in love is the easy part, but staying in something and working through the daily bullshit that happens in any relationship is amazing. If you find somebody that you wanna fight for longevity with, that really says something, and I'm always hopeful.
I was actually doing that song with a producer at the time. His name is Ricky Reed. He was in the process of getting married, and so the two of us together kind of clicked in that scenario. But instead of it being on the dot about love and getting married, I wanted to make sure that there was some caution and some thought behind the steps. Running to the altar isn't something that I've ever felt the need to do. Especially being a woman that saw my mom go through so much. I've definitely wanted to make for myself and if it happens that's gonna be secondary. But it is a romantic song. And, even though it kind of builds up, "I'm in over my head, feeling confused" — that definitely is the feeling of being in love, but if I'm gonna do it with anyone, I'm gonna do it with you. So it ends up being sort of a great wedding song.
Related | Ricky Reed on Co-Writing Christina Aguilera's New 'Aretha-Level Ballad'
Fans were guessing that the mysterious XNDA on the track "Pipe" was going to be Pink, but it's a rapper. Can you tell us anything about who it is?
I would love to! And I'm dying for everyone to find out because they're definitely multi-talented and I think it will take a lot of people by surprise. I have been sworn to secrecy so I can't say anything, but they've got a great voice, yes.
Speaking of Pink, she mentioned in an interview that you two had recorded a duet, but it's not on the album. Will that song ever come out?
I would love for it to, yeah. There's a great song we did together. And there's a few songs that didn't see the light of day on this particular record, but are in my back pocket. I'd definitely like to release that song in a really fun, cool, collaborative way. She's just such a great artist and has grown into be such a strong force for women and I think she's awesome. And she sounds amazing on the record. I've mentioned this before too, but I don't wanna take a long break. After this album, I'm back in my artist mode. I don't want to let that go again. I have a great team of writers and people behind me that I can just reach out to now. It's been great being able to take the time on this record to get to know people. We'll continue pulling through, so maybe there is another record sooner than you think after this one.
"After this album, I'm back in my artist mode. I don't want to let that go again."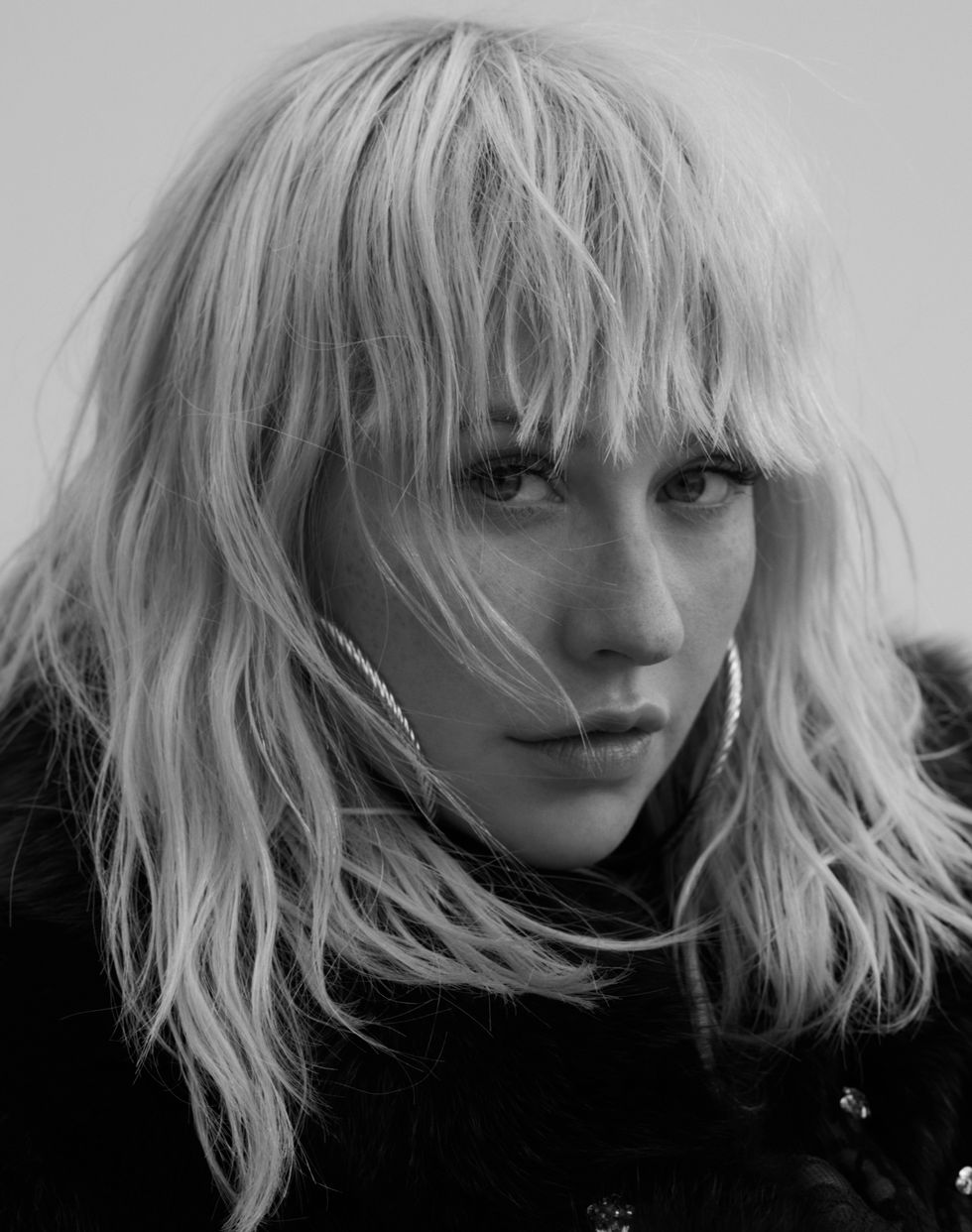 Photography: Milan Zrnic
Mýa has said that she wanted to do a reunion with you, Pink, and Lil' Kim for "Lady Marmalade." Would you be down for anything like that?
For sure, I love combining a bunch of our girl energy and doing something. I mean you look back at that video and it was such an amazing point in time, and something that just dominated so much. And coming together was so amazing so I'm always down.
There's hip-hop, R&B, and even reggae influences on the album. Was this kind of sound something that you've always wanted to do?
I'm a soul singer, and that's where all of that kind of music derives from. I think it's apparent when you look at my work in the past, with DJ Premier on Back to Basics, and diving into soul, jazz, blues, hip-hop, R&B, which is his background with Gang Starr, and Biggie and all of those amazing artists that he worked with. And him being a legend in the music business of hip-hop himself. And then you've got Redman on "Dirrty." I've always been a fan of all those musical styles. At the end of the day, I have my pop hits and I'm a pop star, but I'm a soul singer at the core of it. So, it came into fruition on this record and from putting the love in. I put in hip-hop whenever I'm done with my day and I just wanna let loose and decompress. Having it on the record was an important factor to my truth because it's just what I listen to when I'm done with a hard day's work.
"I'm a soul singer."
Were there any funny moments that happened while recording the album?
Always all the time. I love Tayla Parx. I had so many laughs and great moments with her. She would Nerf gun battle with my kids, and we'd have amazing times with that. Me and Anderson [Paak] were in the studio and be up so late dishing. He's such a great lyricist, and helped me put into words my thoughts and my feelings, which is where "Sick of Sittin'" kinda came from. Based off of one late writing session there, there was probably a few drinks passed, and a few chairs broken. [Laughs] Out of, like, the content of the record. It was full of laughs, all in good fun. I had a blast with the people on this record and being able to chill with them. "Right Moves" had a certain vibe for all the weed smokers around me in the studio. I don't really smoke a lot of weed, but it was just fun to get into the vibe in the moment and really live the songs. It felt really fun and great to not just sing them, but just vibe with them, with the people creating, and really put a lot of love into it.
This will be the first time in a long time that you'll be touring. What might we be able to expect from the tour?
I've been afraid to tour for some time. Once I started having my kids, it's just like, how do people do this? You have to uproot them from school. How does this work? Which is why I actually decided to take the job at The Voice in the first place. So that I could stay close to home and be in one place, which at a certain point obviously was like okay, I'm tired, I'm sick of sitting, so I gotta get up outta here and get back to myself. It's like dipping my toe in the water again and just getting a chance to see my fans who have waited for so long to see me in concert, which I haven't done in so long. This is a really exciting way to get back in touch with them and see them on a more intimate level, which I've never toured or done before. It's a really cool time for me to sort of step into being a new artist all over again with new music, a fresh perspective, and being a woman in this time of my life. This is opening new doors, and the new chapter.