If you've ever found yourself in a sea of shirtless gays, packed shoulder-to-shoulder, with VINCINT's "Higher" on the speakers courtesy of NYC DJ Ty Sunderland, the pop star's new single will be a welcome addition to your 2023 summer playlists. Where VINCINT's last album, There Will Be Tears, was a rush of raw emotion, the well has finally run dry and he's ready for a "revolution of self" that involves a more playful, club-forward chapter of music.
"Romance" is the night's first shot of tequila — salt and lime, included — offering a taste inside VINCINT's "wild little mind" — something he's previously kept locked up. Co-written alongside queer hitmaker MNEK, the track is a massive dance anthem coupled with a Jake Wilson-directed music video, both out everywhere today. "I can't let this moment pass me by," VINCINT sings, set inside a neon-lit, fog-filled party. "My heart on the line, don't care if it's right."
For the video, VINCINT tapped friends and stars, from Olympian Gus Kenworthy to RuPaul's Drag Race alum Kerri Colby, to depict an evening out in WeHo that resembles the spaces where "Romance" will likely be played in the coming months. VINCINT is captured alone in the crowd, before zeroing in on his ideal love (for the night), and flipping back and forth between what's real and what's fantasy. "Boy, if I was your man," he dreams, with choreographed scenes spliced in for added drama. "I would show you romance."
Watch and stream VINCINT's new release, "Romance," below, and read on as he chats with PAPER about everything, but perhaps most importantly, a night of naked bar dancing in Amsterdam.
This music video feels like your most sexually charged to date. Was this intentional and at what point did you decide you were ready to really take it there?
It's very intentional. For most of my very young career (cause I'm baby), I've been so focused on people hearing me and making sure when they heard my voice that my name immediately was their second thought. So in beginning this new era, it was very intentional to let people see me and take a glimpse inside my wild little mind.
Is the video true to your personal experiences in gay nightlife? Or would you consider this more of a fantasy scenario that you're playing out?

It's definitely a bit of both. Whenever I'm out it's usually a sexually charged gay space and looks like some parts of the video, but I wanted to create a space that my mind sees or would like to see more of when I'm out with my girls — a room filled with colorful beautiful Black and Brown bodies dancing and being uninhibited.
How did you cast all the extras in this? What sort of considerations did you make to ensure that all types of subjects were represented?
I sat with my director, Jake Wilson, in his New York apartment and went through every name and face we had in our combined Rolodex. Most of them are my best friends and acquaintances we both have known for years through different scenarios. We also sent out a call online for all body types and sizes. I wanted to see everyone in the club kissing, loving and grinding to good music, and living their best lives.
What's your craziest club memory (that you're willing to share with us)?

[Laughs] I'll tell you part of it: I was in Amsterdam with my manager and we went to this wild nightclub where there's a bar in the bathroom (don't ask). I was ordering a drink (not too much), bartender was fine, one thing led to another and I may have ended up naked on a bar in a bathroom in a nightclub in Amsterdam. Okay, next question... [Laughs]

Lyrically, does "Romance" tell a real-life story?
The simple answer is "yes," but it's a bit tongue-in-cheek. I wrote this song for a friend who had been done dirty and I knew he deserved so much better because he's the greatest. So lyrically I pulled no punches and I had fun with it, and when I told the scenario to Uzo (MNEK) in the session it was an immediate Kiki and a take down of trash men.
Who'd you work on this track with? What is the music-making process like now having wrapped and toured There Will Be Tears?
I wrote "Romance" with MNEK in London last October while I was there for what was supposed to be a vacation [laughs].
Making music for me is very different now, I'm done crying. My last project was a culmination of sad yet almost hopeful moments I had, and in the last year and a half I've pushed my self, my body and my pen to really step into this phase of my art where I can express all my artistry in all the ways I've wanted to in the past. I'm able to show off and not feel weird or self-conscious about anything. It's a revolution of self.
"I'm able to show off and not feel weird or self-conscious about anything. It's a revolution of self."
What did you learn from the success of "Higher" that you're implementing into the new music?

That people want to feel alive in every moment of the day. "Higher" changed my life in so many amazing ways and it gave me a glimpse into what makes people's hearts beat faster. It was the catalyst for this new sound.
Is "Romance" indicative of what's to come next from you, musically?
Yes, "Romance" is my first child from this era and the perfect introduction for what's to come. It's just the tip of the iceberg.
Photos courtesy of VINCINT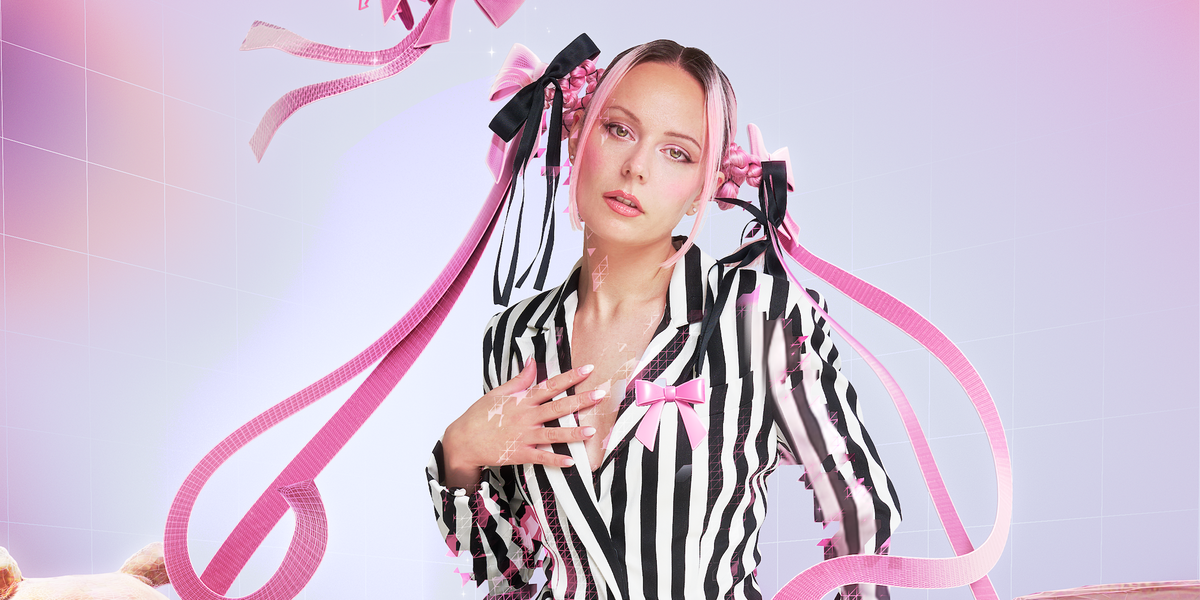 Music
Story by Harry Tafoya / Creative direction & VFX by Andy Rolfes / Photography by Nicholas Needham / Styling by Erik Ziemba / Hair by Davey Matthew / Makeup by Frostie Delite
Story by Harry Tafoya / Creative direction & VFX by Andy Rolfes / Photography by Nicholas Needham / Styling by Erik Ziemba / Hair by Davey Matthew / Makeup by Frostie Delite
07 November