Unisex jewelry is standard in 2019, and Timothée Chalamet, skinny legend of the red carpet, knows it. King of 15th century England and also viral 'fits, Chalamet has been wearing rings, bracelets, and pendants during photo calls and in mirror selfies since we first started following him during the Call Me By Your Name 2017 press cycle.
While true Timmy stans recall his Eiffel tower necklace era, as well as the glittering Star of David Oliver gifts Elio as a lover's token, Chalamet's particular dedication to gold and silver chains has mostly flown under the radar. Once you start looking, though, you can't stop. The actor pairs his chains with cozy sweaters during interviews or v-necked suits at premieres. He was recently snapped shirtless on the beach with layers of gold and silver around his neck in varying lengths — expert level chain wearing.
timothée chalamet bring back the shorter gold chain challenge https://t.co/ncStXzhgq3

— liv (@liv) 1529427269.0
As with most unlikely accessories (sequined hoodies, harnesses), the actor manages to pull the look off impeccably. He's a known hip-hop head, but never looks like he's cosplaying as Drake, and somehow doesn't veer into Lonely Island territory either. Instead he looks rich, stylish, and appropriately European. A little bit Young-Leo-in-Romeo+Juliet, even.
timothée's big gold ysl chain https://t.co/L3MaJDbhOQ

— liv (@liv) 1566060171.0
Below, a detailed visual history of Chalamet as an unlikely Mejuri ambassador.
In his earlier days of stardom Chalamet favored a subtle, almost choker-length thin gold chain that paired well with fall sweaters and velvet suits alike. When collared shirts got in the way of the look, he improvised by rocking a gold chain bracelet instead. An innovator.
His film career and teen idol status assured with breakout performances in both Call Me By Your Name and Lady Bird, in 2018 Chalamet took himself to the jewelry store and stocked up on precious metals for his Beautiful Boy press obligations. Sometimes we'd just barely catch a glimpse of 24 carats beneath a t-shirt or suit lapel; others, the chains were out and proud. Highlights included an Alexander McQueen floral suit moment at the London Film Festival, and an all-red ensemble for the Beautiful Boy premiere after party that was set off nicely by a thick strand of gold.
Bonus: at the Academy of Motion Picture Arts and Sciences 10th annual Governors Awards in November, Timothée swapped out the literal chain for a figurative one by donning this Haider Ackermann suit in tribute to his favorite jewelry item: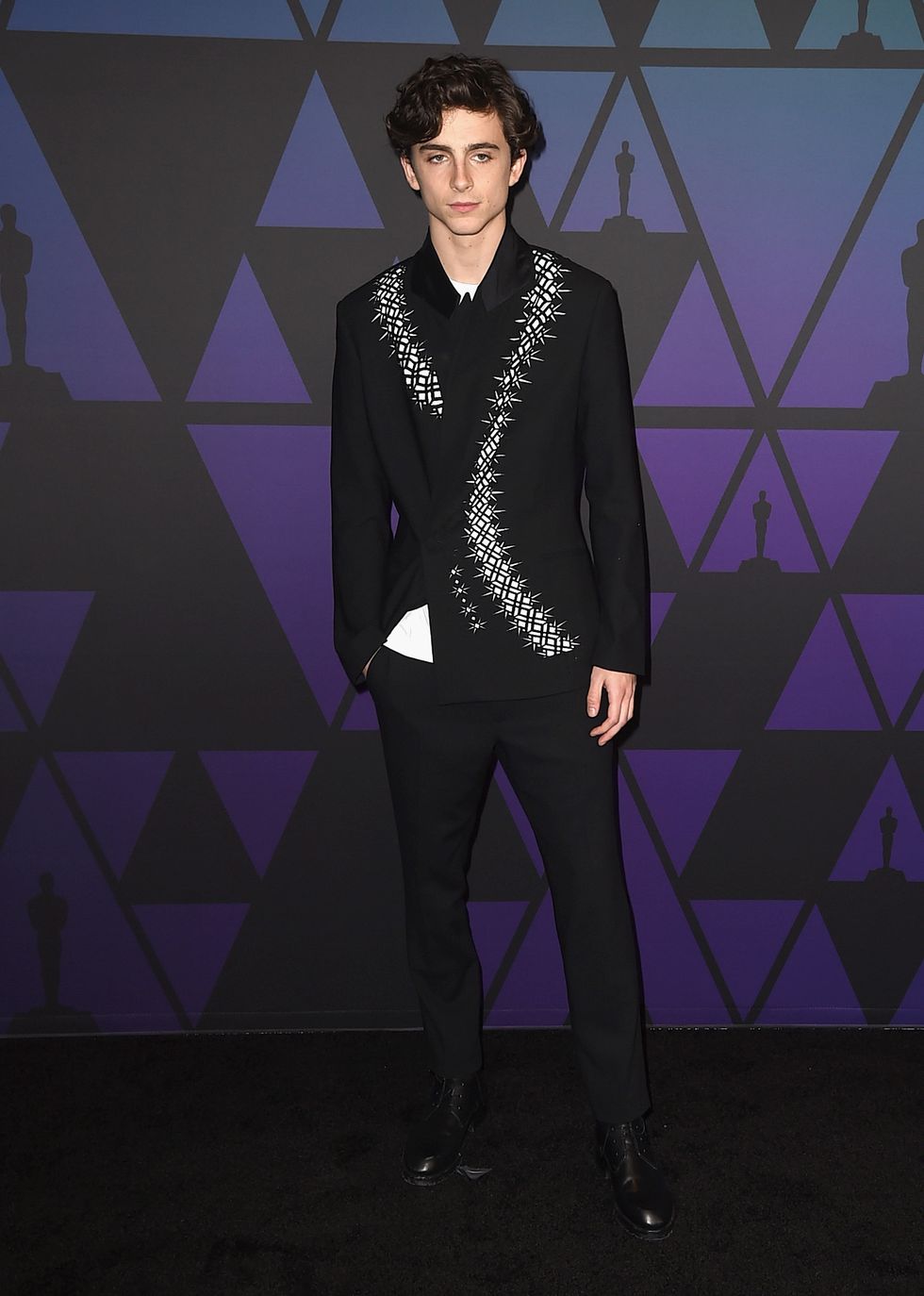 Now that he's hyping Netflix's The King, Chalamet has been getting regal and medieval. We're talking not just gold chains, but jeweled pendants! Were those diamonds at the BAFTAs? In recent months he's paired his necklaces with Gucci sneakers, an impeccably cinched silver tuxedo that shut down the Venice red carpet, and every celebrity's accessory of the moment: a 35mm camera. Just this morning, he rocked a long gold chain with his cornflower blue mock neck in South Korea. An elegant hypebeast.
Who knows what Chalamet jewelry moments lie ahead of us? This is just the beginning. Keep your eyes on his neck during the upcoming Little Women premiere.
Sign Up for the Morning PAPER