The PAPER office is lots of fun, but the cell reception is not fabulous. And so I stepped outside to speak on the phone with Sunny Suljic, the 13-year-old star of Jonah Hill's coming-of-age skate film Mid90s. Suljic, a lifelong skater and Los Angeles native, is so excited about the movie; he's enthusiastic and emphatic in his praise for both Hill and his castmates. And while we were chatting about filming, sirens started blaring up the street. "Wait," he said. "I think I hear an echo? Where are you?"
As fate would have it, Suljic and I were both on the corner of 29th and Madison. He greeted me with a warm hug. His outfit, a Saint Laurent hoodie under a silk bomber, was way cooler than mine.
Hill cast Suljic with the help of the film's co-producer, Mikey Alfred, who spotted him skating at Stoner Skate Plaza (yes, its real name) in the Sawtelle area of LA. Hill was looking for skaters who he could teach how to act; luckily in Suljic, who had recently appeared alongside Nicole Kidman and Colin Farrell in Yorgos Lanthimos' uniquely upsetting The Killing of a Sacred Deer, he found both.
As Stevie, the film's protagonist, Suljic is in nearly every scene, and has to carry some heavy weight. Stevie is abused by his brother, Ian (Lucas Hedges), and seems lonely and friendless until he meets a band of older skater boys. Stevie makes friends, grows up fast — there are girls and 40s aplenty — and learns how to skate. He takes the "hardest hits" and, in one of the film's sweetest scenes, learns how to ollie in his front yard.
Mid90s has been roundly praised for accurately reflecting skate culture. The cast, and Hill, formed a tight bond. "We all would hang out together, and we would all skate together," said Suljic. "I didn't really feel like I was filming a movie." He's bummed that the press tour, which involved all of the kids traveling together, is going to be over soon.
While standing on a Midtown corner, we talked about skating, hip-hop, and Jonah Hill fandom.
Were you a fan of Jonah Hill before you met him?
Yeah, I was. I was the biggest fan. I actually just recently watched War Dogs before he cast me or I even knew that he was going to be at my skate park. So I was watching War Dogs and I was like, "Oh my god this is the best movie." And the next minute, I saw Jonah at the skate park, and he introduced himself.
And what was it like working with him?
Jonah is the best. Everyone in the cast, and Jonah as well, we're very close. And I almost don't even think of him as an actual director or writer or any of that. Just recently he came out with Maniac, and I looked at it as almost like, my friend just got into acting, and he got a show and booked something, and I'm just so proud of him. So I wouldn't look at it as like, "Oh, Jonah just got another role." I just look at it as like, "Oh, no way, I'm so happy for him, this is so sick." Almost like it was his first time doing anything.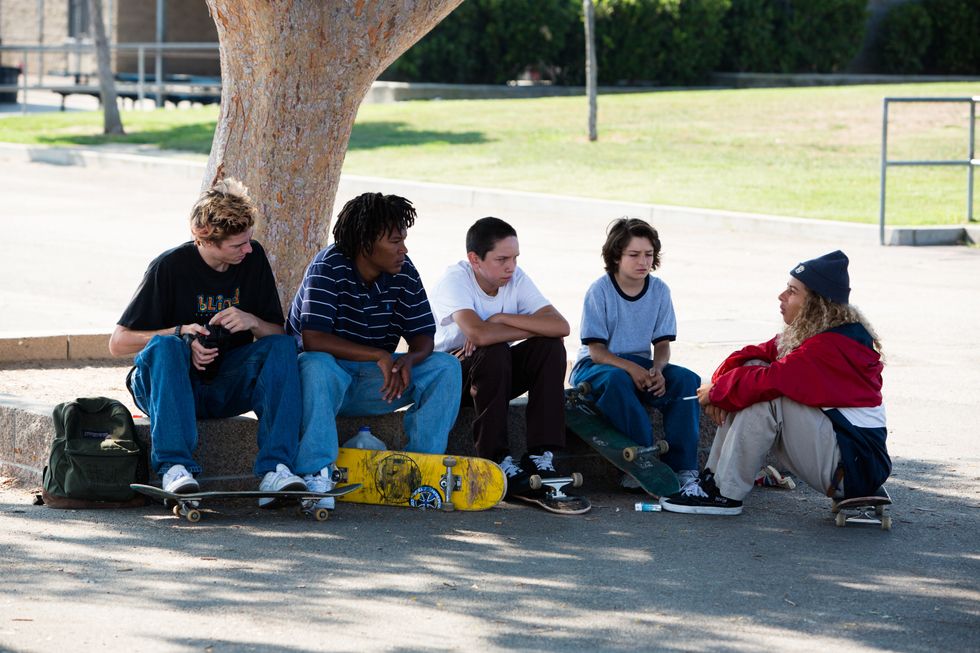 My favorite scene in the movie is when you finally figure out how to do an ollie. But in real life you've been skating for years, you're incredible. What was it like to pretend to not know how to skate? How did you even do that?
That sentence just made me so excited, the way you put that, I appreciate that so much. I still, it's hard to describe, but I still don't see [my skating in the movie] as believable to me. The reason it was hard to do was because I couldn't really put any emotions into it, it was just straight me consistently falling and all that. So I definitely just try to put myself back to that situation where I did try to do my first ollie, but I couldn't, I don't know. I think the best part of when I was learning skating that I actually do appreciate and don't cringe when I watch is when I did learn how to ollie, because that is the real reaction.
What do you think people who are outside of skating don't get about the culture?
Well, definitely when I learn how to ollie in the movie, that shows what skating is, the attraction to it. Because when you're skating and you learn a trick, if you learn a trick every single day and you have that feeling and that excitement and that achievement, it's the most insane feeling that you can have. I mean, the best comparison is just probably you writing an essay. Like it took so long and you put so much time into it and then you got a good grade on it. That's like the best feeling. But that happens a lot. And definitely with skating, too, you learn how to fall before you succeed.
[The movie] is not directly about skating, but it describes life through skateboarding. And with a lot of things with skating it's just the trade, like the lingo and the way people deliver it, you just have to be able to skate and understand and be honest.
Jonah grew up skating. He actually did. He wouldn't just say, "yeah, I used to skate when I was a kid." He really understands the culture and the community, and physically he could still probably do some tricks. He did a kickflip on set just to prove his point that he did skate before. And he had an injured MCL I think before, and so he did a kickflip while he was injured. But you could definitely tell like if other people skate skate, especially when you've been skating for so long and there's so many people that you meet. A lot of older people are like, "Oh, I used to skate with Tony Hawk, blah blah blah." It's just the way you maneuver, the way you put yourself together. I think skaters can understand it if you see another skater or hang out with another skater, because it's such a strong community.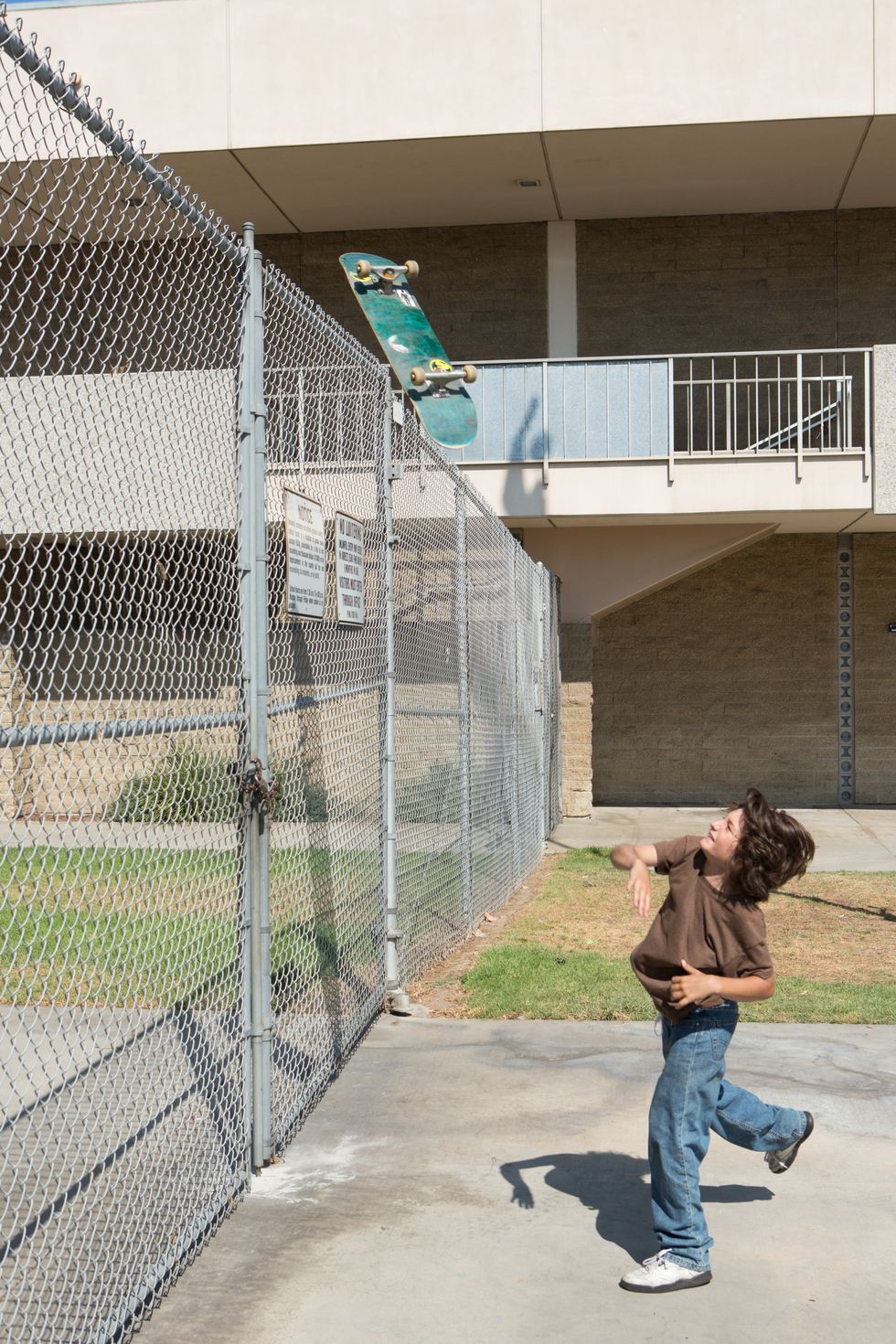 Another community that's reflected in the film comes from hip-hop. Jonah has repeatedly talked about how important the soundtrack was to him, and rappers cameo. But what kind of music do you listen to on your own? What artists are you into?
During the process of filming, he definitely showed me his soundtrack and a lot of the music that he listens to. And I was listening to a lot of that music just to put myself into that character. But just recently, I am really getting into the '90s music. Recently I've been listening to A Tribe Called Quest, GZA, Wu-Tang, but probably more modern rappers, Travis Scott, Promethazine, Lil Uzi, there are a lot out now. Young Thug.
Is there anything you like to listen to when you're skating?
I listen to probably all the people that I've listed. Mostly that genre, rap. I mean when I'm doing school I usually do jazz, classical. I have a study playlist. When I'm skating I usually just listen to more hyped up music to get me in that mood.
When I first saw the movie, I was surprised at the intensity of it. Ian, Lucas Hedges' character, beats you up constantly. What was it like to film those?
I think something that's ironic and pretty funny is that the first day of us shooting was the first scene in the movie. So we got right to it. The first scene where I get thrown into the wall, that's the first thing that we ever shot. I loved all those scenes. But I definitely enjoyed some more than others. [Laughs]
Stevie does a lot of really wild stuff. He nearly dies so many times! But what's the craziest thing you've ever done on a skateboard?
The craziest thing I've ever done... I don't know! Usually the times I do get hurt are when I'm doing something stupid and when I am actually trying a trick and I'm fully committed, I do actually end up landing it and not getting hurt — there's so many.
You know that phase when everyone had a water bottle, then would flip it and try to land? I was skating trying to do a kickflip, and at the same time I was trying to flip a water bottle. I just wasn't paying attention to my board and I would flip the water bottle, and I completely rolled my ankle. I rolled both my ankles, just the way I landed — I wasn't paying attention and I think that's one thing that will stick. I've broken my leg before, I've broken my pinky, but I don't want to go too into detail because it's so painful thinking about that stuff! Seeing that and remembering it doesn't feel good at all.
Sign Up for the Morning PAPER