It's the year 2000 and we're back in homeroom with Anna Konkle and Maya Erskine, watching as this pair of 32-year-old college friends relive everyone's worst nightmare: middle school. As co-creators, writers, producers and lead actors of the coming of age scripted series, pen15, Konkle and Erskine explore what it means to be awkward, outcast seventh graders navigating all of those traumatic "firsts" we've worked so hard to repress. Now with Hulu renewing pen15 for a second season, there will be plenty more Spice Girls dances, retainers, passed notes and pink thongs to come. — Eliza Weinreb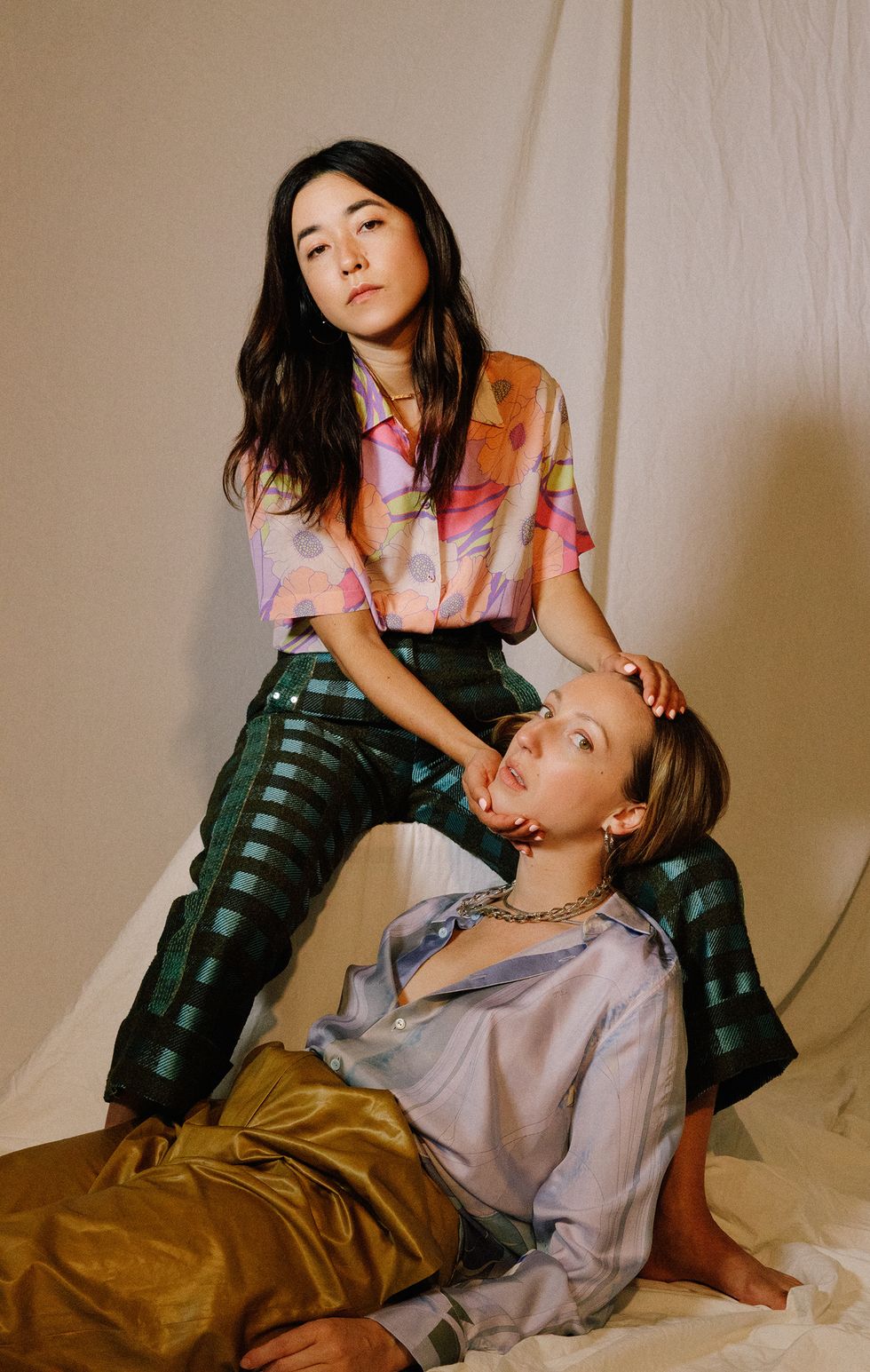 (On Maya) Top: Rachel Comey, Pants: Silvia Tcherassi, Necklace: John Hardy, Earrings: Hirotaka (On Anna) Top: Emilio Pucci, Pants: Tibi, Jewelry: John Hardy
What's something nobody knows about you but you wish they did?
Anna: Well, for a long time I kept this a secret. I had a nickname that started in middle school. My name was "Icebox." It plagued me for a very long time. The name was based on a rumor that I masturbated with an ice cube; it was kind of ingenious. At the time, I denied any knowledge of how the rumor originated, which lasted for almost a decade. But here is the truth: I played truth or dare in elementary school and dared someone else to put an ice cube in their underpants. They said no, so I offered to do it instead, which I did. That's where the rumor took off. From that moment, my fate changed forever. I continued to get texts even into my 20s from a random number from my hometown (that I could never place) that just said, "Hey Icebox." So this admission is freedom. I admit it. Hometown: it happened, but just not how you thought it did.
What's something you wish no one knew about you but everyone does?
Maya: Well this isn't something I wish people didn't know anymore, but when pen15 first came out, I was concerned that I exposed too much about myself, in particular the masturbating episode. As soon as we released it, I had to just accept the fact that whoever watched this would know that I'm an avid fan of masturbating and have been for years. And to my surprise, the reactions to it were so accepting and encouraging that I felt liberated by it.
Do you Google yourself?
Anna: I do. I have. After Maya and I went to one of our first "red carpet" appearances, like four years ago. I Googled the results and found my picture on an Italian website alongside real celebrities — I had arrived! I Google translated the contents and it was an Italian article listing the worst dressed people of the event. I wore a fake fur and the Italian translation called it a "ferret." It wasn't good.
What's the most stressful thing about being you?
Maya: My indecision. In regards to food, clothes, life goals etc. It's very stressful for the people around me more than it is for myself.
What's your worst date story?
Anna: Well, I didn't know it was a date. I thought I was interviewing for a babysitting position while I looked for a summer job in NYC. I submitted my resume to a craigslist ad. The dad responded and said he was going through a divorce and gave me an address and an interview time. When I arrived, women's shoes were piled on top of each other in front of the door. I followed suit, took my shoes off, and knocked. No one answered. After a bit of waiting I cracked the door open. A random woman, also interviewing, told me to come in. So I did and saw about fifteen more ladies, writing furiously on pads of paper, waiting to be interviewed. When the dad came out he gave me a pad of paper, a pen, and told me to write down 100 things I love and 50 things I hate. So, that explains what all sixteen women are writing. When it was finally my turn to "interview" I remember telling him I wrote down cheese three times in the love category. He liked that. A few days later I got an email saying I was a top contender and though he hadn't decided who would get the position yet, "Would I like to go to dinner with him?" I never responded. This guy had figured out a way to make his own speed dating system, pre-dating-apps. I wonder if he really had a kid at all?
What trend that you participated in (clothing, hairstyles, makeup, memes etc) do you never want to see again?
Maya: Frankie B low-rider jeans — I borrowed them from a friend, hoping to look like Britney Spears, but when you have pubic hair up to your navel, those jeans don't look so good.
What gives you hope in 2019?
Anna: The changemakers. I met a woman in Nepal recently who called herself a changemaker. She felt alone in it but was doing it nonetheless. I want to be like her. I'm also inspired by the younger generation and my peers saying no to racist and marginalizing bullshit.
When was the last time you cried?
Maya: Last night.
What's your most disgusting habit?
Anna: ... I... have peed in the backyard like my dog does when someone is using the bathroom and it's an emergency. The confession is that I secretly liked it. So, it's not really a habit — but I did love it. So it could become one...
When you want to get attention, what do you do?
Maya: Raise my voice.
Sign Up for the Morning PAPER