New York-based drag star Miss Fame has launched her eponymous line, Miss Fame Beauty, commemorating her first-ever foray into the beauty industry as an official brand. The launch is not a far cry for Fame, who has long established herself as a performer with an artistic, luxuriously curated eye for presentation.
The collection, called "The Fetish of Fashion," features five luminous shades of cruelty-free, hydrating lipstick, and what Fame is calling "experimental glitter" to apply on top for extra transformative oomph, with cheeky names: The Other Woman (classic red), Flash of Flesh (a universal nude), and Fame Whore (high-impact pink), How's Your Head (a peachy nude), and Dirty Couture (an electric blue). The shades, created to add a touch of high-impact glamour for people of all skin tones, which Fame said she had in mind, cost only $19 a pop.
And while the collection might appear as glossy and effortless as it does, the road to creating it was not easy. As a queer and self-sustained artist, Miss Fame relied heavily on the support of her community to see the launch through. "Everyone deserves to feel beautiful," she tells PAPER. "But this is also for my sisters, whether trans or gender nonconforming, or my drag sisters, I want everyone who comes across this to see themselves in Miss Fame Beauty. This is all possible because I have a community that is actually believing in me. They are rooting for me."
PAPER caught up with the rising beauty entrepreneur to chat about her roots in the multibillion-dollar beauty industry, the meaning of affordable luxury, the artistry of makeup, and the importance of inclusion.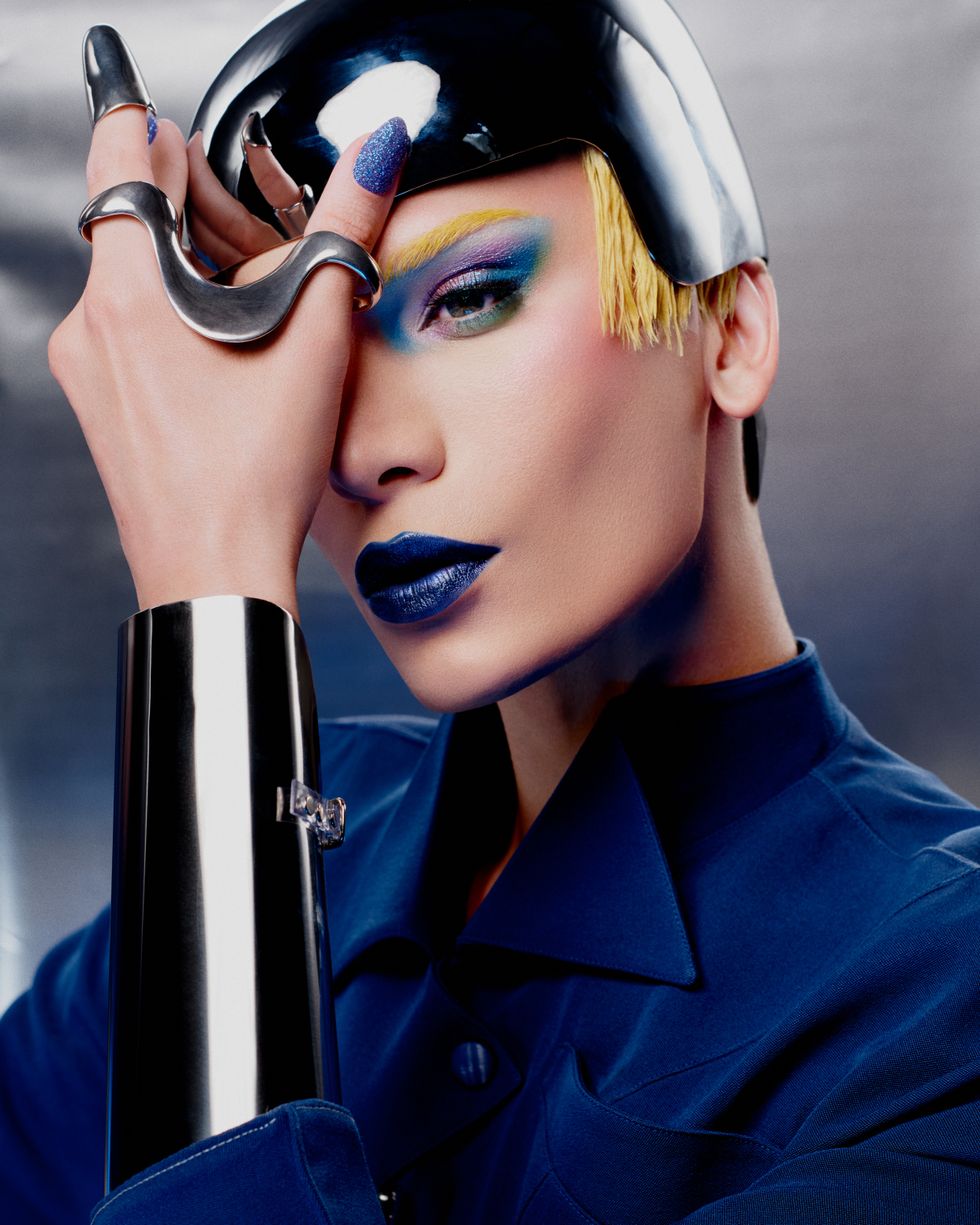 What led you to want to create Miss Fame Beauty?
Obviously I was known for my experience being on the reality showRuPaul's Drag Race Season 7; I was aiming for image, beauty. But I've always been an artist and a painter since I was very little, and growing up in a very contained environment in central California in a farming community, I didn't realize I'd have the full scope to "be whoever you want to be." That's the dream you watch in the movie: when a parent's really open, they tell their child, "We want you to be whoever you want to be!" And I didn't have that upbringing, so there weren't people telling me to be so free, but I'd always known that I was an artist. I had the ability to draw, paint, portraits, faces, flowers, and animals, like horses, and dogs, and chickens, of course. I love to draw things in nature, and I love to draw people's faces. I always had a good eye for color and texture.
You also worked in the beauty industry for a while, right?
Yes, I did work in beauty for a long time. I worked with a hairdresser doing color, and that was my introduction being in a small community and doing something that was aligned with what was accessible and acceptable for a queer person to be doing in beauty. It's like, "Oh, my gay hairdresser." Of course, I insert myself into the role. And I was great at it, I made people feel good, which I love. In the midst of all that, I pursued modeling, and right off the bat I was not always conforming to the ideas. I tried to play the game, like being the hot, twinky boy, and I also put makeup on my face and was told by photographers, "That's enough, don't go too much further, because drag is not the thing. Do not do drag." And as a person who's very willful, I do not like being told [no]. Don't tell me not to do it, because I'm probably going to show you. So my own will to dominate and prove a point was driving me, and it brought me to New York at 26, which was seven years ago, and it brought me to makeup. I came to New York, I quit doing hair, I started working for MAC as a sales associate at Bloomingdale's Lexington and 59th Street. I got fired because I was late every day, because I was doing my own thing. I was always very willful like, "I'm going to agencies, I'm going to get an agent, I'm going to model."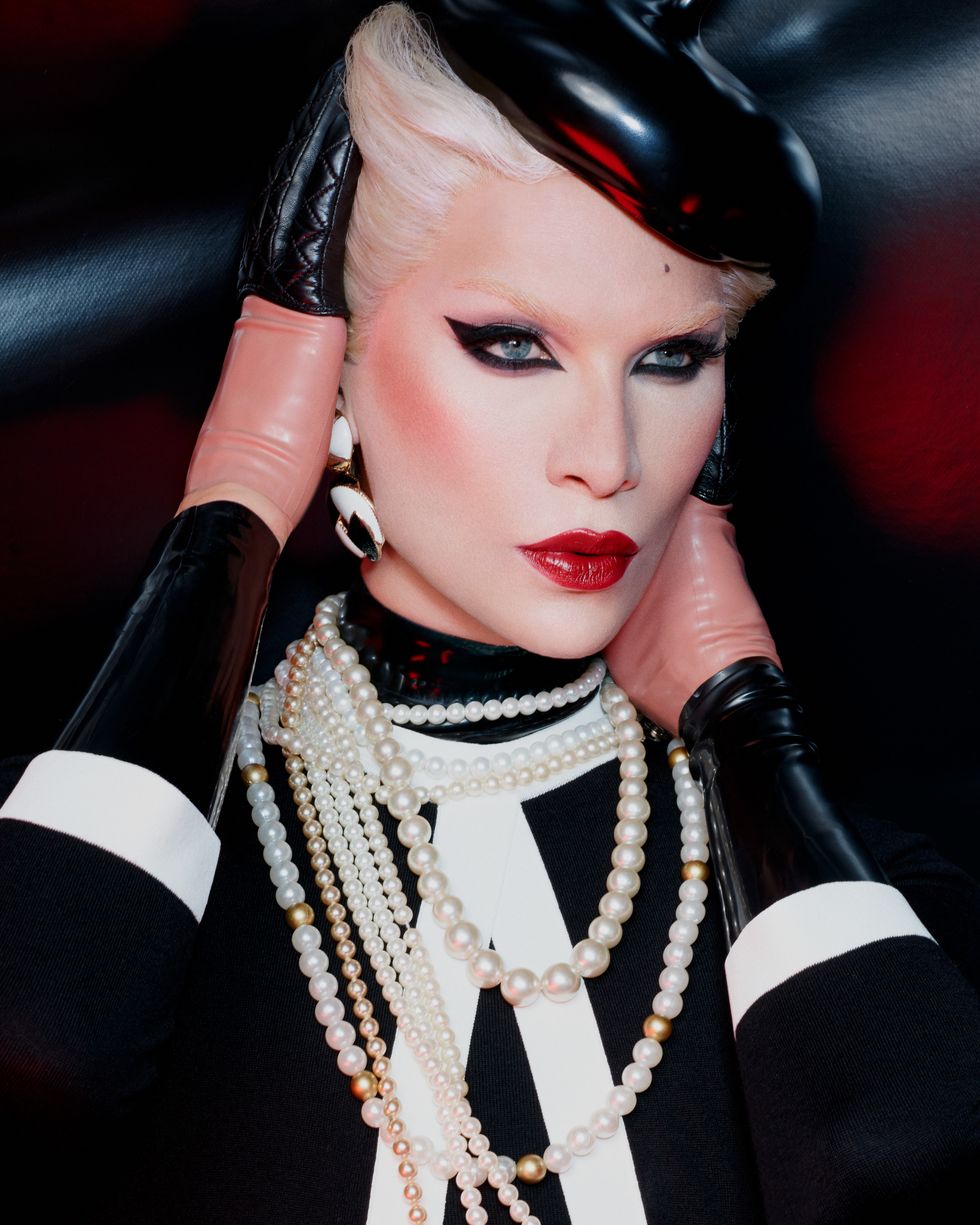 What happened when you ended up modeling?
I wasn't making any money, not at first. I was working as a male model, but not making anything. But at night, Miss Fame came alive, and I was at parties and I looked good, and people were like, "You're really good at makeup, you're very beautiful," and it gave me confidence. I started finding that the one place I had something was when me and Miss Fame united. We'd always been around each other, but she was always budget. I didn't have the ability to be full-scale Miss Fame until I started really working and building relationships with small designers in the beginning. I think that's probably my best advice: be united with your community, work with artists within your wheelhouse that you totally are in-sync with, and things evolve, you end up doing a show, or you end up meeting another person that thinks your look is right for them. But as time evolved, Drag Race happened. Conversations around the future of drag were things I talked about on television.
Your vision of drag was always more aspirational. How did that play into what you ended creating for your first beauty launch?
My vision of drag is not to be in a club for the rest of my life, because I'd like to be in the pages of Vogue. So I wanted to see that through, and I always believed if you put yourself into it, in alignment, you can manifest it, you just have to believe it, state it, claim it. Leaving the show, I was already known for the art of makeup, and very specifically, the lane I felt like fit me like a glove, was the art of high glamour — very sophisticated, refined, precision lip, precision liner, high drag, high drag as in pop-couture, high-end, and I wanted it to feel expensive. I wanted to be able to create a brand that felt very luxurious. I'm all in favor of the traditional look, and add some artistry. There always needs to be something that takes light, because performers need to radiate to the back of the room. Drag Race gave me a boost, but two years after the show and producing music, it started to change. I got to L'Oréal by accident, by a party in Paris at Miu Miu, and they brought me to Cannes Film Festival and I've been signed with IMG Paris as a female model. So that was very special, because I was not being represented under the artist board but under the women's board, and the same goes for my agent Wilhelmina, here in New York, which felt special. I felt like I am on both sides of the coin: I get to be both and all at the same time, and sometimes favor one gender over the next.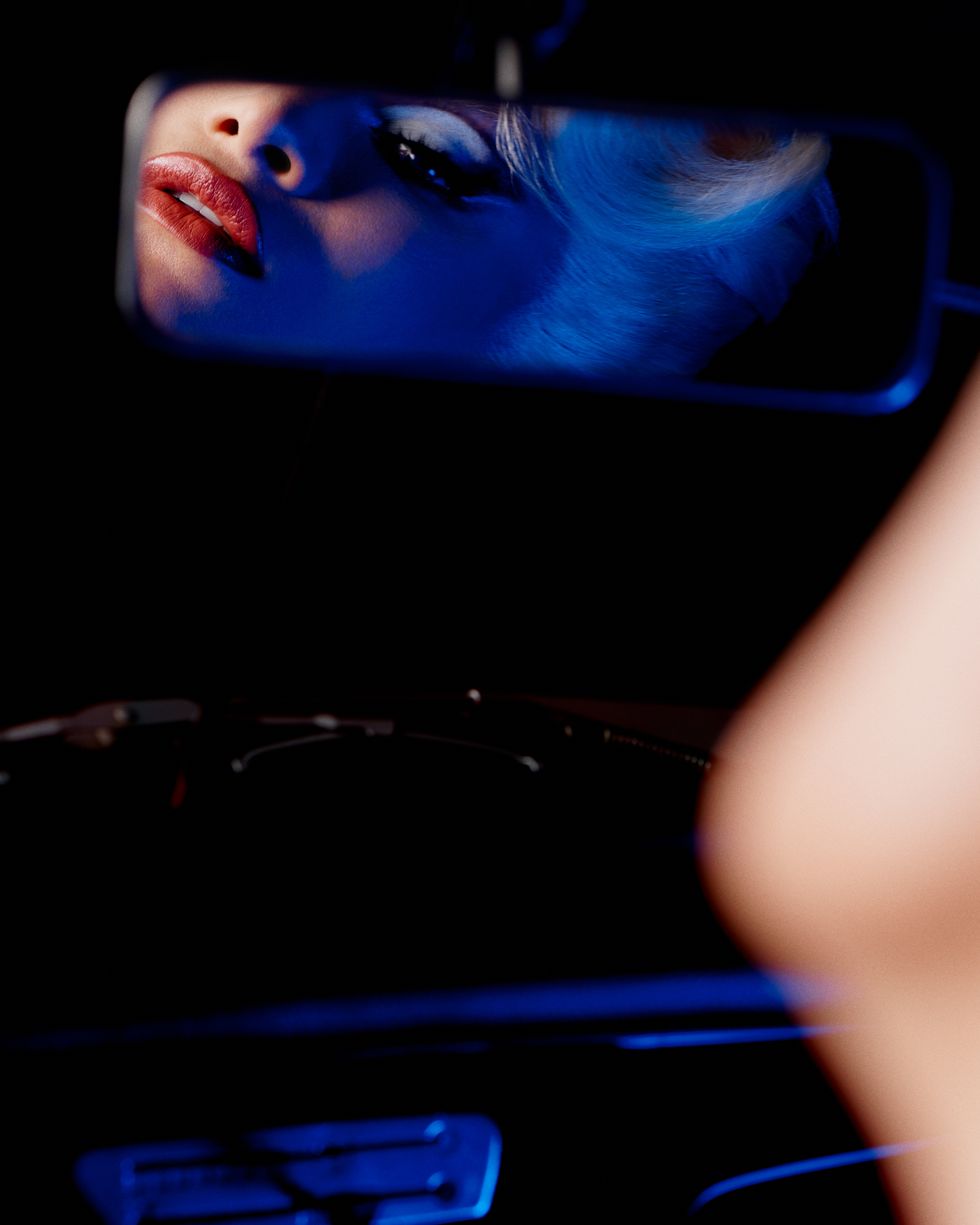 You're not working with a major distributor yet, which leads me to believe Miss Fame Beauty is largely self-funded and self-supporting.
Yes, I work all day long. I'm doing all of my own internal work: marketing, PR, writing, re-posting, sharing, liking, commenting. And it feels right for now. We're still a small business embarking upon a big venture. I wanted to create the idea of a luxury vision, but it was all self-sustained and self-financed. It needed to be this extremely glamorous and chic, provocative design that was also relatable to audiences, because I have a vast array of viewers. I have people that are my mom's age and aunt's age, and then I have young teenagers that are fresh to Drag Race. So I need to be able to create something that has enough pigment, but has enough of a soothing quality that it can be worn by anybody, and so they can feel like they've just stepped up their eleganza for the evening.
Well, it's certainly eleganza at an accessible price point, compared to other luxury brands.
100 percent. I already realized that I'm looking at different price points and quality points of Dior, Givenchy, Guerlain lipsticks. Because I am a man doing drag, and I'm tall, my hands and my fingers are long and elegant, I wanted the applicator when I was shooting the ad to be a proper proportion to my hand. I wanted it to look elegant and elongated and sexy. So if you stand my applicator up even against MAC or [Fenty Beauty], it's got another 1/3 of an inch height, and its also weighted, it's metal, it has this nice high-shine chrome finish, and it has a debossed Miss Fame logo. Every little detail matters. A lot of people online have been talking — it has a magnetic closure, so the cap won't roll away leaving it in your purse, it magnetizes and clinks shut so it's very satisfying to open and close. When you get to see it at a beautiful angle, when you twist up, you have a ton of product in there, and it smells like vanilla — a very soothing aroma. I like sweet treats, so I think that makes me feel delicious.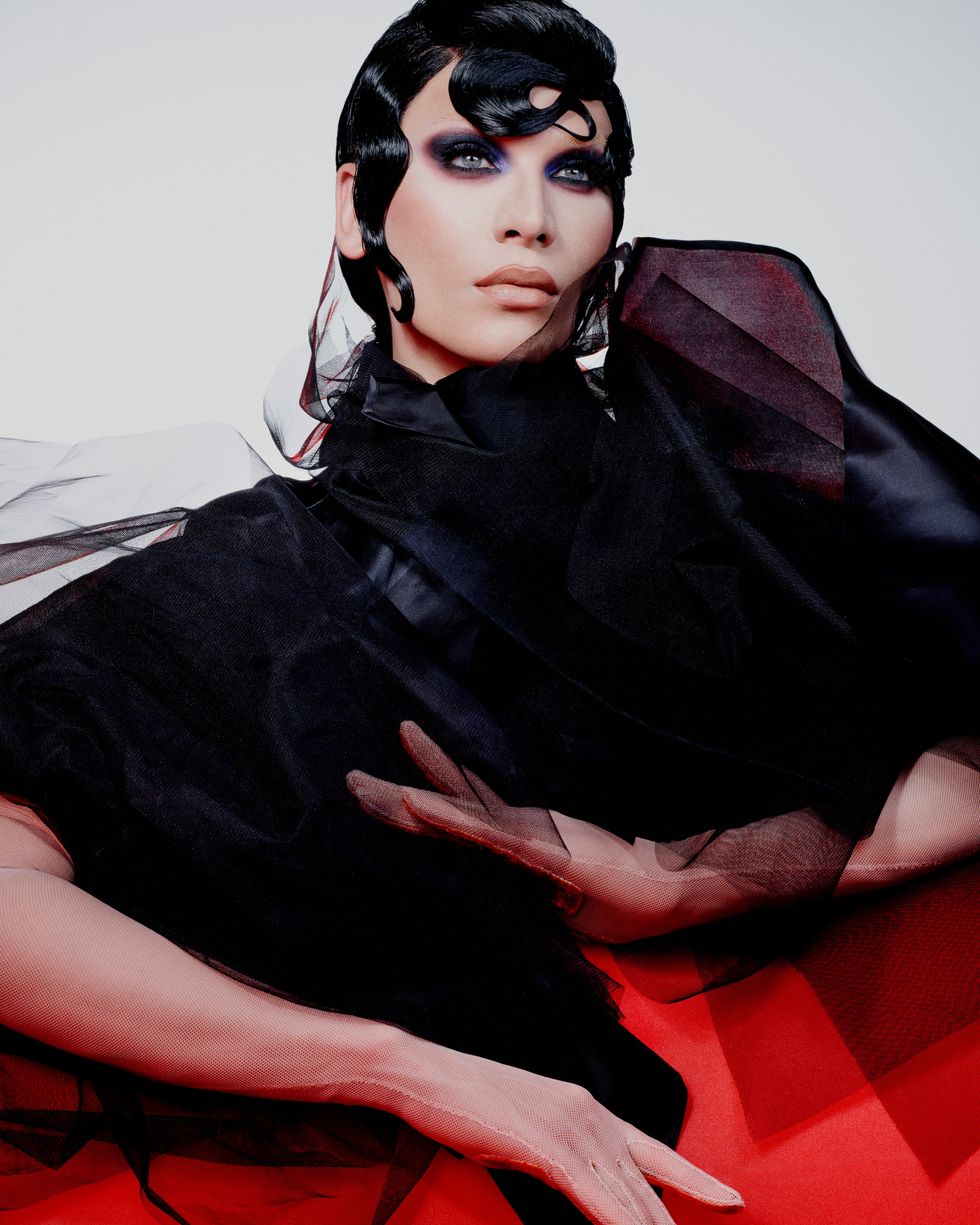 Vanilla? Yum! What other ingredients did you use to make these?
The ingredients are really soothing on the lip because I needed wearability, and I also needed soothing, conditioning agents, because we're coming out of the lipstick era, which will never go away because it's such a fabulous trend. But I also feel like my mom would never wear liquid lipsticks because she's got dryer skin than she did when she was 20. I like creamy products because personally, I like shine where I want it to be. I want my lip to have a little bit of gloss, but not dripping in gloss. I was able to put that in the formula with avocado oil. The whole point was I needed a cruelty-free line, because I don't think any cosmetic should be cruel, we don't need to be harming animals. It's really great to be able to start with quality, affordability within a price point that makes sense for all audiences, and something that's really got that Miss Fame trademark embedded into it where you literally can feel my name across your thumb when you hold the product.
"I want to work with people I know who deserve time and space to be seen, to have their beauty seen for what it is."
What can the beauty industry do to be more inclusive?
I'm putting myself into the entrepreneur category. I know the inside of what it's like to develop a product, and this formula is my own. I developed what we are using here. I know how much time goes into it. It was a year of work developing Miss Fame Beauty. [Someone like Rihanna] can come in strong with all the smartest marketing because she has everything in her favor, and usually money talks. [That's important to keep in mind] for somebody like me or any queer artist that is really fighting for a place to create things that are inclusive; drag artists to this day don't have massive teams. This introductory launch needed to be beautiful for many people to wear. I needed to be encompassing of every age, every gender, every sexuality. It needs to be artistic, but it needs to be marketable and wearable, so that my aunt would want to buy it. How do I make it so that drag queens are excited by it?
Everybody needs to be able to enjoy the artistry of makeup. It doesn't need to be exclusive to a specific gender, color, sex, or age. Everybody deserves to feel beautiful. But being a startup company with a queer perspective means that I'm going to work that much harder to claim space in an industry that is backed by big branding corporate money in a billion dollar industry. This isn't going to be an easy feat. What I've discovered right of the bat is that I have a lot of support within the queer community, and those are the types of artist that I will always nurture and support. I want to work with people I know who deserve time and space to be seen — to have their beauty seen for what it is. The goal is to expand and create more products that are able to be worn by many different skin tones, and look beautiful on many different types of life genres. I need for my Mexican grandma to find herself in this product, because she deserves to feel beautiful, as well.
Photography: Armin Morbach