If you're one of Lori Harvey's 4.3 million followers on Instagram alone, you'll know that she epitomizes Black luxury.
From flying in private jets to carrying rare Hermès Birkins, the 25-year-old quietly exudes sophisticated glamour. She may be one of the few celebrity kids keeping her personal life a mystery, unlike the Kar-Jenners or Hiltons who famously flood all our timelines with the inside scoop. In 2021, Lori went public with her boyfriend, actor Michael B. Jordan, a rare admission that instantly cemented the two as one of Hollywood's favorite couples.
Despite having Steve and Marjorie Harvey as parents, Lori has begun to pave her own lane as a business woman and fashion muse. Growing up back and forth between Memphis and Atlanta, she started modeling at a young age and then in 2015 signed with agencies before starring in campaigns for Pat McGrath, Burberry and Michael Kors (whose Fall 2022 presentation she recently attended at New York Fashion Week).
Now, Lori has decided to make her way into the beauty space. Last year, Lori launched SKN by LH, a sensitive skin-safe brand that prides itself on a simple, five-step routine to make your life easier and keep you from trying out hundreds of different options on the market. Sounds like a dream right? There's a reason why it sold out during the initial launch back in October.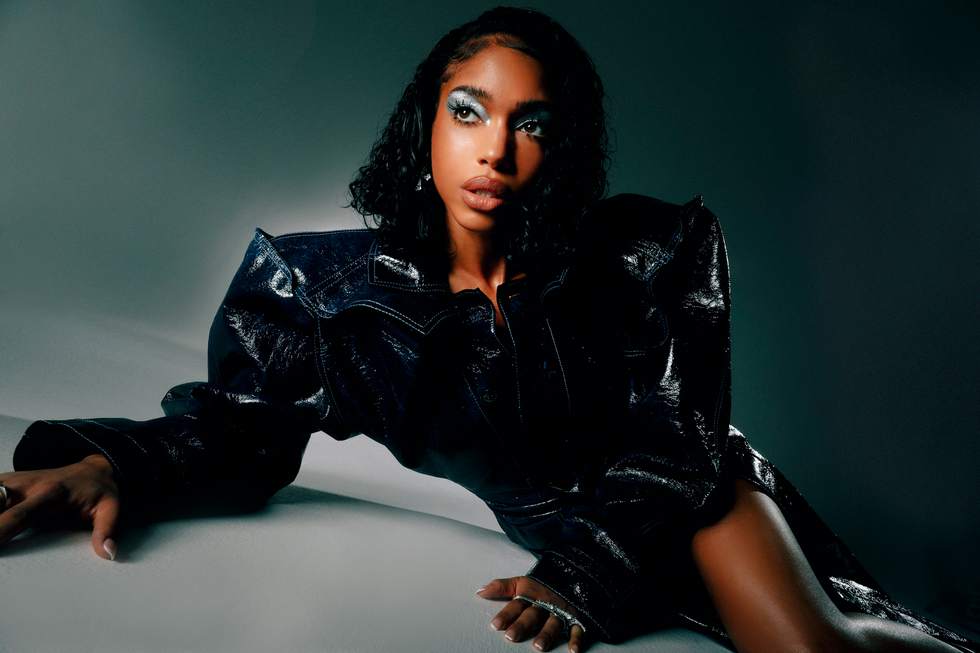 Coat: Y/Project, Boots: Le Silla, Earrings and rings: Loree Rodkin
On the heels of our cover with Steve, PAPER caught up with Lori to get peek inside her world of self-care and minimalist beauty.
Where did your love for beauty start?
My love for beauty started at a very young age. I was definitely that little girl that discovered what skincare and makeup was from watching my mom growing up. I loved watching my mom doing her skincare routine, I loved watching her get her makeup done and I loved getting into her products after she was finished, when she would be going to bed or she would step out. That was where I first got that spark of, "Whoa, I like this."
She also got you into modeling at a young age, right?
Yes, she started me modeling locally when I was younger, when we were living in Memphis. I loved to model for the local department stores, it was one of the few luxury stores that we had in the city. So that's where I got started and I was published in the local newspapers and magazines. I think my Grandma still has them to this day.
So why did you choose skincare? Is that your favorite part of beauty?
I'm obsessed with taking care of my skin because my skin is so sensitive and I went through such a rough patch growing up with not realizing what type of skin I had, and using all the wrong products.
I was always a skincare enthusiast, so I would go to the store and buy every skincare item I saw that looked cool or said it did something different to my skin. I'd want to try it, but not realizing that all the different products did not go with my skin type. So I was messing up my skin so bad; I was breaking out horribly, getting horrible hyper-pigmentation.
From trying to get my skin back healthy, I developed this love and obsession for skincare, and that's what motivated me to start my own skincare line.
What would you say is the main differentiator of SKN by LH?
It's really about simplifying the routine because I was using 20 million different products at one time to try to get my skin healthy and glowing. I was like, "There has to be an easier way for me to do this," and that's why I wanted to create a five-step routine that people could follow. It is super easy and all the products are formulated to work really well together. It will leave your skin feeling super refreshed, glowing and hydrated. It's good for all-skin types, but it's especially good for people who have sensitive skin like me.
What is the routine?
The first step is my Goji Berry Cleanser, which is super lightweight. It's not drying, it's super gentle because it has a low pH, so it's not gonna leave your skin feeling stripped or dry afterwards, which was super important to me. I hated when I had to use the cleanser and my face would feel super tight after; I was dying for moisture. This leaves your skin feeling fresh and hydrated. It has an awesome combination of active ingredients and Vitamin C, it's a super rich cleanser, and it leaves your skin feeling amazing. It is definitely one of my favorites and I think that it's been a fan favorite among everybody.
Then, the second step is the White Tea Toner, which I also love. I promise I'm not biased when I talk about my products, it's actually really, really good. It's super refreshing, it helps prep the skin for other treatments following. It really helps the skin absorb the treatments, which I love.
The third step is my Vitamin C Serum, which was a game changer for me when I was getting my skin back healthy and glowing. Vitamin C really helped clear my dark spots, hyper-pigmentation and evened out my skin tone. I'm such an advocate for Vitamin C.
Next is my Peptide Eye Complex. Eye-cream has been a big thing for me growing up, especially because dark circles and bags run in my family. So it was really important for me to create a really great eye cream that helped with fine lines, puffiness and dark circles. It's a really nice combination of peptides and antioxidants, and helps get your eyes youthful and radiant.
Finally, the Niacinamide Cream, which is amazing. I love Niacinamide, t is great if you have any redness in your skin. It is also great to help your skin retain its moisture, and it's really good to promote an overall more firm and radiant appearance.
Do you use your five-step routine underneath your makeup or is this more of an evening, unwinding routine?
It is actually the best skin prep under my makeup. My makeup has never looked better than when I do my five-step before.
What are some of your favorite go-to makeup products? You've really perfected the soft-glam look.
Soft-glam is my favorite, I love a good no-makeup makeup look. And actually, I'm doing no lashes right now. I took off all my lash extensions and I'm trying to give them a break.
Same, I'm stopping my lash extensions too.
I think it's just that time. Everybody I know is giving their lashes a break. I have been trying out all these lash serums.
But yeah, I love the no-makeup make up look, so I typically love Pat McGrath anything — especially her lip gloss, any of her lip stuff I love. I also really love her foundation; I love a lightweight foundation, so I'll go for Pat McGrath but I'm still an Armani lover at heart.
And I like when my skin looks like skin, like I don't like for it to look like I have a ton of makeup on. I love Laura Mercier setting powder, that's my go-to. I also love a Nars bronzer and Urban Decay also has a really pretty baked bronzer.
I love NARS, their
Radiant Creamy Concealer
. Honestly, if I'm just trying to get out the door and I really wanna do a no-makeup look, I'll just do concealer on places of my face that are a little flush cause I have rosacea so I'm always super red. I do a little bit of concealer there and then I do a little bit of bronzers, some blush, lipgloss and a brow gel, and I'm out the door.
When you're not running out the door, do you work with a glam team all the time?
Yes, lately I have been doing a ton of shoots and events, so I feel like I have been doing glam with a glam team more recently then I have in the past few months. We kinda just go with the flow. We see what the look is, and then we'll sit and talk and say, "Alright, what are we feeling?" We throw out some ideas, I'll see if anything sticks. If not, I'll go on my Instagram saves and be like, "This would be fun to try." I have been into Euphoriaeye makeup, so I've been experimenting and trying those out a lot. I think you can always experiment with beauty looks, and get creative and have fun.
Self-care is super important for you too, right? What's your routine?
I love to do workouts in the morning, that is my me time. I go to pilates, usually; that has been my go-to routine as of lately. I think it has completely transformed my body.
I really spend some time getting ready and taking care of myself. That's typically my go-to self-care. I love to do my juices in the morning, as well, so I make celery juice or any type of green juice. I like to do a Vitamin C shot because Vitamin C is really good internally and topically.
I am trying to get more into meditation too. I feel like meditation is one of those things that you have to figure out how it works for you and do it. So I'm still trying to figure out how to meditate the best for me, but it's been a cool journey.
Is Michael B. Jordan part of the brand in any way? I'm sure he's super supportive because you're both business-minded.
He is more so my test subject whenever I have to try a new formula or a new product. I'm like, "Come here, let me try this on you! Let me see how you like it! Let me see how your skin does and how it reacts!" He loves it. He was calling me before I got here and was like, "Can you bring me some more cleanser? I ran out." His skin is thriving, so he definitely put me in charge of all his skin needs now.
In the first drop, SKN by LH sold out. So aside from the five-step routine, where do you wanna take the brand?
We're gonna be restocking more products soon. The first drop selling out was crazy; we got an amazing response and honestly have had no marketing behind it at all yet, so I would be really excited to see that.
Eventually, I want SKN to be the one-stop shop for everybody, for all your skin-care needs. From face masks, to lip scrub, to lip balms, I want to have everything eventually. We are in the process of working on a lot of new product development and it's going really well. You can look forward to seeing more new products soon. We are just making sure that all the formulas are perfect and then they will be ready.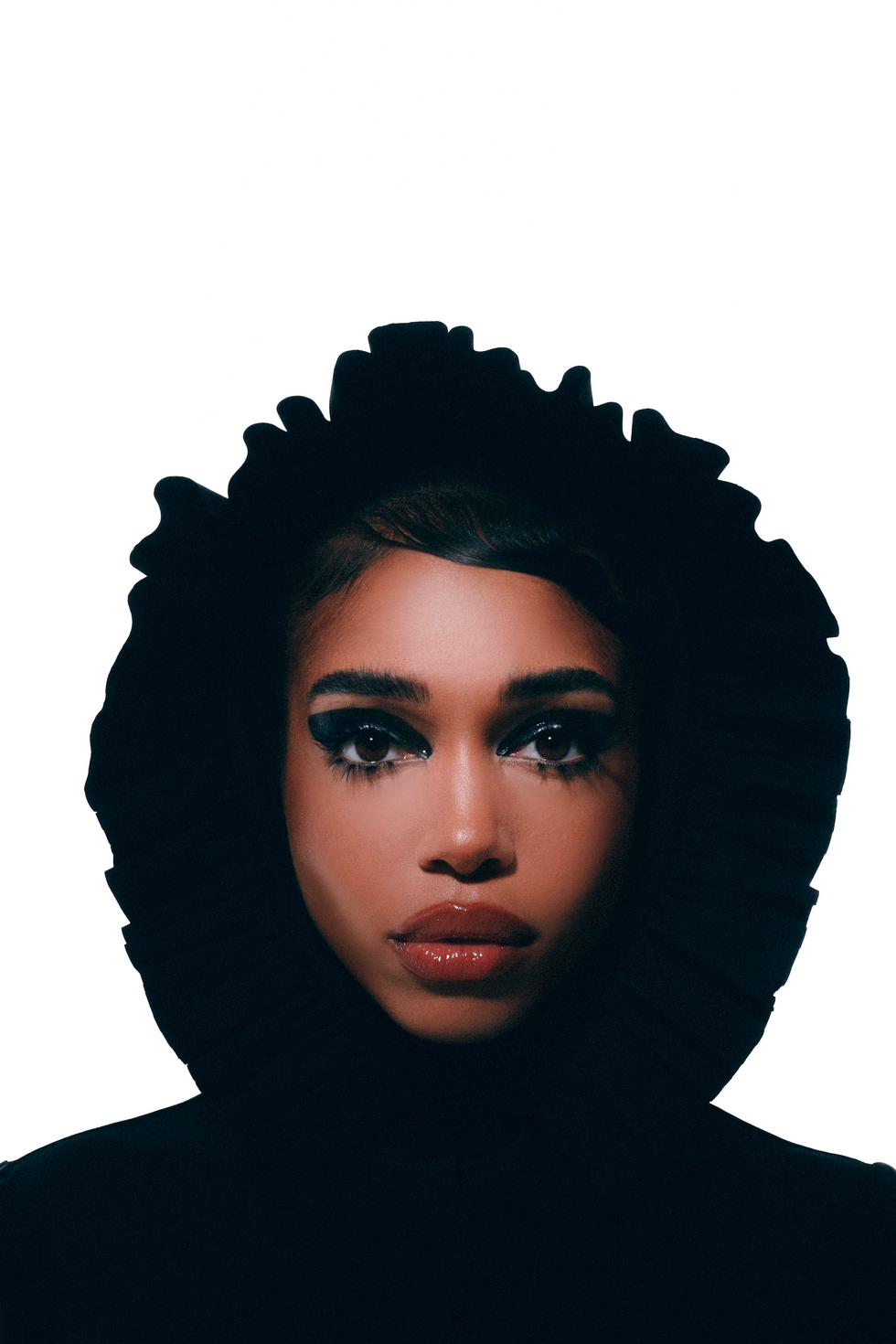 Clothing: Richard Quinn
Sign Up for the Morning PAPER