In honor of the spookiest season of the year, PAPER asked two Halloween queens — Kim Petras and Elvira herself — to join in conversation about their favorite holiday. Cassandra Peterson, the iconic Queen of Halloween who created the beloved, vampy character known as Elvira around the world, appeared on Kim's horror-themed mixtape TURN OFF THE LIGHT, VOL. 1. The two chatted about their holiday traditions, favorite costumes and why Halloween is the only true day a year you can really be yourself.
Cassandra Peterson: Hi Kim, by the way, I've never met you.
Kim Petras: Yes, thank you so much for doing this — having a Halloween mixtape and then having Elvira on it was really sick. I'm super thankful and you sound amazing.
CP: Thank you, it was fun! I love the stuff that you're doing.
KP: Thank you!
CP: There aren't that many Halloween-themed things out there that get in the mainstream, that's for sure. Not since "Thriller," maybe. Which did you hear, they were supposed to use me for the "Thriller" video. The Vincent Price part. I met Michael Jackson and he told me that and then the man that wrote the song also told me it turned out Quincy Jones' wife was best friends with Vincent Price's wife and they decided it should be Vincent Price. Which you know I'm happy and thrilled it was because he's one of my idols. So that was fantastic. But I must say it would've been nice.

KP: You would have killed it!
CP: It would have been pretty awesome, right?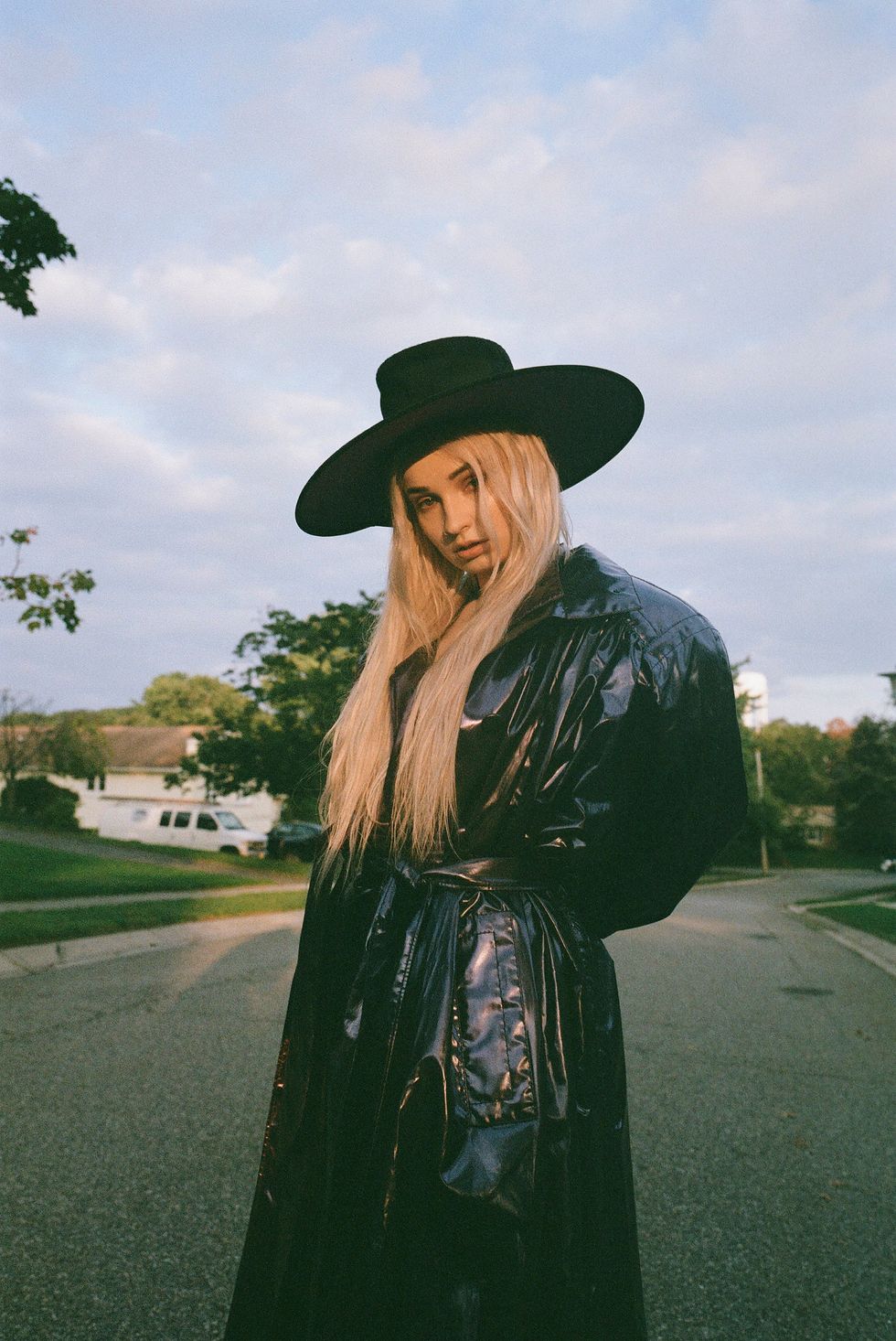 Trench & Hat: Marc Jacobs
PAPER: Kim, why make a full project dedicated to this holiday?

KP: It started with one spooky song. So me and my friends wrote this song called "Close your Eyes," which is also on the mixtape, and I was really excited about it and it happened out of the blue. It was kind of spooky. We started thinking, Why are there so many Christmas albums and almost no Halloween albums? It's my favorite holiday ever.
CP: Tell me about it.
KP: [Laughing] Yeah! So we just locked ourselves in, writing it for a week and a half. It went pretty quick. We were just hoping people would dig it. I just have a big passion for Halloween.
CP: You and me both.

KP: You're the Queen of Halloween. I could never ever.
CP: Thank you. It was nice that you thought of me to be on this, I was pretty thrilled.
KP: So how crazy is your Halloween every single year? I'm so interested, you must be booked every single day, the whole month of October.
CP: I start in August and start shooting things, doing different TV shows and different appearances and interviews, all through September and October. Pretty much everyday is Halloween for me all year round.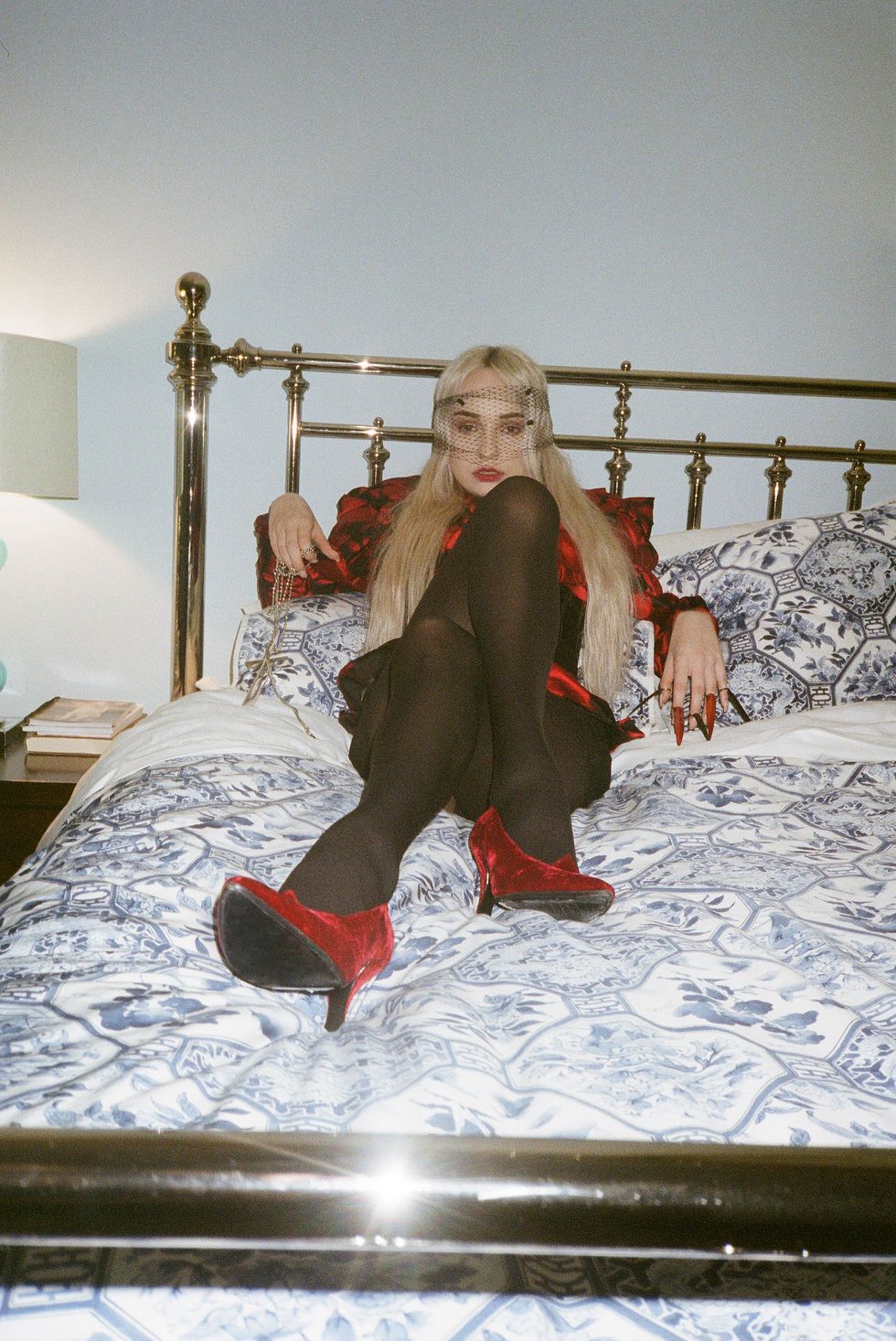 Face Net: Vex Clothing, Crosses & Finger Nails: Chris Habana, Tights: Wolford, Top & Shoes: Marc Jacobs, Corset: Moschino
KP: That's amazing.

CP: But the fall season does get particularly crazy. I'm just flying all over the country right now doing different gigs. love Halloween but I can't wait for November 1st. [Laughing]
KP: I'm sure. What are you doing on actual Halloween?
CP: Normally I do this live show. I wish you could have seen it, but last year was my last year at Knott's Scary Farm which is the biggest Halloween venue in the country and the world for that matter. I did this big live show where I did singing and dancing and jokes and all of that. But I decided last year would be my last year. This year, it's different for me. I'm flying all around doing different spooky venues, haunted houses, conventions dedicated to horror and just getting out and meeting fans.
"I'm kind of like the Madonna of the Macabre." – Elvira
KP: Some of my friends saw you at Knott's Scary Farm and they were raving. They said it was amazing and life-changing. I can't wait to see you live, I've seen a bunch of clips, I love your movies, and I'm just a total fan and I can't wait to see your show.

CP: I'm kind of like the Madonna of the Macabre.
KP: Yeah totally, I would say that too. Maybe I could be the Paris Hilton of the Macabre.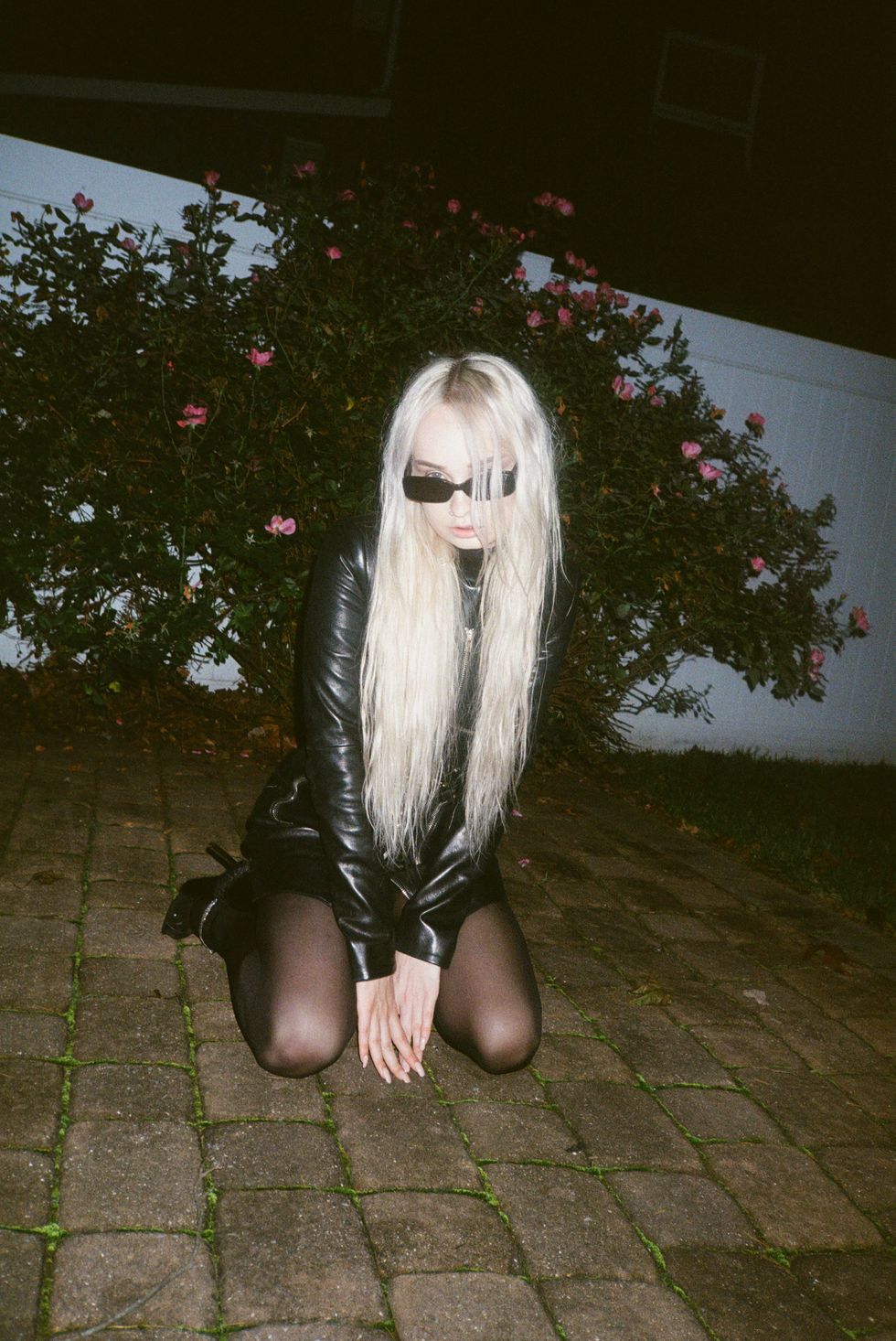 Full Look: Alexander Wang, Tights: Wolford
PAPER: What was Halloween like growing up for you both?
KP: Well I grew up in Germany, and my family loves Halloween so in my house it was always Halloween. We had pumpkins and the whole thing, my mom was just a huge Halloween fan. All my friends from school didn't have Halloween parties so they'd all come over to our place and have Halloween parties. I think I just got it from my mom who was a fan because it really isn't a big thing in Germany. But I remember watching scary movies all of October and really getting into it. It's really my mom and two older sisters who taught me about it. Then I came to America when I was 19 and I was blown away all the amazing things you can do on Halloween — all the mazes and everybody decorating their house like crazy and all the parties.
CP: They don't do it anywhere else like the US. Since even I started being Elvira it's spread, kind of going around to a lot of different countries. I hope it catches on everywhere because it really is the best holiday. You don't have to buy anybody presents, you don't have to have any dinners with your relatives or go to church or do some crazy thing like that. You just go out, dress as your fantasy and have fun right?
"I would always go for the most girly things ever because Halloween was a little bit of an excuse to just dress as a princess or a ballerina." – Kim Petras
KP: Yes! I'm so interested what Halloween was like for you as a kid?
CP: It was really, really crazy. It's so bizarre, I have a picture of me dressed this way, like Elvira, when I was 5 years old. My mom asked me what my first Halloween costume should be and I said I wanted to be the Queen of Halloween, so she made me this princess dress out of black and orange crepe paper with a crown and a sceptre. So pretty bizarre that my first costume I wanted to have was Queen of Halloween, that's something I came up with in my little kid brain.
KP: Seems like you manifested it.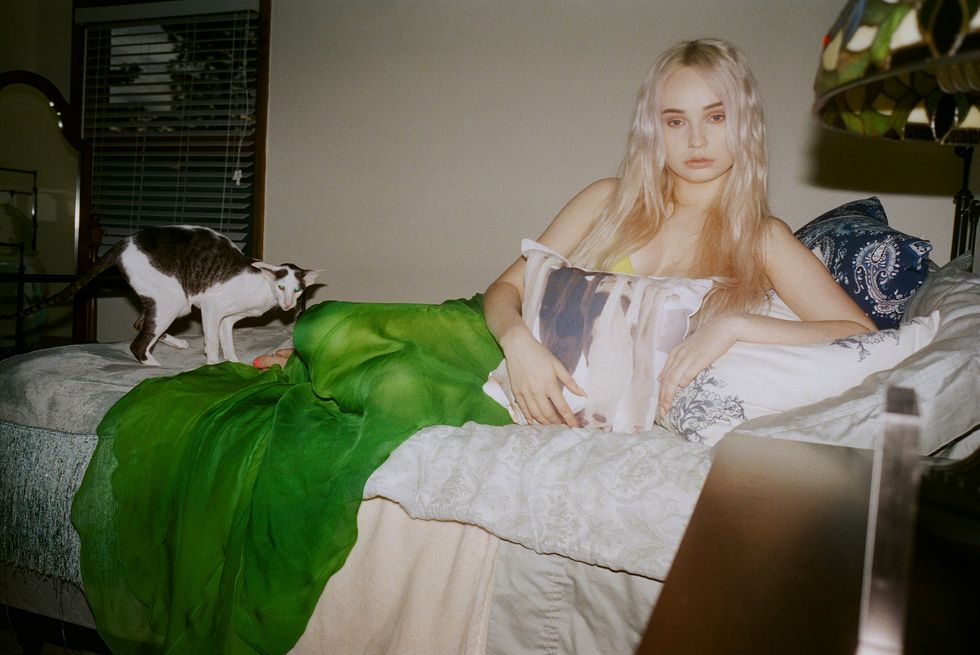 Dress: Moschino
CP: I think I did. I'm sure I did. I just saw that Meghan Markle, she said growing up she either wanted to be the Queen of England or Elvira and there were pictures of her when she was 7 years old dressed as Elvira and dressed as the Queen of England on Halloween. So she kind of manifested her dream too, right? It's kind of trippy that she ended up doing that too. So be careful what you wish for. Halloween was super big in my family because my family owned a costume shop. And our two biggest holidays were Halloween of course and also Oktoberfest. Did you guys ever celebrate that?
KP: Of course, that is the biggest celebration in Germany. Everybody drinks so much beer and passes out.
CP: Strangely, the town I grew up in Colorado Springs, has a ton of military bases and for some reason Oktoberfest was a really big deal there. I think because a lot of people from Germany worked at the military bases and were enlisted there too. So it was a huge big deal in Colorado Springs and we kind of got two Halloweens, but Halloween was number one for my family. That was when everyone was working, all my relatives flew in from other states to help at the costume shop because it was so crazy. I used to sit and help iron the costumes and stuff and make devil horns out of foam or whatever. And also, I always had the most awesome costume. Every single year people were afraid of me because I entered every costume contest and I always won because everybody was wearing, back then it was these dorky little plastic outfits with little plastic masks, but I would have this really awesome outfit, whatever character was popular on TV at the time because my mom and aunt would sew it for me and make it really fabulous. So I was just dressing up from the beginning of time, I was always meant to be a drag queen.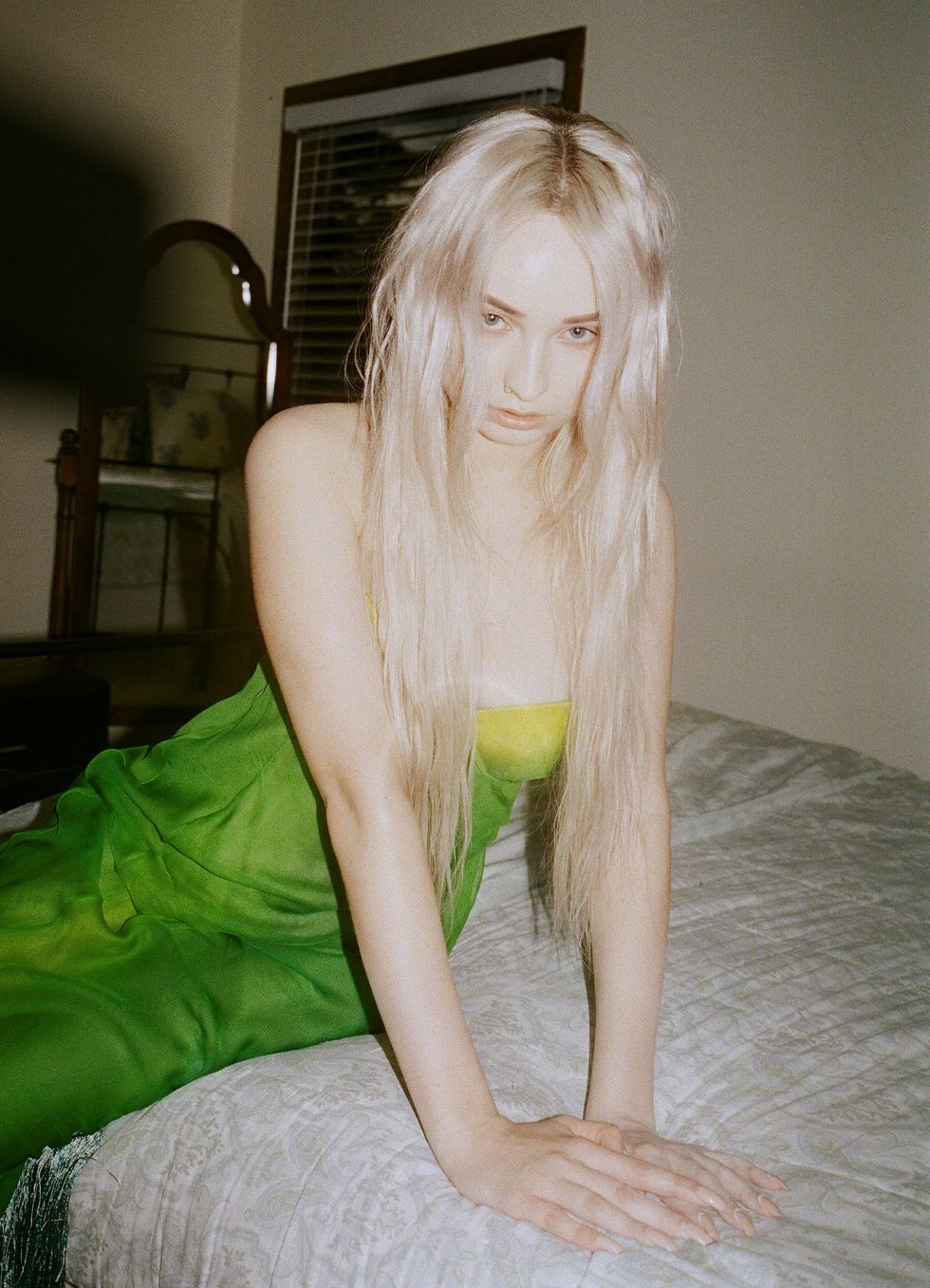 Dress: Moschino
KP: [Laughing] Amazing. I remember costumes as a kid. I would always love dressing up. Also, I'm transgender so for me as a kid I would make it a little spooky, but I would always go for the most girly things ever because Halloween was a little bit of an excuse to just dress as a princess or a ballerina or something I wanted to dress as.

CP: You can be your fantasy on Halloween and no one thinks you're weird.
KP: Totally. Which is such an amazing thing about it. I think that's why I have a deep connection to it and I've always loved it.
CP: I'm sure. It's the other 364 days you have to worry about when you have to be a normal person.
KP: Yes, which I'm trying to avoid at all times everyday.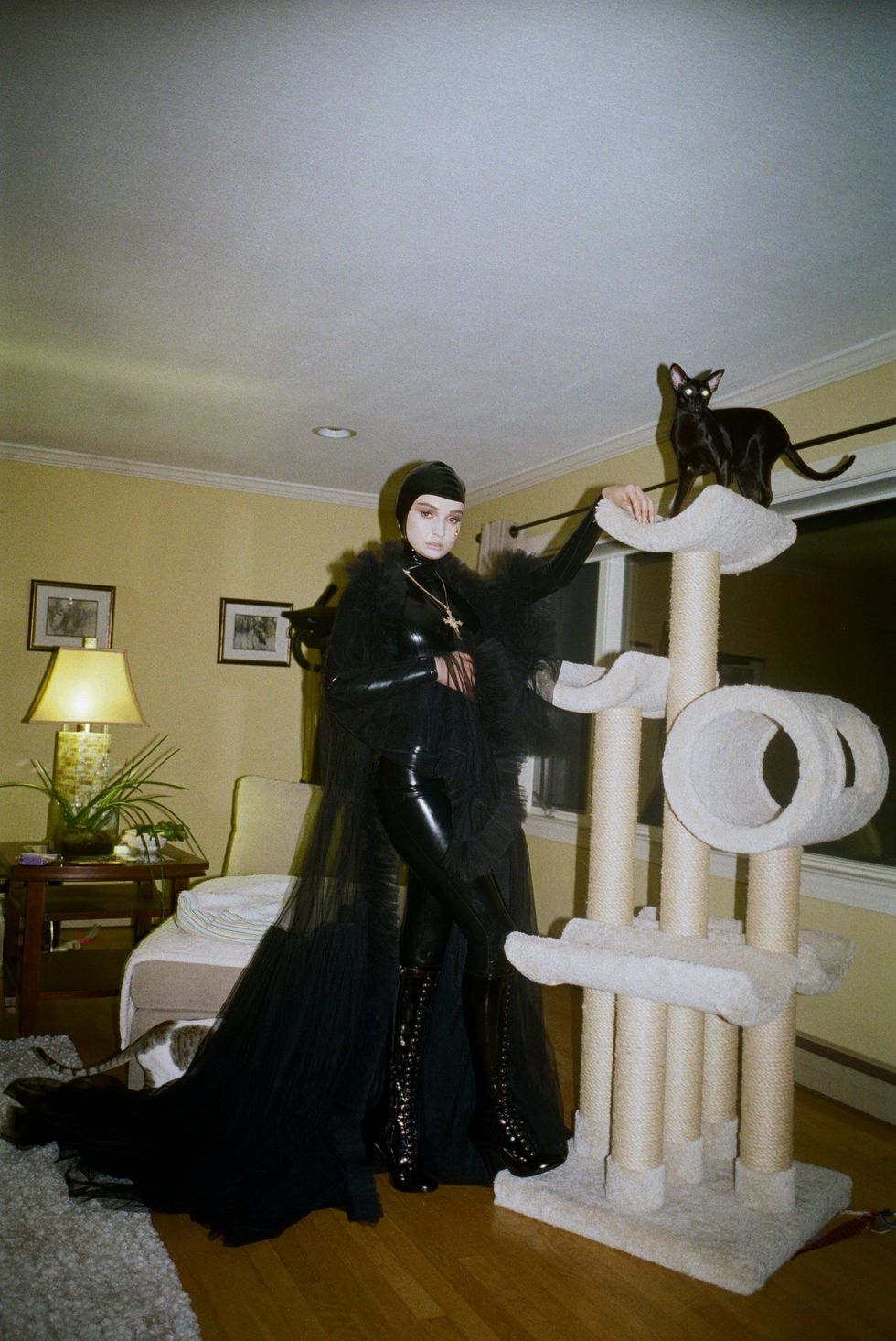 Latex Catsuit & Hood: Vex Clothing, Gold Cross & Tear: Chris Habana, Boots: Moschino
CP: Me too.

PAPER: What were some of your favorite costumes you've worn?
KP: I was Sailor Moon, big Sailor Moon fan. I did a Dracula moment, I've always loved vampires. Sometimes I just go as dead. Just dead with blood all over myself. I'll take random characters like Baby Spice and go as dead Baby Spice. That's kind of my go-to.
CP: Well for the last 36 years I've worn the same costume, can you believe it? I never get to wear anything fun anymore. But when I was little I always wanted to be the characters on TV. And even when I was really little I always wanted to be the major sex symbols. When I was about seven I won a contest dressed as this character from a show called "Gunsmoke" and it was a dance hall girl named Miss Kitty. I won a hundred dollars, that was like a million dollars back then. So I was seven-years-old wearing high heels and a garter belt and fishnet hose, not very appropriate. And later I'd go to school dressed as Ginger from Gilligan's Island or Morticia Addams from the Addams Family show, or Genie from I Dream of Genie. So I was always trying to be miss sexy girl when I really wasn't that sexy at that time.
KP: I love that.
PAPER: It's the one day a year you can be a little freer and not be shamed for it!
CP: Exactly. I always say that. It's the one day a year you can dress really slutty and not be called a hoe. If you wore that kind of thing to your job the rest of the year as a woman you'd be drummed out of the place. It's crazy. It's so much more free.
KP: Totally. I love to be dressed slutty all year round.
CP: Me too. But we're able to do that, but not everyone can. We have a lot of freedom in that area. Unfortunately the normal woman who has a regular job doesn't have that freedom.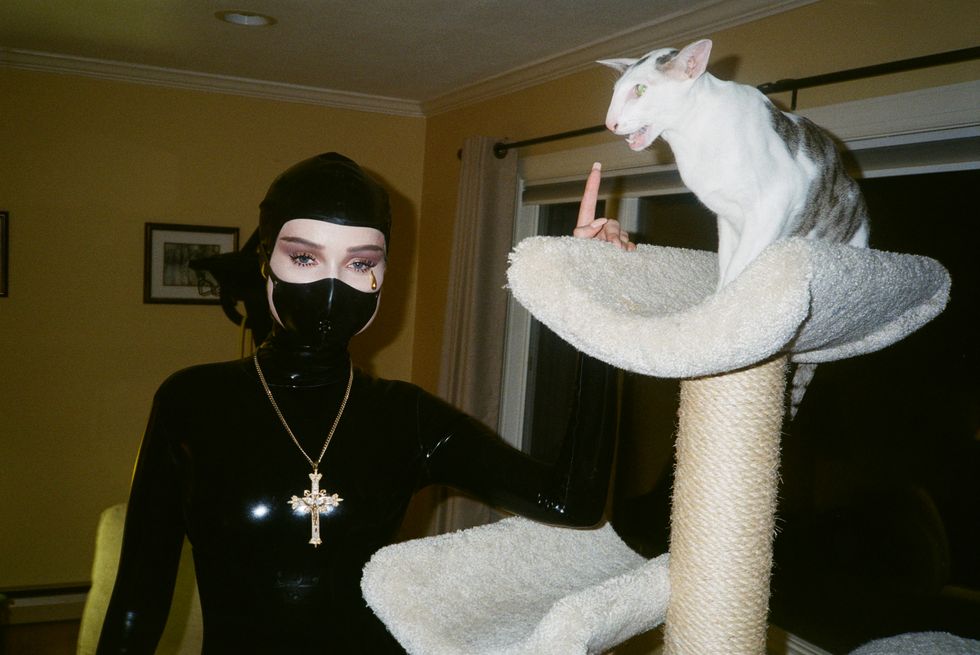 Latex Catsuit, Muzzle & Hood: Vex Clothing, Gold Cross & Tear: Chris Habana, Boots: Moschino
KP: Totally. I wish it was different. I wish people would appreciate slutty outfits.

CP: Guys love for you to wear slutty outfits but then when you do everyone's always attacking you.
KP: Totally.
PAPER: Cassandra, what's it like to see people dressed up as yourself?
C: It's awesome. At first it was kind of surprising and now it's kind of like an everyday thing. I see men, women, children, dogs, you name it all dressed as Elvira. It's really fun and very flattering to have people honor a character that I created.
KP: I think you know you've made it when there's a dog costume of yourself.
"[Halloween is] the one day a year you can dress really slutty and not be called a hoe." – Elvira
CP: That might be true yes.

PAPER: Have either of you had paranormal experiences?
CP: I've been into that stuff since I was little. I love tarot cards and fortune telling and things like that. I never had an experience of haunted things until I moved into a particular house here in Hollywood that was built in 1901. From the minute I moved into that house to the minute I moved out five years later, things happened in the house nonstop. Noises, seeing people, hearing footsteps above my head on the next floor, seeing a shadow at the bottom of the swimming pool swimming around. I actually got an exorcist and a Native American kind of medicine man to do things to the house and it stopped eventually. But ever since I moved from there, never again, never anything weird at all happening and never before, just that house. And I ended up selling that house to Brad Pitt so I'm wondering how he's doing over there.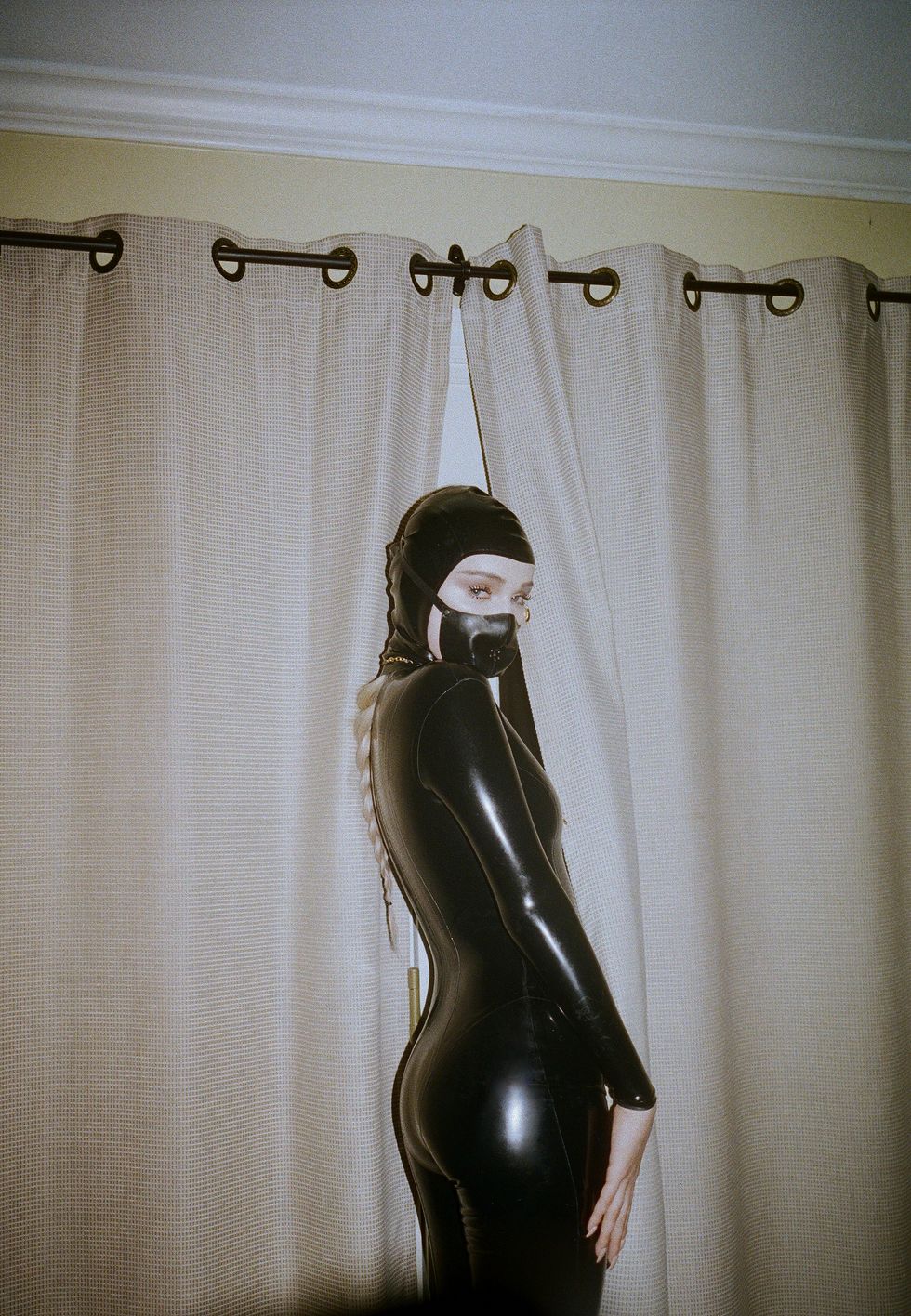 KP: Ah, poor Brad Pitt! [Laughing] I'm so hungry for a paranormal experience. I've been looking for them. I've always been obsessed with Ouija boards and tarot cards and the occult and witches. I haven't been lucky enough yet to have any of those experiences yet, but I really want to. Hopefully I'll catch a haunted house one day.
CP: Go over and visit Brad Pitt.
KP: Let's go!
Stream Kim Petras' Halloween mixtape TURN OFF THE LIGHT, VOL. 1, below.
Sign Up For The Morning PAPER