Kim Petras may be touring her debut album, Feed the Beast , but her live show unfolds like she's already performing her "Greatest Hits." So few artists this early in their career have managed to create successful back-to-back eras, with such distinctive qualities and cult-like obsession, as the German sensation.
She introduced herself by way of sunny California gloss-pop, with a taste for designer and no credit limit during her 2017 breakout; then Petras let fans underneath the surface through the emotional heartbreak and melodic swell of Clarity, before swiftly aligning with the devil ( and Elvira, herself ) on a spooky Halloween special. Several viral singles along the way felt like complete eras, such as "Coconuts," before Slut Pop ushered in a sex-positive chapter that'd make Madonna's Erotica blush. On 2023's Feed the Beast , Petras builds a fairytale kingdom of love, pain and lust (featuring her historic Sam Smith single, "Unholy"), while leaked fan favorite Problématique most recently sees Petras flirting with her own controversial reputation in Paris — all this in the course of six years.
When it came to designing a world tour that captured these expansive themes, Petras recruited show director William Baker (Kylie Minogue) and choreographers Brian and Scott Nicholson (Ariana Grande) to build a dance-forward, power-pop spectacle for significantly larger venues than the gay clubs she was raised in. With more than 30 songs on the setlist, Petras' production oscillates between high drama and horny — a space her predominantly queer fanbase is very comfortable living in. When she's not seducing demons with lap dances or BDSM punishment, she's deep-throating a microphone suspended from the ceiling and sitting on a giant penis-shaped disco ball throne. Through it all, she's dancing nonstop and singing — er, belting — completely live while doing so.
Below, PAPER caught up with Brian and Scott to dive deeper into the Feed the Beast World Tour choreography.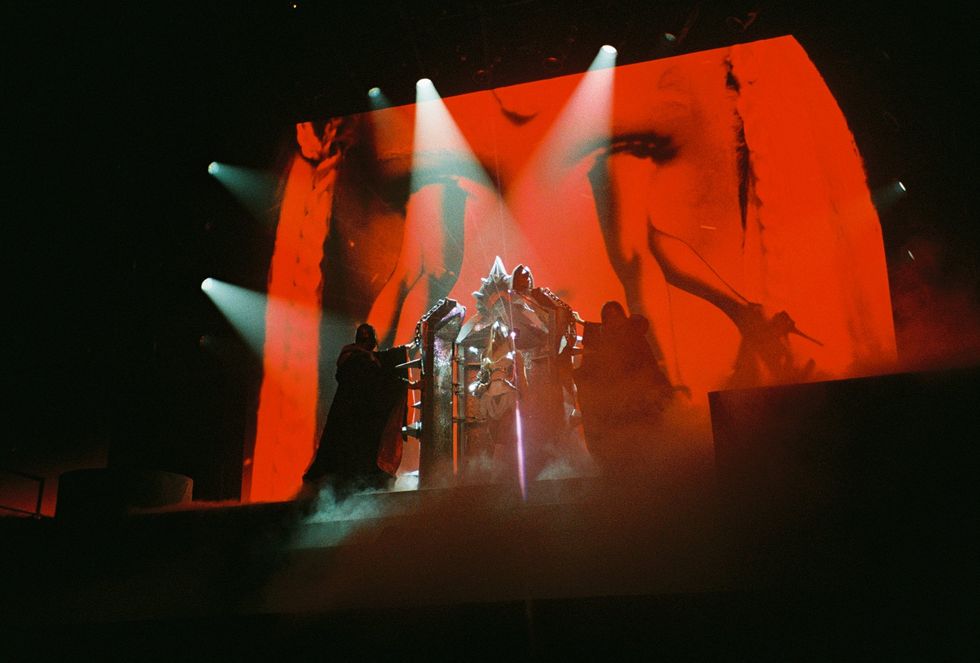 Kim Petras at YouTube Theater in Los Angeles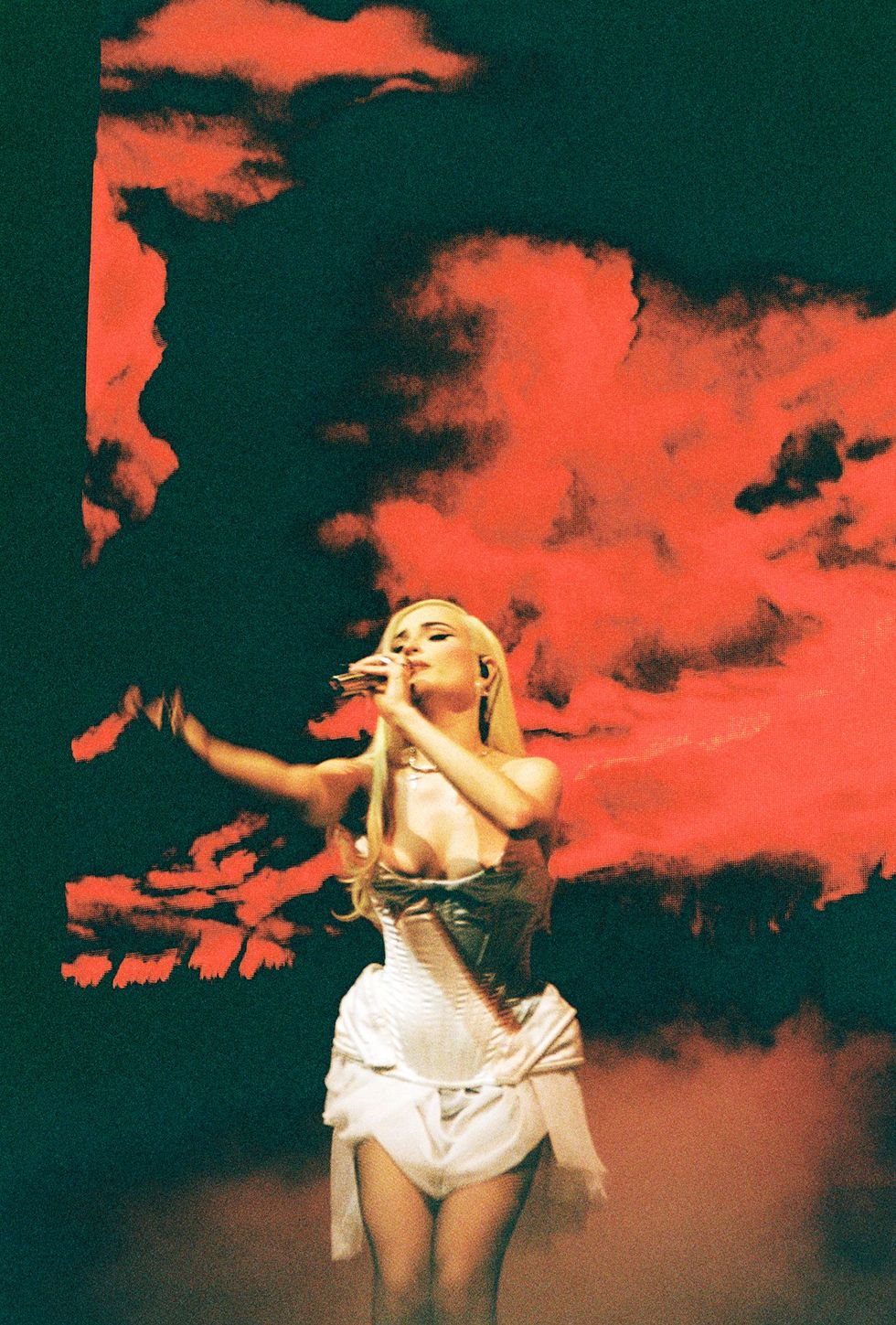 Kim Petras at YouTube Theater in Los Angeles
Visually, how did the aesthetic of Feed the Beast inspire movement for the show?
Brian Nicholson: "Feed the Beast" as an opener gives you a dark, what is about to happen? sort of vibe, where you don't know what to expect next, which is what you want to feel from a pop show.
Scott Nicholson: Each section steps you into a full world and movement that is character, emotional and atmosphere-driven. Each section is so thought-through and meticulously created. The team transports you into these songs, environments and emotions.
Were there any larger themes from the album that you zeroed in on to develop choreography?
Brian: Each section of the show has a very clear concept and creative world, so it was so fun to deep dive into each. For example, the first section is so dark and demonic. The content has people being skewered in the depths of hell, so we incorporated the dancers and Kim in a human skewer-like pose for the chorus of "Personal Hell." They are human skewers getting ready to "Feed the Beast."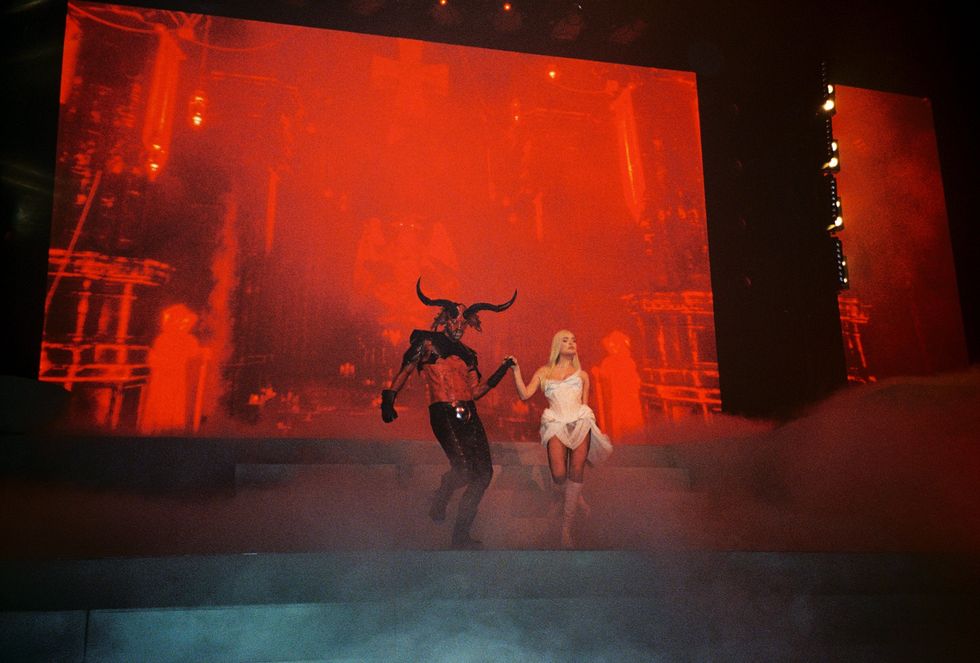 Kim Petras at YouTube Theater in Los Angeles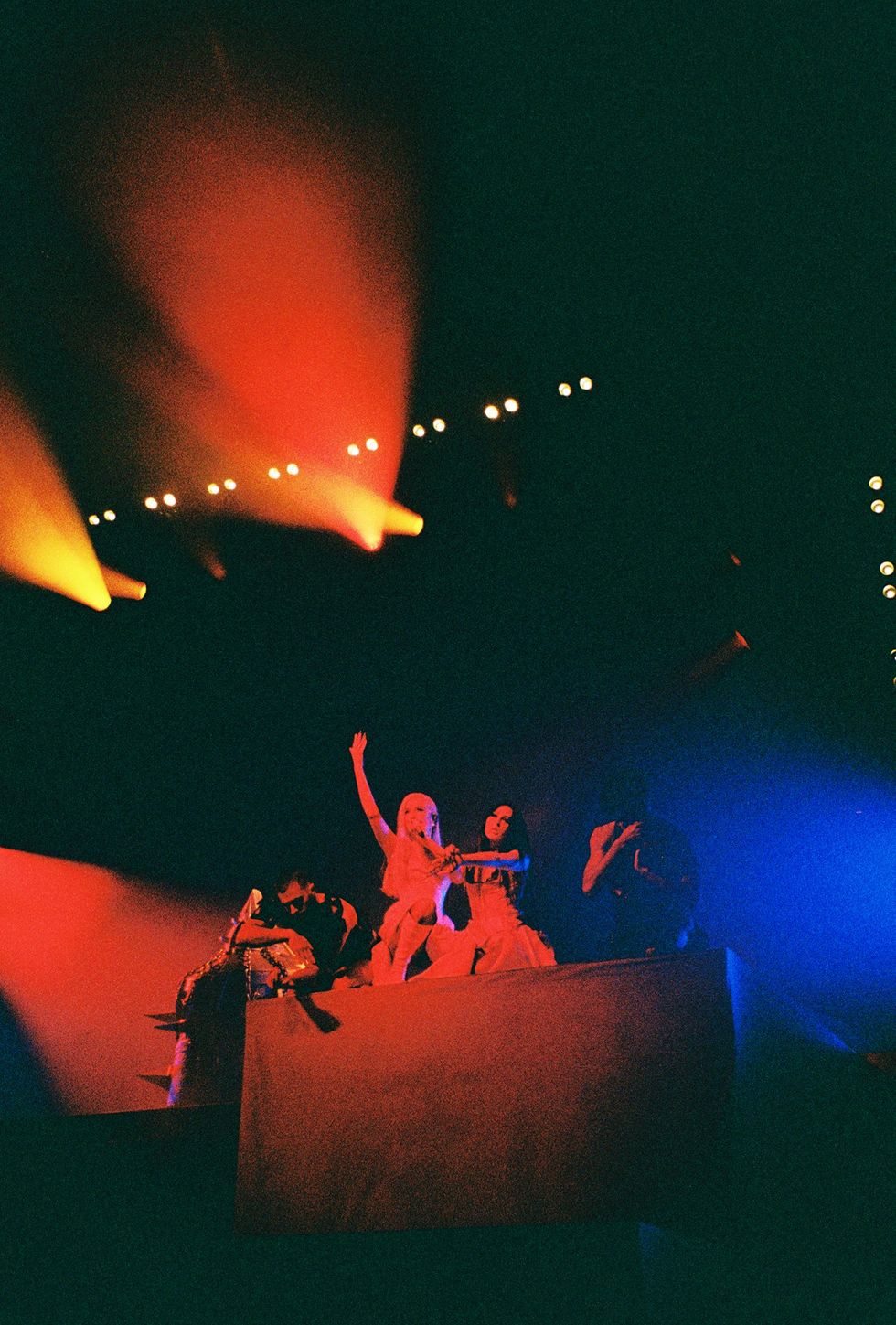 Kim Petras at YouTube Theater in Los Angeles
At the top of the song, you'll see the dancers and Kim "bathing themselves" or "washing their sins away" and preparing their bodies to be fed. In the show, there are a lot of different genres of dance that Scott, Darrion Gallegos and myself utilized to support all the amazing music Kim has.
Slut Pop is a hacker world and we played with 2D staging to hark back to [the game] Snakes and Ladders to give the stage a nostalgic, computer-like feel. The choreo at the top of "Slut Pop," Darrion, Scott and I utilized trance dance and '90s raver inspo to drive it home. You'll see Kim and the dancers this whole song with briefcases making iconic 2D pictures, grooves and transitions.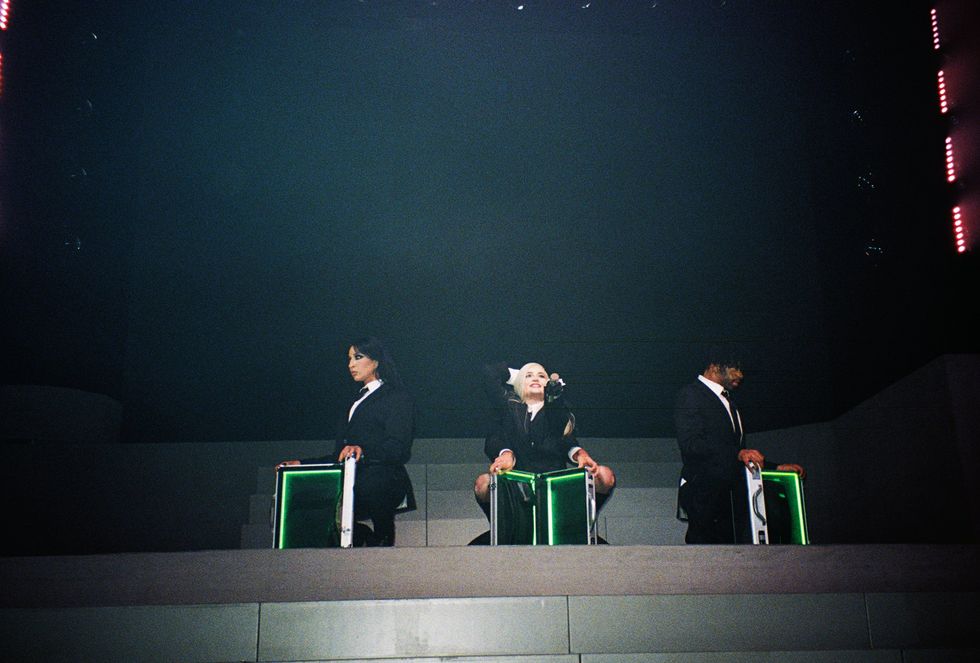 Kim Petras at YouTube Theater in Los Angeles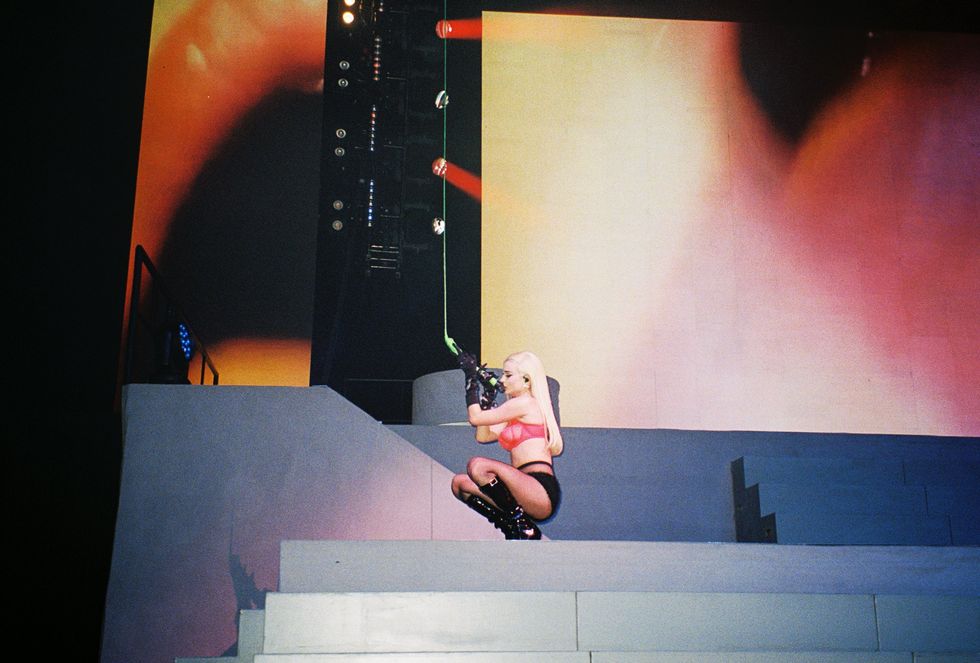 Kim Petras at YouTube Theater in Los Angeles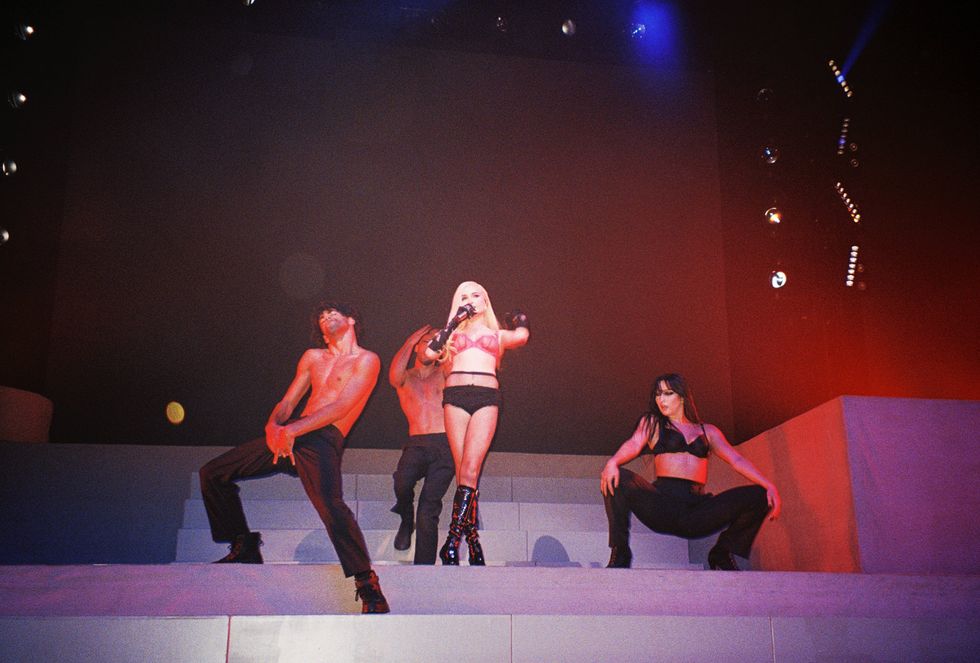 Kim Petras at YouTube Theater in Los Angeles
For "Throat Goat," we conceptualized a long, fluorescent mic on an ethernet cord that would lower down Kim's throat and she would please it as the audience watches.
"Wrong Turn" is a dope moment where the turntable is utilized. We have Kim whispering and speaking into [one of the dancer's] Casey's ear and over his shoulder in high heels and a demonic body suit. "You took the wrong turn at the wrong time" is such an amazing lyric and hook, so we wanted to create a sexy, dark and eerie visual. As the turntable turns, you see different sides of the two "lovers" — on one side they are lovingly embracing and the next side it's Kim whispering dark lyrics and his dark fate into her lover's ear.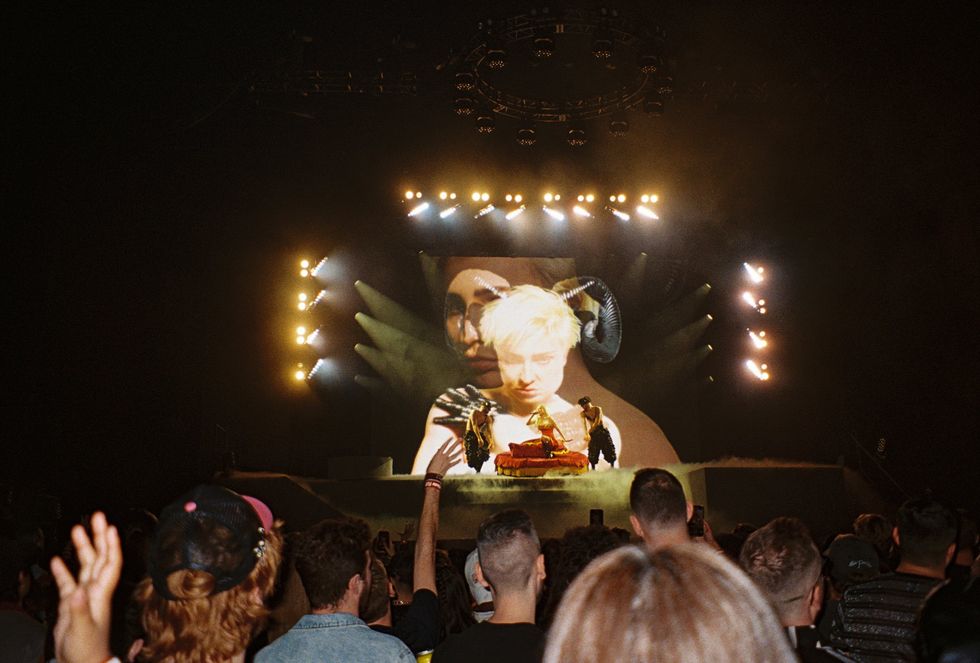 Kim Petras at YouTube Theater in Los Angeles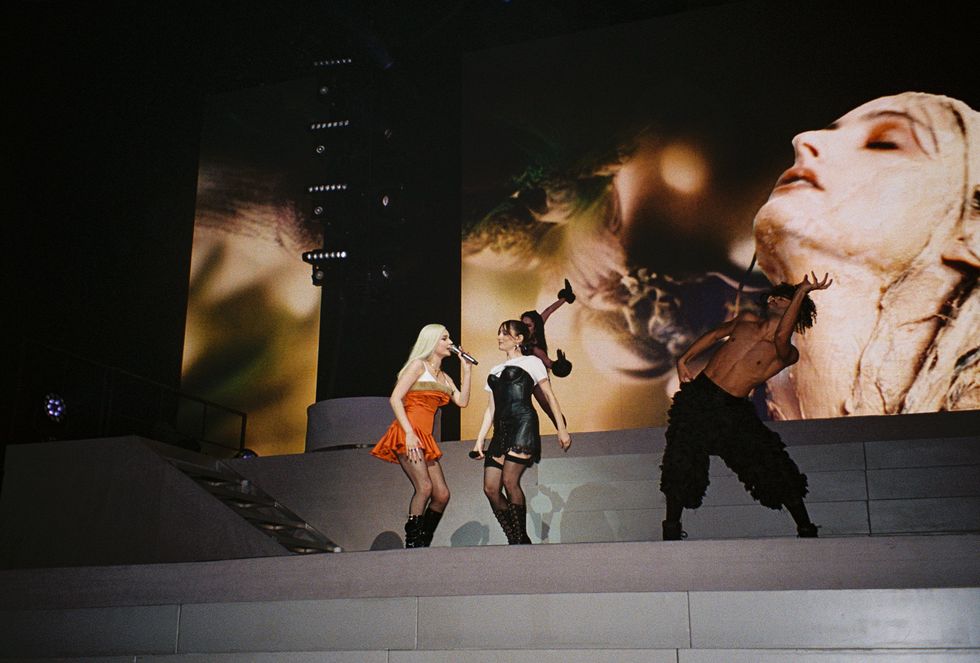 Kim Petras at YouTube Theater in Los Angeles
Are there any moments in the show that feel signature or standout? Something you're particularly proud of?

Scott: The song and creative we came up with for "Throat Goat" is probably one of my favorite moments in the show. Kim starts looking up with her mouth open to the sky, and a microphone gets lowered from the ceiling almost arriving in her throat. She spends the piece dancing seductively with the mic and cord, at one point throwing the mic and letting it swing back to her as she touches herself.
How do you feel you brought your own style and sensibility into Kim's world?

Scott: We really base our own style on the artist we are working with, and letting their natural movement, expression, raw performance and artistry lead the way. With that, [we create] strong pictures, ideas, and clear graphic moments the audience can chew on and be surprised by.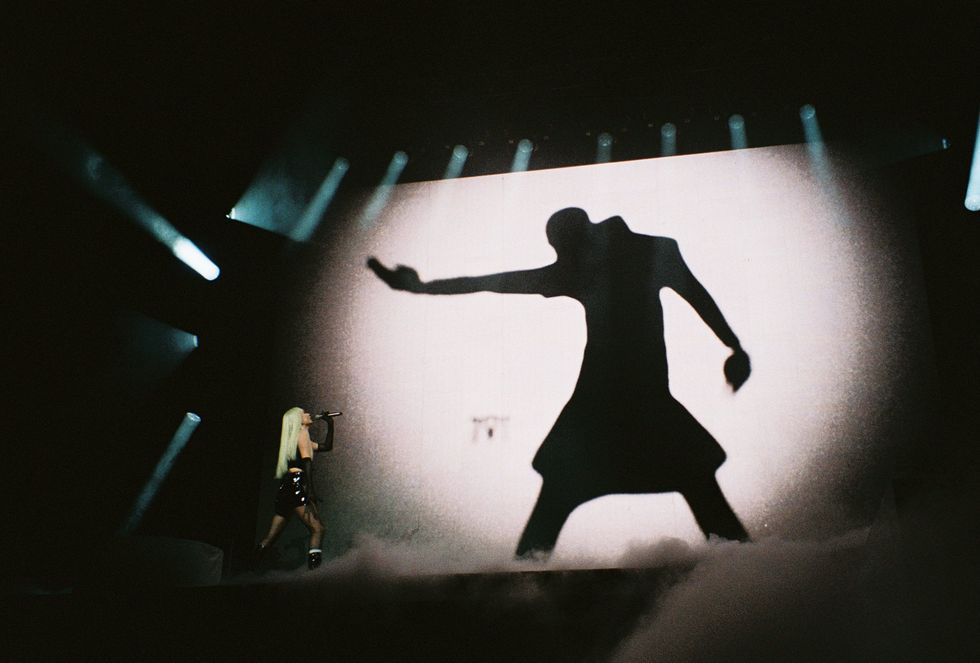 Kim Petras at YouTube Theater in Los Angeles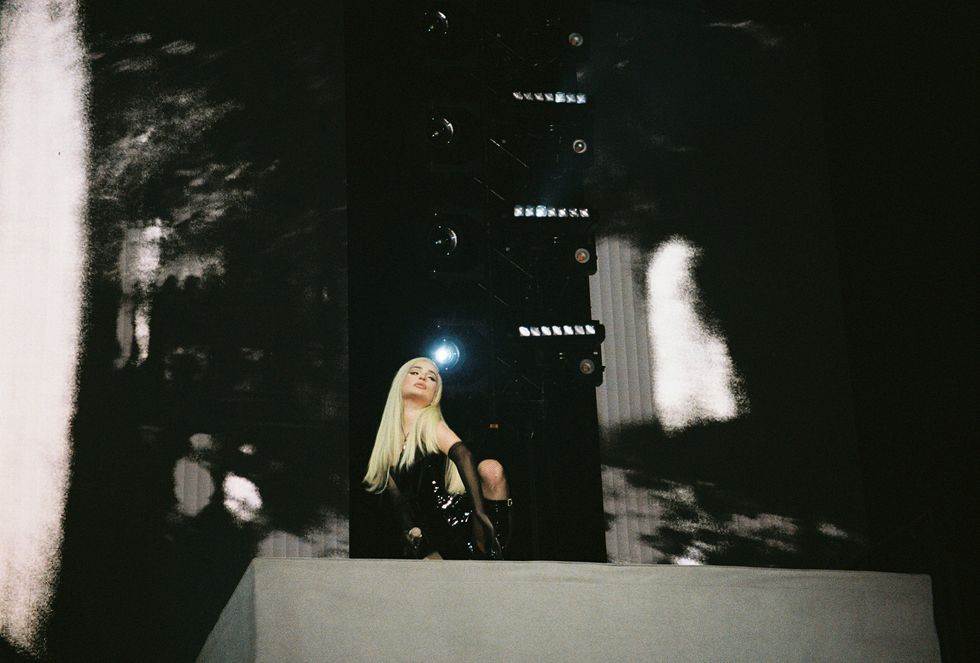 Kim Petras at YouTube Theater in Los Angeles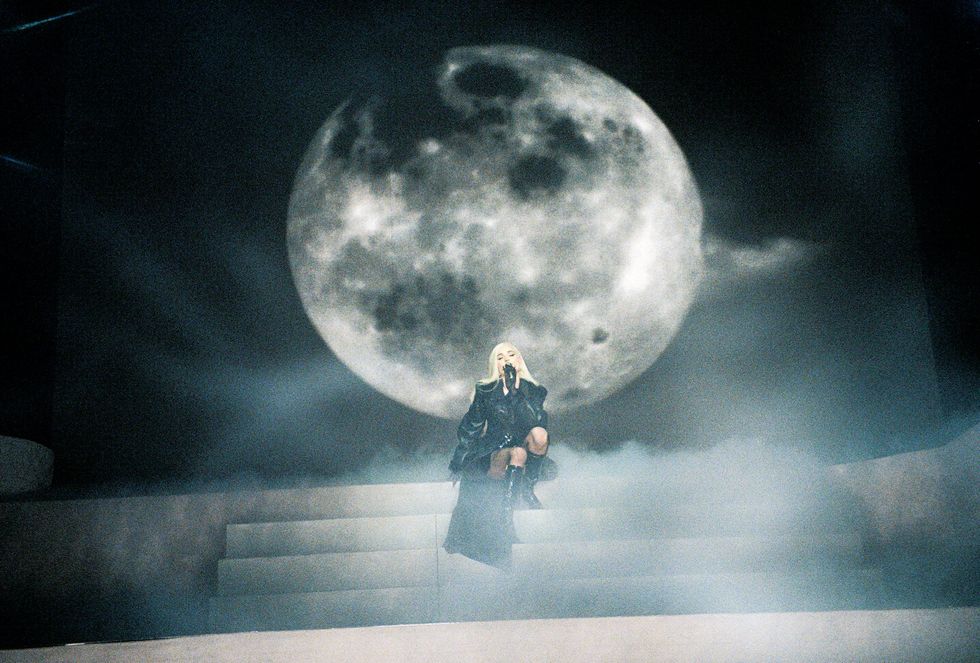 Kim Petras at YouTube Theater in Los Angeles
What was the rehearsal process like for getting a tour of this scale into shape?

Scott: It felt like a little over a month — eight-hour days (12 for the choreo team) at least six days a week. The rehearsal process is so fun, inspiring and creatively grueling, and we wouldn't want it any other way.
Brian: It's our favorite part outside from seeing everything come together on stage. We would get together with Kim and talk about her thoughts and our ideas for the choreo. Kim is so intentional and serious about her art and rehearsal. There would be moments in rehearsal where she wouldn't want to move on until she nailed the choreo to the best of her ability, over and over.
How has this experience been in comparison to other large pop shows you've worked on?
Brian: We have been so lucky to work with two of the most amazing pop artists of our time: Kim and Ariana [Grande] parallel each other on so many artistic and theatrical choices, and both take every portion of their art very seriously. There are no artists more thorough than Kim and Ari, from the music to the content to the visuals to the choreo to the fashion. They both care about every inch of their art, as do we, and getting to learn and create with them is an honor. These two women embrace pop. They embrace culture and push for representation and inclusion in it.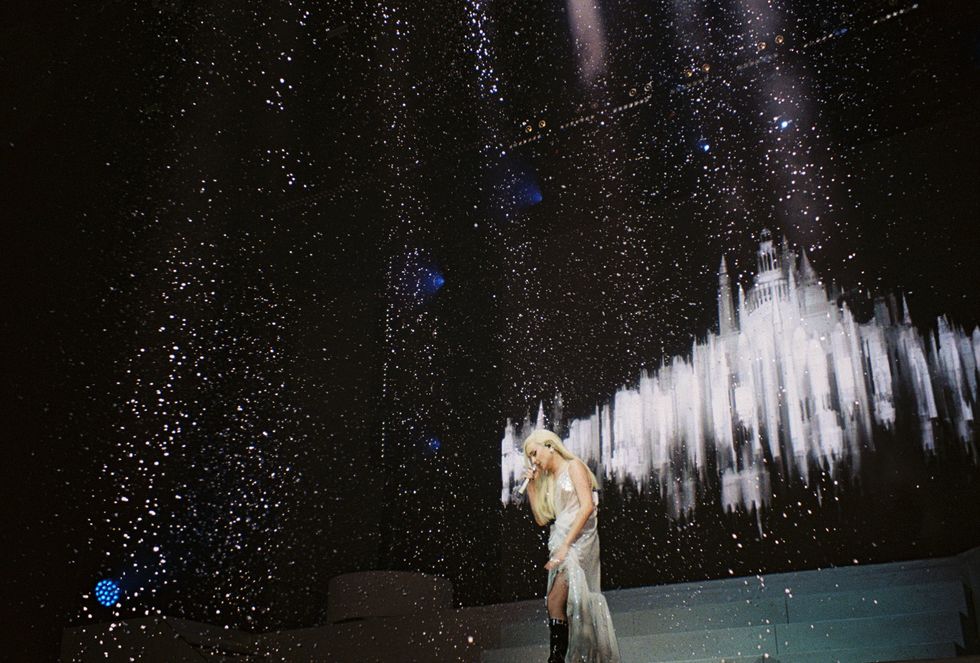 Kim Petras at YouTube Theater in Los Angeles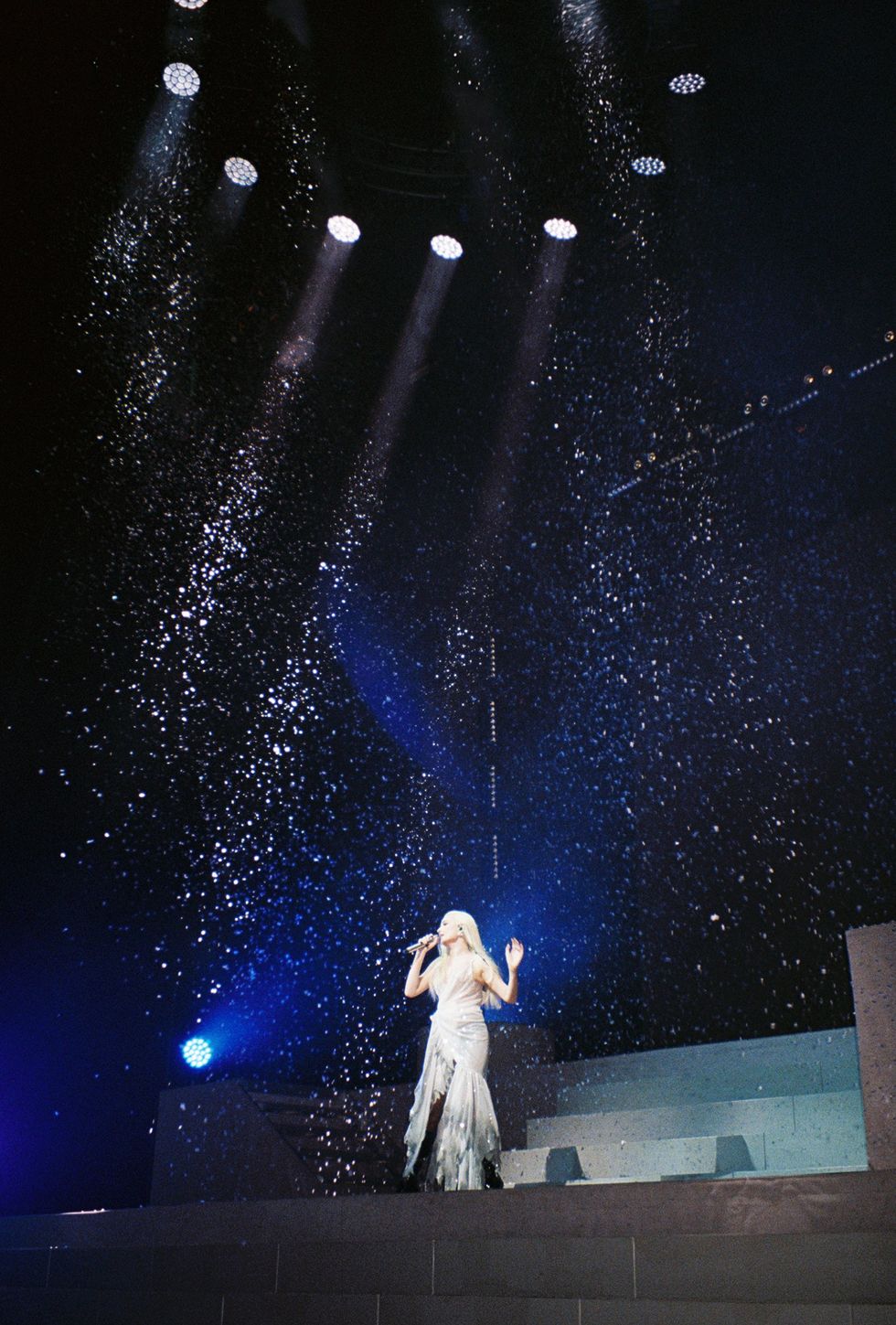 Kim Petras at YouTube Theater in Los Angeles
How does it feel being part of a production that is so openly queer and led by a trans artist?

Brian: This opportunity to collaborate with Kim and her team is huge — a pop icon and a queer icon. As a nonbinary genderqueer trans artist myself, it's amazing to be able to create together. There are so many overlaps in experiences, style, taste, inspirations, while we are incredibly passionate about representation and inclusion — telling real stories and showing real shit on stage, rather than just the regular gender binary pop relationships shown on stage. This show has so many queer elements that are celebrated and not exploited. Our choreography team — Scott Nicholson, Darrion Gallegos and myself — are queer artists. This team and production has felt like genuine synchronicity, and a soul moment for all of us.
What's your favorite Kim song performed live?

Scott: "Treat Me Like a Ho," this one is insane.
Brian: Also, "Problématique."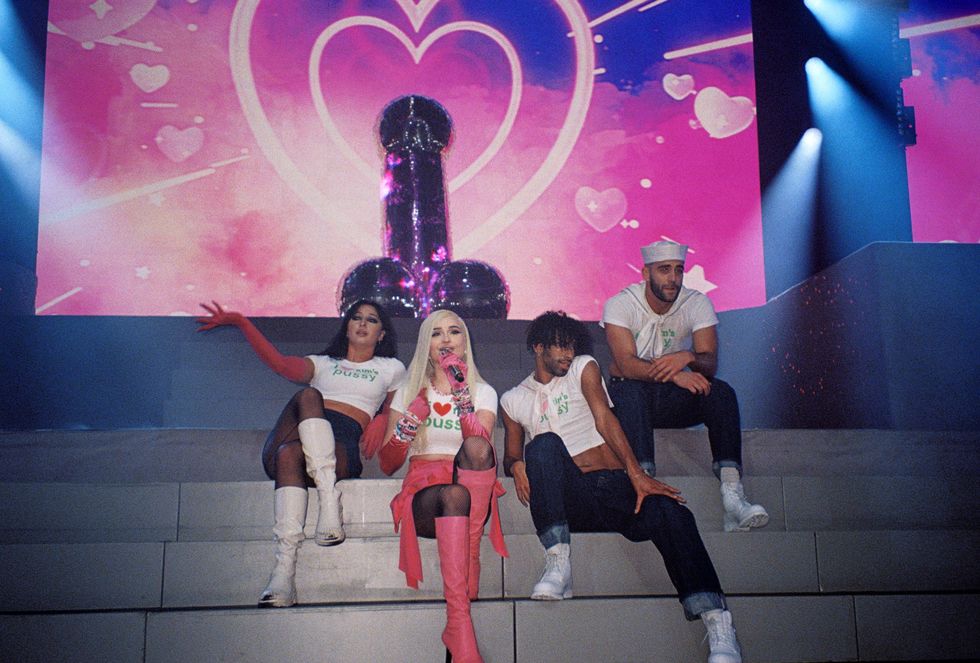 Kim Petras at YouTube Theater in Los Angeles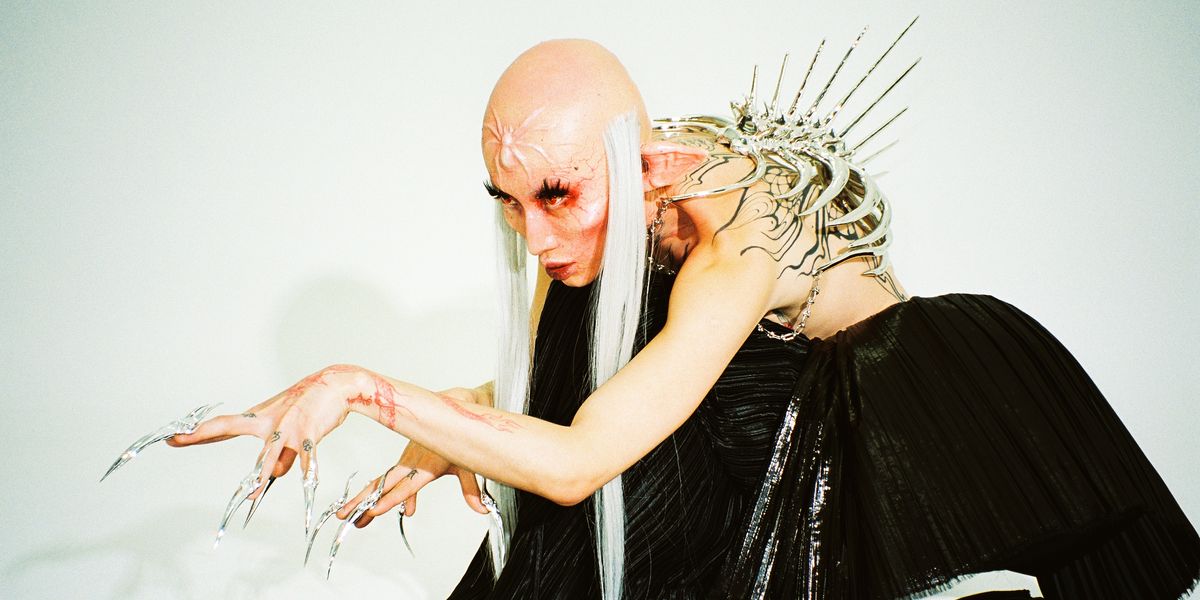 Beauty
Story by Andrew Nguyen / Photography by Sarah Pardini / Styling by Marta Del Rio / Makeup by Kelton Ching
Story by Andrew Nguyen / Photography by Sarah Pardini / Styling by Marta Del Rio / Makeup by Kelton Ching
28 November