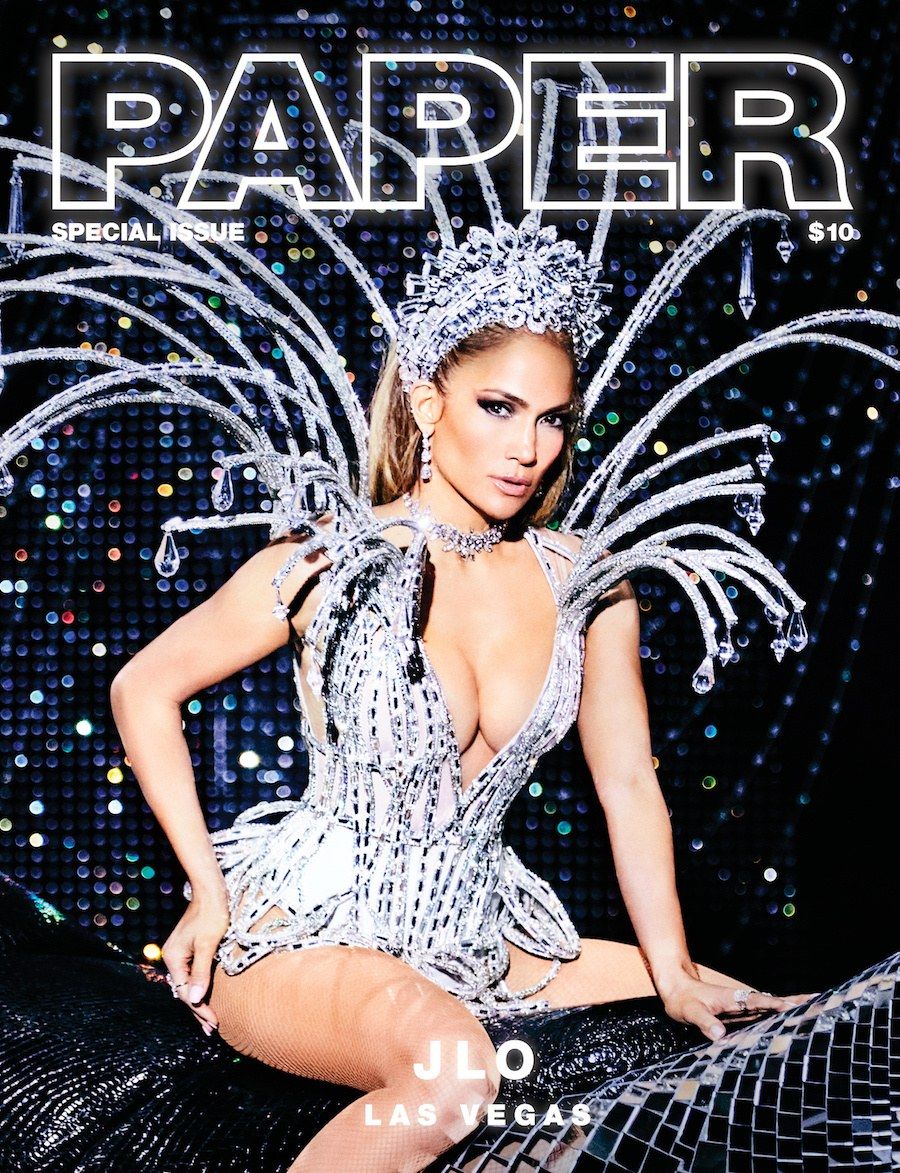 In her dazzling Las Vegas show All I Have, superstar Jennifer Lopez says she thinks Vegas is the sexiest city in the world, and if it is, she's a big reason why. The 48-year-old has never looked more gorgeous as she sings, dances and banters with the audience at The AXIS at Planet Hollywood. She wears a cavalcade of barely-there showgirl looks, including designs by Balmain and Versace, and barely seems to break a sweat as she unleashes 90 minutes of high-voltage, high-energy entertainment. Miraculously, the night of our post-show interview, Lopez spent a few more hours dancing up a storm with her dancers to celebrate a member of the company's birthday.
Lopez is living proof of the old adage "If you want something done, give it to a busy person." She juggles her Las Vegas residency, two hit TV shows (Shades of Blue and World of Dance), recording new music (she's releasing her second Spanish language album sometime this year and debuted her single "Ni Tu Ni Yo" this summer), and being mom to adorable twins, Max and Emme. We can't think of a better place for La Lopez to work her versatile magic than Las Vegas.
Click through for more J. Lo photos from our 'Las Vegas' cover story!
In your show, you say Las Vegas is the sexiest city in the world. Do you think that's true?

I do, I do. I think people come here to let loose and have a good time, and there's a sexiness to that. You know, it's that inhibition letting go and just having a good time.
Do you feel that way when you're in Las Vegas? Do you cut loose and let go?
I do in my show, but the show is so demanding for me that I kind of have to stay on regimen when I'm here. The name of the show is "All I Have," so I can't be like, "Tonight you're getting half," you know.You can't do that.
Do you have favorite places you always visit when you come to Las Vegas?
I love the shows and the food.
What are some of your favorite shows or restaurants?
I was really big into all of the Cirque du Soleil shows — I saw every single one of those. And then the restaurants change here all the time. They're always bringing in the best chefs from all over the world to draw people to gamble, so bonus for me. I don't gamble, but I do eat a lot. Occasionally. [Laughs]
What are some of the wildest adventures you've had in Vegas?
I feel like people have wild adventures and drink, and, like, do other things, and I don't do that stuff. You know what I mean? I'm here to dance and the wildest thing I've done is, oooh, I danced 'til 4.You know, that was it.
For someone who's never been to Las Vegas, what would you suggest they do?
When you come to Vegas, you should come see my show, All I Have. It's the best show in Vegas, and you should come and just enjoy hanging out by the pool, shopping, eating, seeing all the great shows. It's like an adult playground. It's a lot of fun.
Your show is over two hours and you dance for the whole show --

Yeah. I dance and sing for the whole show.
It's an amazing workout. Do you not have to do any other exercise? Or do you have to --
No, I do. I work out in the morning. It just loosens up my body, gets me ready, keeps me strong. You know, injuries come when the muscles get weak or you over-work them. So you have to keep them strong, too.
One of my favorite numbers in the show is "I Hope You Dance," which you dedicate to your kids. What was it about that specific song that made you wanna do that?
Well, I tell the story of "I Hope You Dance" and why I put it in the show, but it was really about me wanting to do something for the kids and dedicate something to them. Really, the thought was, "How do I put something in there that they can see years from now and it would mean something to them?" And that's why I picked "I Hope You Dance."
And you also talk about how you did the song from that cartoon, Home, and how that was to impress your kids. Were they impressed?
Yeah, that whole section has become about my kids, and I put the boy and the girl dancer in it to represent Max and Emme and how special it is to have that twin connection and how special it is to be a mom of twins and how they follow each other all through life and when one is gone, or takes off on his own for a little while, the other one gets a little lost, and then they find each other again. It's a special connection, and I wanted that whole section to be about them, and me being their mom and how lucky I feel to have that, and impart something to them that they can watch years from now and say, "My mom sang that for me. That was all about me."
My favorite costume you wear is that Balmain dress, but is it ever hard to move in some of your out ts? You do cartwheels!
Yeah -- I get a lot of bruises and it's a hard show on me. It definitely is. And then I like to do costume changes. I like to really put on a great show. It's not about just the music, or just the dancing -- it's the costumes, it's the changes, it's the sets, it's the dancers, it's the band, it's the moments.
Do the designers understand that their pieces need to be functional, too?
They understand. Anybody I work with is like, "She has to be able to perform in this." [We're like], "And yes, we want three layers. We want a kaftan, and then we want a bodysuit, and then we wanna strip down [from] that bodysuit to a smaller bodysuit, so can you do that?" And then we kind of let them go from there.
Let's talk about your show, Shades of Blue. It's so different from All I Have -- it's so not Las Vegas. Is it a nice treat to do something where you're not so glamorous?
I love acting, and it's funny because I do such different things, and I play in such different lanes. It's like being this character here at the All I Have show, and then being Harlee on Shades of Blue, or being in a romantic comedy, or being a judge on World of Dance. It's all different hats that I wear. And I like it. I feel like I'm always challenging myself to be better, and do better, and do different things, and to not stay stuck in one thing, and to grow. Now I'm doing a Spanish album, and I just want to keep doing different things and keep challenging myself as a creative person, you know? It makes me happy to be able to create like that and just do all kinds of different things. I think people get surprised because they always want to put you in a box, like, "Okay, she's a singer," or, "She's a dancer," or, "She's a producer," or, "She's a director." "You can't do all of these things." And it's like, "No, I can, and I'm going to. And thank you. And you're welcome."
Interview by Mickey Boardman

Photography by Ellen von Unwerth

Styling by Rob Zangardi and Mariel Haenn
Hair by Lorenzo Martin
Makeup by Scott Barnes
Nails by Tom Bachik
Tailoring by Artour Exouzian
Photo Assistants: Sean O'Neil, Daniel Marty and Dale Gold
Stylist Assistant: Elliot Soriano

Location: The Axis at Planet Hollywood Resort & Casino