HECHA / 做, created by Luz Fernandez and Ting Ding, is a self-described gender-flexible, sustainable apparel collection that makes one-of-a-kind wearable paintings and activewear for the non-binary community, and anyone else who wants to wear it. Also worth noting: the brand is at the forefront of important conversations around total inclusivity currently happening in fashion.
On September 8, the brand is launching its line with a daylong event, plus an after-party that will provide attendees exclusive access into Ding's and Fernandez's creative process. For the first part of the day, there will be what is described as a "performative shooting" of the lookbook, happening from 11 AM to 6 PM. Part two is the after-party, from 7 PM to 11 PM, which is open to the public and will feature live performance and DJ sets by Beta Librae, NK Badtz Maru, and vveiss.
During the day, Fernandez will also conduct a live mural painting on fabric, and the entire event, which takes place at Holyrad Studio at 20 Grand Ave in suite 706 in Brooklyn, will be livestreamed on HECHA's website all day long. Ahead of the brand's launch, PAPER chatted with the co-founders about what they consider when making gender-free clothing, the importance of sustainability in fashion, and who their brand is catered to. Read on, and see a preview of the clothing, modeled by Aarron Ricks, Paul Bui, and Pauli Cakes.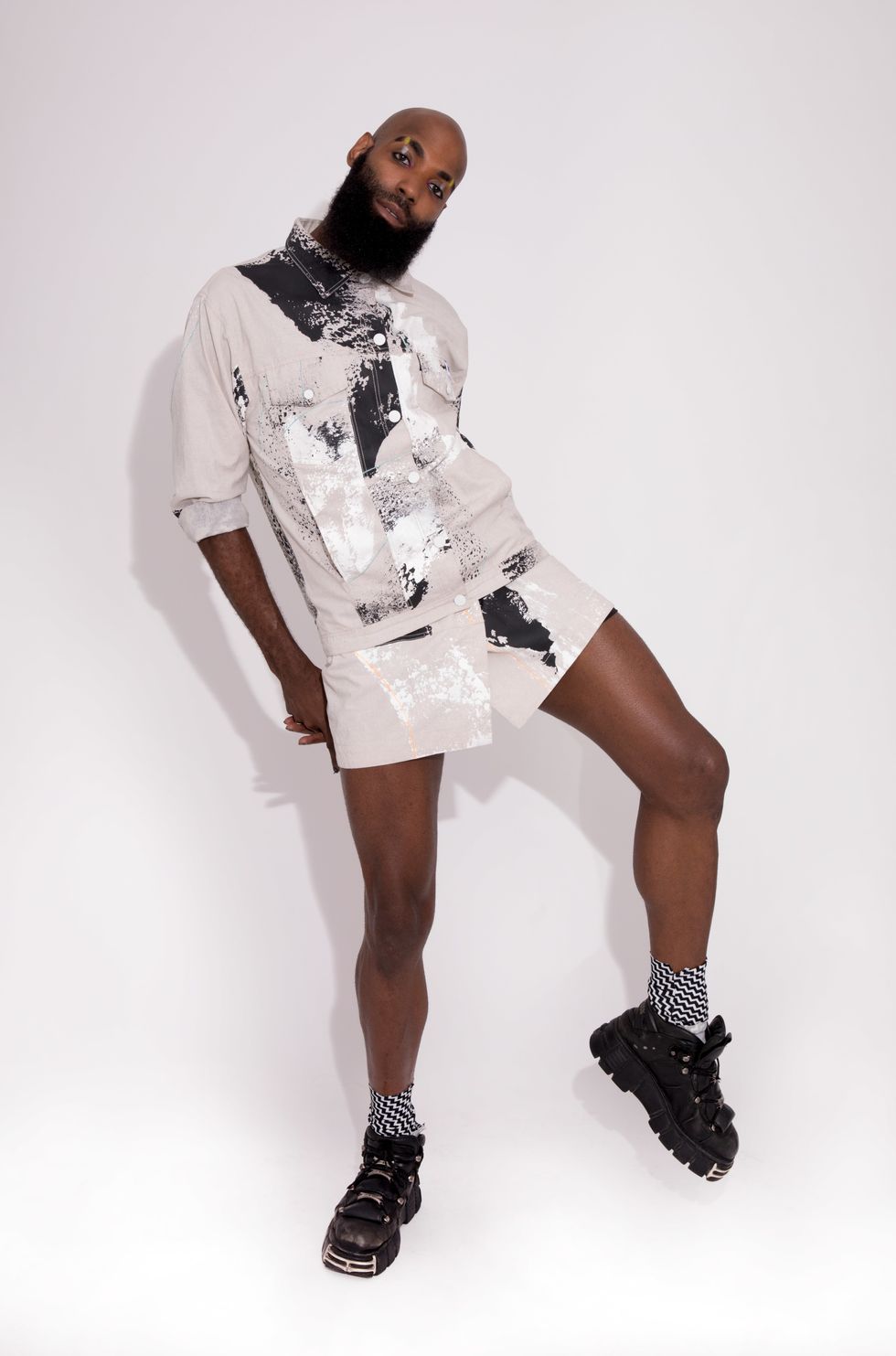 Model Aarron Ricks
The clothes look utilitarian and functional. In making gender-free/gender-flexible clothing, how important is that consideration to you?
Asking ourselves whether something is functional and useful in construction has been the underlying question in all of our decision-making from start to finish with each garment. We've drawn a lot of inspiration from workwear and a lot of our design choices have been made with sportiness and utility in mind. A large part of that conversation about functionality has been the topic of sizing. Our goal is to make clothing that can accommodate a diverse range of body types and body parts. In order to address the fact that there are endless structural variations of the human body, we've made pieces that are either not tailored/contoured to fit any particular gender/body shape in detail or made with stretchable fabric that adapts to the wearer. We incorporated adjustable straps, ties, multiple buttons, or panels to areas of garments where there is the most variation in body size or shape as a way to increase inclusivity, adaptability, and encourage customization. A lot of our designs are relatively minimal in construction, creating an appearance of neutrality which permits the wearer to bring their own identity to the clothing; defining gender and what it means for themselves.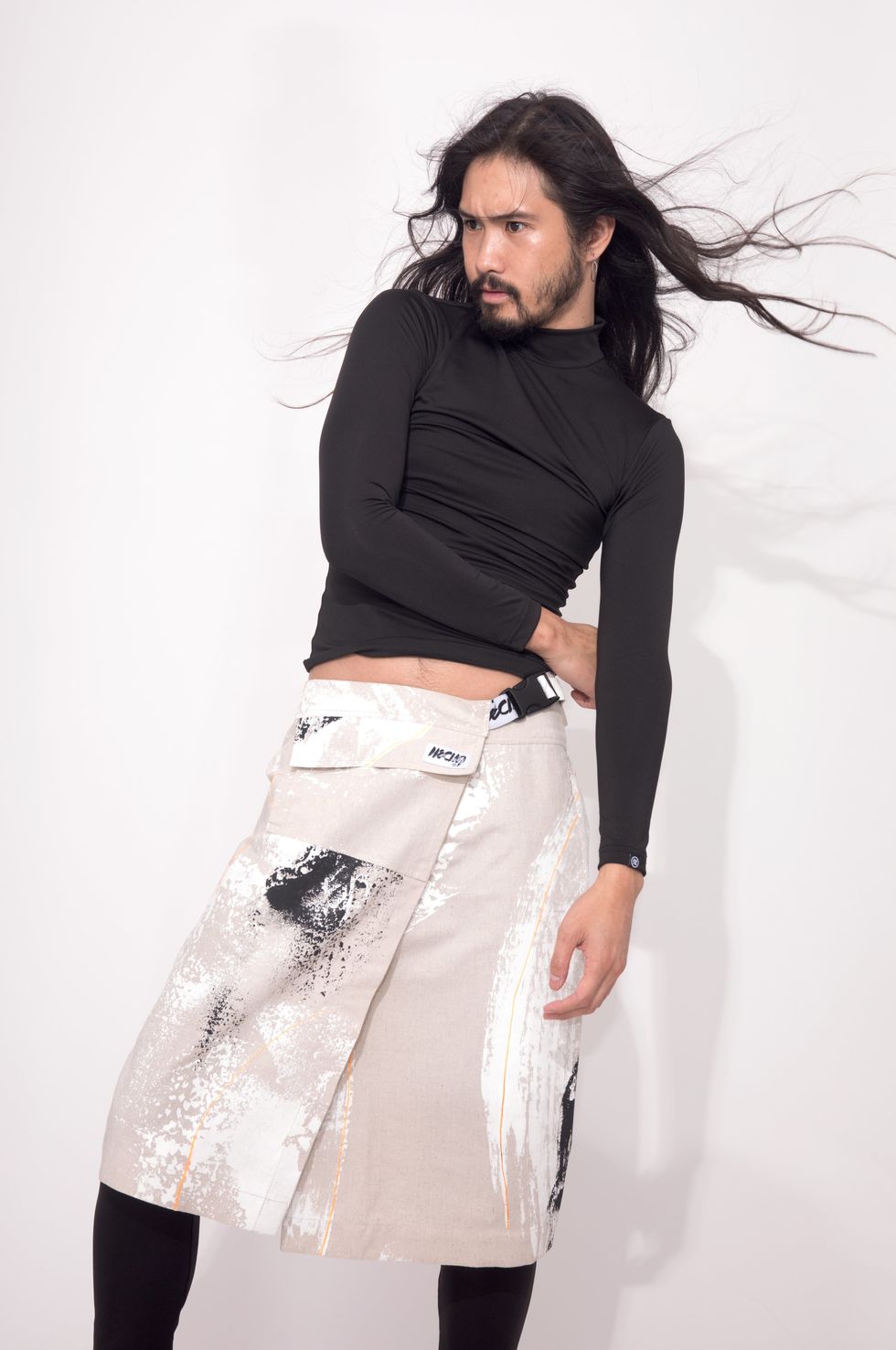 Model Paul Bui
HECHA / 做 also promotes a sustainability message in using recyclable/reusable materials for their construction. Do you feel the concepts of gender fluidity and sustainability are related?
Viewing gender fluidity as the gray zone or space in-between; fluidity challenges and resists against the structural rigidity of systems allowing for self-expression in a way that is typically not accepted. Fashion is material and can be utilized as a tool for identity construction as a coping mechanism. Therefore, it is important to develop a sustainable relationship with this materialism while illegitimizing the systems. So, recycling polyester reduces environmental pollution; and hemp is also gentle on the earth, consuming four times less water than cotton, eliminating the use for herbicides and pesticides. We chose to work with these two sustainable materials as a way to counter the wasteful modes of production within capitalism.
In deciding which models to use, how did you decide to go with the ones you chose?
We acknowledge that the fashion world is still lacking in true diversity that is free of tokenism. Part of our motivation is to cultivate collaborations and to support our local community. All three models involved with the initial launch are friends and performers who we both know through the local music scene. Our intent is to visually celebrate and promote the success of our peers regardless of age, size, class, gender, or sexual orientation. HECHA / 做 collaborators are treated as individuals with agency over their own representation and not just as live mannequins.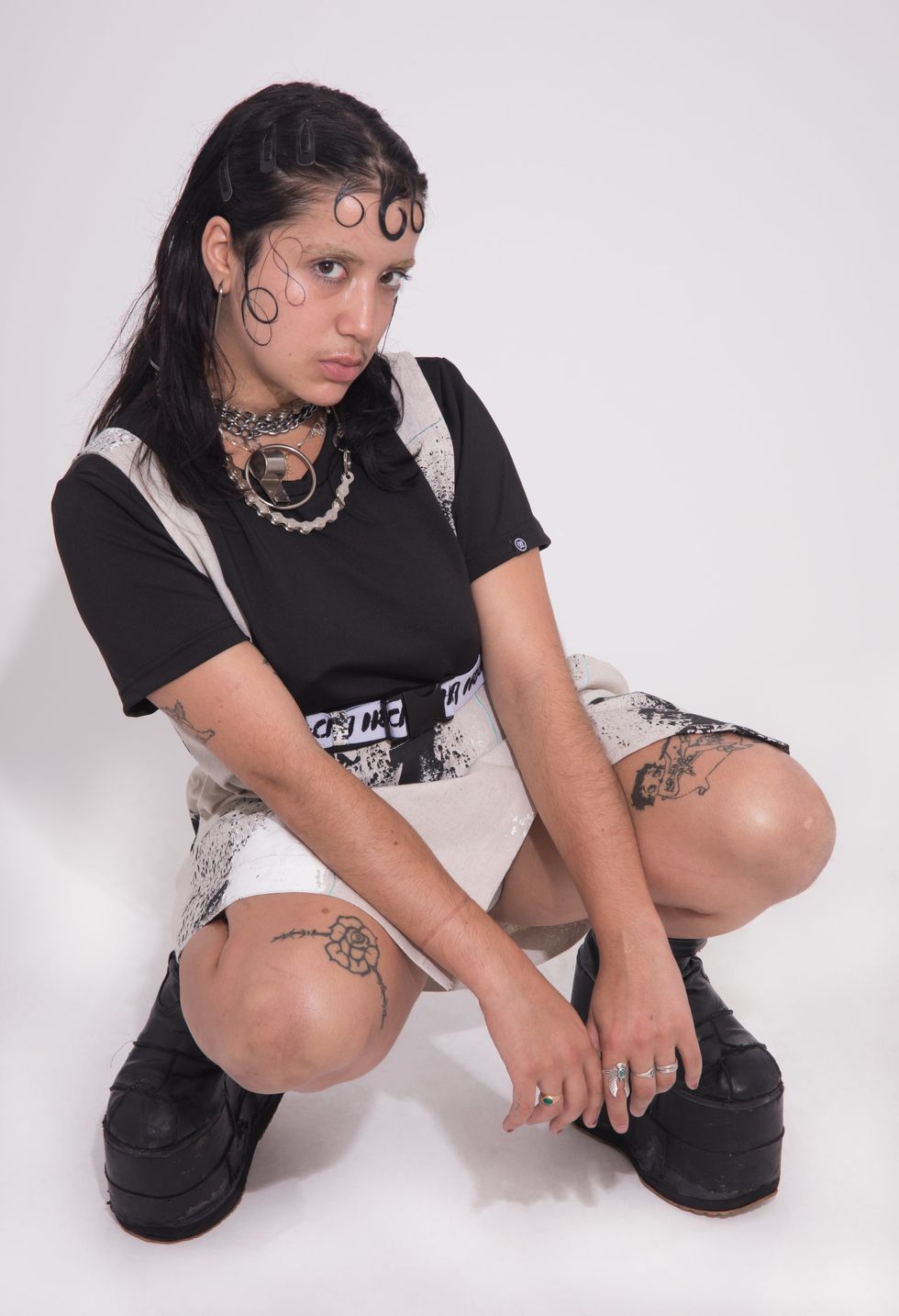 Model Pauli Cakes
Who do you believe is HECHA / 做 for? Who isn't it for?
Our hand-painted main line is "couture" for everyday life; everyone has value and everyone deserves value. We design with our demographic in mind by making it functional but retaining its artistic value. The activewear is the ready-to-wear portion of the line, meant to be worn comfortably as versatile base-layers. Ultimately, HECHA / 做 is for everyone because HECHA / 做 goes beyond the material object. HECHA / 做 represents a mentality towards the subversive. We are trying to create clothing which envisions an utopia of the not-yet-here future; a world that is sustainable and fluid.
Photography: Daryl Oh from Holyrad Studio