Electric Guest likes to keep their circle close — not to keep people out, but to keep the important people in. For lead singer Asa Taccone, this means holding on tight to those who feel like family. This isn't just an approach to life for Taccone and his bandmate Matthew Compton, it's also the "thesis statement" of their third album KIN, out now.
"It was a family affair," Taccone says of making the album. Close friends and supporters are the main reason that Electric Guest has a new album out at all. Over the course of about eight months, the band hosted a set of focus groups with family and friends — that is, if focus groups were LA house parties where you drink and hang out with people like HAIM and electro-pop group Sir Sly. They hosted these parties in order to answer the question that plagues every creative: is it any good?
"You're in your pajamas making some music and you have no idea what it is and then all of a sudden it gets out into the world," Taccone says. "There's really no way to know if it's good or bad, and I think those parties were helpful because even with your friends that are cheerleaders, you can tell whether somebody really likes something or not."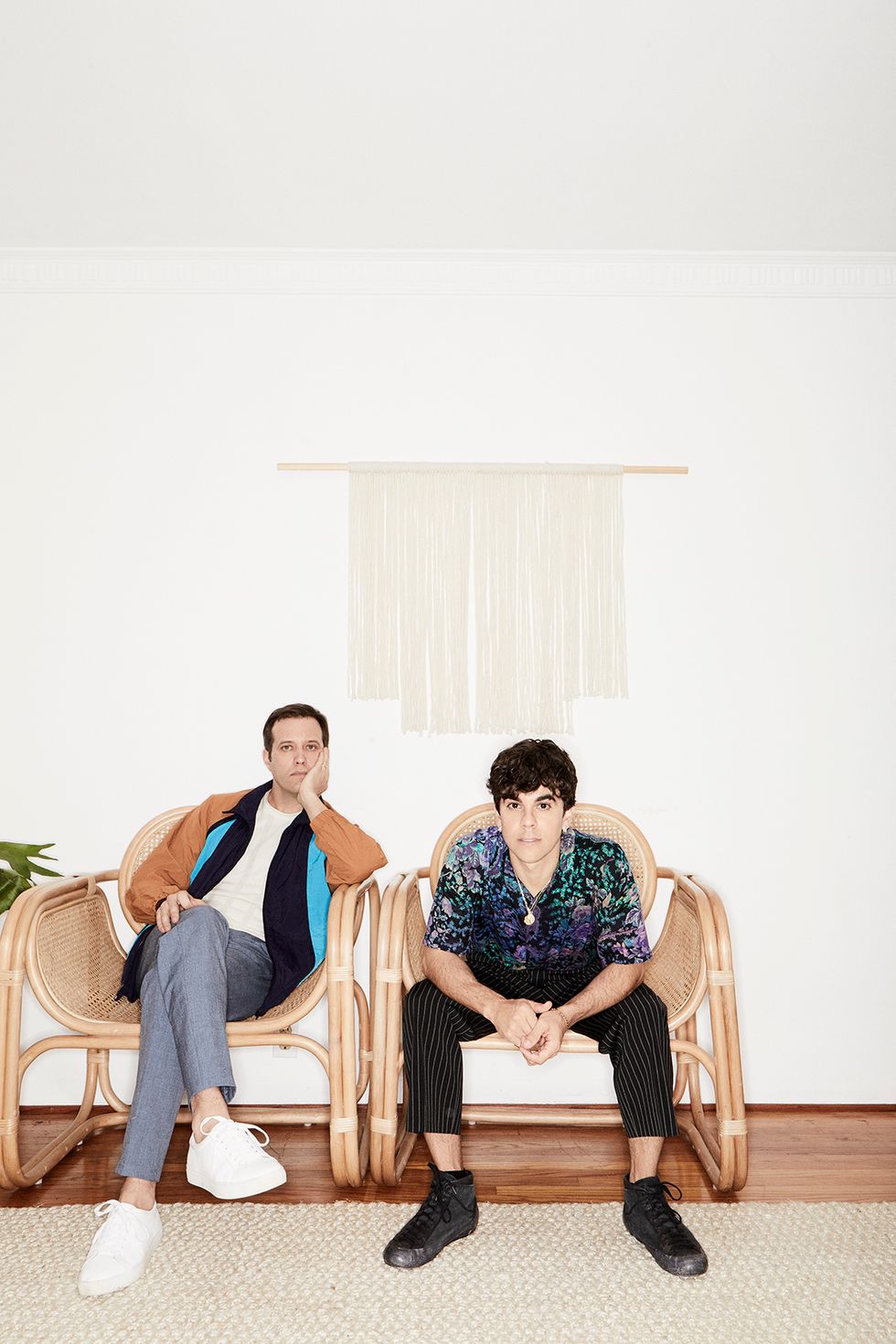 Taccone and Compton especially needed affirmation around KIN, because it's a dramatic shift from their previous records. KIN is the product of the band evolving into what they've always wanted to be: unapologetically pop. When the LA-based group got their start in the early 2010s, it was prime time for indie and electro-pop, so they were quickly grouped into that scene.
Taccone's mentor Brian "Danger Mouse" Burton wasn't anti-pop per say, but he was in no rush to move the band in that direction. "His voice is always in the back of my head like, 'Don't wanna get too corny,' but I'm like, 'I love corny shit,'" he says.
Corny shit and all, the band is finally ready to embrace their pure pop instincts, and this album is only just the beginning. "It feels like our first album to me where we're finally coming into our own. It just took a couple albums to essentially have the confidence to be like, 'Oh yeah, this is who we are' in an unapologetic way," Taccone says. Compton agrees, "It's definitely the best representation of us."
"His voice is always in the back of my head like, 'Don't wanna get too corny,' but I'm like, 'I love corny shit.'"
The band's trio of albums is a road map for where they started, and how they got here. Compton says it's been a slow transition to get to the sound of KIN. While their first record, Mondo, was solidly positioned in indie pop, the second album, Plural, is a 50-50 split between the first and the third. Half in the pop world and half guitar-based R&B tracks, Taccone says on Plural they started to test the waters, asking, "Can we do this without fully giving the middle finger to everybody in our little fanbase?"
Compton cites "Oh Devil" — the most popular track from their second album Plural — as the song that made him think, this could actually be something. "That [song] was already getting out of our comfort zone from what we'd normally done and we just wanted to take that further," Compton says.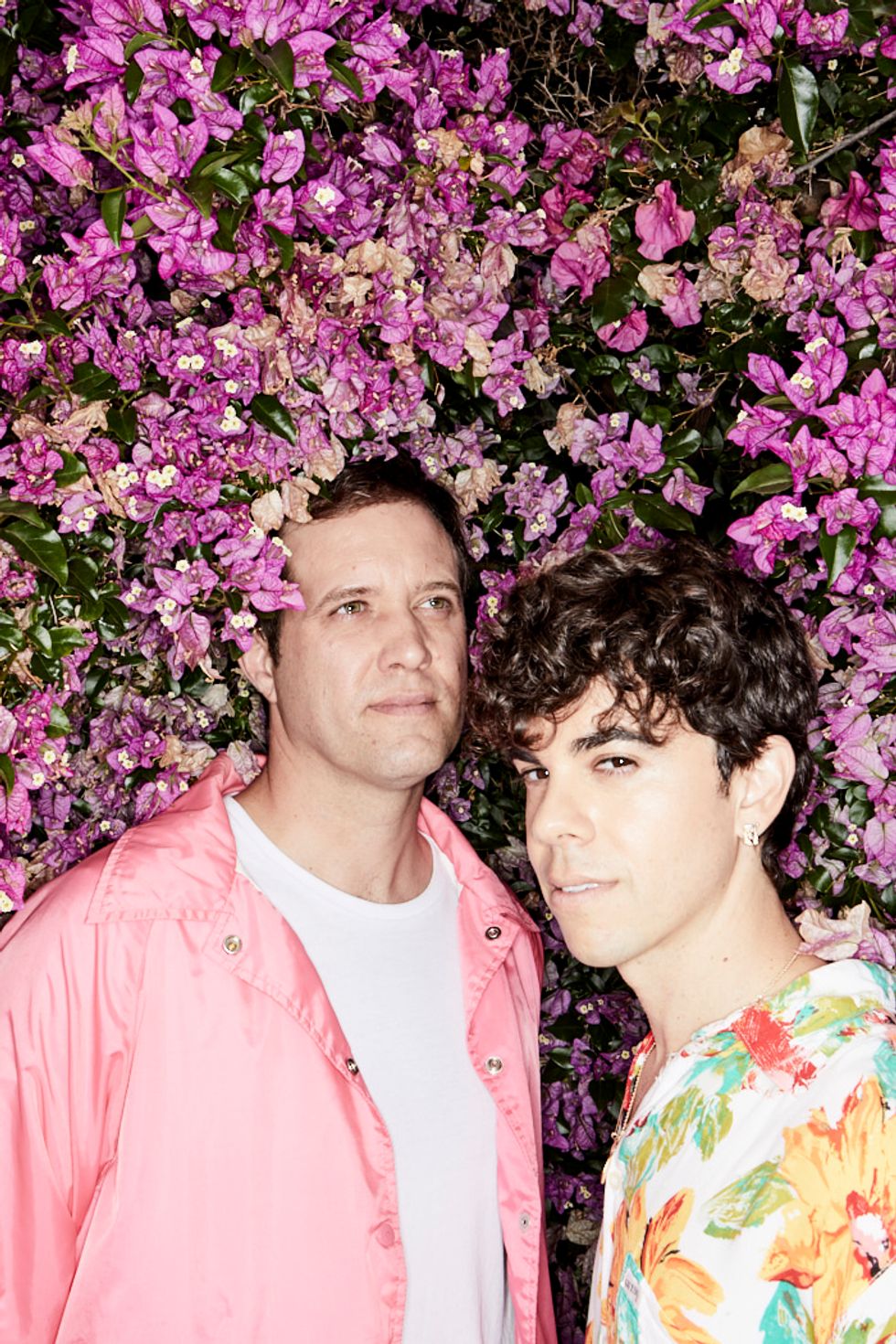 For Compton, pop was an exciting new world that Taccone helped him enter. Back in 2011, the two met in a house in Mount Washington, a neighborhood in northeast Los Angeles, that had a revolving door for musicians. The story, or how they like to tell it anyways, is that Compton heard Taccone's music through the walls and was determined to be a part of it.
"We came from different worlds," Compton says. "I grew up punk, East Coast, DC hardcore kinda world, but like always wanting to do pop and slowly getting there, so when I first heard his music I was like, 'Oh my god please let me do this.'"
"I find it hella burdensome if I can't be some incarnation of my real self."
For both Compton and Taccone, the band's transition into pop has allowed them to approach music with more authenticity. "I find it hella burdensome if I can't be some incarnation of my real self," Taccone says. "The pressure of it just becomes too much. I also think, if you get known for something that's not you and you have to keep it up, I just always worry about the longevity of that."
The music videos for "Dollar" and "More," two of the album's singles, both represent Electric Guest's efforts to drop the facade and show what their world is really all about. The actors in the videos aren't that at all. They're childhood friends and family members — all those important people who were so integral to the production of the album. "Dollar" was shot in the Bay Area where Taccone grew up, and directed by his brother Jorma Taccone, one-third of The Lonely Island.
Now, Electric Guest aren't trying to fool anyone. They produced an entire album at home in the LA heat with no AC. They can put on a great show, but they're not into the over-the-top performance of it all. They really just want to dance.
The only better way to understand Electric Guest (other than listening to their music) is to attend one of their house parties. Talking about house music and DJing, Taccone turns to his bandmate, "Remember when you busted out those splits at like 9 in the morning?"
"I tried to do a death drop," Compton says. No, he corrected himself, "I did a death drop."
For now, you'll just have to listen to their music. Stream KIN, below, or catch them at their world tour between now and February.
Photos courtesy of Jimmy Fontaine
Sign Up For The Morning PAPER