Burnout is real. Chelsea Wolfe intimates as much when we take a Skype video call to chat about her sixth album, Birth of Violence, out now on Sargent House. Wolfe says that after eight years of prolific album releases and nonstop touring, she hit a wall.
Having lived in Los Angeles for a long time, Wolfe says she moved into a house in bucolic Northern California three years ago, and "basically dropped my stuff off and went back on tour."
Forever a musical transformer, with eclectic roots and references in folk, metal, noise, electronica, and vocal R&B, Wolfe's last album, 2017'sHiss Spun, was her loudest, heaviest work yet.
Wolfe says that album kickstarted a more internal shift, where she felt called to be more personal in her lyrics than ever, best evidenced in tracks like "The Culling" and "16 Psyche." After touring Hiss Spun worldwide, Wolfe decamped to her Northern California home and hunkered down.
Spending more time with friends and family, seeing a therapist, and immersing herself in self-care rituals gave way to memories and history, she says, and signaled a quieter, more grounded phase of her life and career.
"This album is about the power of women, and navigating the world as a woman, but also it's about finding a sense of home no matter what's happening around us," Wolfe explains.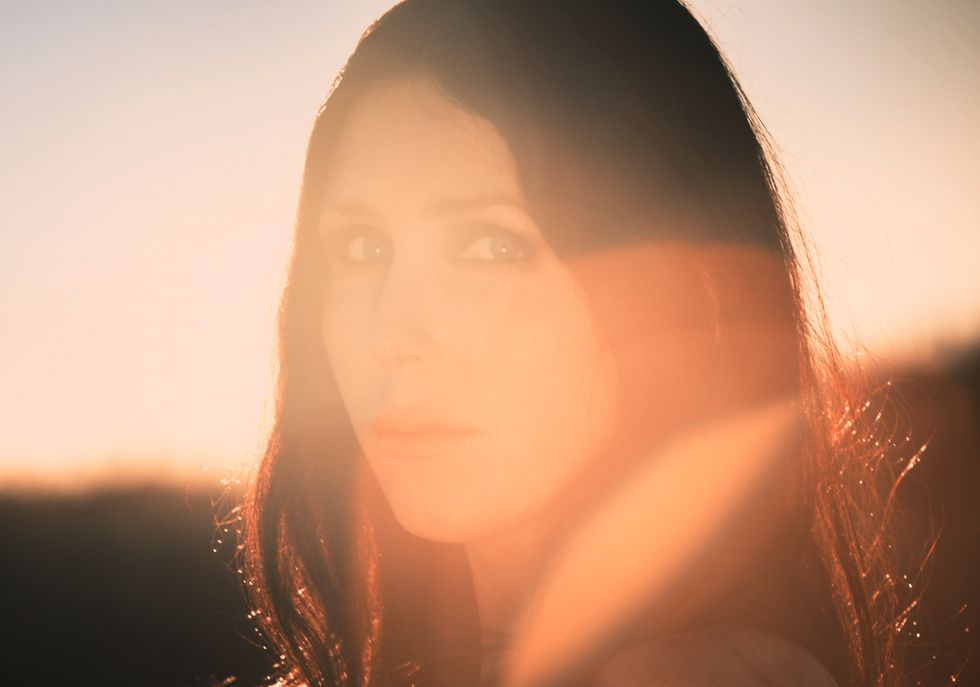 Photography: John Crawford
For the album itself, Wolfe uses the lush California woods, acoustic guitar, and intimate lyrics to reflect on modern tragedies, from school shootings to the earth's destruction.
On "American Darkness," she urges humankind to find freedom and unity, asking "won't you dance?" And on "When Anger Turns to Honey," she transmutes the forces of patriarchal oppression into personal power: "Their anger has them under a spell/ Their hatred is like a poison that makes them feel again," she sings. "They treat you like prey/ But you're the hunter."
On "Be All Things," Wolfe reminds herself and all women that it is indeed possible to embody multitudes, drawing on ancestral lineage — "warriors, newborns and queens" — as proof. "I can not stop," she sings, while acknowledging the sacred nature of rest. "I've got to let it go."
Wolfe worked primarily with longtime collaborator, producer, and bandmate Ben Chisholm to create the unusual textures of the record. Most of the drums in acoustically based tracks like the title track, "Little Grave" and "Preface to a Dream Play" sound like heartbeats — they skip, gallop, and keep pace, reflecting a human life's moment-to-moment conditions. By the album's end, listeners are left immersed in a rainstorm.

But it's Wolfe's striking voice — itself an expression of divine feminine energy — that ultimately grounds the project. On Wolfe's album cover, her arms are stretched skyward, her steely gaze fixed on a horizon the viewer can't see. Like that image, on Birth of Violence, Wolfe sounds resolute and defiant, passionate and renewed.
Though you are tackling some serious subject matter on this record, the overall sound is much calmer this time around.
Yes. Hiss Spun ended up being this wild opening of something, and I felt more comfortable sharing more of my personal life and my own internal shift. That has since been cracked open, and in the process of making this album, I really tuned into self-care — mind, body, and spirit. This album is about the power of women, and navigating the world as a woman, but also it's about finding a sense of home no matter what's happening around us. But as I was taking a break after eight years on the road, finally, I started saying no to things. As soon as I got back from tour last December, I started setting up a home studio in my house in Northern California, and settling in. That probably explains why things sound calmer. This album was made in a more intimate way for me.
Many of your records are often outwardly focused, but this time, you mix things going on in the world — patriarchal oppression, mass shootings — with your own experiences as a woman. What called you to explore this?
In the past, I felt like I was writing music in a very androgynous, non-gendered way. I don't know, something about being in my thirties and seeing what's going on around me, I just felt more connected to being a woman and wanted to explore that more. I started doing that on Hiss Spun, but on this one, I leaned into the idea more. I had this character in my mind of this Victorian woman who was trapped in the role of maiden but was really a warrior. It makes me think of how so much has changed in our current climate, but then we are being pulled backwards. And in my own life, as a musician and as a woman, I'm always trying to find this balance between softness and strength in myself, because I feel very much connected to both sides. I am always trying to marry the two. I very much wanted the album cover to be a strong, Joan of Arc-type image showing someone who wasn't afraid and who had found that balance. Even if I'm still trying to figure it out myself, I want reflect the confidence of stepping into your own power.
On "Little Grave," you sing about mass shootings. Joni Mitchell once said, "When the world becomes a massive mess with nobody at the helm, it's time for artists to make their mark."
Definitely, and I think that's the essence of being a folk musician too — telling the stories of your time. Having a song about school shootings, I don't know if that's going to make anything better or worse, but it's just a reflection of what is obviously a huge problem in our country. I guess that song is in mourning of those young lives lost, and also just feeling so sad and really frustrated with the response of, "Let's just arm the teachers." There's a line in the song that says, "You can't fight guns with guns." Adding more of that shit isn't going to make anything better.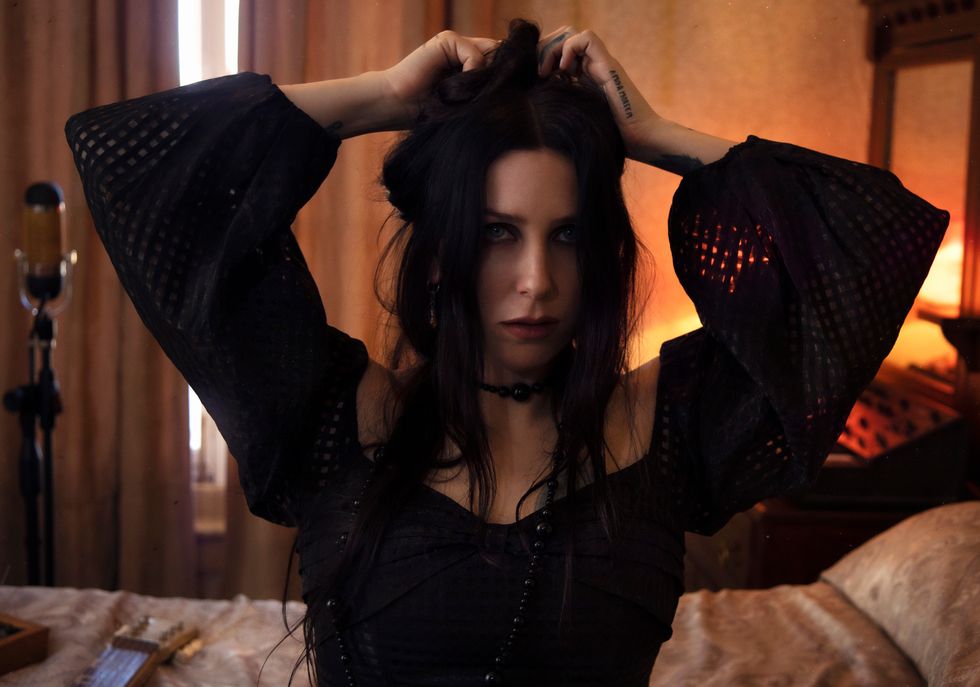 Photography: John Crawford
I agree. Another thing I find interesting is how you made this album simultaneously while you were taking a break.
[Laughs] Once I was asked about my writing process and the first thing I thought to say was that I never ignore an idea, so in that sense, I'm always working. There is hardly ever a point where I'm just not a musician so I can go be totally normal. For me, it's a constant flow, so even it it's at three in the morning, and I haven't written anything in three weeks, it just seems weird. If I have this spark of an idea, I just get up and work on it. That's why I actually love having my little home studio, so I could just get up and go into the next room and start working. It doesn't work for everyone, but it definitely works for me. I'm in a constant process of keeping the channel open, trying to stay connected to whatever it is in the spiritual realm that I'm going to be open to at that time, keeping the train rolling, so to speak. I used to think that way just for touring, but even though I'm on a break, I'm still making a record, doing press, working on video edits. I don't know if I would be very good at actually taking a break, but I do know I needed a break from what felt like constant motion, because that's what can wear on you.
Nature has always been a recurring theme in your work. With ongoing planet destruction, how has that relationship emerged on this record for you?
I think of so many of my songs and love songs are to nature. On this one, I have "Erde," which is the root word for "earth," meaning "all dirt." That song to me is connected to this idea of Mother Earth being so powerful in contrast to human beings as frail creatures. There's magic in that. As I was writing this album, I felt more connected to nature, as I know more about witchcraft and am more open to it since it's been ingrained in me over time. Taking a break from being constant motion allows me to become even more connected to witchcraft and to the magic of nature, using the elements to create magic and following the cycles of nature, celebrating that, finding myself in that. Following nature's cycles is a simple magic that can really help people connect with themselves. There's definitely a lot of nods on the album to how we are destroying that, and how sad it is. Huge shifts need to happen in government to regulate that. But we should also learn to honor Mother Earth, whether that is who we vote for or how we expend energy. I say that as someone who gets on tour buses and planes all the time, and I know I'm part of the problem. But I'm just saying that learning ways to connect more with nature while she's still here is important, so I wanted to reflect that on the album, too.
What rituals do you use to keep you grounded?
I first want to acknowledge that it's been cool seeing a lot more people reconnecting to pagan roots and their witchy roots. I didn't always want to talk about that before because I think could be easily misunderstood. But there are great tools, from literature to art, that explains it in such understandable and real ways. I have little rituals on the road, whether it's just pulling a tarot card or lighting a candle backstage or something simple to just help me focus. But it's been so nice to be home and to really be able to dig in and celebrate the holidays — the seasonal holidays and all the cycles of the moon, see the flowers bloom in the spring. It seems like such a simple thing, but those things really do connect us and helps us get through these crazy times.
Lana Del Rey once placed a hex on Trump and held a call for witches everywhere to join forces. Did you hear about that?
[Laughs] I didn't, but I think that is obviously so cool. We should do that more often, like call all the witches together to do something at a certain time, especially if it promotes positive change in some way. People can raise a bunch of energy at once. I think it would be powerful.
What song on the album do you feel most connected to?
Right now, it's "The Mother Road." I drew a parallel between this physical idea of being a touring musician, which is very much in American folk tradition, to write a song about being on the road. But it's also about life's trip, the mind trip and the psychedelic trip. To me, it's all connected. When you're staring out the window of the van or the bus, you start to feel these parallels and feel yourself being pulled deeper into life and thinking about what it all means. "The Mother Road" is also about being a woman on your own terms. I sing this line: "I do not have a child/ but I'm old enough to know some pain." There are still some people who don't think of you as a woman, unless you're a child-bearing woman. The fact that I don't have children, but to me, my music is my child to the earth. I think that's okay, too. The end of the song is almost like an incantation, and invitation to bloom and grow. I wanted it to be like a chant where anyone could sing it and feel empowered.
Photography: Ben Chisholm