This is So Chic, Very Chic, PAPER's examination of Bravo's sprawling cohort of fashion obsessives. Never before has a group of people — or their stylists — brought such a dynamic range of fashion to television each week. From haute couture to TJ Maxx, they've literally worn it all. Sometimes they stunt, sometimes they turn the look and sometimes they burn holes in my retinas my ophthalmologist says might never heal.
Each week, I'll break down the best, worst and most unhinged outfits on Bravo's rotating schedule including The Real Housewives, VanderpumpRules, MarriedtoMedicine and even the various SummerHouse spinoffs, when I'm feeling bored (like, really bored.)
Why document these looks at all? Well, Bella Hadid owes her early career origins to RHOBH, a show on which PAPER star Lisa Rinna also reinvented herself into a fashion muse worldwide. Jenna Lyons, the mastermind behind J.Crew's unimaginable success, found herself the focal point of RHONY's recent reboot. Former billionaires' wives have appeared on the show, as have models and designers and custom couture and more labels than anyone could feasibly count in their lifetime. It'd be a disservice to fashion history were these outfits to go unstudied, or archived, at all.
Enough about all that, though. Bring on the fashions!
The Real Housewives of Potomac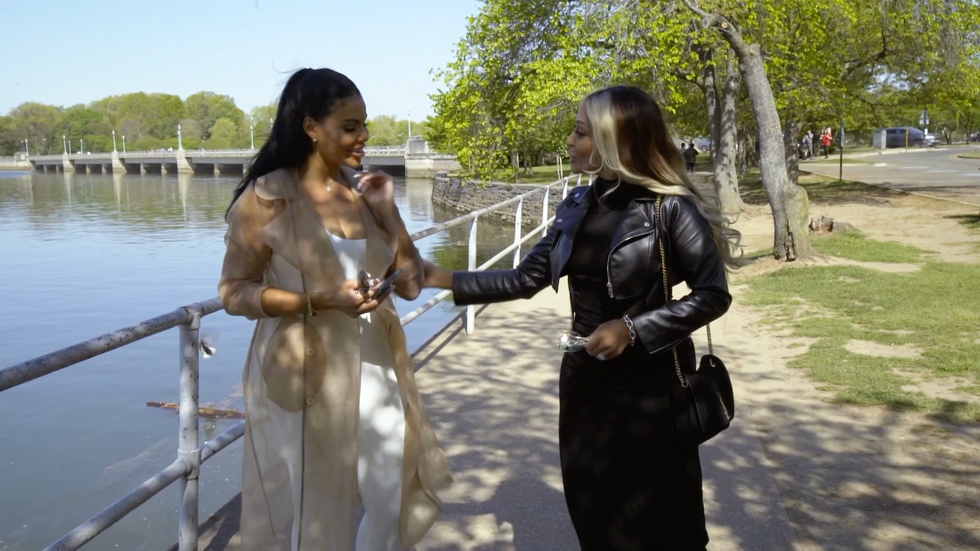 Mia Thornton and Karen Huger
I texted PAPER editor Matt Wille at 11:23 PM on Monday: "Emma Frost and Rogue." Sorry, Matt! Mia showed up to sign a peace treaty lakeside in this white bodysuit and flesh colored, organza imitation trench coat. Karen, meanwhile, dressed like an assassin set to disrupt negotiations. I bet there's a tiny little pistol concealed in her Chanel bag, and maybe a knife strapped to her leg.
What, exactly, is the purpose of Mia's trench coat? What was the decision making process when purchasing it? It's all a bit ridiculous when put up against the sleek outfit Karen arrived in.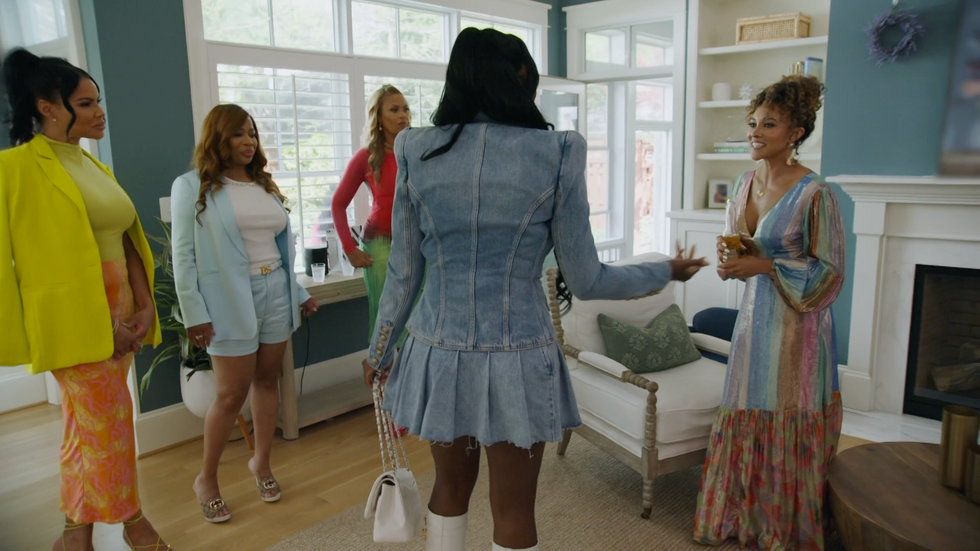 Mia Thornton, Charisse Jackson Jordan and Wendy Osefo
Let's move right past Ashley Darby, who looks relatively normal this season. Instead, my eyes immediately settled on Charisse. She's dressed like a women's basketball coach who has church right after the game, which is fine, considering her status as a former NBA wife. Mia, meanwhile, should have lost the blazer (so many blazers on this show!) and let that garish combo underneath sing its nasty little tune alone. Conversely, I quite like what Wendy wore, even though I couldn't snap a proper pic of it from the front. For once, I didn't hiss at the Chanel bag, and the tailoring on her denim skirt suit was impeccable!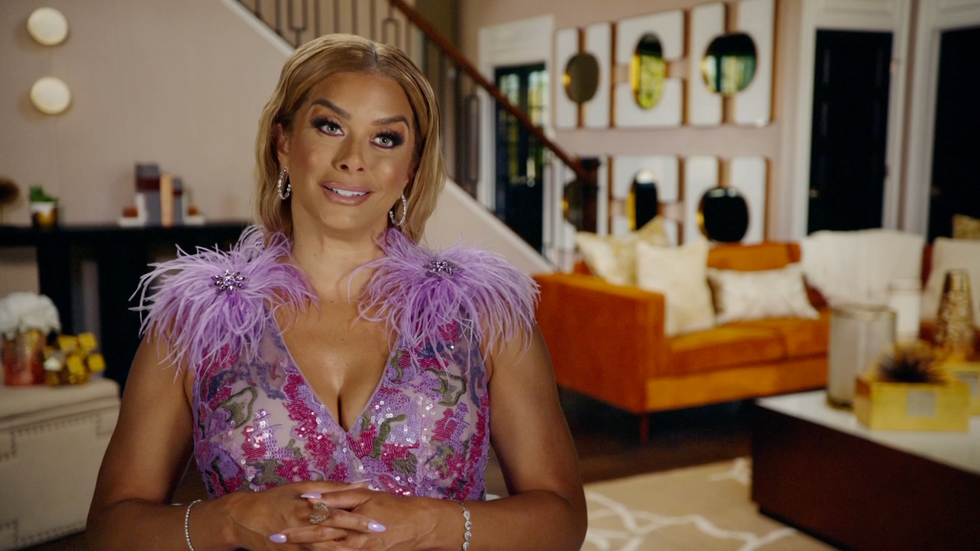 Robyn Dixon
I will generally stray away from confessionals, because the medium has devolved into utter insanity post-Erika Jayne's first season on RHOBH. Still, this dress (I think it's a dress) was simply unbelievable. It's like she skinned Abby from Sesame Street and wore the poor puppet's flesh like a skin suit.
Married to Medicine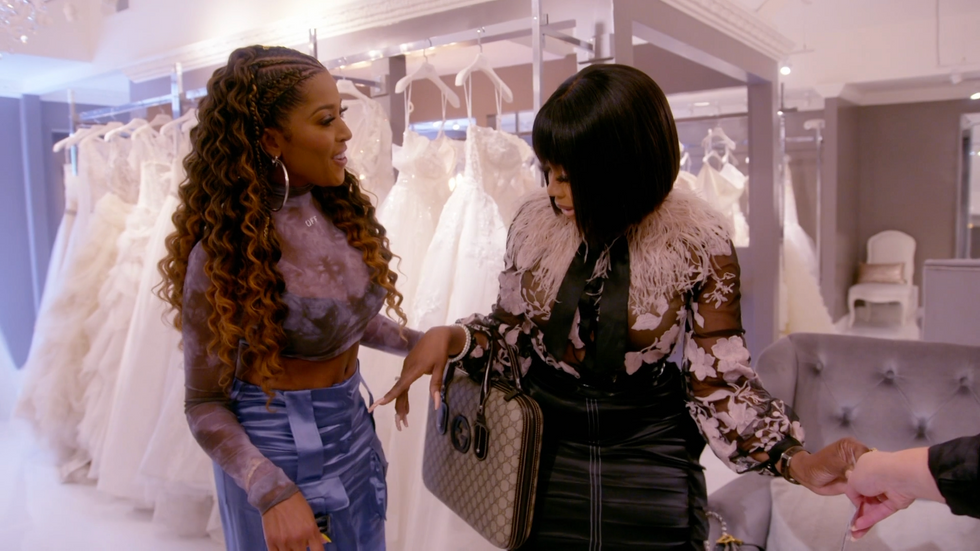 Toya Bush Harris and Phaedra Parks
When Phaedra walked into the bridal boutique in a cunty little bob and Gucci laptop bag, I screamed. Shortly after I saw the ostrich feather shoulder appliqués and pussybow tie, I was rushed to the hospital. When I woke up in the ER and was explained to by a doctor that Toya had on a mesh crop top and satin-look cargo skirt, they had to grab the defibrillator. I've got absolutely no notes, ladies. Fabulous work all around.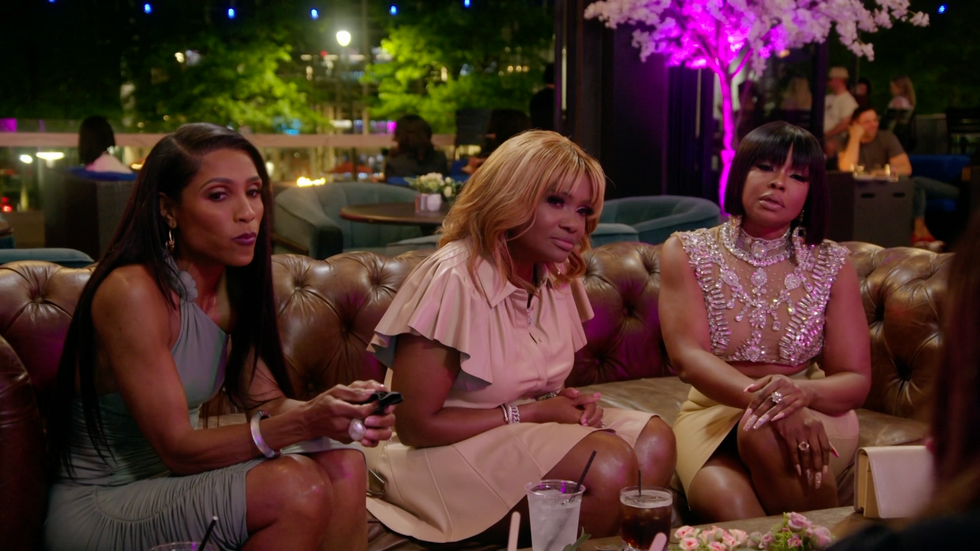 Dr. Jackie, Dr. Heavenly and Phaedra Parks
Married to Medicine delights me because the women refuse to dress for the same event. Jackie is ready for a night out in her clingy, off-the-shoulder bodycon fit. Heavenly looks like she's about to deliver the keynote at a marriage conference and Phaedra showed up like the bride in her third fit of the evening, after all the old people have gone home mid-reception. More bobs, Phaedra! More bobs!
The Real Housewives of Salt Lake City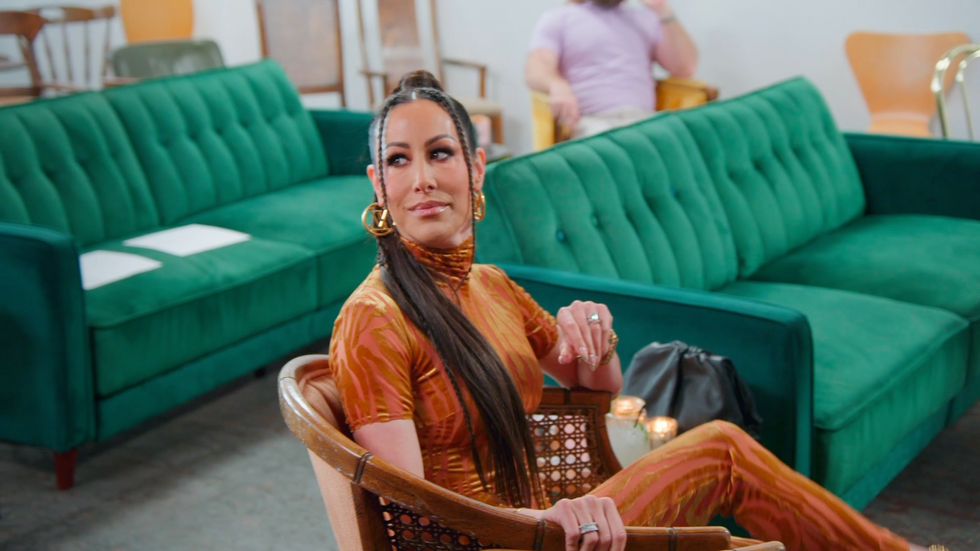 Angie Katsanevas
Angie dressed like an extra in those scenes from the Fast & Furious franchise where a bunch of hot women gather around some cars and dance sexily to reggaeton.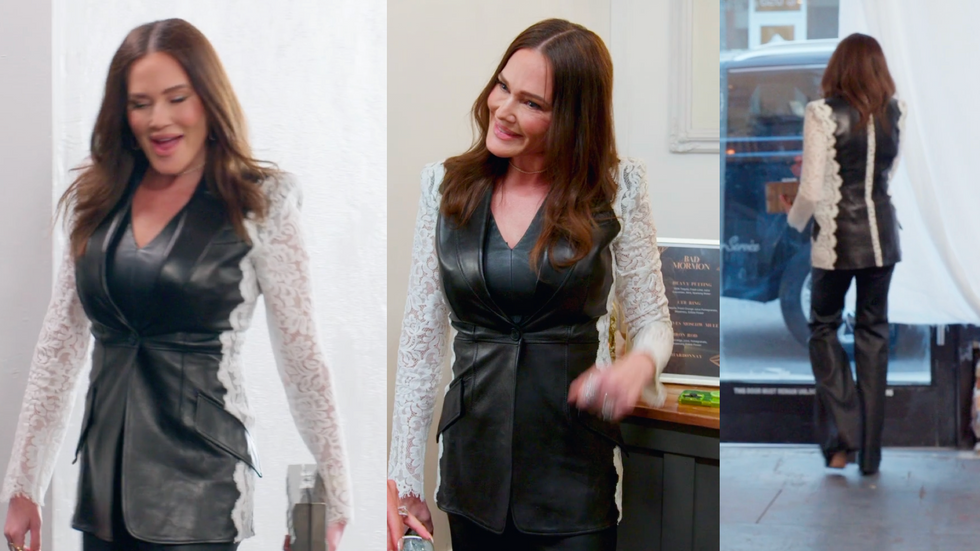 Meredith Marks
This leather, single-breasted blazer with lace sleeves and paneling has dumbfounded every single member of PAPER's editorial staff. We have collectively swung between the extreme ends of the emotional spectrum: shock, rage, grief, delight.Also, why is the lace paneling in the back placed like a racing stripe? Why is any of this happening to me?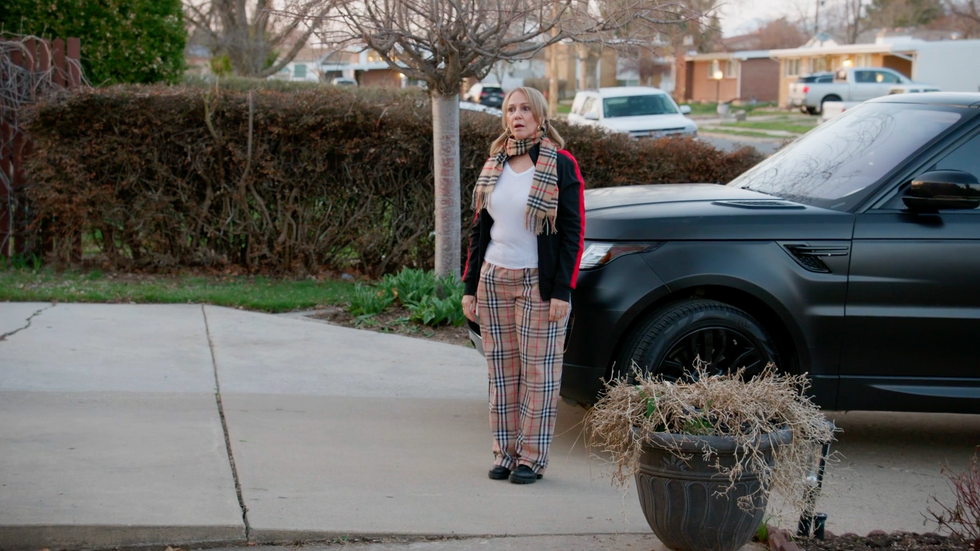 Some Lady
Monica's mom doesn't deserve to be named in the hallowed halls of PAPER, considering her evil onscreen behavior. Still, I did feel a need to memorialize this Burberry fit as: "What not to wear when returning the car you stole from your daughter and her four children if she refuses to give you a ride back home in it."
The Real Housewives of Miami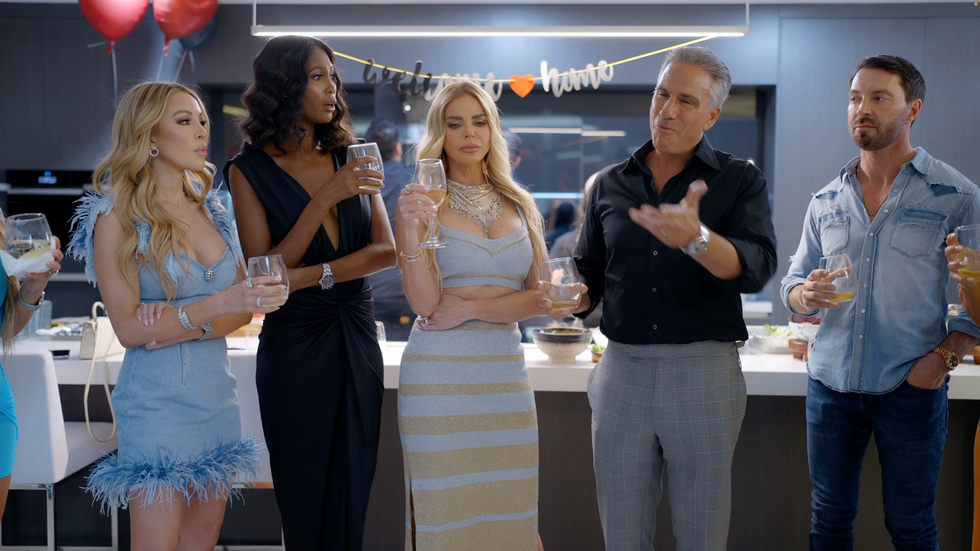 Lisa Hochstein, Kiki Barth and Alexia Nepola
The women of Miami gathered this week for a party to celebrate Michael Jordan's son coming back home after four days away from new girlfriend Larsa Pippen. (None of those words are in the bible.)

Lisa wore denim and coordinated with her man to modernize Britney and Justin's iconic red carpet ensembles. Considering the optics, it's bad timing on Lisa's part, although I applaud her for finding a dress where the ostrich feather trim sits a good two inches above the hemline. Kiki looks good, so let me instead focus on Alexia's one million statement necklaces. Are statement necklaces actually circulating again in mid-level boutiques, or did they never leave? I worry, because the pattern on her co-ord set was quite popular in 2011. At the tail end of 2023, the entire outfit reads like an omen of fashion doom.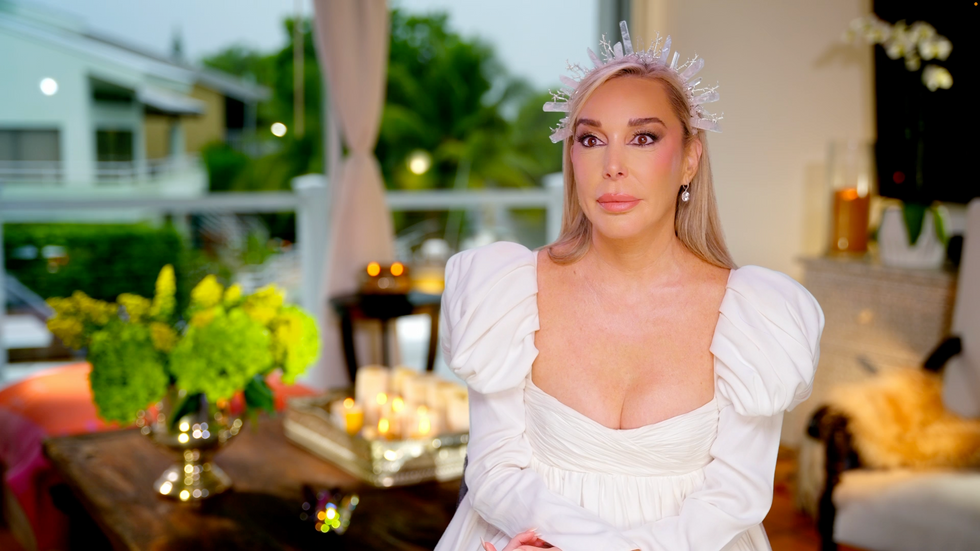 Marysol Patton
Marysol considers herself a gay icon. Why? She says "cockies" instead of cocktails. She parties with lots of gay men. She throws an annual "gay brunch." She's been on television. And to round out this persona, she shows up on camera in outfits that look like this. It's not so much gay iconography as it is "down on her luck Disney princess for-hire at a six year old's birthday party."
The Real Housewives of Beverly Hills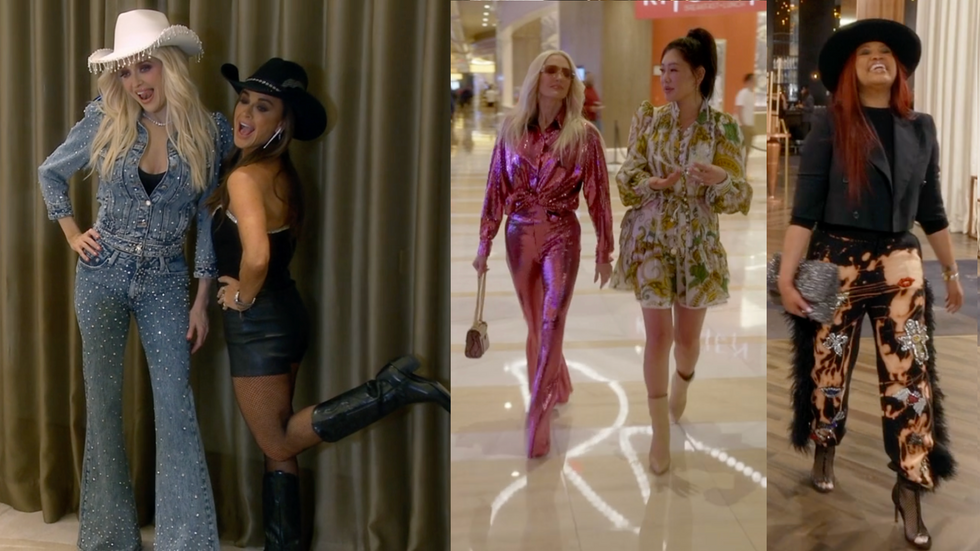 Kyle Richards, Erika Jayne, Crystal Kung Minkoff and Garcelle Beauvais
RHOBH let me down this week! The normally fashion-forward cast was on the final night of their Las Vegas trip and wore cowboy costumes and full body sequin jumpsuits. Erika technically looks good in both, even if we've now confirmed her fashion sensibilities were purchased prior to her financial troubles, rather than being innate. Garcelle, meanwhile, wore these pants. She's taken enough of a beating on social media for the hospital gown she wore last week, so I'll let them speak for themselves.
Photos courtesy of Bravo/NBCUniversal Media, LLC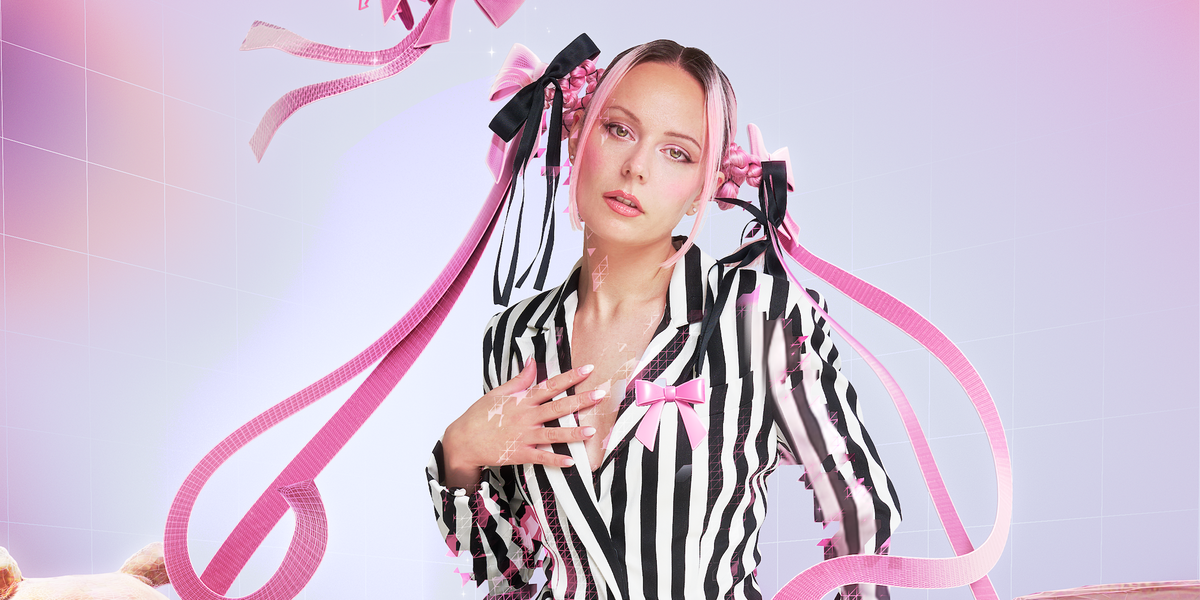 Music
Story by Harry Tafoya / Creative direction & VFX by Andy Rolfes / Photography by Nicholas Needham / Styling by Erik Ziemba / Hair by Davey Matthew / Makeup by Frostie Delite
Story by Harry Tafoya / Creative direction & VFX by Andy Rolfes / Photography by Nicholas Needham / Styling by Erik Ziemba / Hair by Davey Matthew / Makeup by Frostie Delite
07 November