Angus Cloud — better known as Fez, the reticent drug dealer with a moral compass on HBO's Euphoria— shies away from attention in the same way his character does. "I consciously appreciated being mad low key," the actor says over the phone, speaking of his pre-acting days in that familiar stoner drawl. "Being a regular people that nobody looked twice at, you know?"
His regular people days are numbered. Co-signed by Drake and tackling topics like drug addiction and depression through a Gen Z lens, Euphoria has gained tons of attention since launching in June. The show is beloved for its realness, and savvy casting is key. Cloud's softly-spoken Fez is far from caricature — he sells drugs to afford medical care for his grandmother and pay off a mortgage, in the process becoming a big brother figure to Zendaya's Rue. It's believable, in a good way, that the 21-year-old first-time actor stumbled into the role after being randomly approached by a casting agent on the street. He was working at a chicken and waffles joint at the time.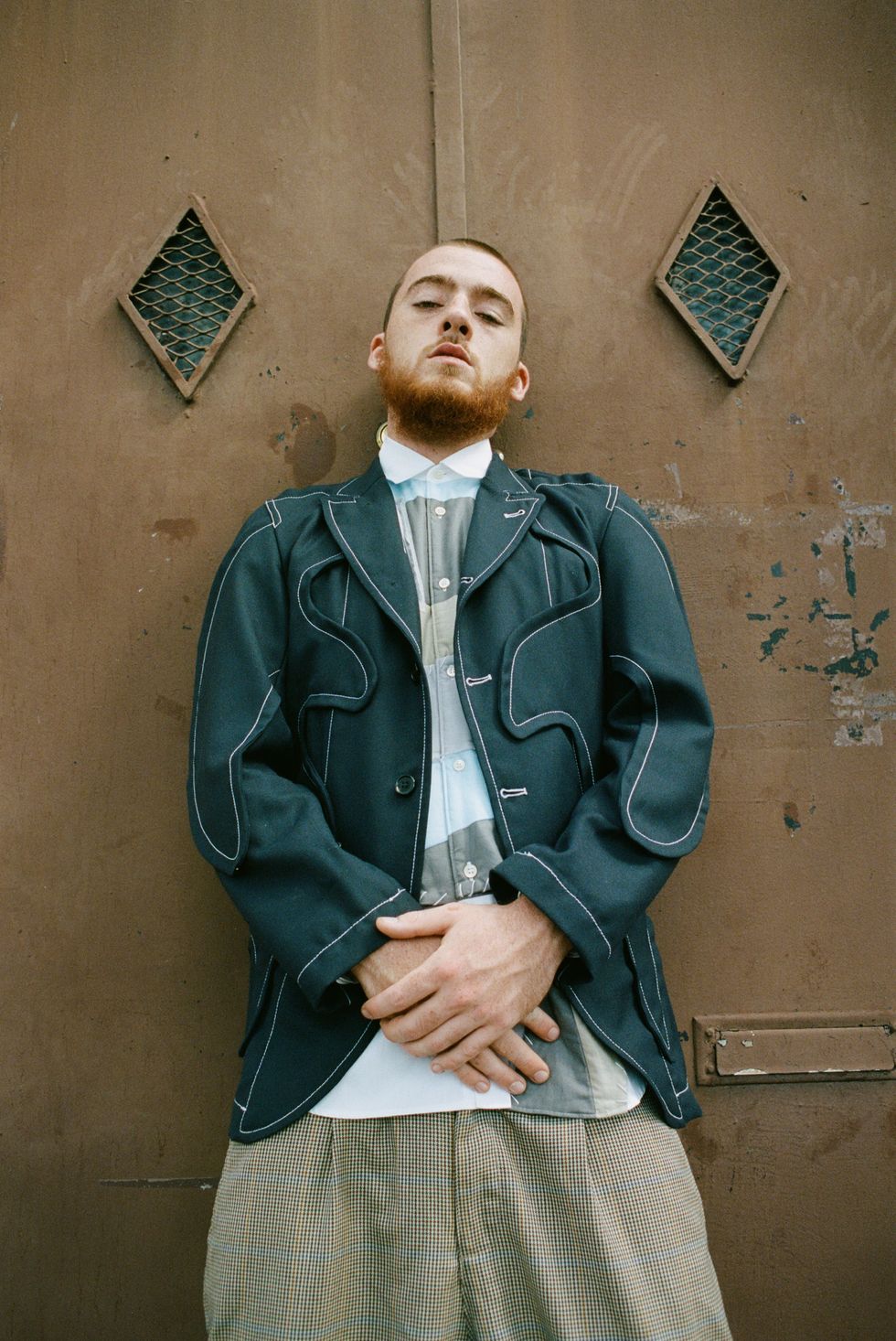 Shirt, jacket and bottoms: CDG, Shoes: Clarks
"I really had no idea what I was getting into," he recalls, laughing. "I'm like, you guys really think I'm going to be in this? We'll see." When Euphoria creator Sam Levinson called Cloud to officially offer him the part, though, he happily called his boss to say he couldn't come in "today, tomorrow, or ever again."
Getting comfortable in front of the cameras was a challenge at first, and Cloud admits he suffered intense stage fright ("my stomach be havin' butterflies") — even when other cast and crew members would reassure him that he was doing fine. "At first when people said I'm a good actor, I didn't believe 'em," he recalls. "I'm like, stop lying. Stop trying to make me feel good about it." Eventually, he developed coping mechanisms and cooled his nerves."The only way to feel comfortable was goofing off in-between takes, trying to play it off, level myself out," he says.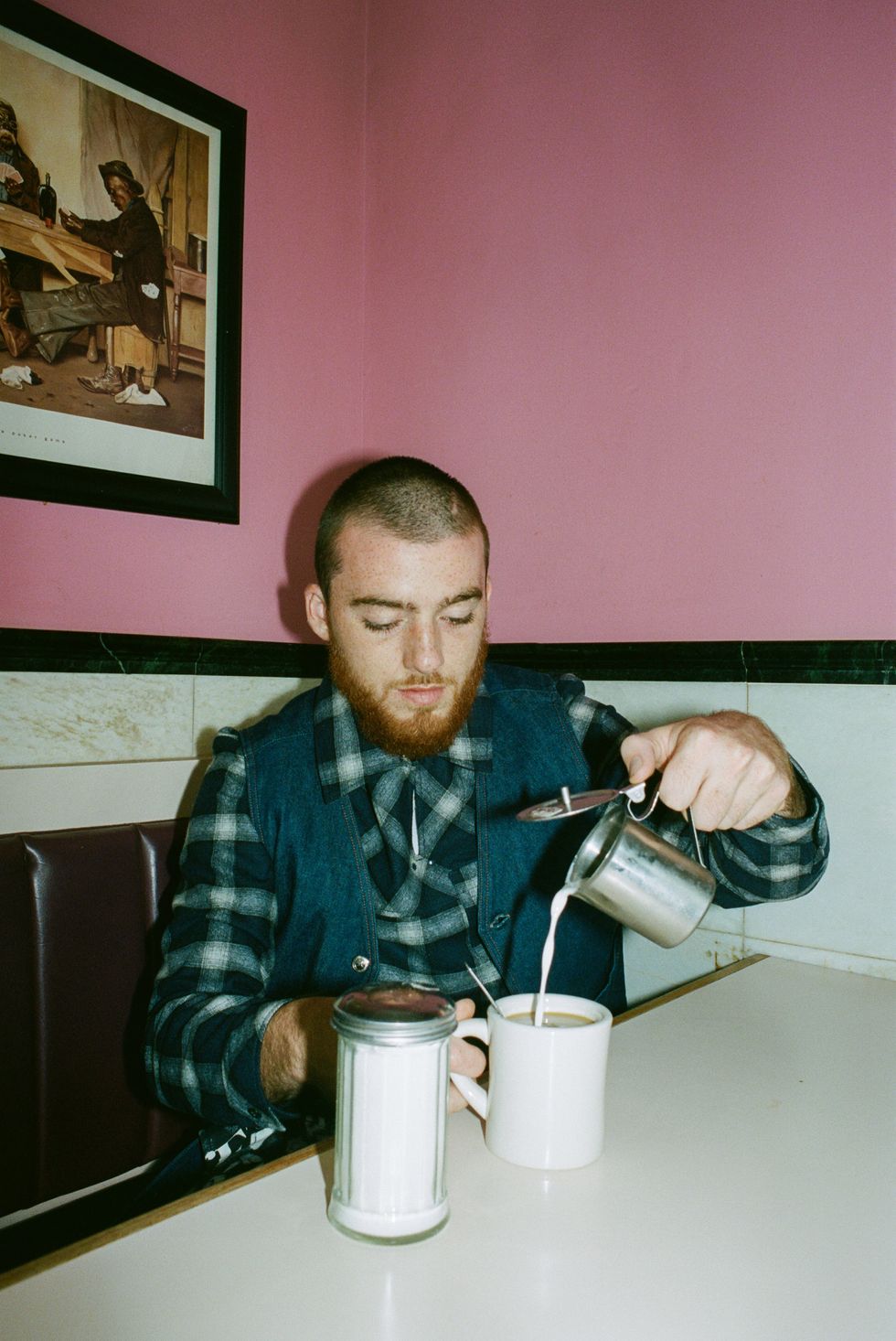 Shirt and vest: APC, Bottoms: Awake NY, Shoes: Nike x Undefeated, Glasses: Retrosuperfuture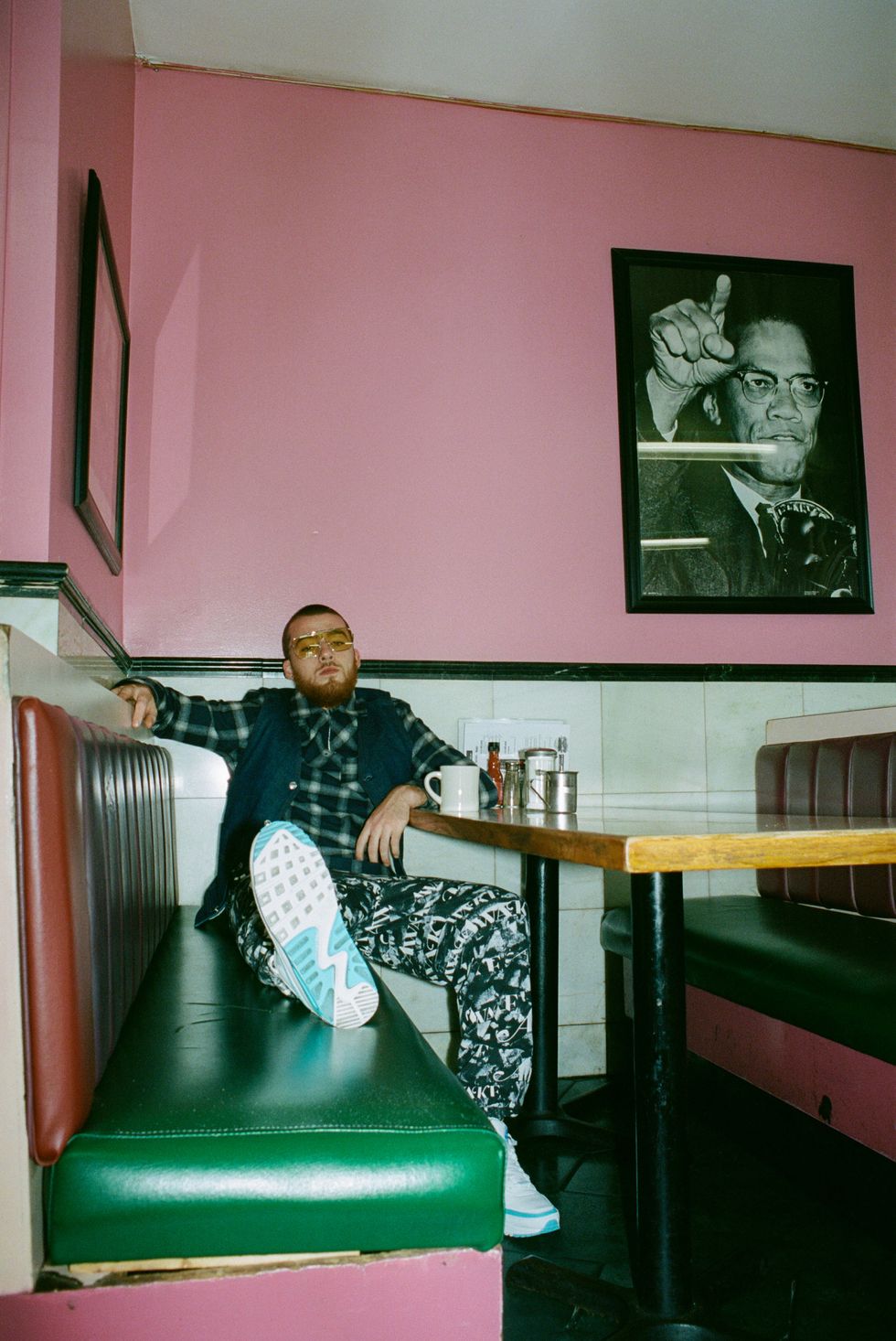 Shirt and vest: APC, Bottoms: Awake NY, Shoes: Nike x Undefeated, Glasses: Retrosuperfuture
For the acutely private actor, off-set struggles are a harder adjustment. "I got this new paranoia that people are always looking at me," he says. "People see me, recognize me, and don't say anything. Like someone was following me into the store — I'm from a different place. So if I hear someone coming behind me, I'm sketched — and I turned around like, 'What's up bro?' And I scared him!" Cloud recalls. "He was like, 'I'm sorry, I just wanted a pic,' and here I'm thinking he was trying to rob me. I felt hella bad, so [now] I'll like wave or say hello 'cause I know some people just be nervous as shit."
There are some cool perks, of course. Cloud recounts bypassing the notoriously long checkout line at the downtown Manhattan Whole Foods because a worker recognized him. It was a strangely full circle moment — Cloud had worked at the Oakland Whole Foods for years. "I used to love giving out free samples to everybody — free sample, free sample! I would make sandwiches for the people, and then I'd make sandwiches for the kitchen," he remembers.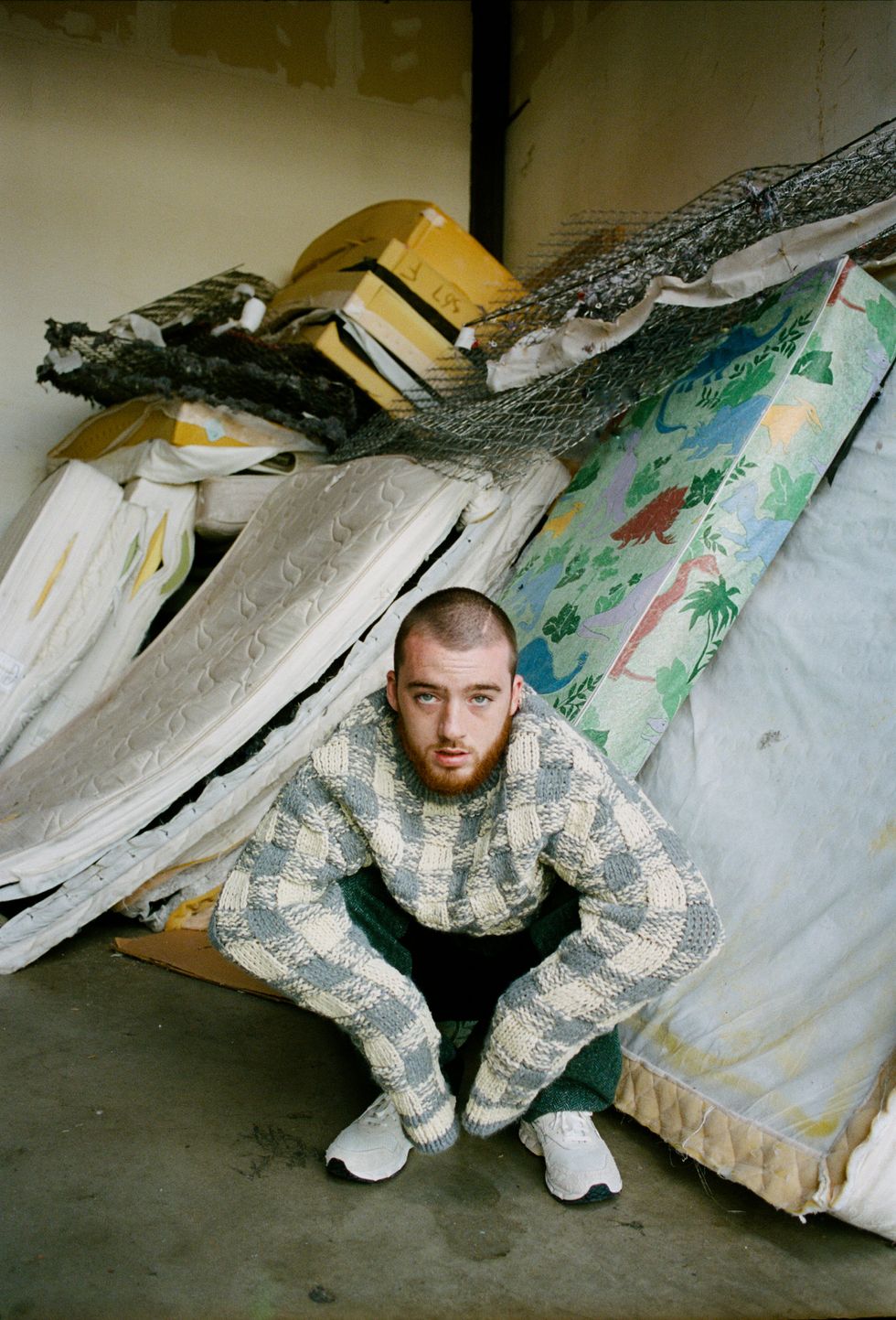 Sweater: Landlord, Bottoms: CDG, Shoes: Kith x Asics
Flying first class, eating foie gras, partying in Vegas — these are luxuries Cloud didn't have access to before Euphoria. The actor grew up in central Oakland, watching the area intensely gentrify over the course of his childhood and teen years. He's the eldest in his family, with two younger twin sisters, and attended high school at Oakland School for the Arts, where he notably didn't study acting. When telling me how his life has changed, Cloud chuckles in disbelief; his humility shines in the details, like the moment he realized he doesn't have to nurse the glass of champagne on his flight because he could just get another.
So yeah, Cloud has no regrets about quitting the chicken and waffles gig. The actor recently finished a skateboarding feature — his first movie — with Mikey Alfred for Illegal Civ. He's got something secret in the works with Sam Levinson, and he'll start filming for Euphoria season two next month. The ride has its ups and downs, but he's enjoying himself.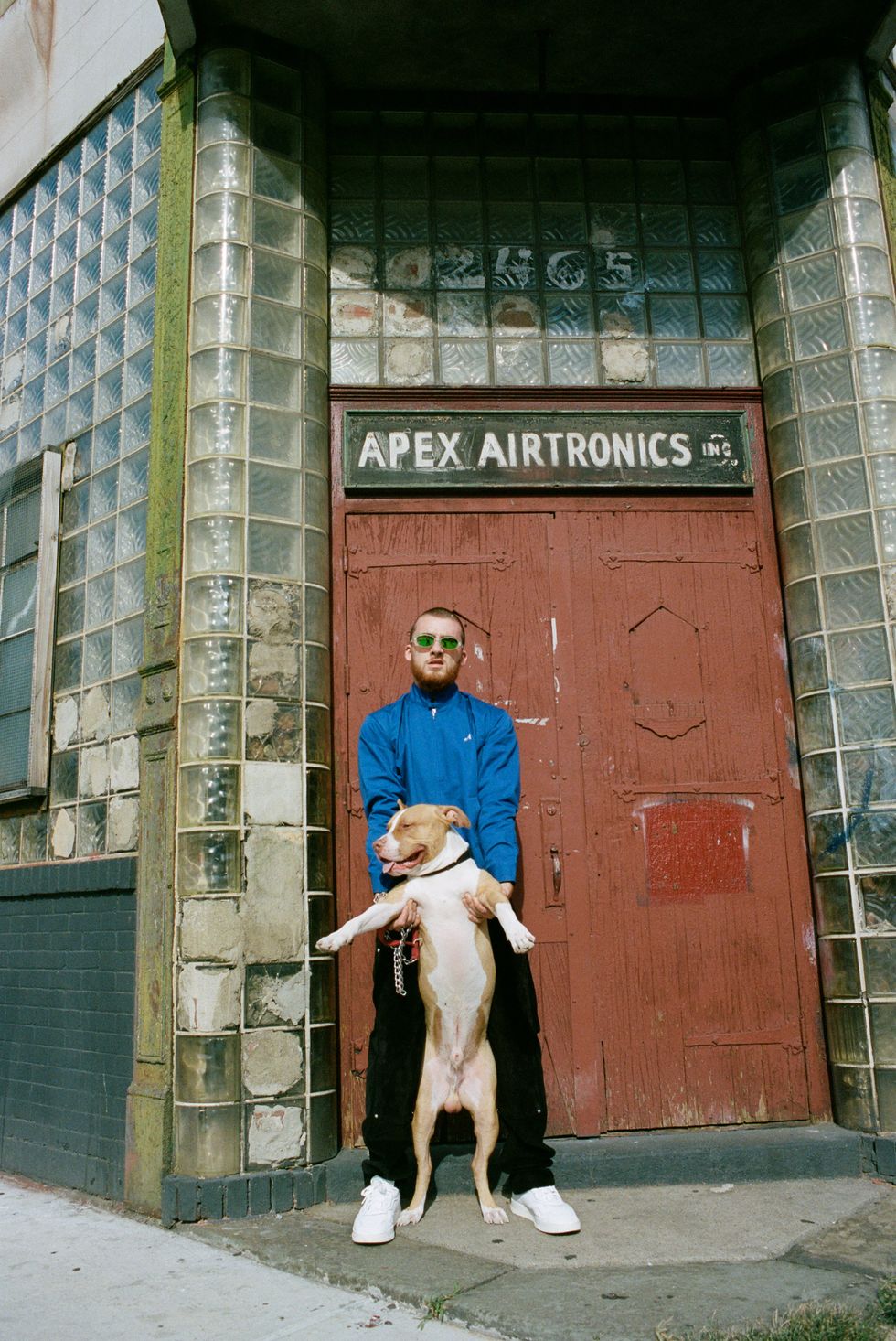 Jacket: Awake NY, Bottoms: Alexander Wang, Shoes: Adidas, Glasses: Retrosuperfuture x United Standard
"I can't do a lot of the shit that I loved doing before — hooligans, shenanigans, shit," he muses. "[Right before Euphoria], I did a little random-ass survey, and I won a free cruise." I tell him it sounds like spam, and he just laughs. "It was just mad random. The cruise was hella lit. Dancing, drinking, talking to everybody. I was telling someone like, I would definitely go back. I'm going back. But then instantly I'm like, hold on. It wouldn't be the same."