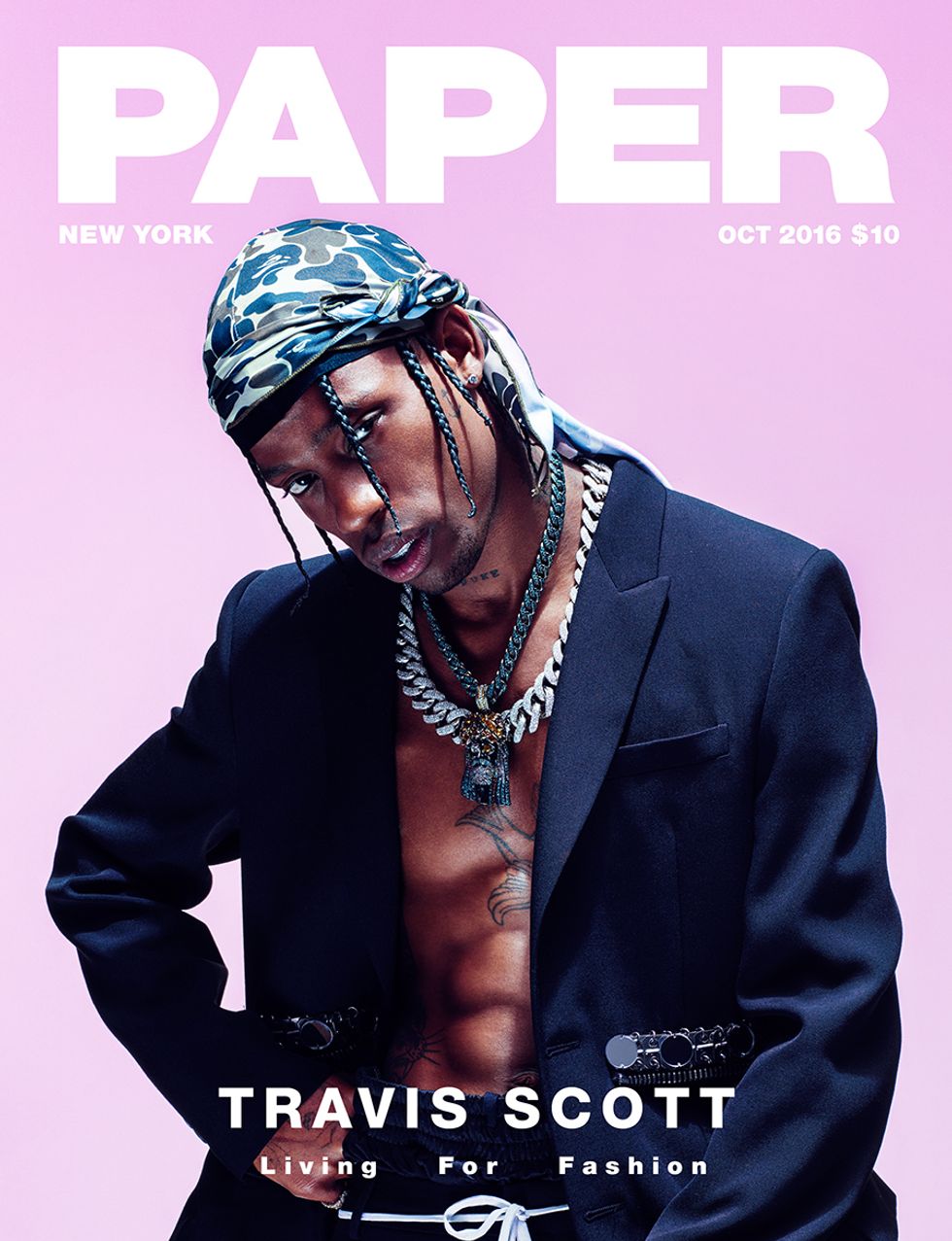 In this and splash photo Travis wears a jacket and trousers by Givenchy, shorts by Alexander Wang and a durag by Rags Worldwide
Waiting in the lobby of Atlanta's ritzy Four Seasons Hotel for Travis Scott to surface, his security guard, Mike Brown, shares some insight into the tardy rapper. "He's one of my most interesting clients," Brown says. "He's a real rock star." Along with displaying classic rock-star indifference toward time and schedules, Scott has the flashy itinerary to confirm Brown's assessment. In the past few weeks, from arriving to Alexander Wang's fashion week after party via helicopter to stage-diving into a crowd of fans at PAPER's Beautiful People party, Scott's shown a taste for bold entrances and high-octane performances.
But when the rapper finally emerges, it's with considerably less fanfare. In sweatpants and a hoodie, he looks less like the rock star we've come to expect and more like the guy next door. This low-key vibe continues when Scott and his crew pile into a SUV en route to the airport. When one of Scott's friend's acts as AUX cord DJ and the rapper's autotune-laden voice thunders through the speakers on "the ends," the opener from his new album, Birds in the Trap Sing McKnight, everyone seems moved by the cinematic intro -- everyone, that is, but Scott, who seems more concerned with rummaging through his backpack in search of enough weed to roll a blunt. He's similarly nonchalant when the subject of the album's enormous success -- a debut at No. 1 on the Billboard 200 chart and 50.2 million streams during its first week -- comes up. "[I] just want to stay focused," he says modestly. "There's more shit to do, and I've got a lot more to accomplish."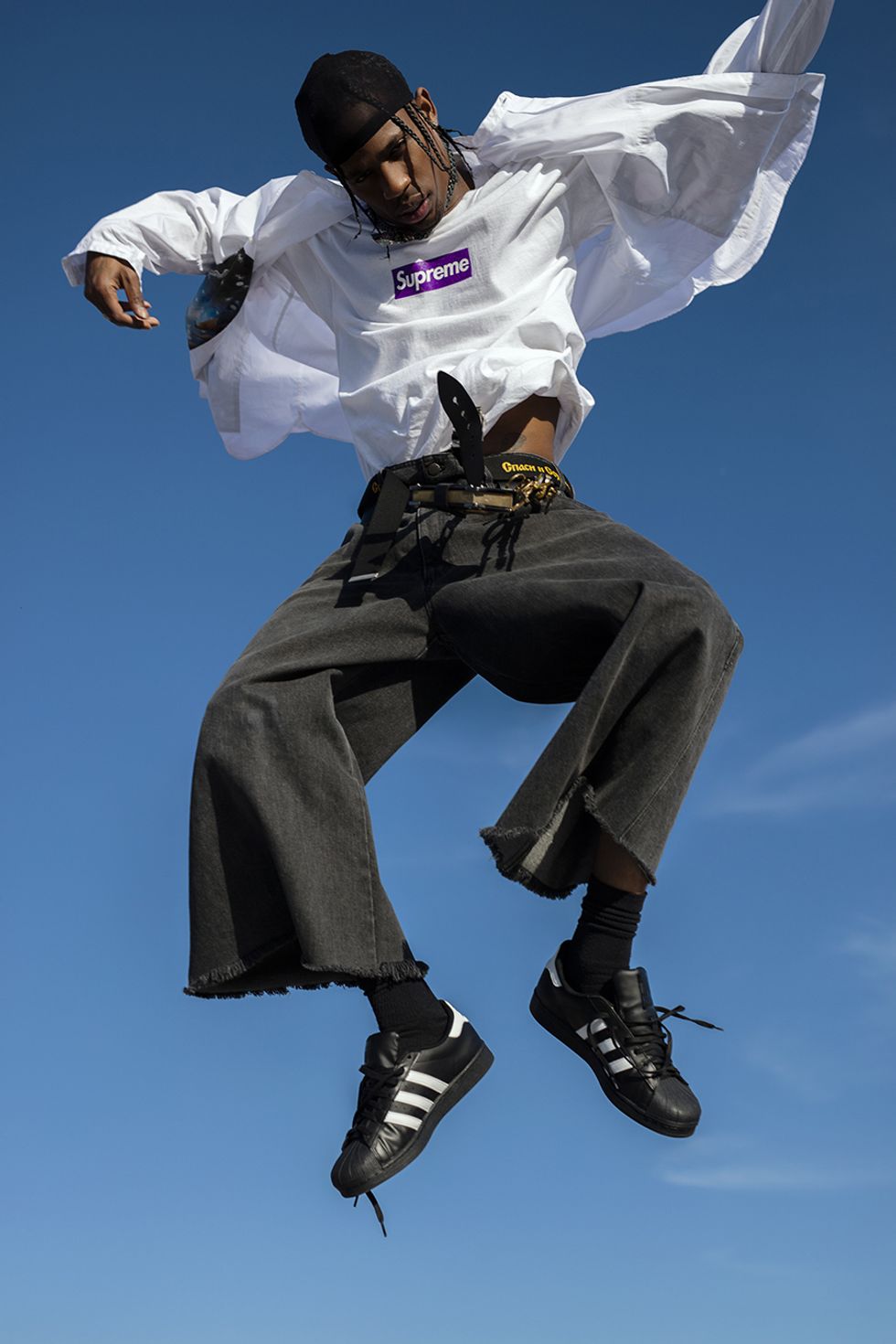 Though he's only 24, the rapper, born Jacques Webster, has been working hard to achieve this kind of success for years. The son of a drummer and grandson of a music scholar who grew up in Missouri City,Texas, Scott recalls being bitten by the music bug early, but his eureka moment didn't happen until he was 17 with the release of Kid Cudi's acclaimed debut Man on the Moon:The End of Day. "I was like whoa, this is a route you can take like therapy," he recalls, comparing Cudi's sounds to an escape from reality. Under pressure from his parents to go to college, he enrolled at the University of Texas at San Antonio before transferring to the University of Texas at Austin, but says he often blew the money his parents sent him for "books and shit" on studio equipment and flights to NewYork and Los Angeles for meetings with record executives. He eventually dropped out of school to pursue music full-time and re-christened himself "Travis Scott," a moniker inspired by a favorite uncle.
In 2012, he released a track, "Lights (Love Sick)," that caught the attention of both T.I. and Kanye West; Tip's label, Grand Hustle, gave him an artist deal, while Kanye's G.O.O.D. Music offered him a production deal shortly thereafter. That same year he also signed a contract with Epic Records, who released his debut album, Rodeo, last fall and shares label credits with Grand Hustle on Birds in the Trap Sing McKnight. Since then, Scott has become one of the industry's most distinctive soundsmiths, earning production credits on Jay Z's 2013 album Magna Carta Holy Grail ("Crown"), Kanye's Yeezus ("New Slaves" and "Guilt Trip") and Rihanna's monster single "Bitch Better Have My Money." It's this last collaboration that has been one of the most talked about. After modeling alongside RiRi in a campaign for her Fenty x Puma Creepers last fall, Scott joined the pop star earlier this year on her Anti World Tour. For much of this period, the two were even rumored to be dating.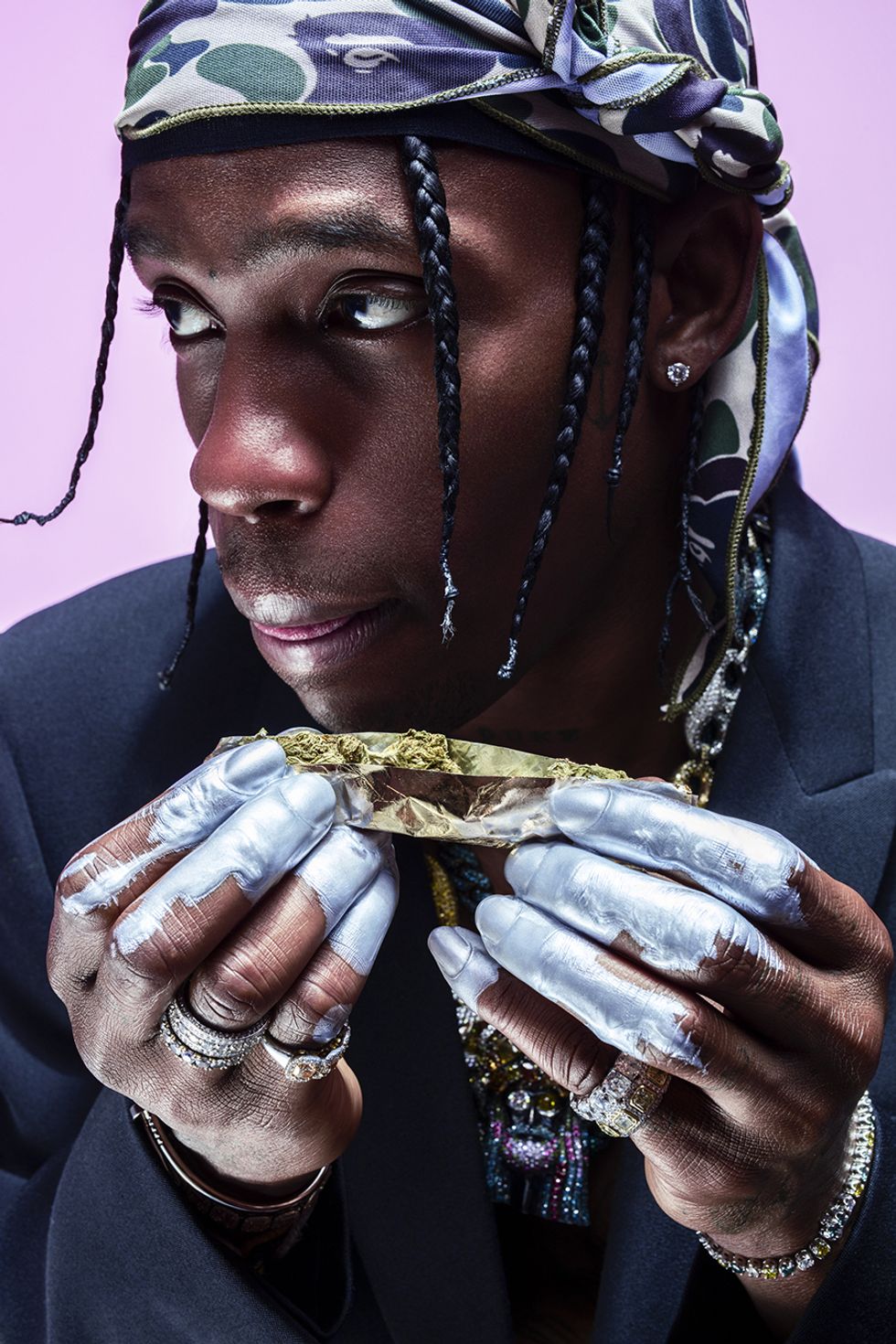 With the release of BITTSM, Scott has matured from the promising protégé rubbing shoulders with rap's elite to a full-fledged solo star. But as much as his profile and platform have grown, Scott says he still finds himself confronted with people who doubt his opinions and talent. "I feel like people don't want to trust the young idea," he laments. This theme is echoed in the title of his new album, which, he clarifies, is neither a direct reference to drug dealing nor to the R&B crooner Brian McKnight. Instead, it's a metaphor for the feeling of inhibition that comes with having limits imposed on your creativity. The phrase itself, he told Billboard, comes from a line Migos rapper Quavo spat on "Pick Up the Phone," a track the two collaborated on with Young Thug.
Though he's expressed frustration at naysayers, at the same time he possesses a willingness to listen to criticism and acknowledge what he hopes to improve. "I feel like I can always become a better writer, make better music and better beats, perform better, make better videos," he says. The conversation turns to three types of hip-hop artists: those who can spit intricate flows, those who can create catchy hooks and those who are gifted enough that they can do both. "In my mind, I think I'm both, right?" he says, his voice ending in a rising inflection, indicating that this is more of a question he's posing than a statement of ability. He's more affirmative when talking about one of his biggest sources of inspiration, Kid Cudi. "He was like the guy that could rap, make a hook, and make a beat, and do a video and show you the life," Scott says of his hip-hop idol. "That's what I strive to be."
Click through for more photos of Travis Scott
Travis wears a jacket and trousers by Givenchy, shorts by Alexander Wang and a durag by Rags Worldwide
Travis wears jeans by Louis Vuitton and carries a blanket by Raf Simons from David Casavant archive
Trava wears a shirt by Prada, shirt and socks by Supreme NY, shorts by Raf Simons from David Casavant archives, belt (top) by Gosha Rubchinskiy, and a belt (bottom) by Prada

BITTSM feels like he's on the right track. From the woozy, psychedelic trip of "sdp interlude" to the grungy dancehall-inspired "guidance" to the slick "first take," the album is dark, intoxicating and idiosyncratic. It sounds like the future. And the one person he's wanted acceptance from his whole career, Kid Cudi, shows up for him not once but twice (he appears on "through the late night" and "way back"). Recent reports say Cudi has returned the favor by tapping Scott to appear on his forthcoming album, Passion, Pain & Demon Slayin'. BITTSM also features artists like Bryson Tiller, The Weeknd, Kendrick Lamar and André 3000. When discussing these last two collaborators in particular, Scott isn't shy about offering up his appreciation. "I look at them as the best artists, so for them to come to my world and rap with me is crazy," he says. He has that same sense of appreciation and excitement when discussing an upcoming fashion collaboration with an as-yet-unrevealed brand, which he says may come out in February."I just saw the samples -- fucking crazy," he gushes. "I'm happy that this company took a chance with me." The collab is the latest stamp of approval from the fashion world; after making his runway debut in 2014 modeling for Mark McNairy at the designer's Spring/Summer 2015 show, the rapper's been in an Alexander Wang campaign and showed off Riccardo Tisci's NikeLab collection in a Vogue editorial, among other high-profile opportunities.
Along with these music and fashion projects, he has a short film coming out soon that will take fans on a journey through the making of BITTSM. Most recently, he dropped a documentary, La Flame, a fly-on-the-wall visual that gives a glimpse into a never-ending series of concerts, recording sessions and screaming fans. It's a whirlwind lifestyle, and the frenetic pace won't be slowing anytime soon.
The SUV pulls up to a gate on the outskirts of the airport, where Scott and Co. will catch a private jet to Houston, where he'll be making a surprise appearance at Kanye's latest stop on his Saint Pablo Tour. Amidst all of this, Scott pauses to reflect, and once again we get a glimpse of the humility underneath the rock-star confidence. Looking ahead to the future, Scott muses on the challenges he'll yet encounter: "Sometimes shit crosses your path to try to throw you off balance. I pray I know how to avoid that."
Barber: Peter "Swagg" Robinson
Location: Dean Street Studios