We're finally almost at the end of RuPaul's Drag Race season 10, which — considering it came right on the heels of All Star 3 — feels like it's been airing for roughly 75 weeks. This week's challenge pitted the final four against each other in a full musical number, with each queen writing her own verse for RuPaul's track "American" (now available on iTunes!). The ladies learned choreography from Todrick Hall, who has gotten progressively shadier every time he appears on Drag Race, which we love. After their performance, the ladies walked the runway in their best final four eleganza, turning out uber glamorous looks.
Related | The World According to RuPaul
Surprising absolutely no one, Ru decided not to eliminate anyone, turning the final three into a final four... just like last season. Are we eventually going to stop pretending that top three is a thing? The jig is up!
This episode — including Untucked — felt hours long, and was dragged out for the sake of giving each queer heartfelt emotional moments that highlighted their personal growth throughout the competition. That's all well and good, but I could use a cunty comeback or two. Even Eureka let me down there!
With the final four moving forward, let's look back on each queen's run, focusing on their best and worst moments, and figure out who has the greatest chance of taking home the crown.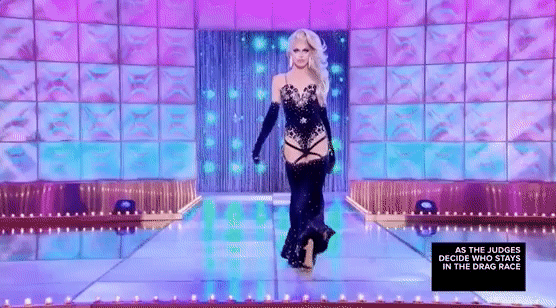 Aquaria
Best moments: Snatch Game, her three looks at the Last Ball Ever, her evil twin runway and oh my god, this week's runway look. I gasped when she walked out on stage.
Worst moments: Her early drama with Cracker and The Vixen, her seeming inability to open up at first.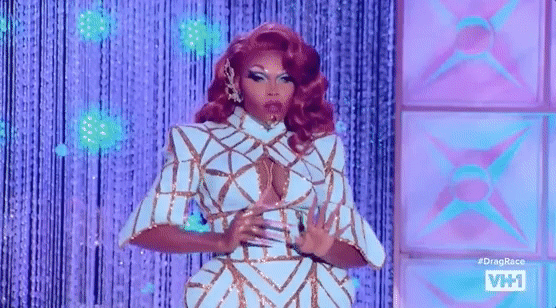 Giphy
Asia O'Hara
Best moments: That iconic Tweety Bird runway look, her butterface performance in the dating app challenge.
Worst moments: She was pretty boring all season if I'm being really honest.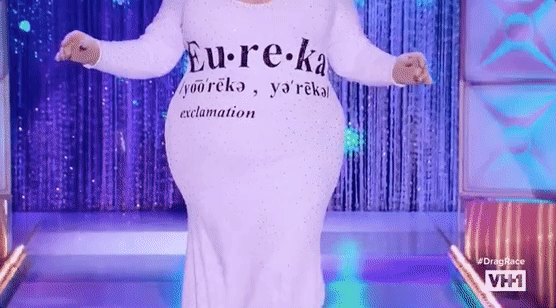 Eureka
Best moments: The fake Drag Con panel, every time she lip synced but especially her battle against Kameron, most of her acting challenge performances. Her final runway look was great but I wasn't as gagged as Carson.
Worst moments: Every time the low-key racist jumped out.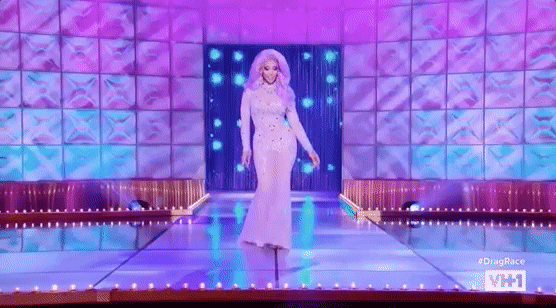 Giphy
Kameron Michaels
Best moments: The bird runway look, her old lady runway look. Her lip sync against Eureka.
Worst moments: Girl, she should not have made it to the top 4.
Kameron is clearly going to the first to go in the finale, her odds of winning the crown are so low they barely count. I'm an Aquaria stan, and she's shown the most growth over the season, but I think she'll be back for All Stars 4. Eureka has had an amazing season and I can see the producers liking the narrative of her coming back for a second time and winning. But honestly, I have this suspicion Asia is going to win. She's been boring but consistent and according to the rumors she really turns out her lip sync at the finale. At this point though it's anyone's game... well, except Kameron.
Assorted Musings:
I can't believe this season has only been on for six years, it's gone by so fast!
I hate when Ru deadnames the queens. The transphobe jumped out.
RuPaul is an Aauaria stan, that is a fact.
I guess we have confirmation that Azealia Banks reads Drag Race spoilers.
Worst Untucked of the season good riddance.
Sign Up for the Morning PAPER
Music
Story by Justin Moran / Photography by Joaquin Castillo / Makeup by Alex Levy / Hair by Sergio Estrada / Styling by Carma Flores