Making waves in foreign territory is emerging designer Philip J. Ellis, a recent Los Angeles transplant from across the pond by way of denim — the fabric of democracy. With a degree in design from Central Saint Martins and apprenticeships spanning from luxury juggernaut, Louis Vuitton, to industry dark horse, Vetements, Ellis carries an expansive roster of experience. His time at other labels has ultimately led to the development of one with his own name on the tag — designing a collection that is the product of his unexpected collaboration with AGOLDE, the cooler, younger, millennial sister to American "icons of denim," Citizens of Humanity.
Philip J. Ellis x AGOLDE stands at a fascinating intersection, one that to cursory glance may seem ironic, as Ellis even expresses that "it seems pretty hilarious that they decided to collaborate with me, who is the epitome, or should I say stereotype, of British style," which contrasts the brand's committed American heritage. That said, the collaboration rather connects the dots between two histories which respectively share a tradition in the fabric. In collaboration, the self-proclaimed anglophile's quintessential British nature paired with the textile's reputation as American-standard work in undeniable harmony.
PAPER met up with the designer to discuss his new line and catch a preview of the collection modeled on Ellis himself, scheduled to drop this summer. Photos by Jasper Soloff, Makeup by Shideh Kafei, Courtesy of Detiger Studios.
Hailing from Manchester and attending university in London, your move to Los Angeles must have been a big change. What was that transition like?
It was honestly very rapid. I was a bit naive, and I thought I'd be able to work full time for the company, but still split my time between London and LA, but I quickly found out that wasn't the case, and I had to fully commit to the move. I just jumped on a plane in January and that was that. I have nothing in my apartment — like nothing. There's a mattress on the floor and that's it! Fresh off the boat!
Growing up what was your relationship to fashion? Was it something you'd say that was sought after or you were exposed to?
I think I wasn't particularly exposed to fashion. You always hear these stories from people in fashion about being inspired by their mothers who are glamorous or whatever, and I love my mom — she's a lovely lady, but she's not glamorous. My first experiences with fashion were actually through fashion publications. I commuted to school every day and on the train platform, there was a magazine stand that had i-D, Dazed & Confused, Vogue, and even GQ Style, and I would just look through the magazines on a day to day basis. That's how I gained my interest in fashion.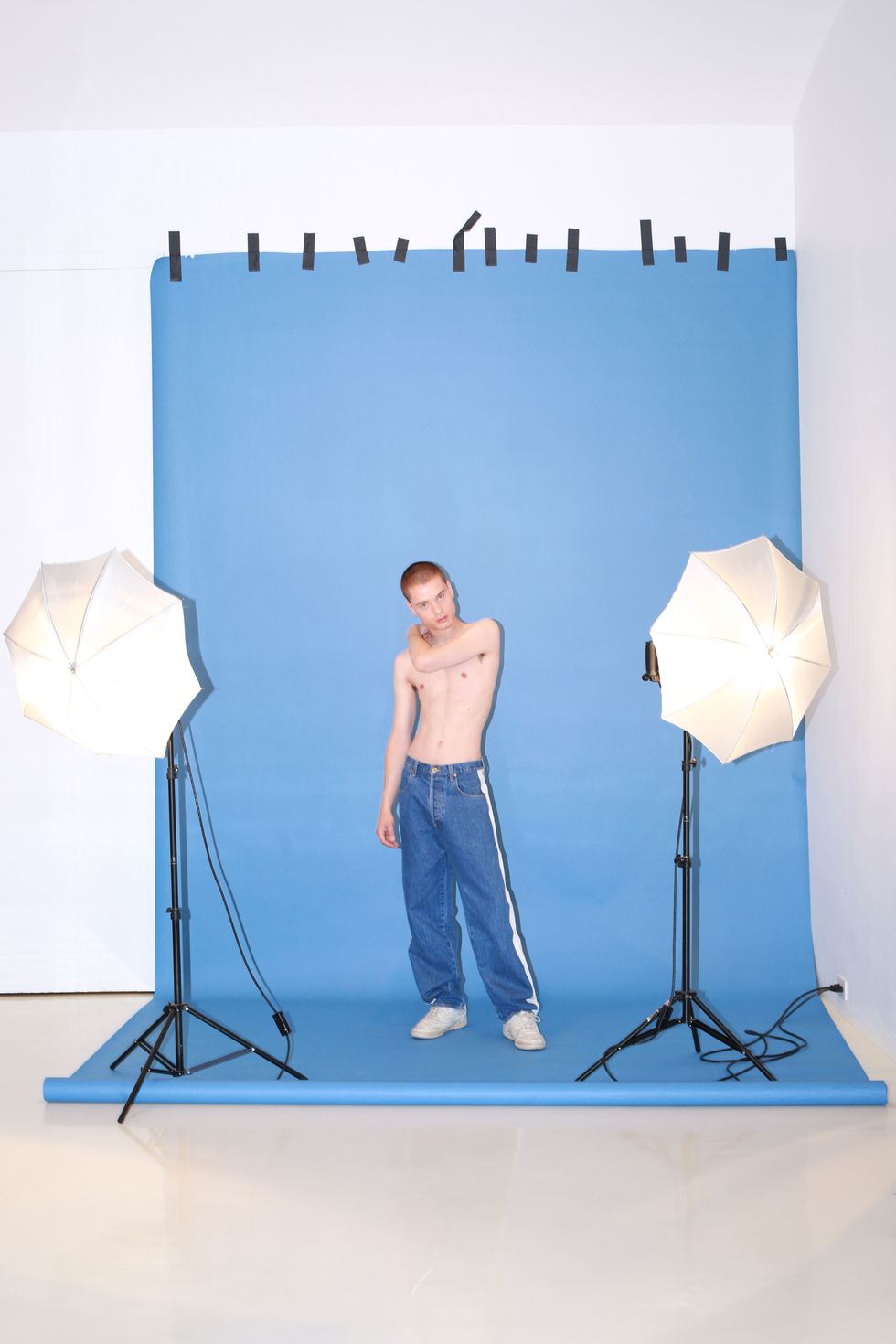 Was there a moment in which you switched your perception to design from passion to career pursuit? Or do you even bother to even distinguish between the two?

It's true, I don't really think I distinguish between work and play. To really be into fashion, it has to be all-consuming and I'm doing it all the time. There was a moment, however, when I realized that I could see it as a career. I remember watching Project Catwalk, which is the British version of Project Runway, and all these contestants went to CSM and then became fashion designers, and I also remember watching these documentaries on BBC about John Galliano and Alexander McQueen and they to went to CSM and became fashion designers, so I said to myself, "You know what? I'm going to go to CSM and become a fashion designer." And I did.
Who were some important cultural figures in fashion that inspired you growing up?
My number one icon of fashion is Mr. Jean Paul Gaultier — truly a legend. I've always been obsessed with Gaultier, really. I think that his designs are brilliant and really fit my aesthetic and taste. I have a big influence with Vivienne Westwood — purely because she is from where I'm from — a couple of valleys south. She had an exhibition with the V&A, which went on tour with it. I think I was 13 at the time. The proximity really connected me to her.
Related | 5 Designers Proving London's a Global Fashion Capital
And now where would you say you look to to consume fashion or source inspiration?
I look to the vibrant fashion scene in London. I was at school the same time as young designers who are paving their way in fashion whom I respect and admire, like Charles Jeffrey, Daniel Fletcher, Dilara Findikoglu, Grace Wales Bonner. All the young creatives in London go to school together, it's quite brilliant. So that's one place I look to for fashion consumption, my peers.
In previous interviews, you've mentioned that you had never really considered politics in your work — is this something you plan to sustain?
I don't want to be pigeonholed into this box of political fashion. I think it is a trend at the moment, because obviously the world is in this weird, apocalyptic state, that activism is a trend within fashion and culture in general. I kind of tapped into that [for my first collection] and it was successful, I think. I don't want to utilize politics as tokenism. Anybody has the power to put their beliefs on a t-shirt, which I think is an important statement in itself, but I'm not masquerading as a political activist.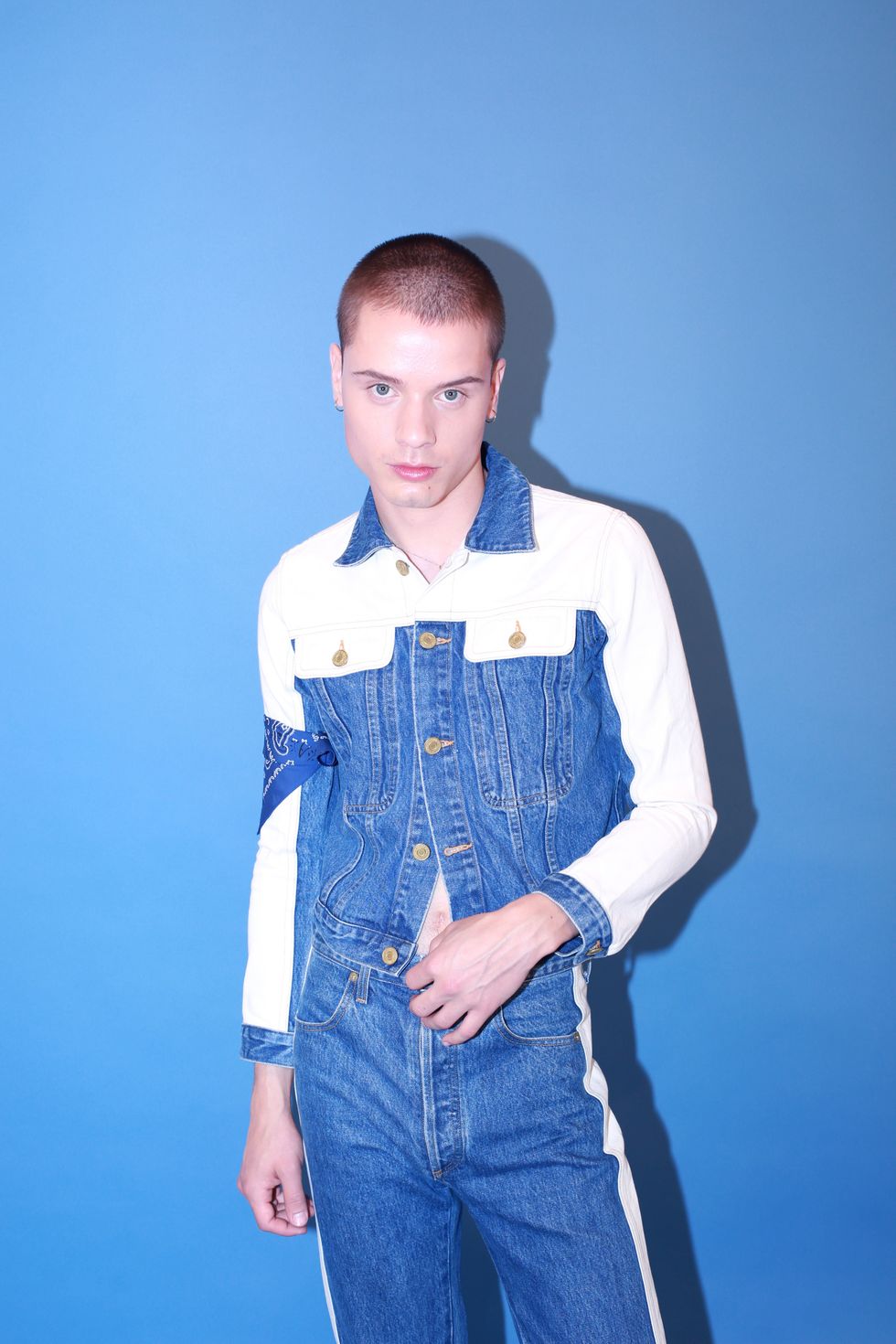 Would you say that activism in fashion is a trend or a reaction bearing an inherent responsibility to be political?

I think there is a responsibility if you have a voice to push your opinions, but I do think that there is this trend of activism — or activism being used as a trend to drive capitalism. I think obviously these statements are important, especially in the moment of #MeToo and these Harvey Weinstein scandals, so it seems fitting that people are responding to it through fashion, but sometimes it's just taken the wrong way.
You have an unreleased collaboration with AGOLDE, part of Citizens of Humanity, which is an established and immensely distributed label throughout the US.
Yeah, they are truly icons of denim.
Right, and that fabric is synonymous with American identity and style.
It's true, and it seems pretty hilarious that they decided to collaborate with me, who is the epitome, or should I say stereotype, of British style.
Related | Lynn Yaeger Is Keeping the Fashion Fantasy Alive
That's what's so interesting. How do you translate that quintessential British aesthetic with this all-American brand?
Well denim, though very American, I think is totally a universal fabric and universally applicable. If you think about key British styles for instance, like skinheads — the classic skinhead look is a flight jackets, a white tee shirt, doc martens and a pair of Levi's jeans. I wore jeans my entire youth, I remember wearing horrible, hideous, drain pipe, skin tight jeans and big shoes, and I had big hair, and I wanted to look like The Horrors! And that is something that is quintessentially British. Those were my references for this collection, I was looking at Trainspotting, for instance, and Ewan McGregor's customized jeans from the film, and kind of based it on the silhouettes of that.
Did you perceive it then as a translation of British to American and vice versa?
I didn't really consider it until the production finished and I got a chance to look back on it. My inspirations are very British, naturally, and I'm quite British as a person. I'm a bit of an anglophile and I was looking at British subculture and strong individual British identities, and that's what inspired the clothes.
What would you say British style represents or contributes to the general landscape of fashion?
British fashion is extremely important. British people and their perception of style and dress is powerful and confrontational and unapologetic, probably more so than in America, honestly. I think about all of my favorite fashion designers, and a lot of them are British, with the exception of Jean Paul Gaultier, but even he is really British in a sense. Even though a lot of his work is French, him as a person is very un-Parisian, I think.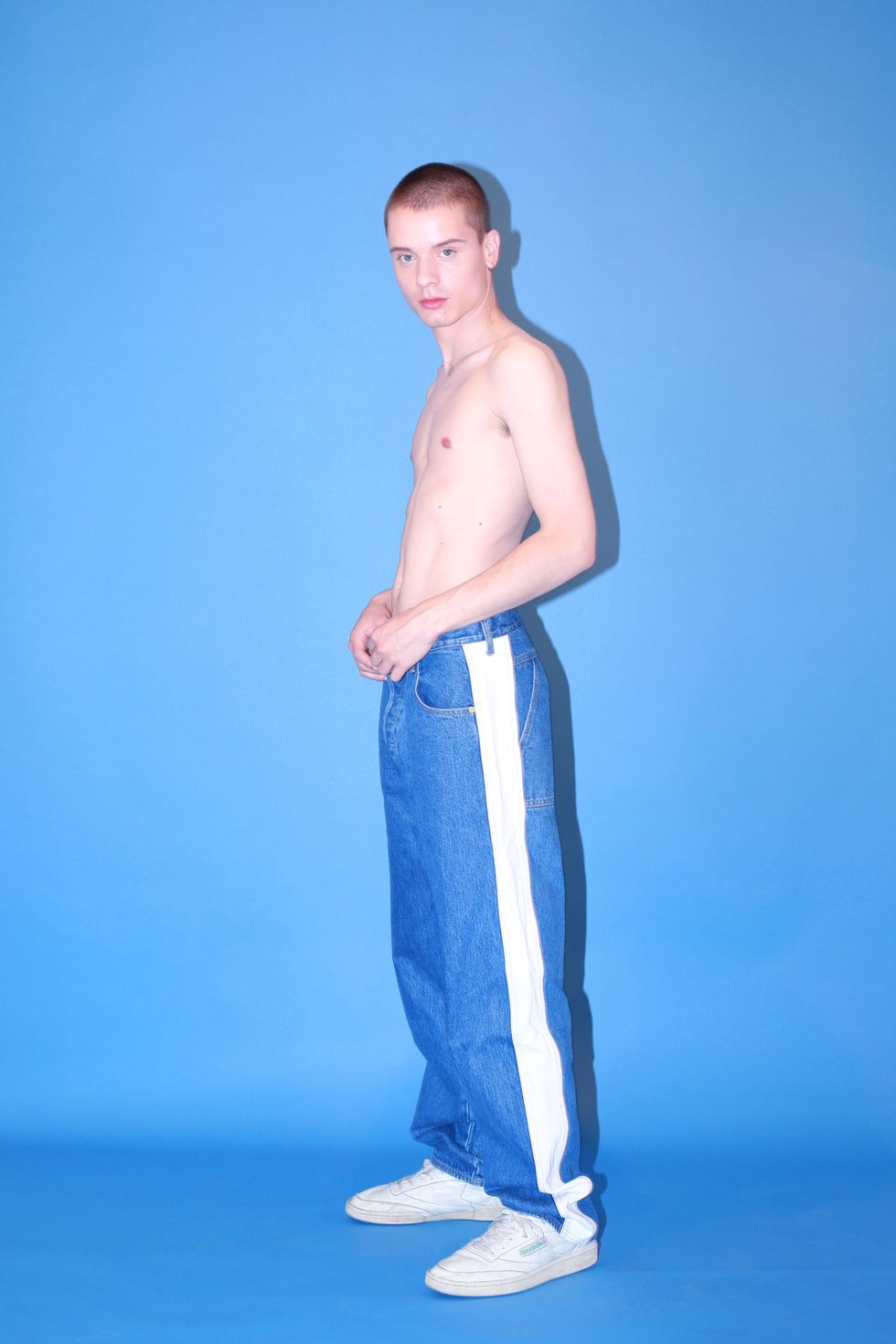 Yeah, it's disruptive. Would you say there were any particular, direct inspirations for the collaboration?

For the first season, it's bold and there's a high emphasis on color blocking and fabric blocking. We've made this jeans with these huge white stripes of twill on the sides, which have been a pain in the ass to learn how to make without having the indigo from the denim get everywhere. The collection is quite unisex, as well.
Right, is the collection assigned a gender?
It's men's and women's, not that there are only two genders. It was quite surprising to see how buyers and fashion stores really pigeonhole fashion into these two categories. Department stores like Barney's have menswear on one floor and womenswear on another. If you for instance wanted to get your garments stocked in a store, you have to assign it a gender. It really isn't forward thinking. Additionally, designing jeans makes it harder because you have to consider whose measurements they are being cut for.
Related | Will Diet Prada Save Fashion From Itself?
All of that said, where do you think that fashion is headed?
I think that it is headed towards more of an accepting and diverse space, but it's strange because the position of power within fashion and people having an opinion has changed drastically by social media. It's weird to think, but one of the greatest fashion forces online at the moment is @diet_prada, which is just two people behind an Instagram account, with no bonafide credentials or authority in fashion, holding a great deal of influence and entitlement. They still have a valid opinion, and people are f**king terrified of them.
Would you say then that fashion has become more democratic?
It's true, yeah. Social media has made fashion incredibly more democratic. You don't even have to be invited to a fashion show anymore because they livestream them, you can watch them from your phone, or you get the Vogue Runway app and see the hi-def images with all of the details.
This also makes it harder for emerging designers to stand out.
Yeah, fashion is very different to what it was a few years ago. I think there's less extravagance. People are still buying things, but there aren't stories about designers being excessive with huge mountains of cocaine everywhere, and glamour and fur and luxury — it's not that anymore. The scene is different.
Related | Virgil Abloh's 'Aggressively Creative' Agenda
Do you think that can be attributed to it becoming more democratic?
Yes, there is definitely more fashion everywhere, especially considering streetwear and trends. Everything has become more wearable and streetwear driven. This also applies to Virgil Abloh and his appointment at Louis Vuitton.
Exactly. So you mentioned a runway show, but do you have an ultimate goal?
I think that I'm pretty fortunate considering the position I'm in of being able to design a collection and having someone help me with it and make it and pay me a wage that I'm able to live with. Having had years of experience interning and assisting at different studios, I know how hard it is to get paid within small labels. I'm not sure that I'd want to have my own label, especially not for a few years, but I would love to be appointed the creative director of a fashion house one day. That's the ultimate goal.