It looks like the stars are aligning for 23-year-old London-based fashion wunderkind Christian Cowan. His namesake designs, which are known for their gleefully over-the-top aesthetic paired with classic silhouettes, have drawn praise for deftly mixing downtown-style irreverence (see: his wildly popular "Selfie Hat" and the marijuana-leaf crop top from his fall/ winter 2017 collection; all of his fishnet bodysuits), high-end fantasy and, of course, no shortage of glitter. Citing zeitgeisty phenoms like Courtney Stodden and Paris Hilton as inspiration (Paris stormed the catwalk in Cowan's dazzling final look, tiara and all, for his debut New York Fashion Week runway show last winter), the London College of Fashion graduate has also caught the eyes of superstars like Lady Gaga, Miley Cyrus and Halsey, to name but a few from his growing list of high-wattage celebrity clientele.

We caught up with Cowan on the phone in London -- shortly after his shoot at his family estate, Longstowe Hall, during what he says was a full-circle homage to his childhood stomping grounds -- to talk about how he got his start, the challenges of running a fast-growing fashion empire, and his larger-than-life inspirations.
We know that you've turned out iconic looks for many a celeb, Lady Gaga being a mainstay client of yours. How did that relationship come about?
She was the first person to wear my stuff. When I was 18, I did a crap presentation of four outfits, all literally hewn together with superglue. I threw it together with friends. One of the outfits was a pink glitter suit that I ended up customizing for her. I'll always have a strong emotional connection to the pink glitter suit. The original one I made has my handwriting from age 18 all over it. This amazing friend of mine was doing the Instagram account for Dazed and Confused, and I guess Lady Gaga's team emailed me the next day after seeing the pictures. So you know once the Haus [of Gaga] gets involved, it's a good sign. Since then, she's been such a great supporter of my career.
It makes sense that you end up working with lots of singers who are known for strong visual performances. For me, your clothes evoke the best of pop music, with hints of late-'90s, early-aughts nostalgia. Would you say there is a musical quality to what you do?
Music is such a huge part of it! The way I grew up was very musically oriented. I was obsessed with music videos. The first two music videos that really blew my mind were Lady Gaga's "Telephone" and "Alejandro." I probably watched "Alejandro" a thousand times; I was between 14 and 16, and I was so obsessed. I also loved Michael Jackson, who definitely made the music video format relevant. "Black or White" was killer. But I said Gaga first, because she's like my generation's Michael. For a whole age group, she defined that entire avant-garde style that everyone loves now, and it's inspiring that everything with her art is about constant reinvention.
I also grew up on Tina Turner, George Michael and Whitney Houston. My mum used to have to turn my music down when I was asleep. I grew up in a big family -- one of 11 kids, and several of us were into music. My brother's bedroom was by mine, and he played Snoop Dogg all the time. And now sometimes it's like I can't work in my studio without listening to Snoop Dogg or some other album loads.
I read an interview you did where you said that another creative and personal inspiration was women who, in several ways, seem larger-than-life, but have also cultivated a loyal following by being true to who they are.
I'm glad you mention that. I love any woman that does and says whatever the fuck they want. Someone like Paris Hilton, who's a huge influence, is totally amazing -- some people just get it, you know? Literally texted her right away [about being in my first show] and she got back to me and was like, "Yes, loves it." She's so down. She's seen pop culture really grow, so she defines a certain bracket of what's good and cool and what isn't. I mean, she traveled through a blizzard to come to my show in New York! My parents couldn't get in from London, but Paris could.
And I love the Courtney Stoddens of the world, too. In my mind, she's someone who really embraces the fantasy she is creating. People like her take the image thing so much further than the average celebrity, but actually I find it very fascinating and interesting. Someone like Paris understood [the value of] holding and keeping true to a brand image. The way I see it: Life is so boring, why not be larger than life?
People like them get criticized for being somehow anti-feminist, but in my mind, I think what feminism really is, is being whatever you want to be. You can be a high-powered lawyer in pantsuits, if that's what you want, but if your dream is to wear flashy clothes -- whatever you are and identify as, be happy in it. And I think that's the kind of diversity I celebrate in my designs. I think my clothes could be perceived as sexualizing women, sure, but I'm never trying to make a woman a sexual object; it's about the woman herself.
The show I did last fall was all about freedom. I mentioned George Michael earlier, and Paris actually marched to his song "Freedom" -- my friends the Misshapes did a remix to it -- and it felt like a fitting tribute to everything he stood for and his legacy since passing. Even my Caitlyn Jenner dress -- she's controversial, but that's a conversation that puts the trans experience in front of people who otherwise know nothing about what it may be like.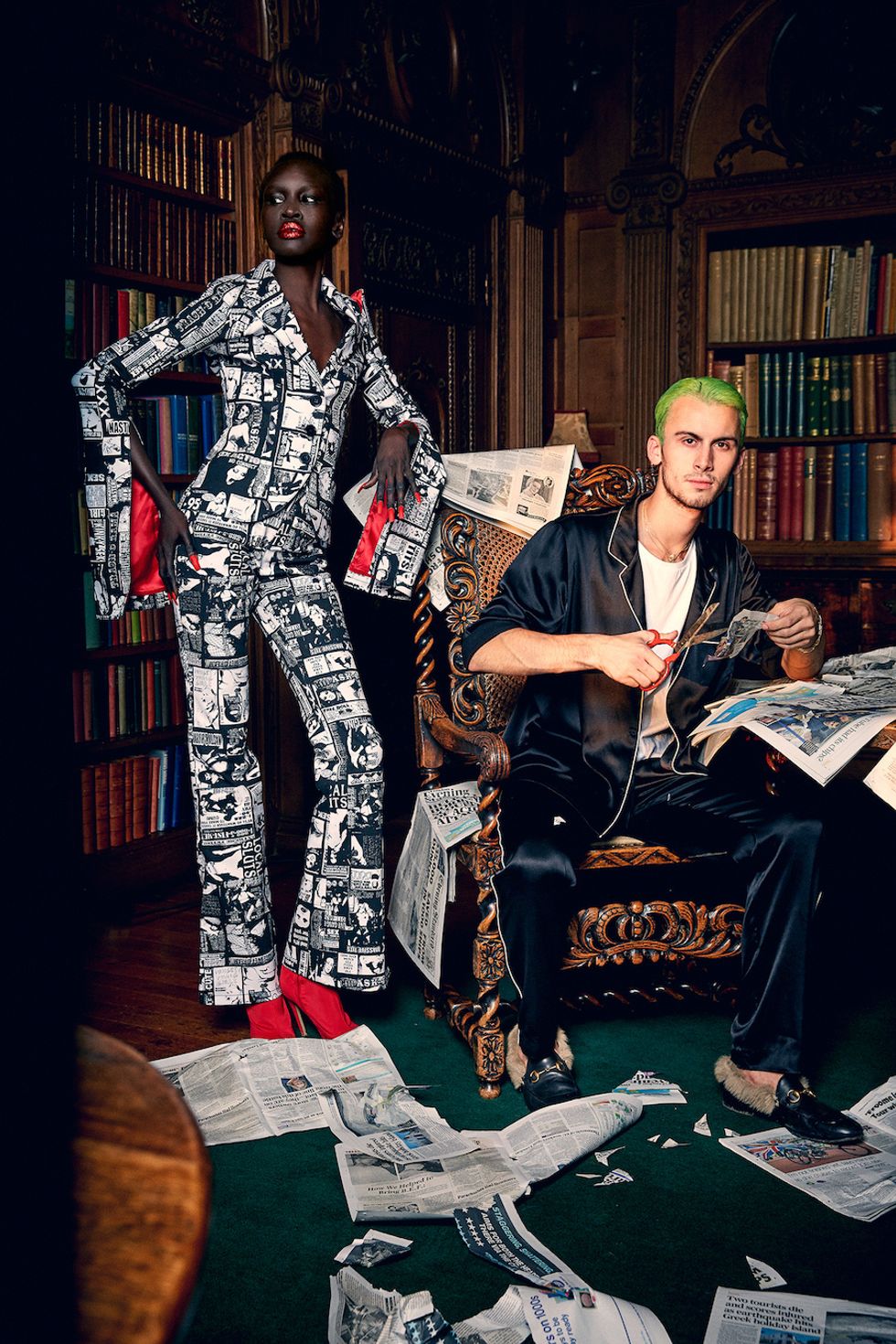 Alek Wek wears a full look by Christian Cowan, shoes by Public Desire
What are some key challenges you've run into when it comes to running such a fast-growing business?
It really is such a learning curve. I mean, like I said before, when I first started I was gluing things together. Now, the demand is so much higher. I get so many requests. Right now, it's me and a bunch of interns, and I'm about to hire my first full-time assistant. I'm definitely more of a creative type than a business executive. I started out knowing I wanted to develop my brand as the most impatient person ever. I'm always working, I'm restless when I'm not working. School gave me like three grace years about not having to worry about the business side of things. So that was freeing in a way, because I really allowed my artistic presence to grow; now I know what things work and don't work. For example, I'm no longer gluing feathers onto things; my techniques have become more refined the more my client list has grown.
But I think one thing for me is that I've also always known what I've wanted. I always knew I had to either do the whole thing, arranging every aspect of the creative, design and business process, or I'm not involved at all. I'm lucky enough to have interns who make a great team for me. But they have to keep me involved in every step of the way. No one does it exactly the way I want, and my mind changes all the time. Plus, after all, at the end of the day, it's my name going on the finished product.
Do you feel that lessons learned in school adequately prepared you for the real world of fashion?
I'll say that it was definitely a tough balance, trying to do both [my brand and school] at the same time. But personally, I don't think university has much purpose in fashion design. That was a lesson learned. It definitely taught me how to manage a huge workload. Even in school I had interns who helped me with various things.
But, you know, I dealt with so many annoying things, like teachers accusing me of not doing all my work even though I was basically not sleeping. They'd make jokes about me. I found university is not something creative people benefit from. They should be there to facilitate your creating at the highest level and not changing your ideas to better suit them.
Sometimes a teacher will change a student's entire color palette, and it's like telling a painter to change their entire composition. I had friends making the most amazing creative ideas. But they'd be shot down because the clothing ideas they had weren't "wearable." So in that respect, I learned what it meant to deal with negative opinions of your work -- a very painful but valuable lesson for anyone hoping to strike out in the fashion business. But to me, it's so foolish to not be taught how to succeed as a designer in the real world — no logistics or business. You're set up to go into fashion houses, which works for a lot of people. But if you really want to do your own thing, it's not really encouraged. But that's just my opinion.
I left fashion university feeling less creative than I did when I came in. I strongly feel like young fashion designers should do apprenticeships rather than school, if they want valuable real-world experience. One of my dreams in life is to open my own fashion university -- and it will teach all the things I felt I had to learn on my own.
How do you feel that being young has both helped advance your career in fashion and hindered you? Has being youthful aided your creative process?
I think sometimes being younger has helped me in many ways. In the fashion community, there is a youth obsession. With my age, the place I've struggled the most is in my workplace. Often my interns are older than me, and sometimes they might find out I'm younger and their professionalism will vanish. I've learned to try and keep that a bit of a secret when I'm working with them and not let it dictate my level of professionalism or knowledge.
Another point about being young that's helped is it's allowed me to keep my finger on the pulse. I had a very active clubbing life [when I was younger] in London. Like so many other creatives, the club scene helped me to be really open. It helps me to continue to be open. The Internet was such a huge part of me growing up; that's not going anywhere. The same is true for pop culture -- it'll always be reflective of the current moment.
I've never been able to pinpoint where my inspiration comes from: One day it's from someone interesting I meet, or the mood of a song, or even a bug. I'd say that I aim to create a mood in everything. Generally, a celebratory mood is always the key. It's also good to have people around who make you see beyond what you would normally see, friends who are dancers, those who are in medicine. I've always sought to make people happy with my clothes, so it's nice when people smile or laugh when seeing my stuff.
I like to think my work can help people at a time we're in right now -- with many people feeling under attack, rightfully worried and scared. I want to help take people away from there, to reinforce their ideas of freedom and general happiness, give everyone something to smile about.
What's next for you?
I'm working on my next collection for New York Fashion Week. [Ed. note: The collection debuts today!] Patti Wilson is styling that collection. It will feature more glitter, but it's all being executed at a much higher level, and the fabrication is to die for. I'm so proud of it.
And I'm working on a dog line with a brand called Moshiqa that all of Gaga's dogs wear. I'm obsessed with dogs. I'm doing some TV things. I'm trying to come back to New York for fashion week. I've been in London, making all the stuff for this pop-culture world. It's nice to get into it. I want to make it in Tokyo; my Selfie Hat was huge over there, which gives me a feeling that some of my other stuff will do well out there.
Paris [Couture Week] is on the list, but I haven't thought about it so much because I don't want to approach couture until I get to do it the way I want to do, which requires a long-term budget. I'd ideally want to make my life in New York, LA and London. Someday I fully intend on having three homes.
I would love to dress men, different kinds from every walk of life, the second I get a big budget. The only man I've ever dressed is Olly from the band Years and Years -- he's a dream. I'd love to dress Elton John, Marilyn Manson and, of course, Snoop Dogg.
The nice thing for me is that I do something I genuinely love to do. I got a lot of the clubbing out of my system at 16, so working on my art is its own kind of rush for me. But other than all of that, I'm a lot like an old man. I mean, I literally just sat down and had a hot chocolate not long ago. And tomorrow, I'll probably take a few naps, if I'm lucky.
Text by Michael Love Michael
Photography by Ellen von Unwerth
Styling by Adele Cany and Christian Cowan
Clothing by Christian Cowan
Photo Assistants: Stan Rey Grange and Kadaré Aliu
Digital Operator: Jerome Vivet
Model: Alek Wek at IMG
Styling Assistants: Shade Huntley and Diana Ferreira
Prop Stylist: Aidan Zamiri
Hair styling by Daniel Martin
Hair Assistant: Blake Henderson
Makeup by Kristina Vidic
Manicurist: Ami Streets
Producer: Emma Turpin
Designer Assistants: Claudia Higgins, Natthias Mitchinson, and Lydia Bailey
Click here to see more of Christian Cowan's designs in our Alek Wek Cover story!