Virgil Abloh is fashion's most talked-about multitasker. The Illinois native has worn so many hats that we can run out of hyphens describing him. Engineer. Architect. DJ. Designer. Ikea collaborator. Watch the Throne art director. Kanye West's creative director. He's done it all. Recently, his line Off-White was ranked as the third hottest brand in fashion by Business of Fashion and Lyst, behind only designer megabrands Balenciaga and Gucci. Not bad for a line that was launched three years ago. We caught up with Abloh to talk about what and who (Puff Daddy!) has inspired him along the way.
Mickey Boardman: Randomly to start with, you were born in Rockford, Illinois?
Virgil Abloh: Yeah.
Mickey Boardman: I'm from Hanover Park, Illinois, which is not far from there, and actually I used to go to Rockford all the time. My dad used to make me go as a kid to Rockford Speedway to see car races.
Virgil Abloh: [Laughs] No way!
Mickey Boardman: Who knew.
Virgil Abloh: Not many people in the world know about Rockford Speedway.
Mickey Boardman: I can think of at least two: You and me, but I don't know. My dad was a big car race fan and we would always stop at the Union 76 truck stop on the way home for dinner, where everyone except me got biscuits and gravy. So anyway, something that I find very interesting is that you're in art, you studied architecture, civil engineering, so many things that people don't always necessarily associate with fashion. Do you consider yourself a fashion person, or do you think of yourself as someone who has a lot of different identities?
Virgil Abloh: I think that the first sort of misstep in modern design is to limit and classify yourself. I'm up for any sort of terminology to describe what I do, but [I] want to be creative and find ways that creativity can make a meaningful contribution to culture.
Mickey Boardman: Do you consider civil engineering creative?
Virgil Abloh: Yeah. If you removed every classification of a profession, then it becomes about what's your type of character. Some people are more analytical; for some people, it's about problem solving. I only know that my aim is creative solutions. When I was working in engineering, I was always thinking of things with a creative print. Civil engineering oddly enough even though it sounds technical is an art form. It sounds very practical, but there's more than one solution to how to build a row with advancements in technology. What it taught me was how to be creative in something that is practical.
Mickey Boardman: I think many people don't even really know what civil engineering is.
Virgil Abloh: [Laughs] Yeah, you know it's funny, it's just a large terminology. But if you think about the infrastructure of a city, anything that's constructed basically from raw land into something that is inhabitable falls within the realm of engineering, civil engineering. I had a focus in tall buildings.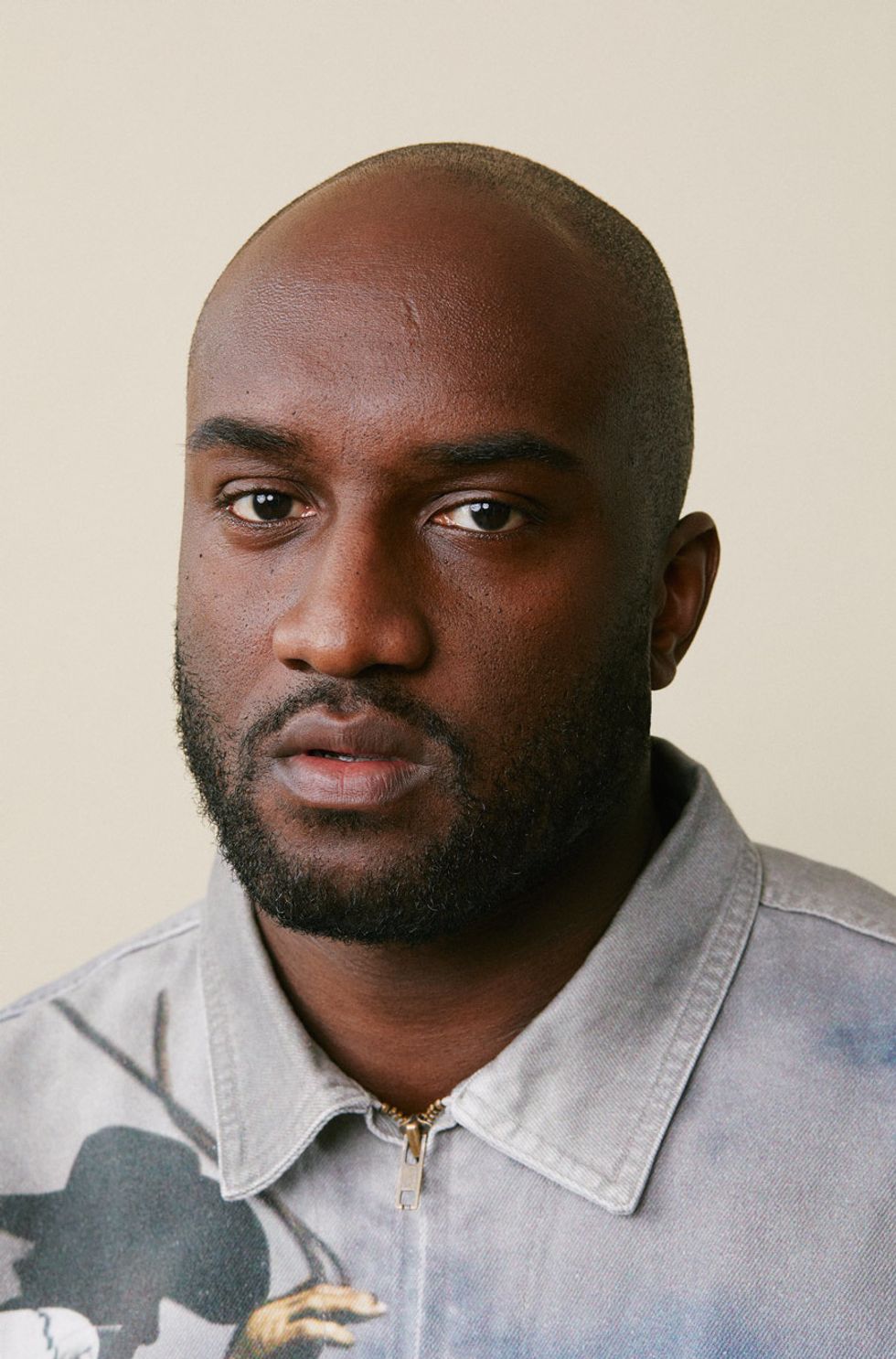 Mickey Boardman: I love infrastructure. Do you have favorite buildings in Chicago — or any place in general — that inspire you?

Virgil Abloh: Yeah, a lot. Town Hall at Illinois Institute of Technology, where I studied architecture. Farnsworth House in Plano, Illinois is my favorite building on planet earth.
Mickey Boardman: So how did you go from architecture into being a DJ?
Virgil Abloh: I went to school in Madison, Wisconsin. It was perfect — when you're young and you move out of your parents' house and your group of friends becomes your network. My college roommate was a kid named Gabriel Stulman, and we were both super inspired by everything related to culture. We had a subscription to GQ, we were living like that lifestyle, and there was this issue of Puff Daddy and we were like, "This is the motivation — we want to live the best lifestyle possible."
Mickey Boardman: And that was like Ciroc Vodka and girls in bikinis for you?
Virgil Abloh: No, it was just like he is self-made and living... he's not subscribing to any limits, it's lifestyle first. From that moment on, we were going to the farmers' market, doing dinner parties. I was DJing in high school and I was still DJing in college. He worked at this fancy wine bar that we convinced to let us do a hip-hop night in. I said then even though I was in engineering that I was going to spend half of my time on something practical but the other half doing this party and making a night and a brand of heavy hip-hop in college. So him and I were super focused and had this punk spirit like, "Can't stop, won't stop," and we basically started this huge hip-hop night that was defining for nightlife in college. I would DJ, he would bartend. We would do it every Wednesday. We just fulfilled the need, but then we also had shoeboxes full of cash. We would drive to Chicago to Michigan Avenue and spend it at the Louis Vuitton store, or Kenneth Cole at the time.
Mickey Boardman: Remember when Kenneth Cole had that moment? Kenneth Cole was mentioned in that song by Klymaxx — it was like, "I had my blue Versace skirt and my Kenneth Cole shoes."
Virgil Abloh: Yeah! Kenneth Cole shoes. That's like the date exactly when it was. I'm surprised, you know, [Gabriel] now owns like seven restaurants in the West Village. We're still inspired by that moment that we had in college. It was totally doing everything at the same time: DJing, architecture and school. Same thing that I'm doing now.
Mickey Boardman: Do you consider yourself a workaholic?
Virgil Abloh: For sure. I don't distinguish work with living, if that makes more sense. Which might be a sign of a super workaholic.
Mickey Boardman: Looking at you now, although what you describe in Madison going to Louis Vuitton on Michigan Avenue was pretty Puff Daddy already, do you feel like you've achieved that goal? I mean, now you're in GQ. You are the lifestyle that kids are looking up to.
Virgil Abloh: Yeah, it's weird. A person that has my personality doesn't rate achievements and success in a way, which can also be another sign of a workaholic. My motivation isn't to get towards an achievement. It is sort of just to have a dialogue with myself and think of ideas, execute ideas and do more ideas. Like Tom Sachs says, "The reward for good work is more work," and that's what I'm into. To say that some level of success or achievement would mean to stop doing what I'm doing doesn't exist.
Mickey Boardman: Do you feel a responsibility or obligation or desire to teach your followers or fans or young people how to find success and do lots of things as you have?
Virgil Abloh: Yeah, it's a part of my ego. It's an exchange. If you are going to ask for people's attention, you have to give something in return, and I want people's attention in a way. I would say that that's the only failure, to put something out and no one notices if that's what the ambition is. I like the fact that [by] doing work you can be inspiring for other people to do work and create new things.
Mickey Boardman: This Nike collaboration that you just did, it's interesting how you mix Air Jordans with different models and you seem to break rules that would maybe be difficult for a big company. Was Nike easy with doing that kind of thing, or was it a struggle?
Virgil Abloh: It was a beautiful relationship because it was harmonious from both sides. There was an idea that sort of progressed the brand forward but at the same time underlined what the brand stands for. Innovation, athletic performance, but also remain so iconic and represent a certain style and cultural attachment. We both came to the table and aligned, and I think when that happened the product sort of resonates at a different level. That was an example of a good collaborative process.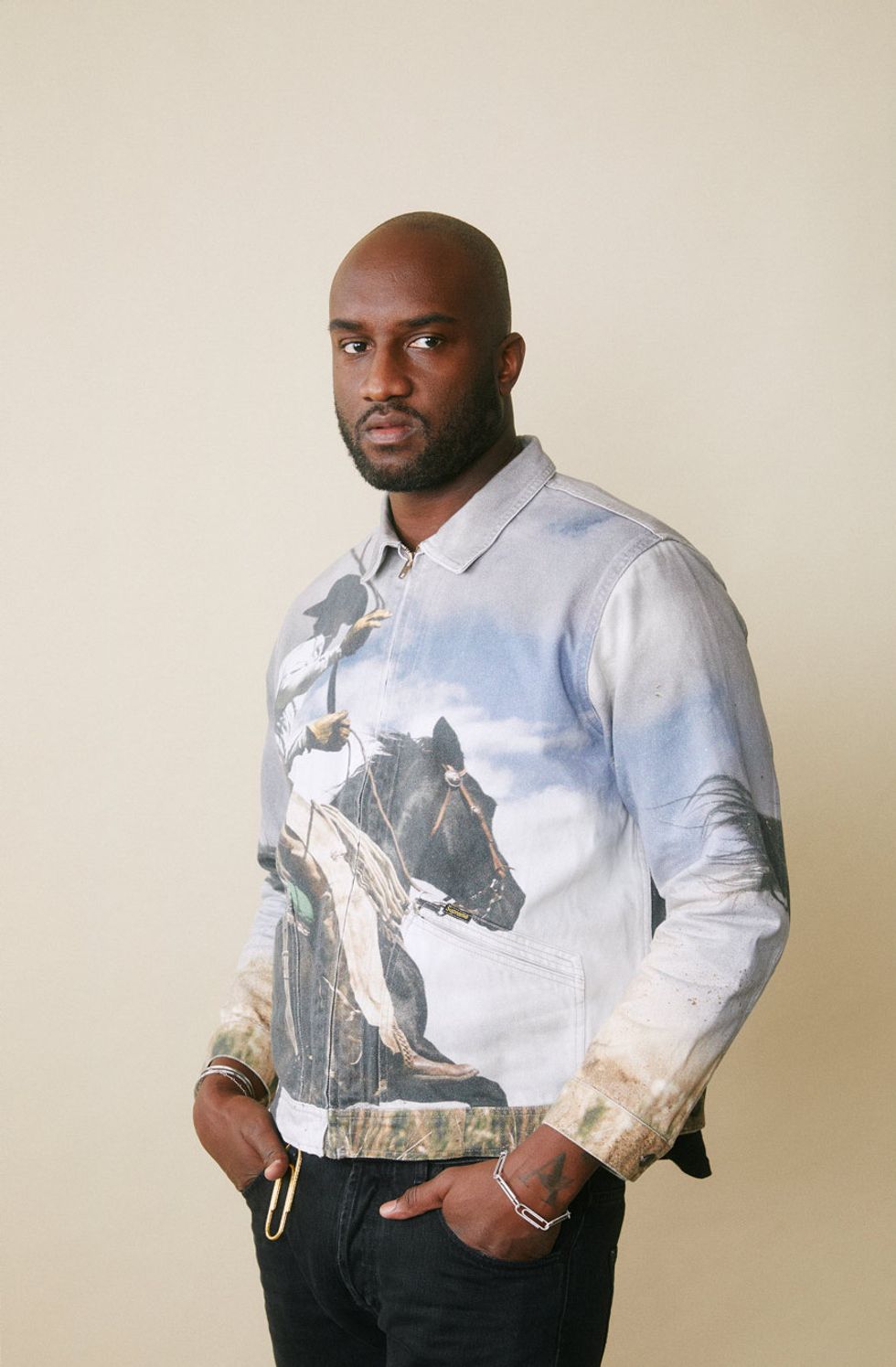 Mickey Boardman: What do you see your future looking like?

Virgil Abloh: My future is probably going to be more work. [Laughs] As long as I can be creative, then I'm fulfilled. I'm not positive exactly what the future holds, but I'm interested in staying aggressively creative.
Mickey Boardman: Have you ever done a project that you felt was a failure?
Virgil Abloh: Yeah, a ton of them. But again, failure and success, they're just measured by the gratification of seeing something released, and then going on to the next. I'm more interested in an overall body of work than whether or not each individual project is a success or failure, just because I feel like you can't. One of the philosophies that I abide by is that time is a huge factor in everything. What might seem like a success or failure now, in 10, 20, 30 years could be the complete opposite. I don't really have a preoccupation with what is good or not. My goal is, if it's valid enough, release it and go on to make more.
Mickey Boardman: What sign of the zodiac are you?
Virgil Abloh: Libra.
Mickey Boardman: Me too! Happy birthday.
Virgil Abloh: Likewise.
Mickey Boardman: It was very interesting when there were rumors about you taking over Givenchy. Would you be into something like that — taking over a giant house?
Virgil Abloh: My ambition is always open and wide. Every opportunity that I'm asked, large or small, I think about it and I think of the position that that story is worth and how is it interesting to me and what ideas I have to contribute to that.
Mickey Boardman: Did you ever tell Puffy about how he inspired you and your roommate in college?
Virgil Abloh: [Laughs] Yeah, I have.
Mickey Boardman: What did he say?
Virgil Abloh: He was like, "That's awesome." I feel connected in a way. I think about him achieving his goal, inspiring many. If he didn't achieve his goal, a young person wouldn't have something or someone to look up to. The one thing that the world could use is more role models.
Mickey Boardman: Do you consider yourself a role model?
Virgil Abloh: That's not up to me — you would have to ask somebody else. If my objective is only to be creative, with that comes other things, but that's a question for somebody else.
Mickey Boardman: Ok, I'll ask Puffy.
Photography: Eric T. White
Jacket: Supreme, Jeans: Off-White, Jewelry: Cartier, Chrome Hearts and Off-White "Office Supplies" Collection c/o Jacob & Co