The first trans femme actor to originate a principal role on Broadway, Peppermint is currently lighting up the stage in Head Over Heels, which uses the Go-Go's girl-group music to tell the story — based on a 16th Century poem — of an oracle who descends upon a royal family to give them some very colorful warnings. This is definitely the first jukebox musical in iambic pentameter, not to mention the fact that it also includes a drag queen, lesbianism, and Peppermint as the non-binary oracle full of hand gestures and wacky pronouncements like "Thou better workest!" As a hard-working performer on the New York scene for years, Peppermint started transitioning in 2012, and became the first runner-up on season nine of RuPaul's Drag Race. I talked to her for an update on her fabulosity.
Congrats, Peppermint. What reactions are you getting to Head Over Heels?
We haven't had a lot of reviewers that have seemed to get it. Your [review] was one of the ones that I really appreciated. If there happened to be someone in the audience who hated it, they wouldn't let me know. But all the people I've seen after the show seem to give a really great reception, and the overriding sentiment is the surprise element. They didn't know what to expect and they liked it. It exceeded expectations, in a way. Some are just coming for the music, others are Broadway aficionados that love anything onstage, and then there's people who are really queer-centric or queer-minded or are queer themselves and relate to a lot of the characters and stories.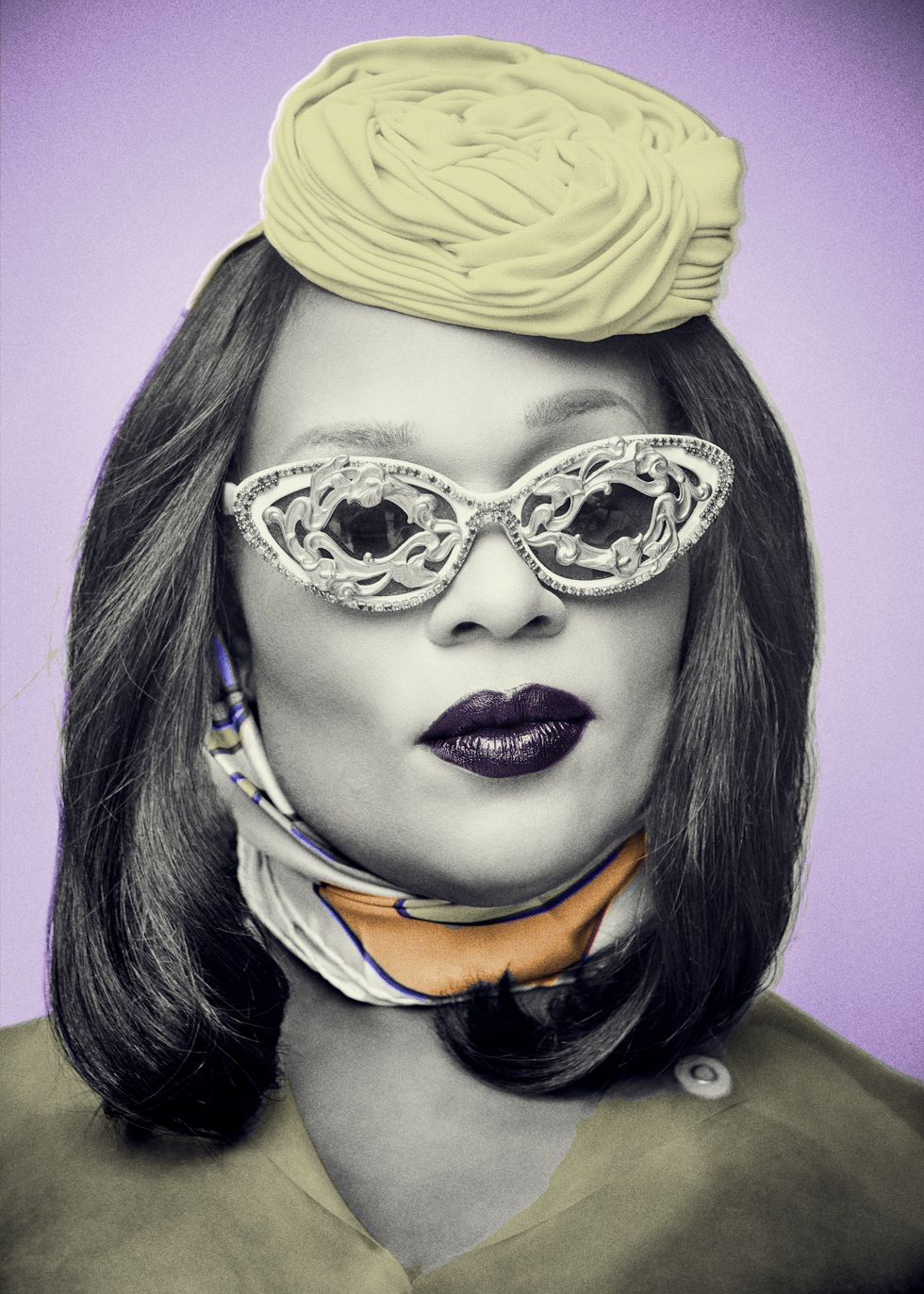 Sunglasses: Mercura NYC, Dress: Tableaux Vivants, Hat & Scarf: Vintage (Couture Du Jour NYC)
Would you like to continue in the direction of theater?
I'm an addict, my drug of choice being performing, so probably yes. I'm hoping I'll be able to go down like Aretha as a legend. Of course all the while lip-synching to Aretha. [Laughs]
Oh, you're a much better singer than she was.
Don't tell anyone. I can do Aretha better than Aretha could. [We laugh]. I love the new kind of realm of performing. It's really exciting after years of doing my thing in the clubs — even after Drag Race, still performing mostly in bars and clubs and some bigger venues — getting a chance to parlay that into a newer field for me. I'm kind of a renegade. Maybe that's the streak of drag blood that's still coursing through my veins. Broadway has so much to offer, just like film and television and the music industry had a seemingly earth shattering change of course over the past decade. Entertainment has been revolutionized by technology. I'm waiting for Broadway to have a shift — not necessarily by technology alone — but Broadway is a shining monument to tradition and there's a lot of things about tradition that don't really jive with me. It's a shame that these stories are so rare, but the powers-that-be maybe don't think they're appealing or relatable, and a show like Head Over Heels is proving that's not true. Broadway is due for an update, and I'm here to usher that in.
"I'm kind of a renegade. Maybe that's the streak of drag blood that's still coursing through my veins."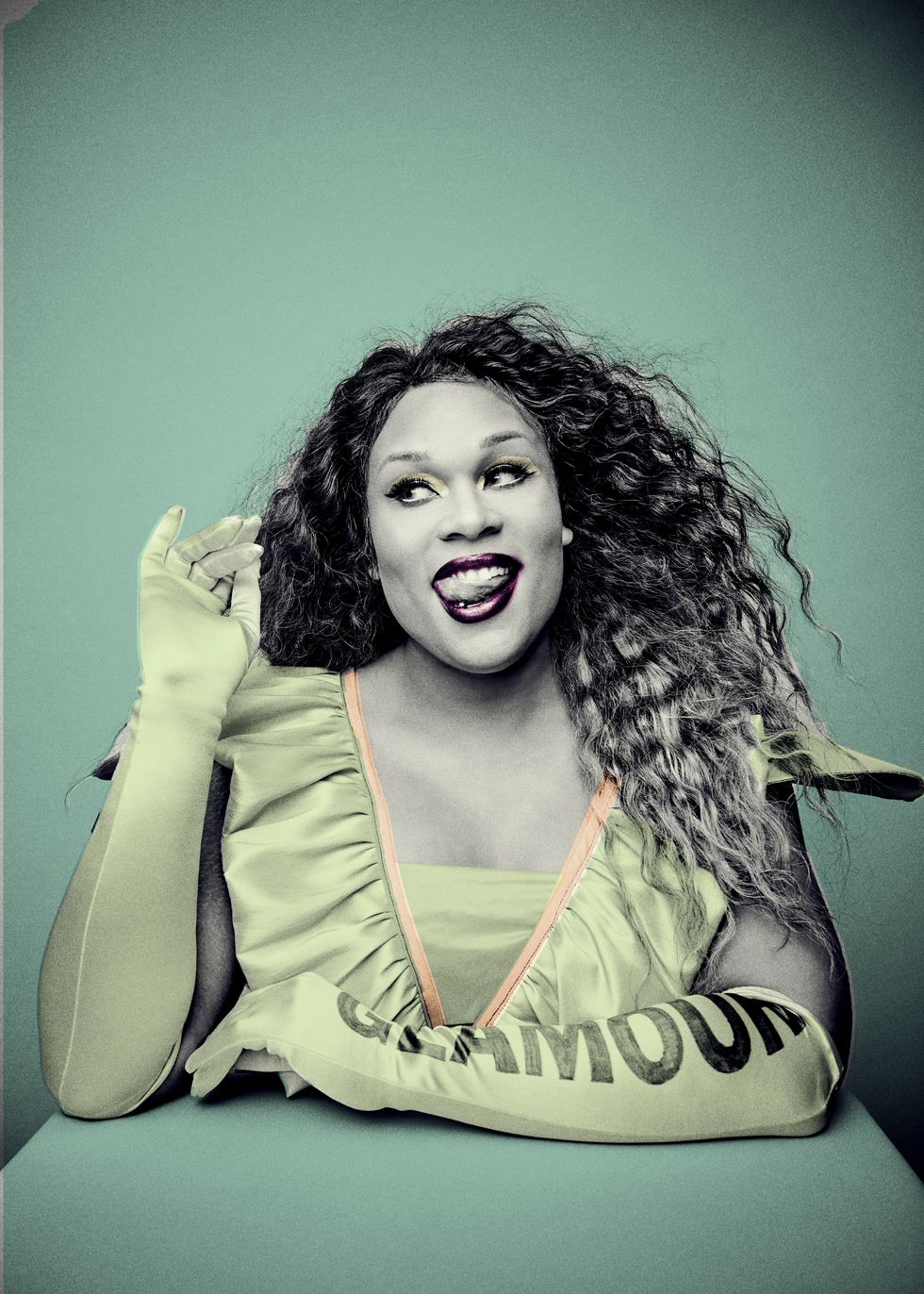 Dress: Cristobal Eolo, Gloves: Wing + Weft
You certainly are! What's the upside of playing in bars all these years?
I love playing in nightlife because of the freedom it provides. Freedom to perform whatever material I want, the way I want, as late or as early as I want. But it's also a very lackadaisical approach to the art and professionalism side of things, so a lot of it suffers. Getting the gaping hole in the stage fixed doesn't seem like an emergency when the talented drag queens have made a thing about jumping over it in their heels. If you make a joke about it, why fix that? On Broadway, things are very different. Things are very by the book.
Years ago, you did a pyrotechnical number at Splash for the Glam Awards.
The highlight of my life. All those dancers. Now that I think about it, I probably risked my life and your life, but that's what we want — that sense of danger when it comes to art.
"Broadway is due for an update, and I'm here to usher that in."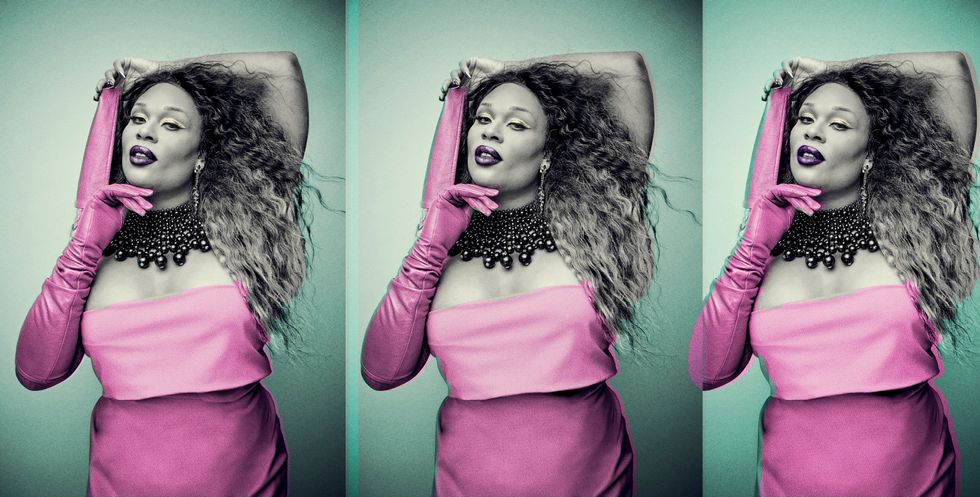 Necklace & Earrings: Sarara Couture Jewelry, Gloves: Wing + Weft, Dress: Stylist's Own
Speak for yourself! Was it pre-approved?
It was by the book, whatever that means for a gay seedy nightlife bar which probably had other problems to deal with.
So you were authorized to kill me?
By many. Intervention. [We laugh]
PAPER shot some old-Hollywood style photos of you.
It was really colorful and a fun shoot. It's a departure from what I would normally pick up and do, so having hair and makeup there and a stylist, it's kind of new for me. Usually I just pack something from under the bed — an old, glittery frock.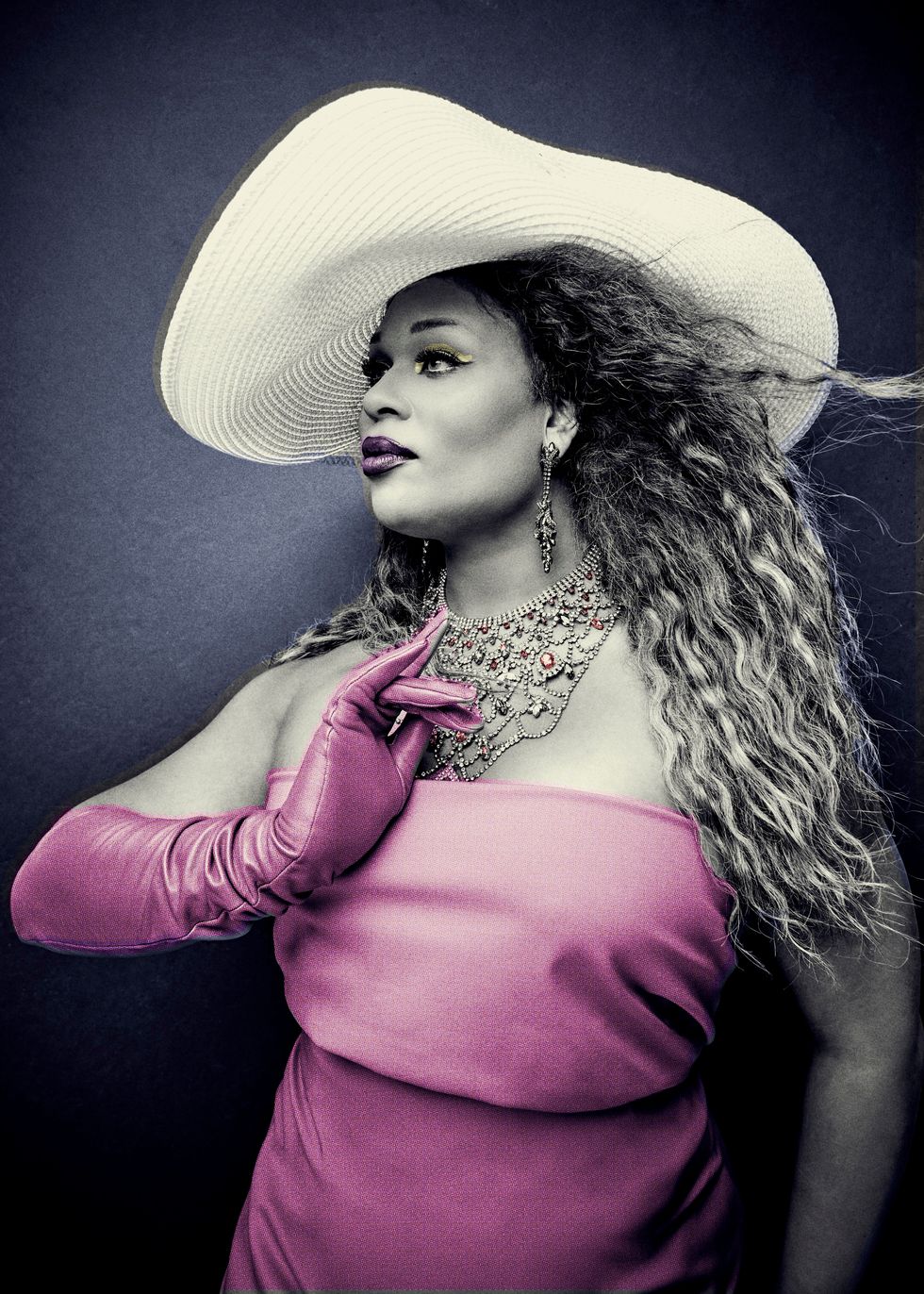 Hat: Eric Javits, Necklace & Earrings: Sarara Couture Jewelry, Gloves: Wing + Weft, Dress: Stylist's Own
As for the new: What do you think of the political climate for LGBTQ people in America today?
It's promising, not for what's happening, but for what will happen. I believe inevitably that we're gonna topple the patriarchy in art — in Head Over Heels — and quite literally in the administration. The women are coming, change is coming again, and I'm hopeful that people with more progressive ideas who are supportive of the queer community are gonna become more engaged.
We'll get through it together.
If not, I'll invite invite everyone over for another pyrotechnics show. Uncertified. [Laughs]
Photography: Andrew Boyle
Stylist: Maria Meza
Hair: Paul Warren
Makeup: Danielle Terry
Featured Photo Credits: Hat: Eric Javits, Choker: Tableaux Vivants, Gloves: Wing + Weft, Jumpsuit: Vintage (Couture Du Jour NYC)