The menswear season just wrapped up in Paris, a city known primarily for blockbuster, big-budget shows staged by the likes of Dior and Louis Vuitton. But as the names on the schedule demonstrated, it continues to be a hotbed for the new vanguard of young designers.
Still, in an over-saturated Fashion Week calendar (74 shows and presentations crammed into six days), what does it take for an emerging brand to cut through the noise and create a buzz? And why does the majority of young talent opt to show in a week that is considered subordinate to the much larger women's week in terms of celebrity and press attendance?
I can empathize with the challenges that emerging brands face. I co-founded Ninamounah in 2017 from a tiny garage in Amsterdam to the runway of the official Paris Fashion Week. It's been one hell of a ride building up a company from the ground up without investors or generational wealth and navigating the often traditional fashion establishment. We don't talk enough about the struggles that come with running an independent brand, which seems to be more and more challenging and is especially difficult now in a looming recession.
The Fédération de la Haute Couture et de la Mode, the institute behind the men's, women's and couture weeks in Paris, was created in 1973. Its origins trace back to 1868 when the Chambre Syndicale de la Haute Couture Parisienne, an elite selection committee presiding over what may be called true couture, was founded. The system of presenting the newest fashions twice a year was implemented in the 17th century by Louis XIV as a means to cement France as the epicenter of luxury textile and fashion production.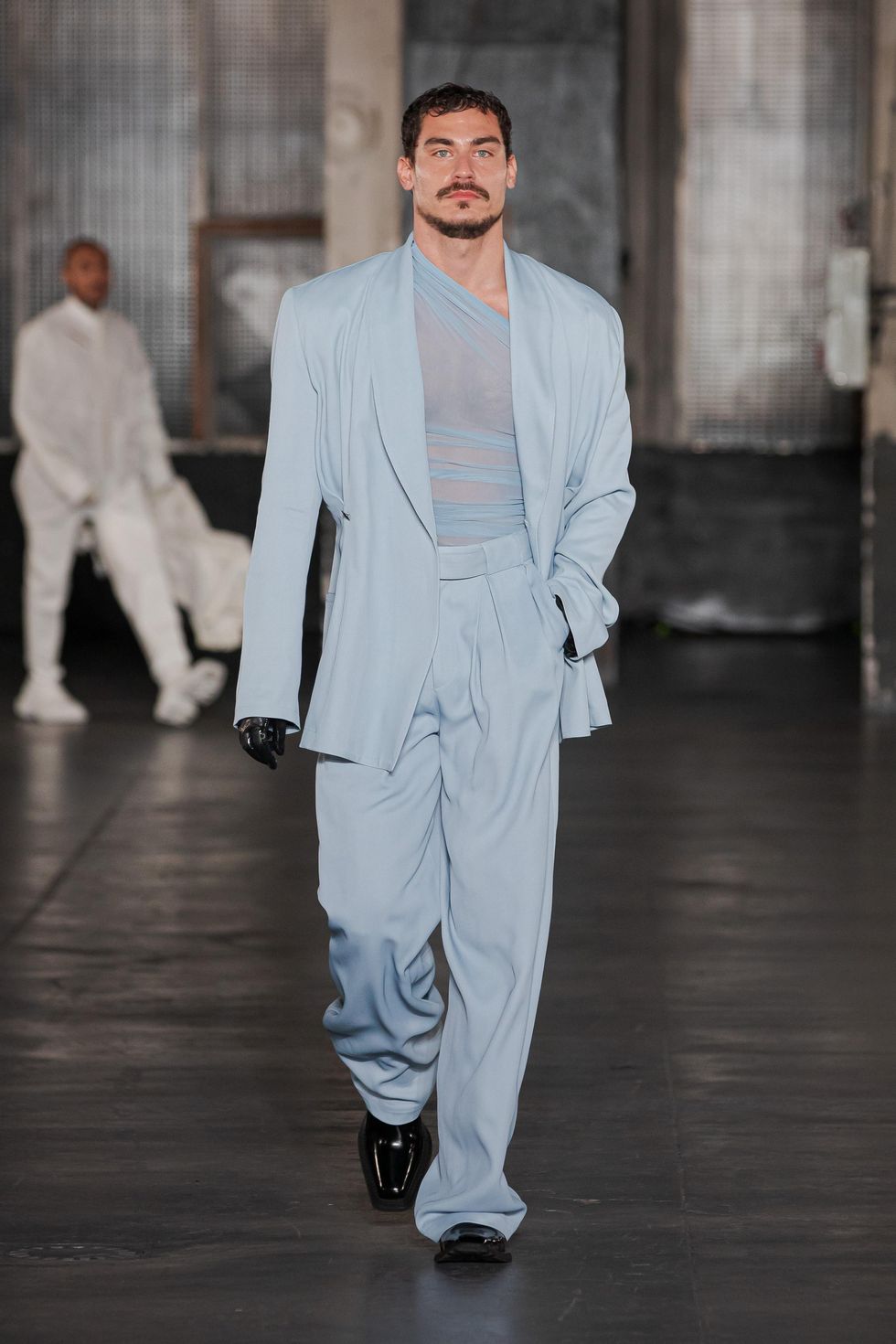 LGN Louis Gabriel Nouchi Fall 2023 runway show during Paris Fashion Week Men's (Photo courtesy of LGN)
In 2023 much has changed. Big name brands stage elaborate runway spectacles attended by the global elite and live-streamed to millions. Emerging talent from all over the world flock to the French capital to try to get a foot in the door. Yet with platforms such as Tiktok and Instagram as well as retailers and consumers operating in new ways, designers can present their work all year round whilst staying true to their identity and bypassing the pressures of the fashion ecosystem. The biggest challenge for the FHCM, an institute often described as archaic, is to remain relevant in our current age.
While the major houses attract the majority of traffic both on- and offline, young labels are pivotal in keeping Paris Fashion Week relevant and adapted to the current zeitgeist. Serge Carreira, the head of the Emerging Brands Initiative at the FHCM, goes into detail on how they nurture the new wave of designers. First, the selection procedure for the calendar is very strict. An anonymous committee of buyers, journalists and federation members goes over hundreds of applications each year. According to Belgian designer and Dries van Noten alum Meryll Rogge, who held her second official presentation last September, they also consider the brand's viability from a business perspective.
''I'm interested in how these young brands with hardly any retailers do it," she says. "And then the answer that comes back to me is 'Well they don't pay the bills' so people take a gamble or something and hope that it's gonna boost the sales''. Rogge's approach is more calculated — a show is definitely something that she wants to do in the future, but only when she has enough cash saved up to do it risk-free.
The FHCM offers some financial support and allows brands to present their new collections in the Palais de Tokyo's Sphere space. ''The idea is we provide a space, let's say an ecosystem, for brands to thrive in," Carreira explains. When asked what sets the men's week apart from its bigger sister, he replies that it's more experimental and innovative, with a higher concentration of young talent. But why is that?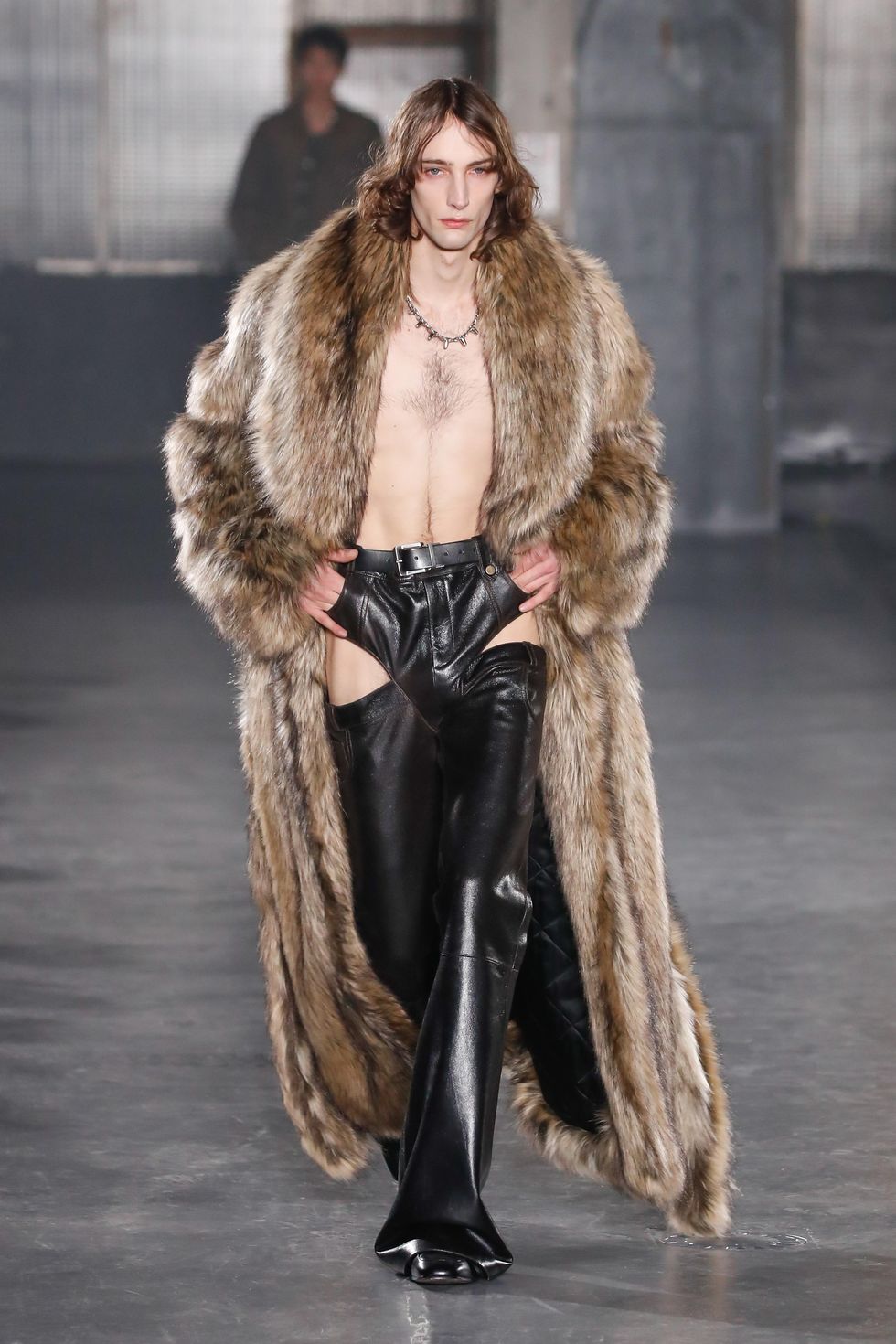 EGONLAB Fall 2023 runway show during Paris Fashion Week Men's (Photo courtesy of EGONLAB)
Newcomer Jeanne Friot, who describes her brand as political and genderless, reflects on why she specifically chose the men's week for her second outing. While she, just like many of the designers that have emerged recently, doesn't design with a specific gender in mind, she gravitates towards the men's shows since it attracts a broader range of buyers. It might sound like a paradox, but the men's weeks are the only time both men's and women's buyers congregate in Paris to decide what can be found in stores next season.
Egonlab and Louis Gabriel Nouchi are alike in the sense that they question the binary and reject traditional gender norms in their designs. ''What is menswear even?" asks Nouchi. "We think it's important to stand by our values of inclusivity and love.'' While their respective communities usually embrace this approach, buyers often still box collections into either men's or womenswear.
Cobalt Agency's Michael Krekels says that the major retailers and traditional brands operate in six seasons a year: men's main and women's pre-season (bought in January and June) and women's main (bought in March and September). This system automatically forces labels with an all-gender approach onto the menswear schedule as they would otherwise miss the chance to connect with certain buyers and in turn miss out on opportunities to grow their businesses.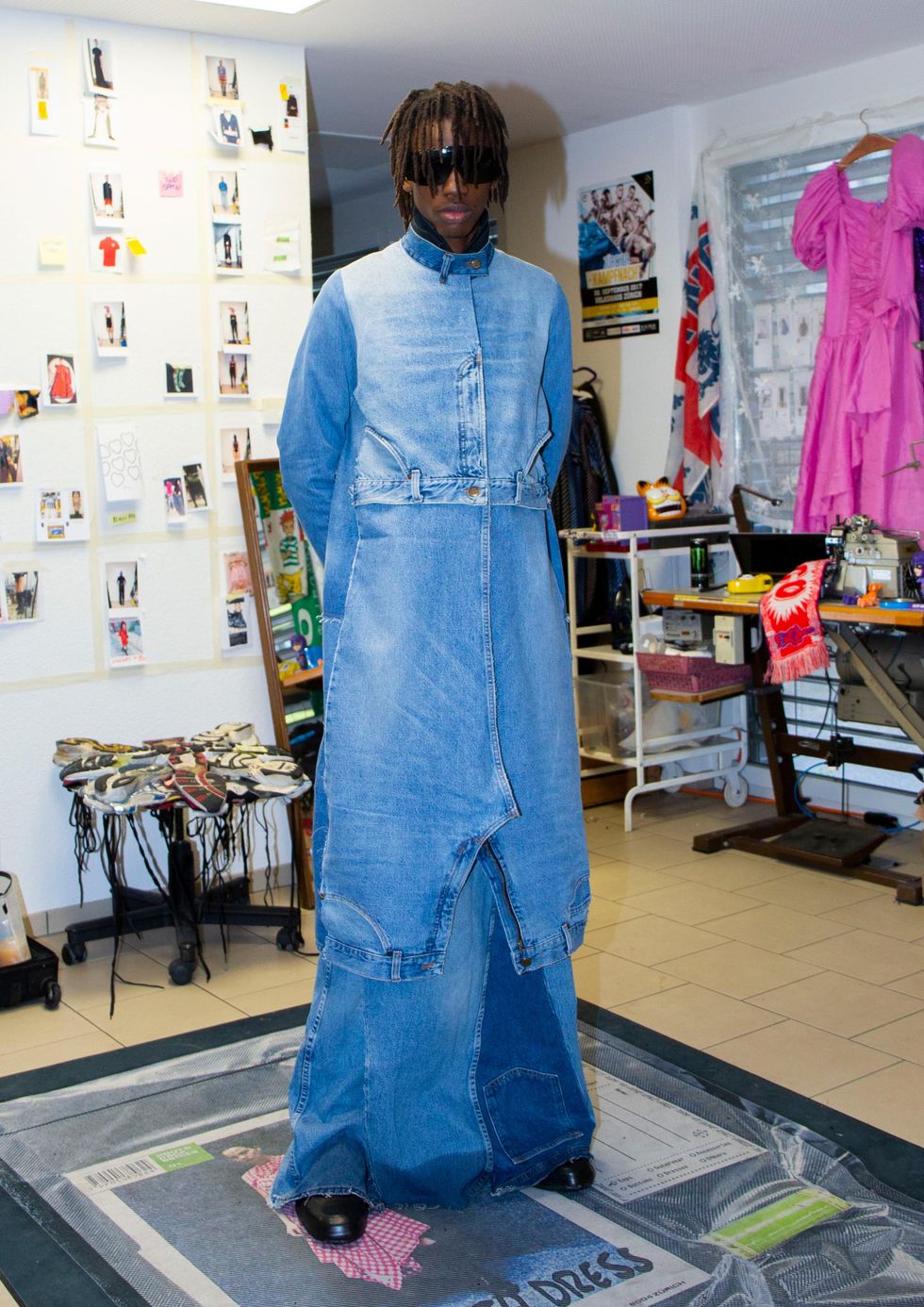 Photo courtesy of PROTOTYPES
Jules Volleberg, co-founder of progressive e-tailer APOC, points out there is no divide between genders on their online store, even though this sometimes translates into a less user-friendly shopping experience. ''We think that even though people like the idea of shopping gender-neutral ... it is more important to have accurate sizing information and one would like to know whether something is designed for a masculine or feminine body.''
For Switzerland-based PROTOTYPES, known for selling proto packs that equip the customer with sewing patterns and instructions to craft their own garments, it's a conscious decision to show off-schedule. ''It's always the same old stuff. It's as if they're a bit stuck in time," they say. Ex-Vetements designers Laura and Callum founded the brand after becoming disillusioned with the fashion system with its endless cycle of showing and producing unwanted garments that ended up in outlets or landfill. They want to challenge the fashion industry by employing radically new strategies, rather than changing the system from within.
Lorette Colé Duprat, who launched her own label late 2021 after being the head of jewelry at Mugler for three years, feels that her discipline is underrepresented on the calendar and is perhaps not perceived as equally legitimate by the FHCM as her peers focusing on ready-to-wear. "I would love to organize an event to present the collection but I think jewelry would need something different than a fashion show," she says. "The object is smaller and needs a particular kind of attention.'' While both brands walk to the beat of their own drum in terms of when and how they present their collections, they still adhere to the traditional buying windows imposed by retailers.
Maria Galvão de Sousa, creative strategist at Karla Otto Paris, says that even though the men's week enjoys less media attendance, this does not necessarily mean brands receive less coverage. Impactful visuals and an expertly executed PR strategy make waves on social media, which often trigger journalists to cover a show even though they might not have personally been in attendance. Sia Arnika recently showed her Fall 2023 presentation in Berlin. While she's still in the process of applying to the FHCM, she got offered financial support by Berlin Fashion Week and used the opportunity to show off her singular vision and expand on her universe.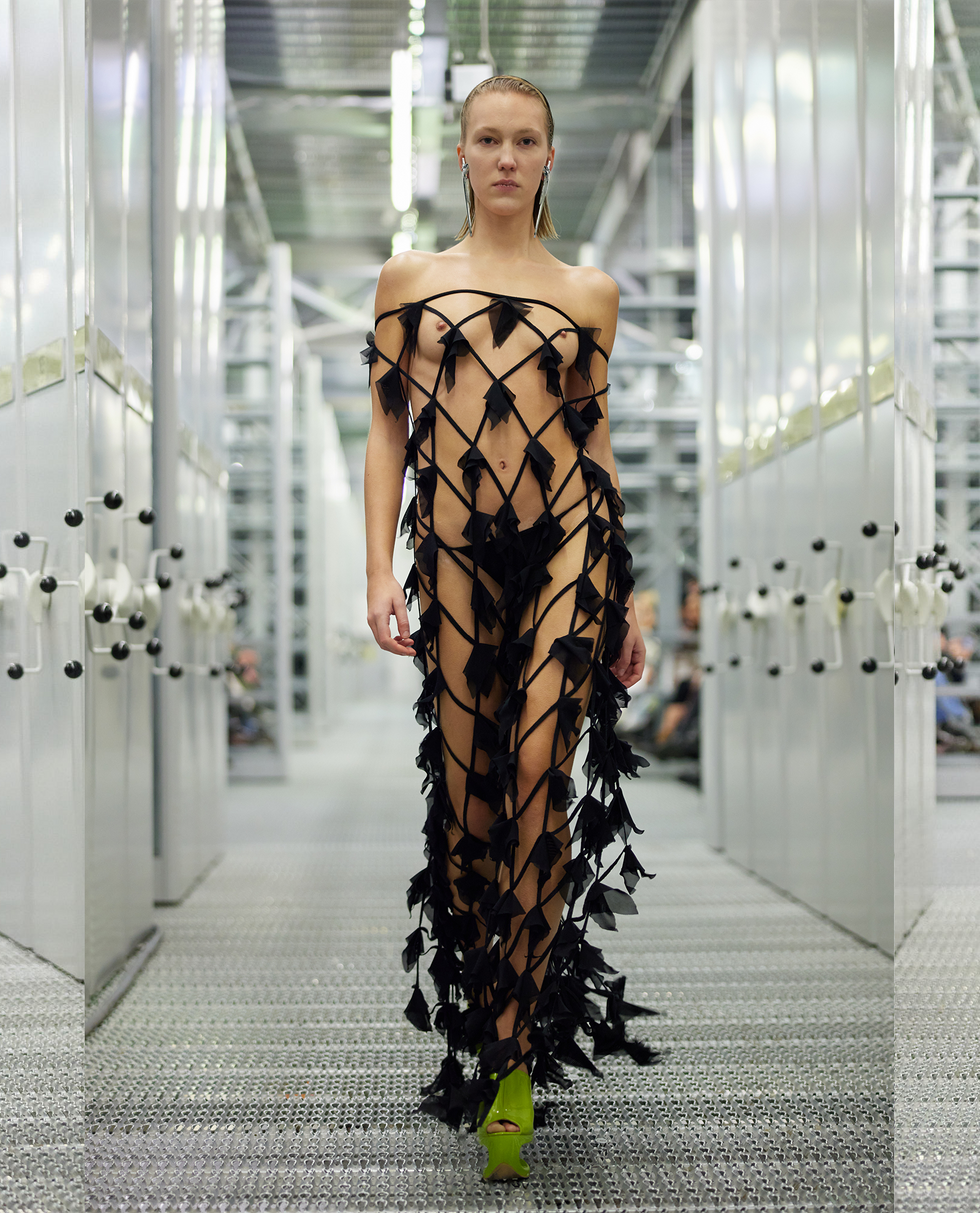 Sia Arnika Fall 2023 (Courtesy of Sia Arnika)
"They asked me if I wanted to show in Berlin, and I was like, Not really but let's just do it. Paris is Paris, but I can't source 25,000 euros on my own to stage a presentation just yet.'' Since fashion is mostly consumed through screens nowadays, this offers young designers a certain flexibility in presenting their work before landing a coveted spot on the Paris Fashion Week Men's schedule.
It's important to recognize how current retail machinations influence the creative process of emerging brands. The world has changed, the recent sociopolitical context has forced various industries to rethink their strategies, yet fashion still operates in the same cycle put in place decades ago. Scheduling shows around the sexes and wholesale buying feels dated.
While the fashion ecosystem will most likely not change overnight, there is a growing force of designers challenging the status quo and carving out a name for themselves. What this would look like ten years from now remains to be seen.
Top photo courtesy of Lorette Colé Duprat