Whitney is making indie rock cool again. The seven-piece Chicago outfit formed when Max Kakacek and Julien Ehrlich's band Smith Westerns split in late 2014. Two years later, their 2016 debut, Light Upon the Lake, fused soul with magnetic folk storytelling and electrified critics and audiences alike, making year-end lists and gaining them international recognition. After touring for several years, they're poised for a comeback with their second album Forever Turned Around, out August 30, and co-produced with Brad Cook (Bon Iver) and Foxygen's Jonathan Rado (Weyes Blood, Father John Misty), which tackles personal themes such as fear, confusion, and substance abuse. Catch them on the road through North American and Europe, from now till December. — Michael Love Michael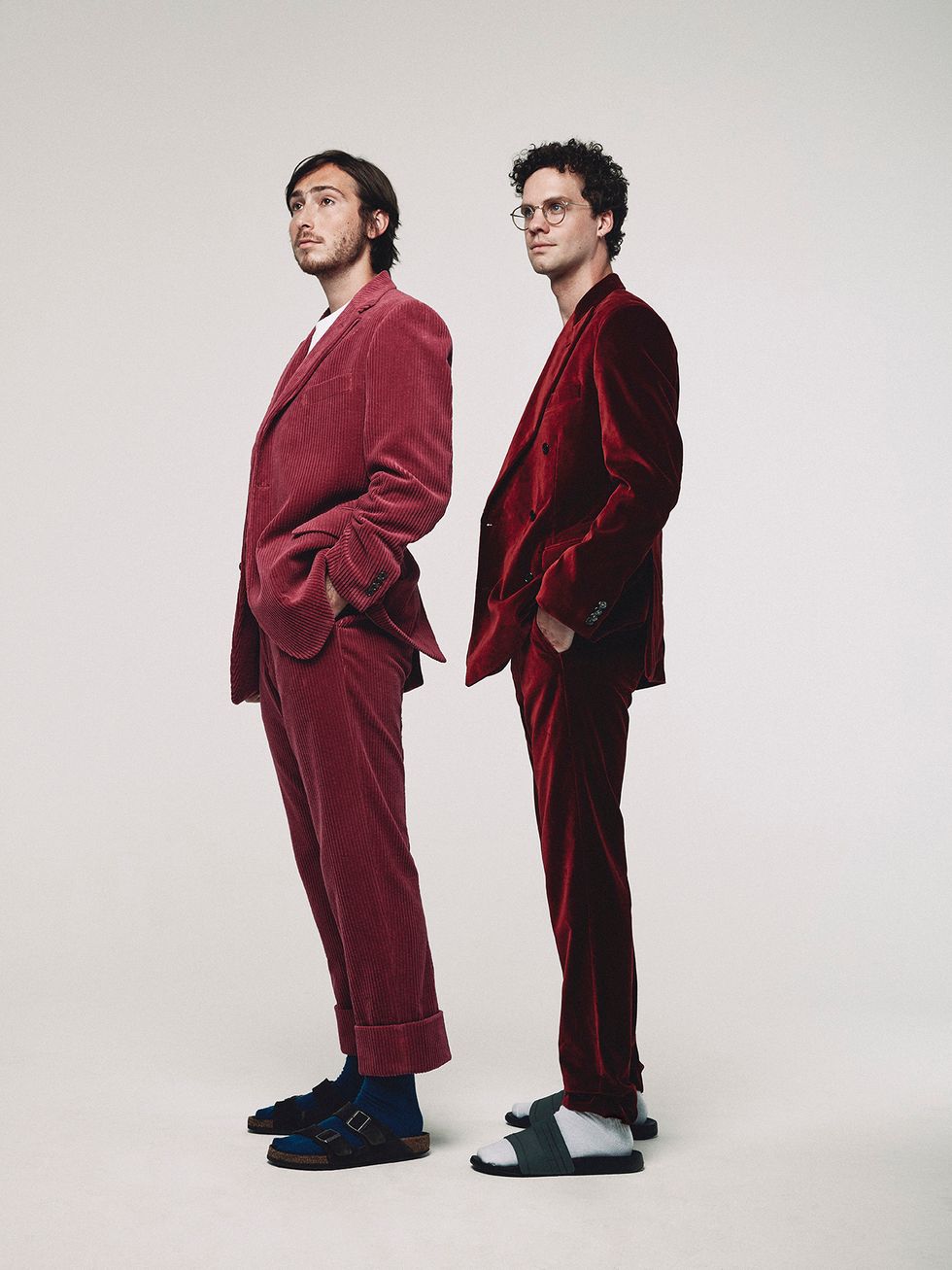 (On Julien) Suit: Todd Snyder, T-Shirt: Alexander McQueen, Socks: Adidas, Slides: Birkenstocks (On Max) Suit: Todd Snyder, T-Shirt: Alexander McQueen, Socks: Adidas
What was the last text you sent?
Max: A hang loose emoji.
What was the last song you listened to?
Julien: The new Vivian Girls song "Sick" just dropped. Made me very nostalgic for a time that wasn't that long ago. Loved it.
What's an interview question you never want to be asked again?
Julien: "Tell me about the name Whitney... Are you fans of Whitney Houston?" Of course we are! On the flip side one of our favorite interviews ever was with this guy named Russell Dean Stone. He took an old Whitney Houston Rolling Stone interview from 1993 and asked us the same exact questions the journalist asked her. Obviously a lot of the questions were completely unrelated to us but it was a fun challenge to try to answer them anyway.
What's your most disgusting habit?
Max: I have bitten my nails my entire life and my hands usually look ridiculous (maybe stubby is the correct word?). Recently I painted my nails to try to motivate myself to stop biting them and it actually worked, also I've learned that I genuinely enjoy wearing nail polish.
Do you Google yourself?
Julien: Absolutely! But that's about it though. Don't usually let myself fall into the negative side of the internet. Remember Brooklyn Vegan comments?
Max: It's been a while. The last time I did the first photo that popped up in the images was maybe the worst photo that has ever been taken of me — scared me off it for a minute. Google has it in for me I suppose.
What was the last show you binge-watched?
Julien: Dark Season 2 was so good! We had just flown home from a press day in Germany when it came out and I properly binged front to back while dealing with the jetlag. Apparently our streams/radio play and ticket sales are doing really well over there at the moment! Can't wait to go back.
What's the last screenshot you took?
Max: My phone kinda has a mind of its own and generally takes screenshots of a lot of random stuff, but I think the last one I took on purpose was of a song I found on Youtube so that I would not forget it. It's by a '70s band from Greenland — Sume, the song is called "Efterar," check it out.
What's your go-to karaoke song?
Julien: "Hows It Going to Be" by Third Eye Blind. If you know that song I would highly recommend singing it with your drunkest friend at Alice's Karaoke bar in Chicago while your other friends document it.
Max: "Tequila" by The Champs.
Sign Up For The Morning PAPER