Summer is fast approaching, which means beach parties and festival season is just around the corner — and Omar Apollo is looking to mix things up with a tangy twist on a tropical classic.
Fresh off a landmark year for the artist that saw him nominated for a Best New Artist Grammy and opening for SZA on her latest tour, Apollo is partnering up once again with Buchanan's Scotch Whisky to help gear up for the warm season ahead with the launch of Buchanan's Pineapple. Inviting viewers to embrace the moment and "make it piña," the collaboration sees Apollo star in a new campaign spot for Buchanan's Pineapple, shot and directed by Mexican-American director David Camarena with the singer/songwriter remixing the classic piña colada.
Alongside bartender Damian Diaz of No Us Without You, Apollo can be seen indulging in summer vibes in Malibu as he goes from a recording to studio to a fitting before ending up at a party while Apolonio cut "Useless" plays in the background.
"For years, Buchanan's has been welcomed into the culture and celebrations of the Hispanic American community, often mixed with pineapple juice, resulting in one of our most popular serves," Director of Buchanan's Whisky, Joyce He, says. "With Buchanan's Pineapple, we are combining one of the most beloved flavors in Hispanic culture with the same distinct smoothness from the House of Buchanan's people have enjoyed for more than 130 years."
To celebrate the launch of Buchanan's Pineapple's "It's Piña" campaign, PAPER caught up with Omar Apollo to talk about the new collaboration, his new whisky twist on the classic summer cocktail and what's next for the artist.
How did this collaboration with Buchanan's first come about?
We actually first kicked off our partnership last fall with our "200% Futuro" campaign that celebrated the 200%ers (those who are 100% American and 100% Hispanic) who embraced their cultural duality daily while shaping the future of America. The campaign supported local Hispanic American businesses and organizations in five cities through the Buchanan's 200% Futuro Fund, created to fuel the next generation of 200%ers.
Since then, Buchanan's has joined me on some of my most exciting moments, like my Prototype Tour last fall, and in celebrating my first-ever Grammy nomination in February, so it was a no-brainer to collaborate on this new Buchanan's Pineapple summer campaign.
What does a "Piña mindset" mean to you?
The Piña mindset is not a physical destination, it is a state of mind, a vibe that you get when you crack open your bottle of Buchanan's Pineapple with your friends. It's all about breaking those warm vibes and entering a bolder, brighter, and tangier time zone together.
What is your go-to beach cocktail?
The BuchaColada for sure. It's a twist on one of my favorite summer drinks — the piña colada — but made with whisky! I like it over crushed ice or frozen. My friends and I love it.
How does one go about making a BuchaColada?
It's pretty simple. All you need is Buchanan's Pineapple, fresh pineapple juice, coconut cream, lime juice and ice.
You'll need:
1.5 oz Buchanan's Pineapple
2 oz Pineapple Juice
1 oz Coconut Cream
0.75 oz Fresh Lime Juice
Add Buchanan's Pineapple, pineapple juice, coconut cream, lime juice and ice into a shaker, and shake until cold. Pour into a highball glass filled with crushed ice, and top with a float of Angostura bitters. Garnish with a lime wheel.
You recently have been out on tour opening for SZA — what has that experience been like?
It was an incredible experience, performing in the biggest rooms of my career so far and I felt the love from her fans.
Any backstage moments or antics that stand out to you?
SZA was so sweet and it was a joy being on the road with her and my band. We were really focused on giving the best show possible every night and so this wasn't a tour where we partied too much.
What does the future hold for Omar Apollo?
Getting back in the studio and looking forward to sharing new music soon! Plus a few more surprises that I can't speak about yet.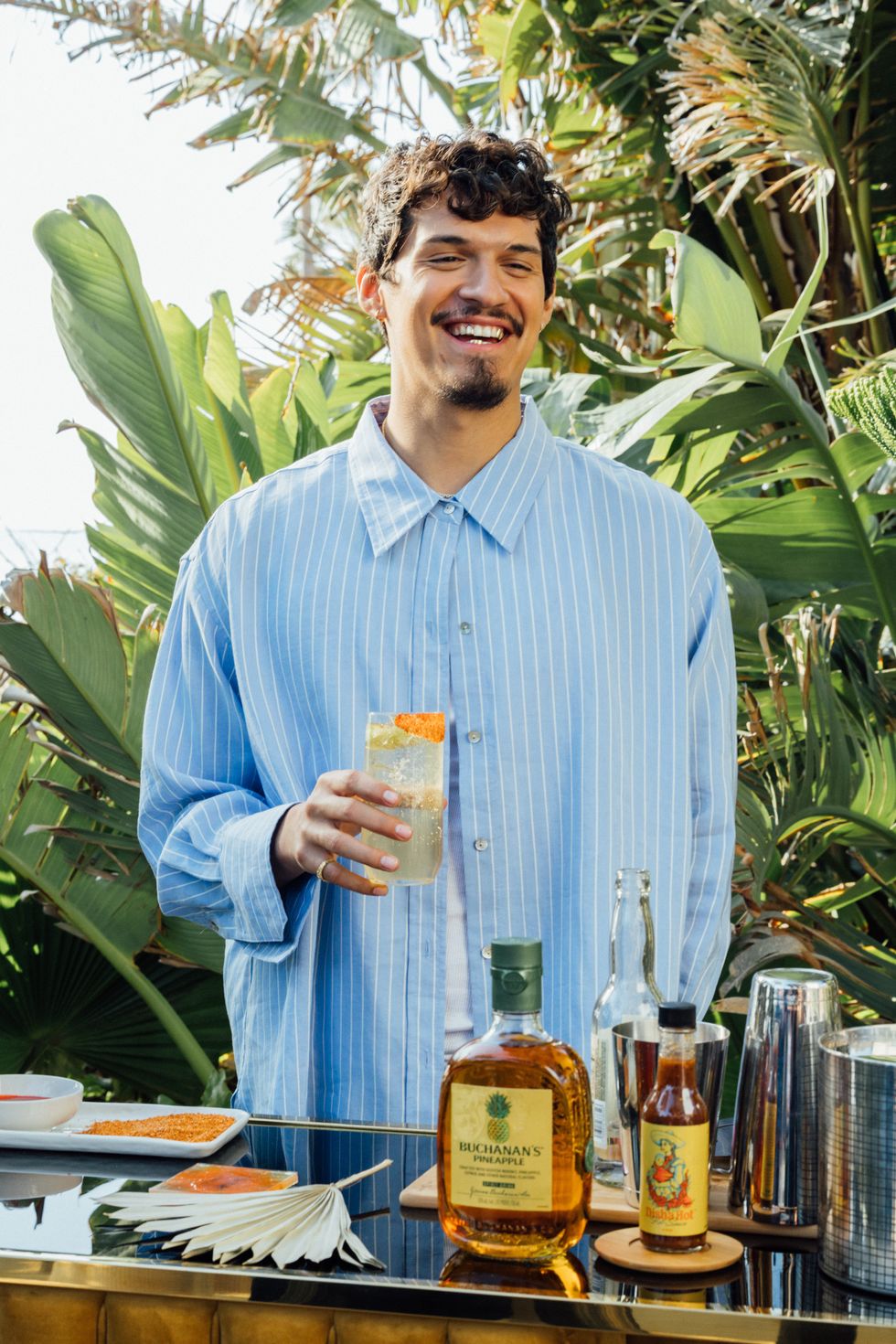 Photo courtesy of Buchanan's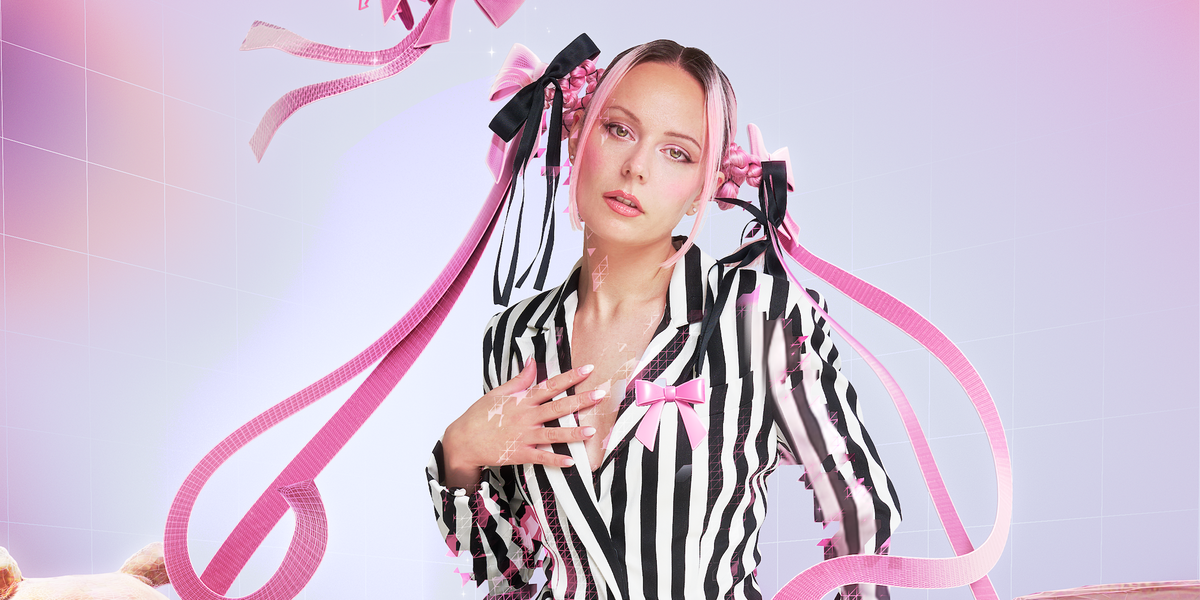 Music
Story by Harry Tafoya / Creative direction & VFX by Andy Rolfes / Photography by Nicholas Needham / Styling by Erik Ziemba / Hair by Davey Matthew / Makeup by Frostie Delite
Story by Harry Tafoya / Creative direction & VFX by Andy Rolfes / Photography by Nicholas Needham / Styling by Erik Ziemba / Hair by Davey Matthew / Makeup by Frostie Delite
07 November