K-pop stars, White Lotus actors, throngs of screaming fans — Milan once again brought the energy and chaos to Fashion Week for the men's shows that just wrapped up.
JW Anderson, who revisited some of his most seminal fashion moments, was a new addition to the Milan men's schedule and he plans to keep showing there for good. Gucci showed its first collection without Alessandro Michele, Fendi turned the Baguette bag into a meme and Dsquared2 went raunchy with some Y2K slogan tees. Loverboy was another fresh new addition to the calendar.
See all the biggest moments from the Milan men's shows, below.
The 'White Lotus'-ification of Fashion Week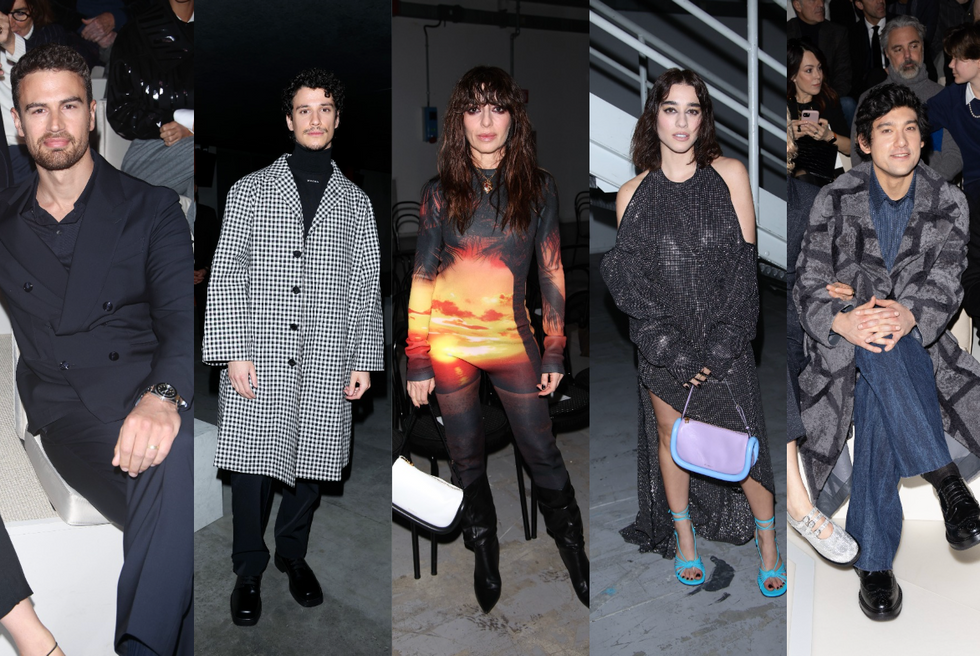 Photos via Getty
It was only a matter of time. Much like how Gossip Girl became the cast du jour to take over Fashion Week last year, the cast of White Lotus Season 2 has become this season's front row flavor of the month. It started with Will Sharpe at Emporio Armani followed by Adam DiMarco at Prada. Italian starlets Simona Tabasco and Sabrina Impacciatore were both at the JW Anderson show and Theo James closed things out at Giorgio Armani (Sharpe and James said it was their first time attending a runway show). Expect more cameos from the cast come NYFW next month.
After years of tweaking and updating their classic Baguette bag, Fendi decided to go the literal route, sneaking in a bag made to look like the actual baked goods: one model had theirs peeking out of a tote picnic style, another clutched one in their hands and another had theirs in the shape of an umbrella. ("This is very much for the French market," Silvia Venturini Fendi told Vogue — those Parisians do love their bread after all.)
Gucci's First Show Since Alessandro Michele's Departure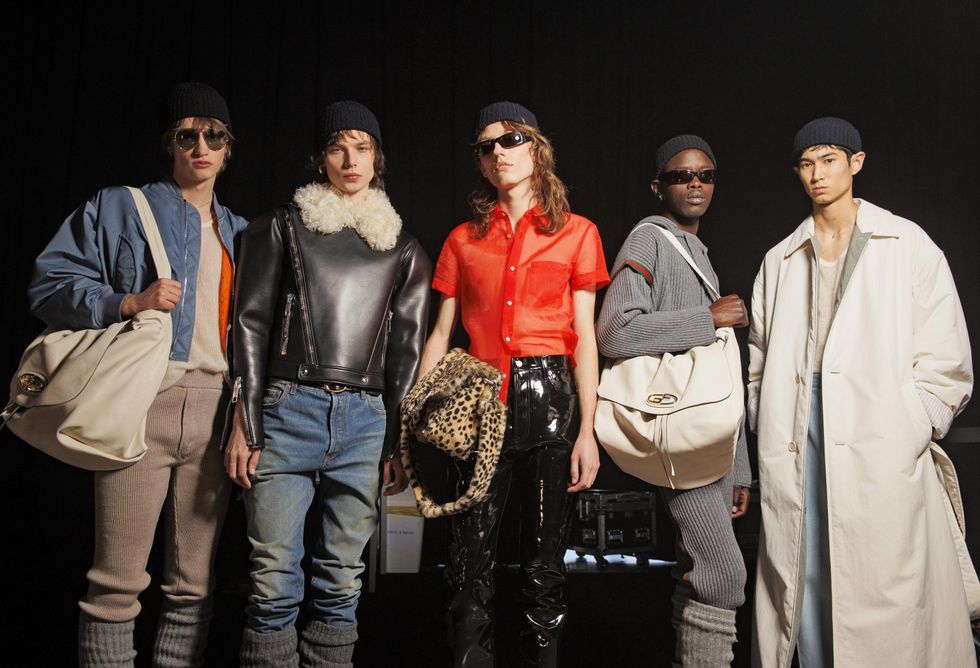 Photo courtesy of Gucci
Gucci was arguably the most anticipated show of the week with fashion insiders eager to see what direction the brand would take following Alessandro Michele's departure at the end of last year. What they got was one of those "transitional" collections that are viewed as a sort of placeholder until someone is named creative director. That's not to say there weren't any standouts: the boxy blazers, simple tees and elongated coats all with a tinge of indie-sleaze, making for some perfectly fine wardrobe staples. Unlike the last time Gucci showed a men's collection following a designer exit, no one stepped out for the final bow, leaving the guessing games to continue until an announcement is finally made.
The trashy teen vibes at Dsquared2 were rampant at the brand's co-ed show featuring TikTok stars and a collegiate dorm room set on the runway. It was signature Dsquared2 — a sexy, raunchy mashup of eclectic Y2K-style references (shoutout to Haley Wollens who styled the hell out of this show. A section of ironic slogan tees ("Choke" in the Coca Cola font and "Emo" in bold against "Demon" were some viral hits) and accessories like tiara caps and "I love beer" belts made for one of the more memorable (and best) Dsquared2 shows in years.
JW Anderson and the Frog Shoe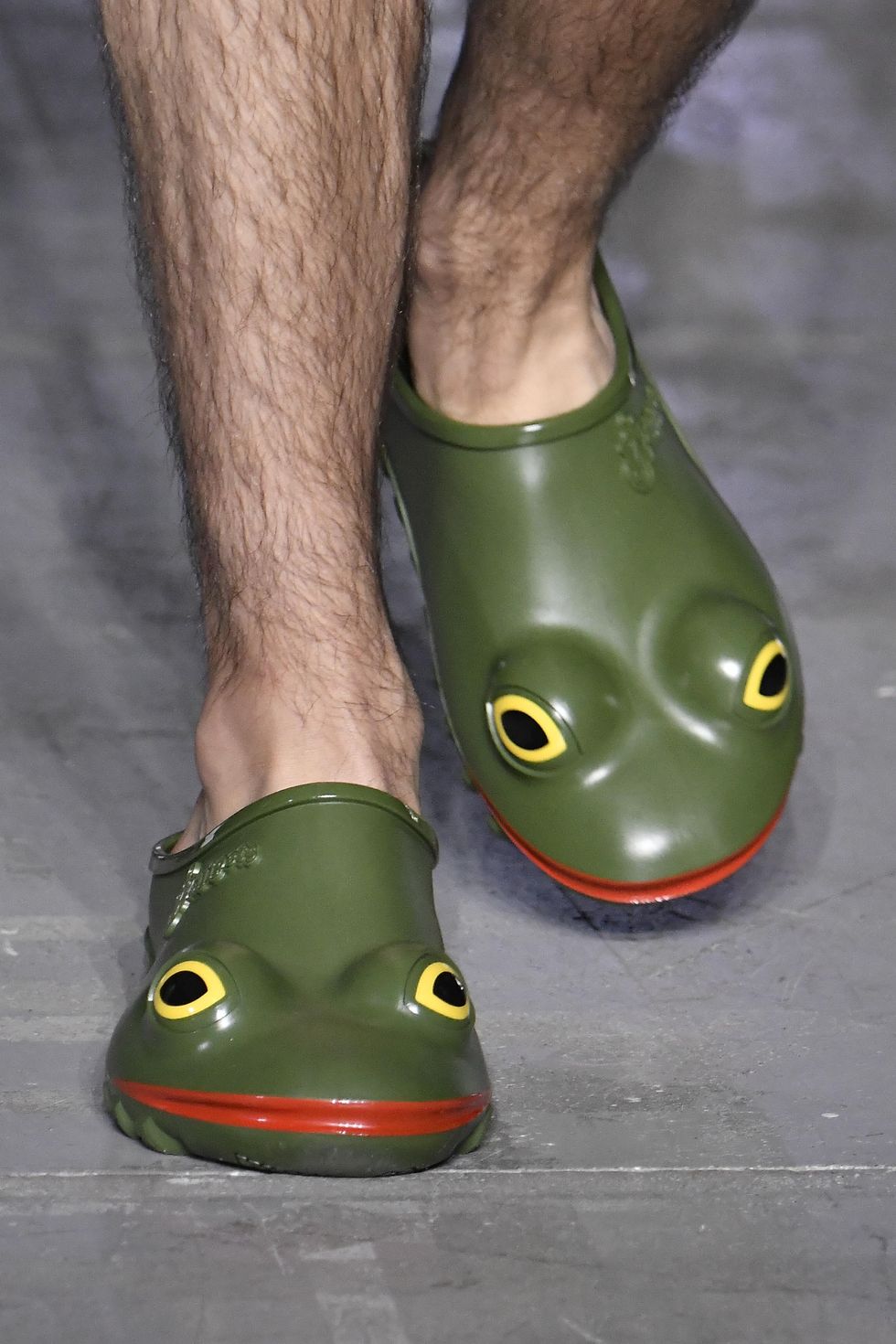 Photo via Getty
Jonathan Anderson teased the funky green frog slip-ons before the day of his show in Milan. Turns out the slides and boots were from Wellipets, a brand that was once a certain British royal family offspring. There were frog bags, too, the latest addition to JW Anderson's quirky animal accessories range following the viral pigeon clutch that debuted last year.