Last year, Michelle Obama launched When We All Vote , a national nonpartisan organization whose aim is to increase voter participation in every election and "close the race and age voting gap and empower all eligible voters to cast their ballot by harnessing grassroots energy."
The former First Lady was joined in the launch by several high-profile co-chairs, including Janelle Monáe , Tom Hanks, Lin-Manuel Miranda, Faith Hill, Tim McGraw and Chris Paul. Today, When We All Vote has announced the addition of several more superstar co-chairs including Selena Gomez, Megan Rapinoe, Shonda Rhimes, Tracee Ellis Ross, Kerry Washington, Rita Wilson and Liza Koshy.
"I'm excited to empower my audience in the way I've been inspired by First Lady Michelle Obama and the mission of When We All Vote," Koshy tells us. "[Mrs. Obama's] vision is contagious, and I'm ready to help spread the word that we all can and should be heard. The goal is for ALL to feel the utmost pride and preparation, so WE can cast our votes with our future in mind."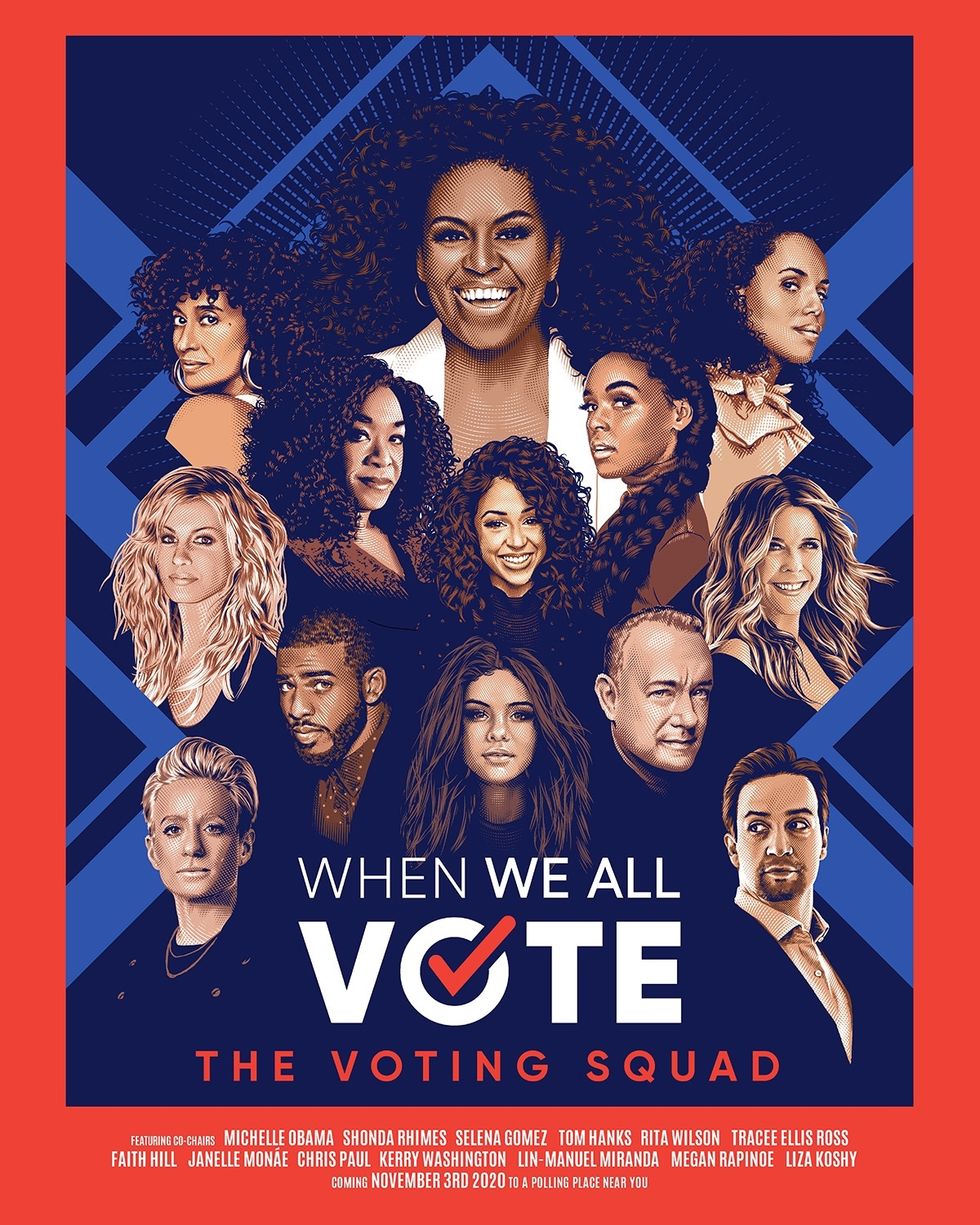 Along with these celebrity co-chairs, the org has also partnered with a number of businesses, non-profits and community organizations, including PAPER . We're excited to help spread Mrs. Obama's message about the importance of participating in our democracy and making our voices heard at the ballot box. With officially less than a year to go before the 2020 general election, When We All Vote is encouraging us to assemble "voting squads" or "volunteer groups aimed at getting friends, family, classmates and community registered and ready to vote."
Last year, the group organized 2,500 local voter registration events throughout the nation and launched My School Votes , which they describe as"a new initiative calling on educators, students and their parents across the country to engage and register their peers to vote."
With sometimes complicated state-by-state rules for registering to vote ( check out our guide on how to register to vote in all 50 states ), it's more important than ever to get informed and share that information with your friends, family, colleagues and members of your community. In 2020, Millennials and Gen Z will collectively make up 37% of the electorate , the largest voter demographic, which means the youth vote is more powerful than ever. And yet, in the 2016 election, only 51% of Millennials voted . With 73 million Millennials in America, this generation, along with their younger peers, has the potential to chart the future course of our nation if only more young people went to the polls.
So take a cue from Mrs. Obama, Selena Gomez, Tracee Ellis Ross, Megan Rapinoe and all of the other A-list When We All Vote co-chairs. Make sure you're registered to vote, inform yourself and your friends of the issues, and head to the polls next year. Watch a message from the former First Lady and her voting squad, below.
Poster courtesy of When We All Vote