Since taking the menswear reins at Louis Vuitton two years ago, Virgil Abloh's collections have leaned more toward sportier riffs on classic luxury pieces. For Fall 2020, however, he set out to completely reimagine the most traditional men's item: the suit. He twists and turns the silhouette into something new, taking it far beyond the comfort zone of corporate dress attire.
"Dress codes of an old world are neutralized, re-appropriated and embraced for a progressive joie de vivre," read the show notes. And while the term streetwear gets tossed around so freely, Abloh's work has made it clear that his Vuitton is much more nuanced to be labeled as such.
This is where the inspiration for his latest collection comes in. He cites the relationship between suiting/shirting and boyhood/adolescence as the starting point, specifically the naive and pure perspective of a child. (It's worth mentioning that a similar sentiment — of turning back the time, the innocence of a child — took hold at Gucci this season.)
Suits are deconstructed and made to look like they're floating on air, while white business shirts feature cutouts of the brand's famous monogram. The rigidity, seriousness and stiffness of traditional suits gives way for the playful, charming and unexpected. Here's everything else you need to know about the collection.
The Venue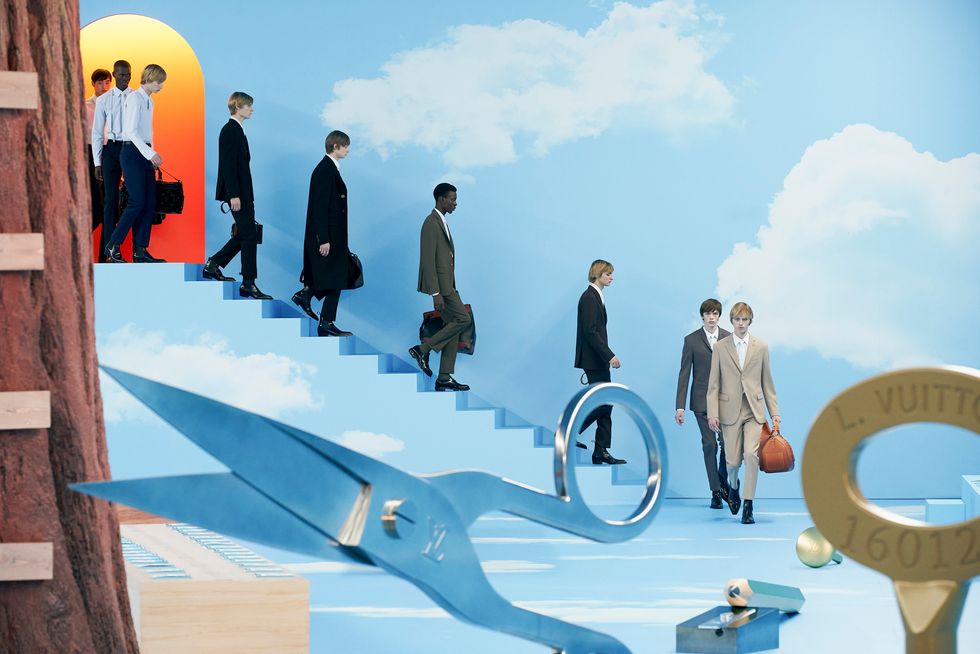 The show was held in a tent at the Tuileries Garden, where the floors and ceilings of the space resembled cloudy skies. Artisanal tools like scissors, pencils and spools of thread were blown up into huge sculptures — an ode to the craftspeople making these clothes come to life. Meanwhile, a giant beanstalk ran down the middle, a wink to the classic children's fable.
Whether it was a color gradient, dramatic ruffles, or a powder blue cloud print with embossed monogram, the suits were taken to new heights this season.
It's not just the suits getting a makeover. Classic white poplin cotton dress shirts are treated with everything from striped patchworks to embroidered monogram prints to giant ruffles.
Classic bag styles like the Keepall and Steamer came in curvier shapes and round lines, while the monogram is incorporated throughout in playful colors and dimensions.
What better way to subvert classic boardroom business dress codes by incorporating jolts of flashy hot pink in your wardrobe? Abloh used it on everything from gloves, buckets, hand bags and sweaters to head-to-toe looks.
Taking the concept of de- and reconstruction to the next level, Abloh's cutout coats, jackets and suits were spliced into separate parts and then re-sewn back together to achieve a floating effect.