For our new digital cover series Takeover, we chose five of our favorite women who're making a significant impact on the music industry right now. Kelela, the experimental R&B musician, is influencing queer culture and beyond with a futuristic aesthetic and collaborative spirit as heard on her new remix album, Take Me A_Part. Today, she'll be taking over PAPER with guest edited pieces and appearing on our Instagram.
All one needs to do to understand the tender, spiritual power of Kelela is to go back to her beginning.
Before the mononym, she was a second-generation Ethiopian immigrant Kelela Mizanekristos, growing up in Washington, D.C. suburbia, where she perused her mother's record collection. There she discovered a kinship toward female artists. Nineties stalwarts like Tracy Chapman, Janet Jackson, and Amel Larrieux were a few of her early favorites, and they all have expressed a sensual, nuanced vulnerability both in their style and lyrics. The meaning of Kelela's name, a Google search reveals, suggests a likeness to those artists, while shedding light on her own identity. One definition I found says that "Kelela" means "extreme fortune, health and spirituality," describing the person attached to the name as "versatile, idealistic and intuitive," with a knack for leadership, and an inclination, always, to be her own person.
This feels true. I first bore witness to Kelela's essence at the Pitchfork Music Festival in 2014, when she sang to a crowd overlooking the sprawling beer-strewn lawns of Chicago's Union Park. She wore an olive-green jumpsuit, and in between sips of Vita Coco water, told the crowd how her then-hit song, "Bank Head," was a highlight of every show because it was the only one of her tunes people really knew. As the song's introductory booming, atmospheric drums and bass cued up, Kelela took a moment to admit imperfection. "I normally don't sing in that register at all," she confessed. "I wrote it and then had to learn it." Much of the song, written in fluttery falsetto tones, are in fact above Kelela's then-comfort zone: a sultry, comforting alto. The song and the performance were therefore better given Kelela's efforts. "Bank Head" is lush and daring — a modern R&B classic that's adored by music peers like Solange, who included it on her Saint Heron label's debut album.
The point was and still is: Kelela was scared of doing something beyond what she believed to be her bandwidth, but she did it anyway.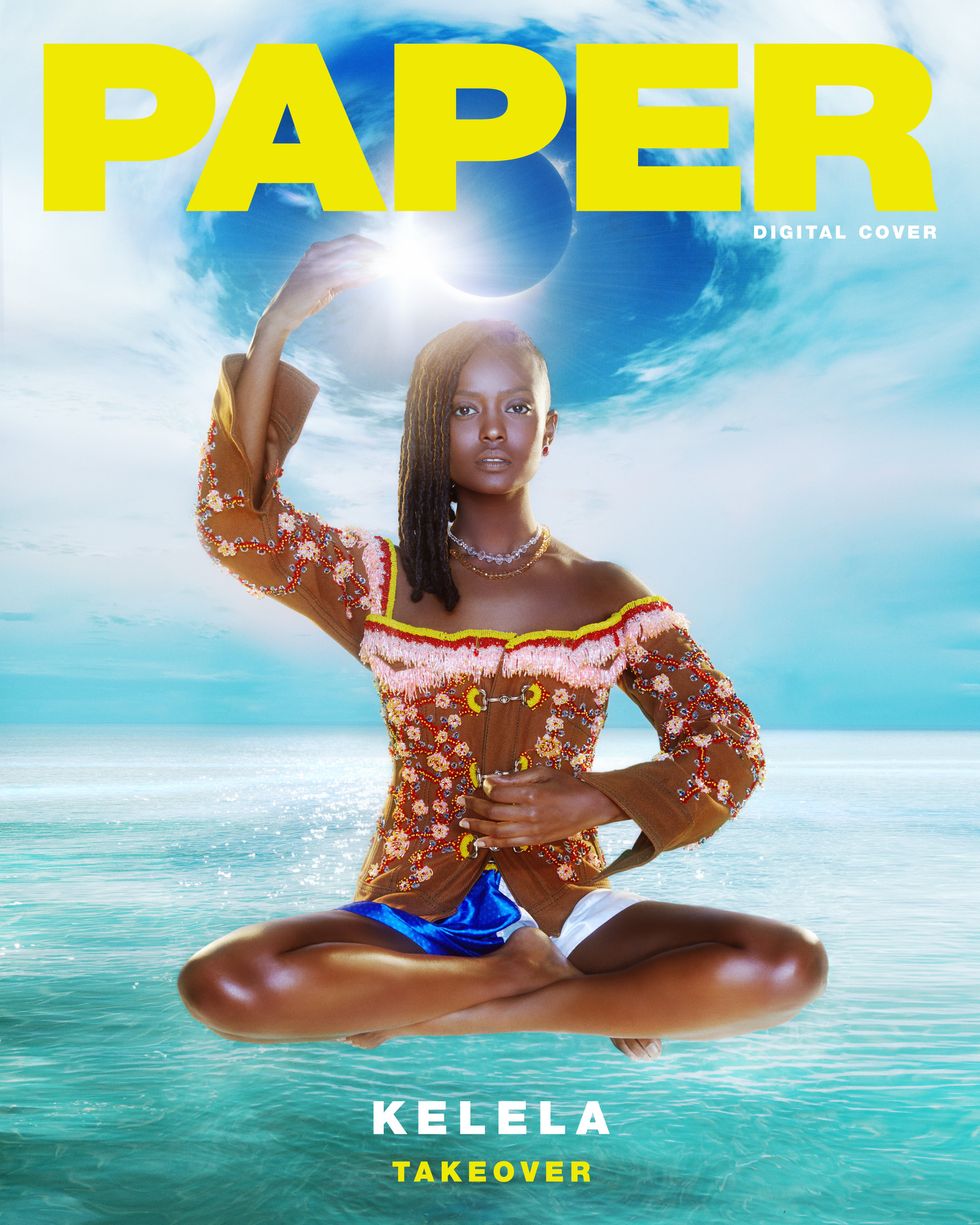 Top & Shorts: NIHL, Necklace & Earrings: Stylist's Own
The tendency to push herself outside of what's expected or comfortable has become a hallmark of Kelela's transcendent career. Years before her Pitchfork Festival debut, Kelela sang at open mic nights in D.C. to overcome stage fright and worked as a telemarketer, before quitting her job, moving to Los Angeles, collaborating with Teengirl Fantasy, and then meeting Prince William and Kingdom of Fade to Mind (She's now signed to Warp Records). Unlike countless fast-tracked major-label artists, Kelela's introductory path doesn't seem quick or easy, and surely, it must've been scary, but she — or something in her spirit — managed to push through.

Fade to Mind produced Kelela's debut mixtape, 2013'sCut 4 Me, which features "Bank Head." Kelela surprised us again with Hallucinogen, EP released in 2015 that pushed her sound, lyricism, and overall artistic vision into higher realms. Hallucinogenic highlights like "All the Way Down" and "Rewind," feel just as at-home on contemporary streaming services as they do on mainstream '90s radio, alongside Brandy, SWV, and other Black women who sang about emotional accountability with openhearted precision. As a whole collection, the EP's five tracks — alongside futuristic visuals that only further cemented Kelela as a viable creative force — made a strong case for how Kelela would take all of that sheroic R&B presence, and guide us to the future. Here, was a Black woman with so much to say and sing about, with a great legacy of other Black women behind her paving the way.
And we can only assume that the two years between Hallucinogen and her most immaculate follow-up effort, last year's Take Me Apartrocked Kelela, who alluded to as much in a heartfelt, handwritten letter posted to Twitter preceding that album's release. "It's a blessing to have access to a constant stream of positive reinforcement when I'm not feeling like my real self," she writes, addressing her ride-or-dies. "When I don't think I can do it."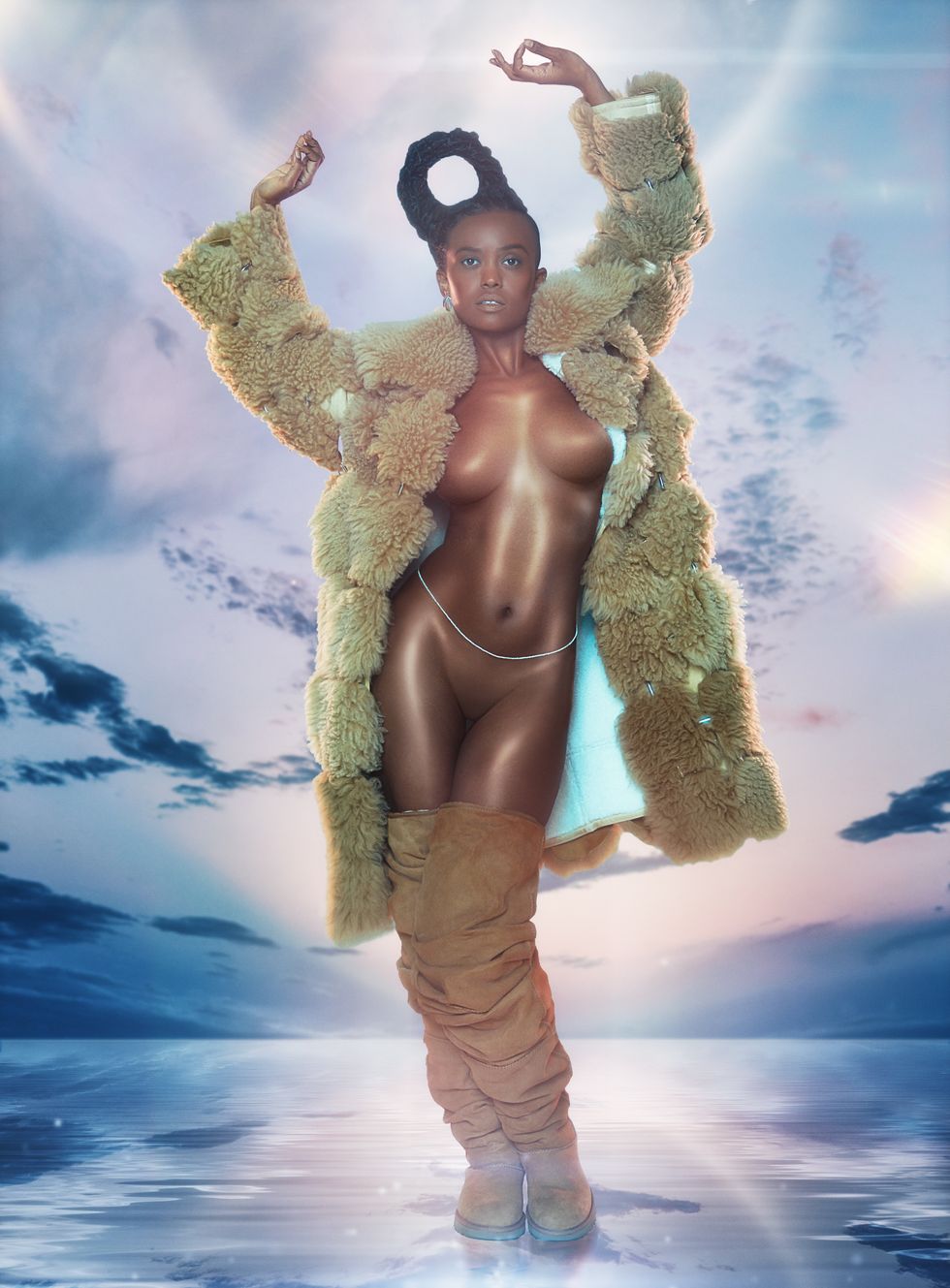 Coat: Paco Rabanne, Earrings: Knights of New York, Boots: Y-Project x Ugg, Body Chain: Kelela's Own
That must have been scary, too — as is naming an album Take Me Apart, which sounds like an invitation to find our own meaning of where Kelela's coming from. Its artwork further provoked this idea: a portrait of a Black woman gazing out at us in an expression that reads fierce and vulnerable, her body nude, covered only by her braids, unveiling a willingness to lay her soul bare. The album, a 14-song cycle of enchanted spells, deftly chronicles Kelela's emotionally resonant navigation of crush-to-breakup-to-redemption. The songs are more like what Kelela might've envisioned when writing "Bank Head" years ago: a challenge that she would meet, however difficult, so that she might achieve catharsis, growth, and healing by rising above.
This context is important in order to approach 2018's Take Me A_Part, a remix album that Kelela co-executive produced with Asma Maroof (who performs under the moniker Asmara as a DJ and producer).
There are numerous ways to deconstruct oneself, and then, to transcend what previously felt impossible. The name of Kelela's game, I learned from talking with her, was surrender and community. These concepts are not new to her, considering her earliest beginnings with the Fade to Mind crew and queer performance scenes. Which is why when Take Me A_Part's conception emerged — something Kelela says was always part of her grander vision for the album — it was the most natural thing in the world for her to open the floor to many of the artists she says she's been blessed enough to find.
From that space, she and Maroof were free to reinvent Kelela's most culturally influential album to-date, for songs that flip the source material's sorrow into cause for celebration, with thoughtful remixes that also reverse the original lyrical intention. On the newer version of Ahya Simone's "Enough," where the original felt painful and unresolved in her relationship drama, even as Kelela sang "I've had enough" with unflinching passion, this one offers the resolution she's been searching for. This time, for her re-recorded vocal, when she sings "I've had enough," you know she's finally found closure and peace within.
Elsewhere on the album, Kelela and Maroof enlist the following: Serpentwithfeet (who lended his silky vocal interpretation to deep cut "Altadena"), Joey LaBeija (who turned version "Better" into a club-ready bop); Badsista (who made the other "Better" even brighter, but no less sensual with a Portuguese-language feature from Linn Da Quebrada); Kaytrananda (who stretched the nostalgic, feel-good vibe of "Waitin'" into something more urgent); LSDXOXO (who contributes one of two alternative sexified "Truth or Dare" revisions); Princess Nokia, CupcakKe, Junglepussy, and Ms. Boogie (who turn "LMK" into an all-femme, hard-hitting underground club twirl on "LMK (What's Really Good)," transforming a song once about emotional availability into a statement centering the politics of assertive femme desire.
Talking with Kelela, she covers the importance of community, and what it means to fight for the space to be seen as a creative Black woman pushing the envelope in music and fashion. But for someone whose path forward has certainly had its challenges, she's as personable and enlightened in the flesh as she is in her music. I catch Kelela post-cover shoot, eating a salmon salad in a cropped tee and baggy jeans, her hair twisted into a round halo fastened to the top of her head. I learn about what makes her feel safe, and how she transcends challenges by challenging herself.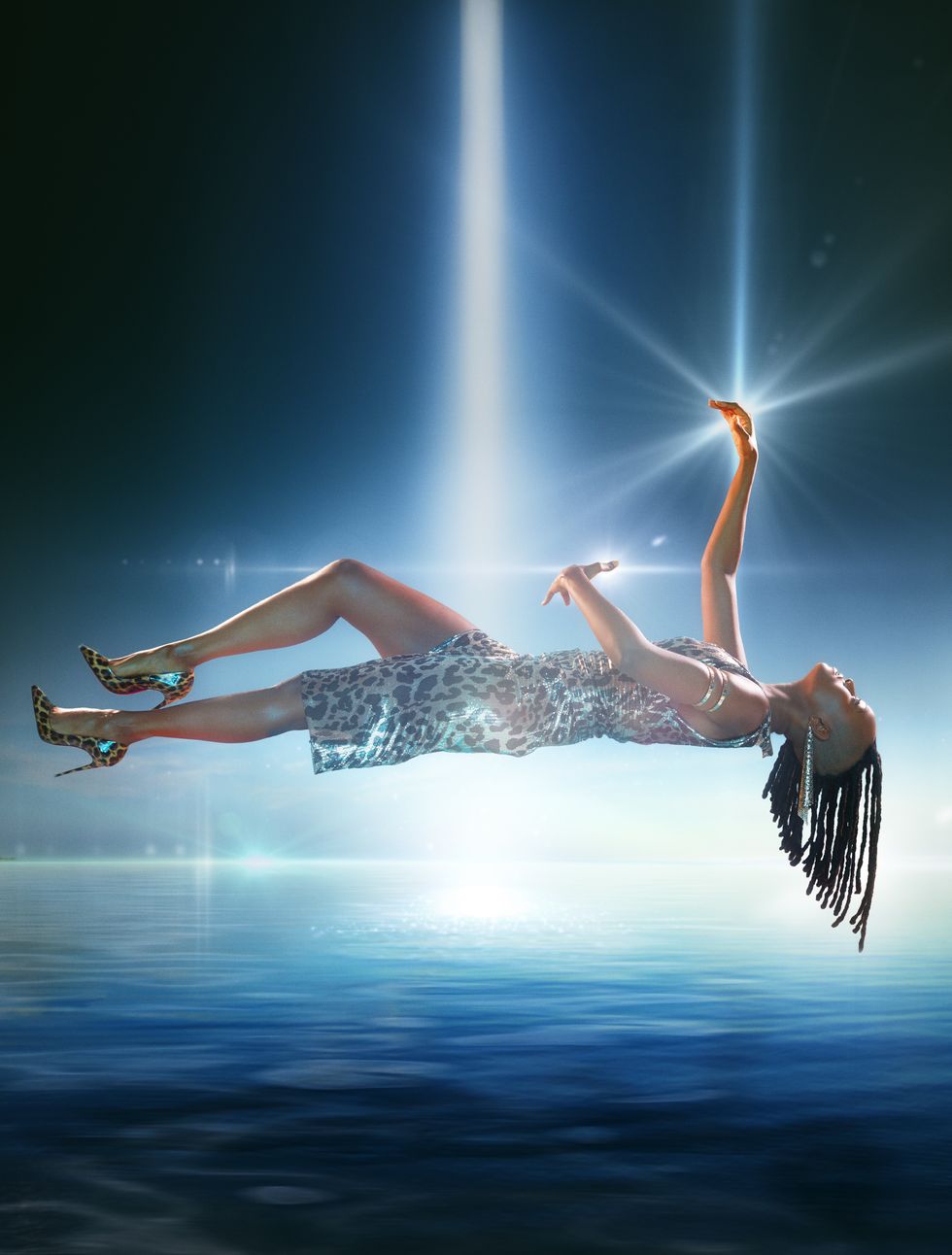 Top & Skirt: Paco Rabanne, Shoes: Christian Louboutin, Arm Cuffs: Roxanne Assouline, Earrings: Stylist's Own
When I listened to Take Me Apart originally, I felt so much sorrow all through the songs, but also joy and uplift especially toward the end. To me, Take Me A_Part felt more like a celebration. Was that your intention when going through and excavating these tracks to make them new?
Totally. I'm really vulnerable in my music, and I'm emoting. For the most part, it's high emotions, or heightened emotion on the original record, and then when it came to the remixes, that's part of the beauty of being able to give your parts away because a lot of the emotion is imbued in the acappella. When you decontextualize the emotion, you can get different emotions. It's just a really beautiful process to me, to be able to access another layer on top of the meaning that I inserted into a lyric and into melody. A great example of that is "Onanon." There's a way that the lyric, "we go on and on and on," in the original song... it's obviously about a conflict, and about fighting and finding resolve in that, but then also being in a constant state of tension. Then when you put it over a DJ Lag track, the lyric is the same, but the feeling is different, like we're going all night, all niiiggghhht. Originally, we're referencing a fight, but now it's a more cathartic experience that lives in the body.
But it's the kind of catharsis you get from almost going within, right? And expressing out.
Exactly. And also camaraderie, a lot of my music is so intimate, and I do try and provide soundtrack for your real life, the nuanced layers of emotion. Feeling heartache but also like, "It's okay."
When making the first Take Me Apart, you've written about overcoming self-doubt to peel back layers.
I really was. But I was committed to talking about things that almost everybody's experiencing yet they're so nuanced, we don't always get to the layers of our lived experience. So, it would be like either I hate you, or I love you. Or we're in it, or we're not in it. It's really simple in pop music for the most part, but I wanted it to be like, "You broke up, you see them again, and you're all fucked up because you've seen them, and it all rekindles." It's the second time around, that's what I sing about on "Waitin." With the remix project, I'm able to say that even more; to show you another layer. Like with Ahya Simone's "Enough," you know? When I sang that in the studio with her line, I accessed another emotion for myself.
What came out this time?
That made me feel even more "done" [with the breakup]. It's like, we close the book, and also there's a little bit of fatigue in the performance. Instead of trying to be like "not enough," with all the frills, this one is not trying to embellish too much. It's like "not enough," singing straight, so it's not about the runs. Like welp, period. A shrug emoji.
What was another emotion you accessed?
With "Waitin" and Kaytranada's treatment of it, it's nostalgia, in another way. Even though the original one is also nostalgic, this one is like a modern nostalgia — like your high school crush, but bringing it to the present, and living it in the now. It's just really fulfilling to be able to do that; to access other messaging through someone else's reinterpretation.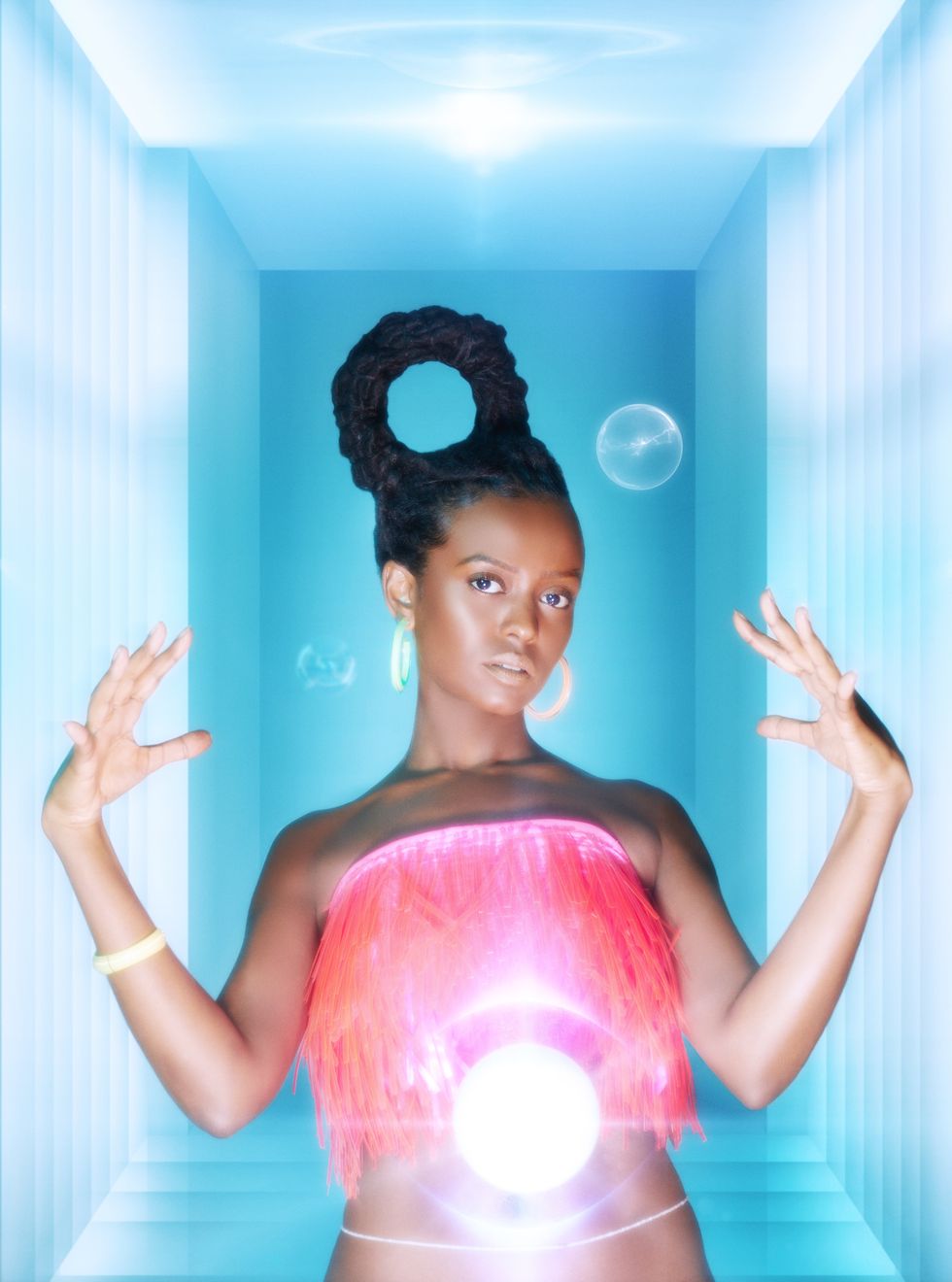 Bustier: Prada, Earrings & Cuff: Alison Lou, Body Chain: Kelela's Own
I know that it's not easy to surrender your work to so many different reinterpretations. But it's still you.
I do not feel threatened — at all. I think that the battle between vocalists and producers is another thing that I wanted to address with this project. There is a way that is in conflict, even though we work together all the time. Classically, there is a conflict, and what I know is special about me, without sounding arrogant, is that I come from that place. I come from a producer, instrumental-maker zone. There are classic conflicts and it usually has to do with producers feeling taken advantage of, and the vocalist just gets her shine or his shine and then you're left in the dust or something. There's a stereotypical exchange that happens and I wanted to quite literally dismantle that — address it in a way that's not through words, but by action. This project is the artists' moment, and I want them to use my voice. Usually, you find an acappella track online and then that vocalist has nothing to do with you making your edit. But commissioning edits — that's a whole other layer of meaning, because I'm taking that ownership, and my agency is intact. I can just commission from a place of actually giving away.
So it's about trust?
Trust, yes, actual trust. I'm not tryna give you my acappellas if I don't like your shit! I'm just going to be real with you. At a certain point I'm going to release them so everyone can just do their thing, but I think it's important to choose the people who you really fuck with, and then you hopefully just see what hits. What we did, Asma [Maroof] and I. She and I worked on this whole thing together, and one of the things we said to ourselves is, we're gonna reach out to as many people of color as possible.
"Part of the project is to canonize ourselves [Black and POC people], because those people normally don't get honored or valued in an overt way. For me, it's really important that I pay homage to that."
Yes. Y'all did that.
And it's majority Black, POC, and queer. Intersectional. I didn't say that's gotta be the thing, it was just more that I wanted to reach out to, and not ignore, those people, those names, those contributions. Part of the project is to canonize ourselves, because those people normally don't get honored or valued in an overt way, and for me, it's really important that I pay homage to that and to our own culture without anybody asking us to do it. That is very significant — it's always been that way, and it is so meaningful to make it official; to say, This is an institution now. I wanted to create an institution so the next time I do a record, it's just known that this spirit of inclusive collaboration is a part of my identity as an artist, and that we reach people who don't have access to that, who may not have been immersed in that world, and we keep them there. There are people digging for underground music, for experimental stuff. I really wanted to rekindle that in people in the world because I think it's not really at the forefront anymore.
It feels important that you're saying people of color are at the forefront of most experimental art movements, because there is still a notion that anything experimental, left of center, or "alternative" is white by default.
And that for me, that is what I wanted to address and complicate, because the Black people who do that, or the people of color who contribute to experimental and electronic music are so erased, and they don't get honored until they die. And then after they die, then everybody can be like, Oh yeah, they were such a legend. And then they struggle their whole life — fuck that. Give these people their checks now. And they don't have to be 4,500 years old to do it, you know? That intention was a part of my project for sure.
"Black people, or people of color who contribute to experimental and electronic music are so erased, and they don't get honored until they die [...] And then they struggle their whole life — fuck that. Give these people their checks now."
It's called Take Me Apart for a reason.

You feel me? It's a whole fucking point. I switched the whole of what that means, all of the scary parts of what that means just melts away, because I'm saying, "You better take me apart." And it's the same thing with the remixes. It was really just a continuation of the same narrative. I'm just really grateful that everyone got the prompt. I mean, obviously they do this all the time, they would have done it without me asking them. But they got the prompt, and everybody delivered so strong, and it's just made me so happy.
Did you start working on these remixes as soon as the album was out, or were you doing that in tandem?
No, we didn't start actually reaching out to people until the spring. We got all the things that we were going to receive by the beginning of the summer, and then in the middle of the summer we just went in, me and Asma, and edited and did slight rearrangements, and then mixed. Really, the thing I've always wanted is, a lot of the time producers just slap it together, and then they're going to the club that night, they're just bouncin' that shit. And it will sound blown out. Part of the goal for us was in maintaining the character of the track — part of that dirtiness you don't want to lose because it's the whole sound. We feel, especially as two women of color, a Black woman and an Indian woman, having all those parts to go through us is also important that it's pointed to as not a coincidence. I think our experience as women of color, as brown women in the studio, and the misogyny around music-making, makes it so that we are... I don't know, it's like a social justice project. It's like we are the most careful, the most respectful, we are trying to make sure you to feel good, we don't want anybody to feel...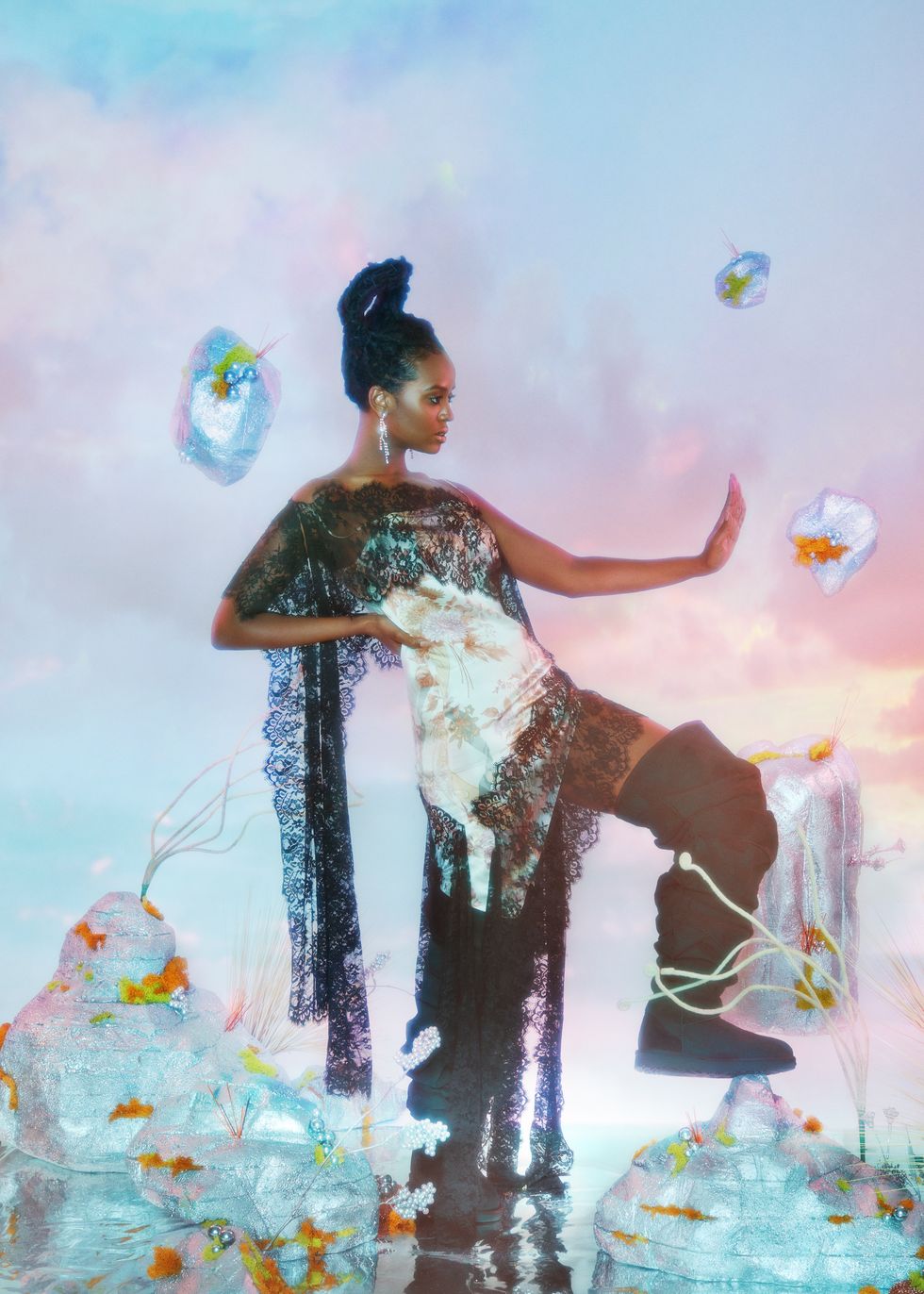 Dress: Christopher Kane, Boots: Y-Project x Ugg, Earrings: Stylist's Own
Unpaid and undervalued? Makes sense.
Right, like, did you get your check? It's not that big, but did you get it? Just making sure, you know? This is the culture that is not prominent, it's not here, and it's because we've been treated like such shit that we would never want to do that to anybody else, and so our ethic around receiving, editing, rearranging, changing — was as respectful as we could possibly be. So I really hope that all [collaborators on Take Me A_Part] felt that. That is the feeling that I wanted to create, is one of camaraderie, that we can rally around this thing and be celebratory about ourselves, without somebody telling us that we're sick first. Fuck that.
This also reminds me when you get a specialized mixtape that's just for you. A burned CD or tape or A-trak. That's kind of how it feels.
Yeah, and sort of the titling as well, the titling is very "new digital." But it's exclusive all the same. That's the culture I'm trying to rekindle, because the Internet makes everything not that way. Nothing is exclusive, and part of that culture that we grew up in is like, "Do you have the tape? Can I dub it?" You know, it was the social currency also. The cool factor — all your shit is dependent on what you had access to, did you have the music, did you have the iTunes. I'm not trying to go back to that, but what I am saying is that there's something precious and fun about that process that I wanted to pay homage to.
Switching gears, something I've seen since Cut 4 Me to now, is your style evolution. You're really out here giving looks full-time.
We're doing it together, obviously. Misha Notcutt is my stylist and creative director, and so many of the things that I've done that are risky and sort of "for me." I think sometimes people just have a clear idea from jump of what they're going to do and what they're going to be, and for me, the complication for me is that I feel like a lot of things. I feel like a lot of things.
"There's just been such beautiful growth for myself. I've been able to access some shit I wasn't able to access, quite frankly. Coming in, especially as a brown-skinned Black woman, with locs in this industry? It's so unsafe."
Key word, "feel."
Exactly, and I want to present myself in many different ways. For me, that was hard to articulate in the beginning of my career — that I have style, and I have "a style." It's hard to be like, "I do all the things." There's not a type of look I don't do, and I'm going to do it my way every time. That abstraction is really helpful to be in a conversation with somebody on the outside about taking risks. That language is something that [my stylist and I] have come up with together over the past few years. It's been so beautiful because I feel so much more in touch with who I am and what I'm trying to say in the world aesthetically. I guess I know that it could just as easily not be the case. I feel really blessed because I'm just trying a bunch of things visually, but it doesn't feel random. Like, we're going to slay every time, but it's going to be like, "This is librarian," you know? "I'm a smart couture librarian."
"I'm going to give you Parisian alien."

Exactly, and the next look will be like "a majestic avatar in the future." I feel like nothing is off limits for myself, and it's so cool to be able to experience that with somebody and still feel safe in a lot of different places. It's the same thing as my glam, with Raisa Flowers, with Illeisha Lussiano, with Michelle Boggs, also with Daniel Sallstrom. Basically, there's makeup artists and hair stylists that I've been able to work with over the past two years that have just made me feel more safe in the world. It's because of them that I'm able to deliver to you looks that slay.
It's inspirational.
If I'm not inspired, then how are you going to feel inspired by me? There's just been such beautiful growth for myself. I've been able to access some shit I wasn't able to access, quite frankly. Coming in, especially as a brown-skinned Black woman, with locs in this industry? It's so unsafe. No one gives a shit about your confidence and good feelings about yourself, through hair and makeup. Your agency is not the most important thing, their aesthetic, the aesthetic of the outlet presenting you, the commitment that the magazine has to their looks, and the manager's vibe being way more important than mine doesn't make me feel safe. It's just interesting because you can sometimes go through all that rigamarole and in the end, you never get a good photo.
How do you push back against that?
Literally impose. There's no other way. I had to ask another Black girl who's been in the game for longer than me, that's how I found out. I was like, "The fuck are you doing? how are you doing that? how do you create consistency?" She said, "They have to prove that they know how to treat you — they have to show you three photos of Black hair in their portfolio, and it can't be a model afro from some hair salon." I need you to have gotten in that head. If you haven't, then you're not hired.
Did it take you a long time to find a team of people who understand how you want to look and what you want to say?
It took me some time to work up the confidence to even ask. It's not even, "Do those people exist?" It's saying, "I don't want that." Especially Black people, we come into the game apologizing and being so fucking grateful that we were ever invited or thought of, when we're the source of so much inspiration, it's absolutely ridiculous.
Literally most things of value in this world were created by Black people.
Period! It's just weird for me to be apologetic coming in a space, you know? But that's sort of what you're taught to be like. It took me throwing that away, seeing that that's just not going to work for me, and then also being like, "Sorry, I'm not going to take that opportunity." If it's a "lost opportunity," that's because it's actually an opportunity that was never for me in the first place. If you don't make the opportunity for me, it's not for me, I know you sent me the offer, but you sent an offer that was for someone else to me. So, you can just move on to that next person, I'm fine with that.
"All the people around me have made it so I can access a part of myself that I always knew existed, that may have been shrouded by something else, you know? Now that part of me that was shrouded is all I want anyone to see."
You feel so in yourself. That's so great.
Yes, and part of that has to do with this environment I've created. I travel within this bubble around me of creatives that make me feel safe and seen and heard. I have this team of people where I can be like, "Is that sick or is that whack?" And they'll all have the same answer for the most part, so there's that cohesiveness as well. I'm very into just shouting out because it's really important to me that they know and that the world knows that Kelela won't be "this" without them. It makes me want to cry.
It's everything to find your tribe and your community.
And it is so unsafe, when you walk in and you're just like, "Fuck, nobody cares about my vision for myself." All the people around me have made it so I can access a part of myself that I always knew existed, that may have been shrouded by something else, you know? Now that part of me that was shrouded is all I want anyone to see.