The newest exhibition by New York-based artist, writer, performer, and DJ Juliana Huxtable is, as usual, a one-of-a-kind interplay of complex imagery and cultural symbolism.
Infertility Industrial Complex: Snatch the Calf Back, showing now in New York's Reena Spaulings Fine Art gallery through October 27, fuses personal and political themes, with Huxtable playing both the maker of and muse to her wildest ideas.
In a press release for the exhibition, which features several dozen original works comprising striking inkjet portraits and outrageous propaganda-style tabloid posters, Huxtable addresses ways in which a transfeminine body, specifically her body, is subject to relentless scrutiny both by herself and the world around her.
BAT 3, 2019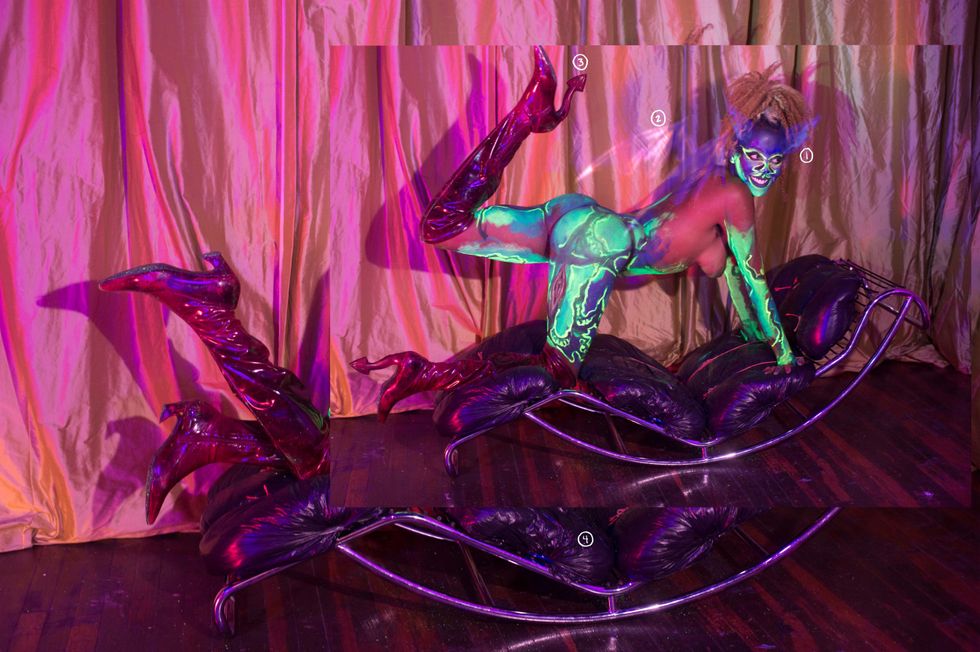 Its all-caps poetic verse reads like a manifesto. Huxtable boldly asserts, "You couldn't walk a day in my shoes... comprehend the violence I've endured." She then describes, in visceral, emotionally raw detail, how her body has survived forms of "elective violence," and how she's come to embrace a certain kind of eternal horror as a result. "If there is a dark queen, I am her, and she is me," the verse concludes. (Read the entire piece, here.)
The images featured in the show riff on Huxtable's relationship to bodies as interspecies objects, and the tabloid headlines she creates are juxtaposed with these images, serving as powerful commentary on media shock tactics meant for maximum consumption. In various metallic neon portraits, Huxtable plays subservient cow-people or dominant bat-demons, both wily violators of man-made "laws" of nature. "Complexes" of these images are set up among public bathroom stalls and at-home wallpaper motifs.
Take some of Huxtable's new work in for yourself, and visit Reena Spaulings at 165 East Broadway in downtown Manhattan's Chinatown neighborhood, from Thursday-Sunday, 12-6 PM. More info can be found here.
Photography: Joerg Lohse (Courtesy of the artist and Reena Spaulings, NY/LA)
Lead photo: COW 3, 2019 by Juliana Huxtable
Sign Up For The Morning PAPER