Meet India Love, a fast-rising rapper with an always essential message of self-love.
Love, a 22-year-old personality from California with an engaged online following totaling over 3.5 million people, is adding musical artist to her extensive resume, which already includes various television appearances and modeling gigs. For this next act, Love is being mentored by will.i.am, legendary frontman and producer of The Black Eyed Peas. "India is herself on a journey as a rising music artist in a very tough business," will.i.am tells PAPER of his protege.
Love's first taste of what's to come is in "Talk Yo Sh!t," her debut single — a song that will.i.am says features "inspiring words and a strong hook," which is true. But what sinks in beyond its immediate accessibility is Love's talent and willingness to tell her story. Her flow is like a syrupy slow drip that reels you in, but brims over with bubbly, infectious confidence.
"Talk Yo Sh!t" features energetic trap-style production and is split in two halves: the first focuses on the fleeting value of material wealth, as if Love is parroting her favorite rap tropes to establish herself. But halfway through the song, the beat drops out and Love's voiceovers begin: "The reflection is the real you, and I don't care what no one says: I love me," introducing the song's empowering second half of positive affirmations and claiming her story.
The video, which was filmed on an iPhone by Shadae Lamar Smith, is an exercise in simplicity, so as not to dilute the track's resonant message: of Black girl magic and self-love. In the clip, Love is shown getting ready in her room, checking herself out in the mirror, and trying on a colorful, sexy wardrobe. It's a joyful look into what you'd imagine a pep talk to oneself might look like.
PAPER caught up with Love about her winding creative path, how she learned to love herself, overcoming bullies, and her role models. Watch the premiere of "Talk Yo Sh!t," below.
The song and video carry a great message. Can you tell me more about what you were hoping to get across?
I just wanted to highlight self-love itself because I feel like that is a really important aspect in my life that I wanted to grasp and I wish I could've learned it at a younger age. I started to install it in myself around 16/17 and I really learned that you can't love anyone else and no one else can really love you until you truly understand self-love — when you can really accept yourself for who you are and what you look like. I felt like it was something that I really needed to highlight because in today's world everyone is trying to be the same way, trying to look the same, have the same body shape and everything — I just wanted everyone to stay uniquely them, stick with who they are and know everything else will be fine.
How did you make the song?
I had a lot of influence in the lyrics; [I co-wrote it] because I wanted to show people that materialistic things are flashy, but they come and go. The real message that I wanted them to grasp is that none of that really matters without self-love. That's why I added the spoken word parts. You can have the best and the flashiest diamonds, Rolexes and all that stuff, but really when it comes down to it, self-love is really the key component to everything. That's just what that message was and I feel like I portrayed that well.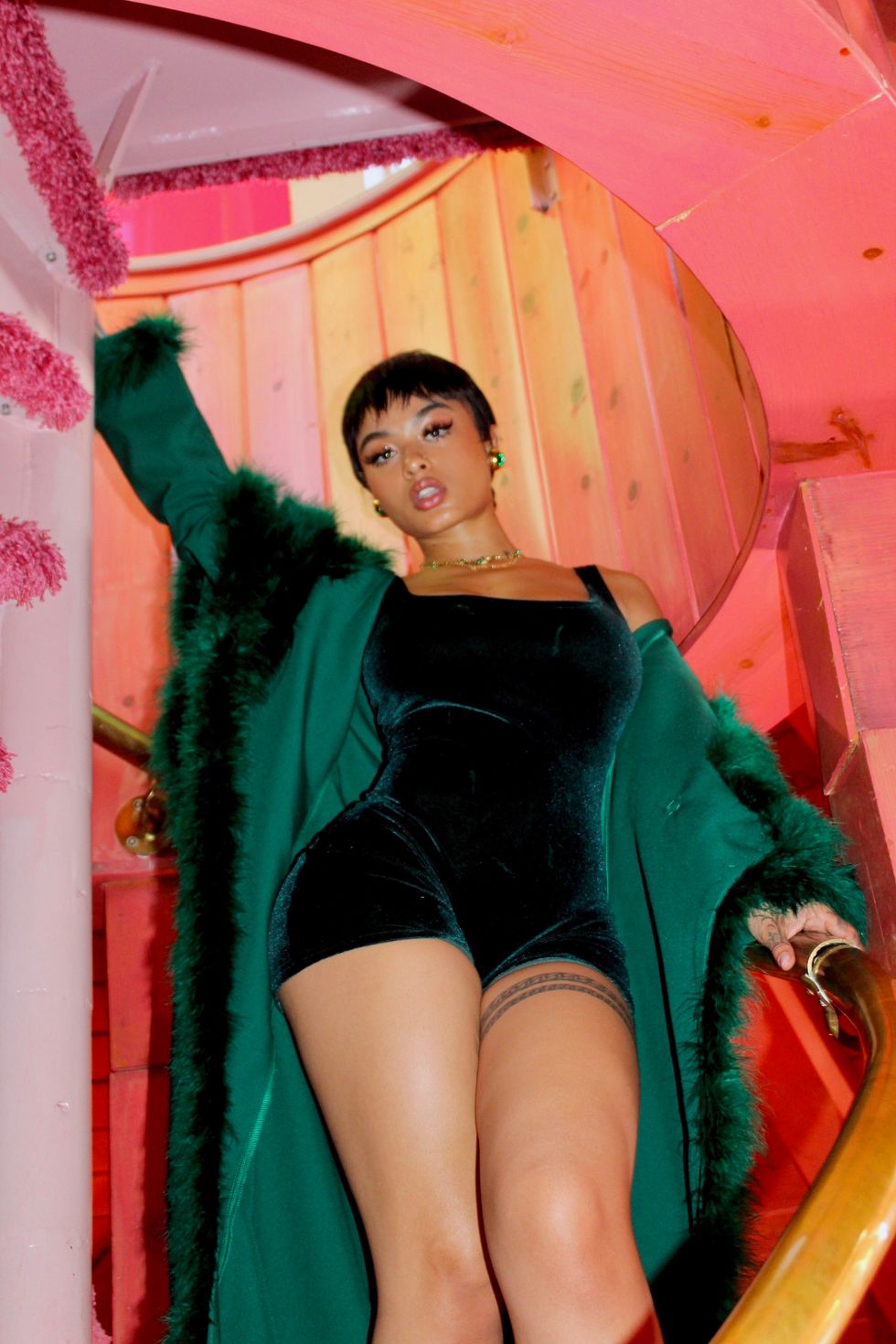 How did you come into contact with will.i.am?
I was in the music video for "Boys & Girls," and from there we had a meeting three weeks later, where he sat me down and asked if I would be the brand ambassador for his Apple headphones. I was on the box that was sold worldwide. We went on an Apple tour together, where we went into to different Apple stores and talked about the headphones in Europe. After that, he sat me down and told me that he sees more for me and asked if I would trust him to take the next step to help develop me as an artist. I kind of was shy about it and didn't know what to say because sometimes my nerves step in, but I had to go for it because I would be crazy not to take that opportunity. It worked out really well. I'm starting to break down different layers of myself that I didn't know I had. I have a lot of self-doubt issues, so it all plays a part of me breaking down those restrictions that I felt like I had, so I can be whatever God wanted me to be for this world.
What do you feel like is one of the biggest things you've learned about your voice as a musician?
To be patient with yourself — it's all a huge process and development stages. You're going to mess up and there are going to be times where it doesn't make sense — but it's all about longevity, and it takes a lot of patience and time, and I am really thankful that Will has a lot of patience with me. He sits in the booth and he is literally my A&R and my producer. He takes that time with me and I know he has thousands of other things to do, but he really cares enough to help develop me as an artist and that plays a huge part in my passion for wanting to be the best at this that I can be.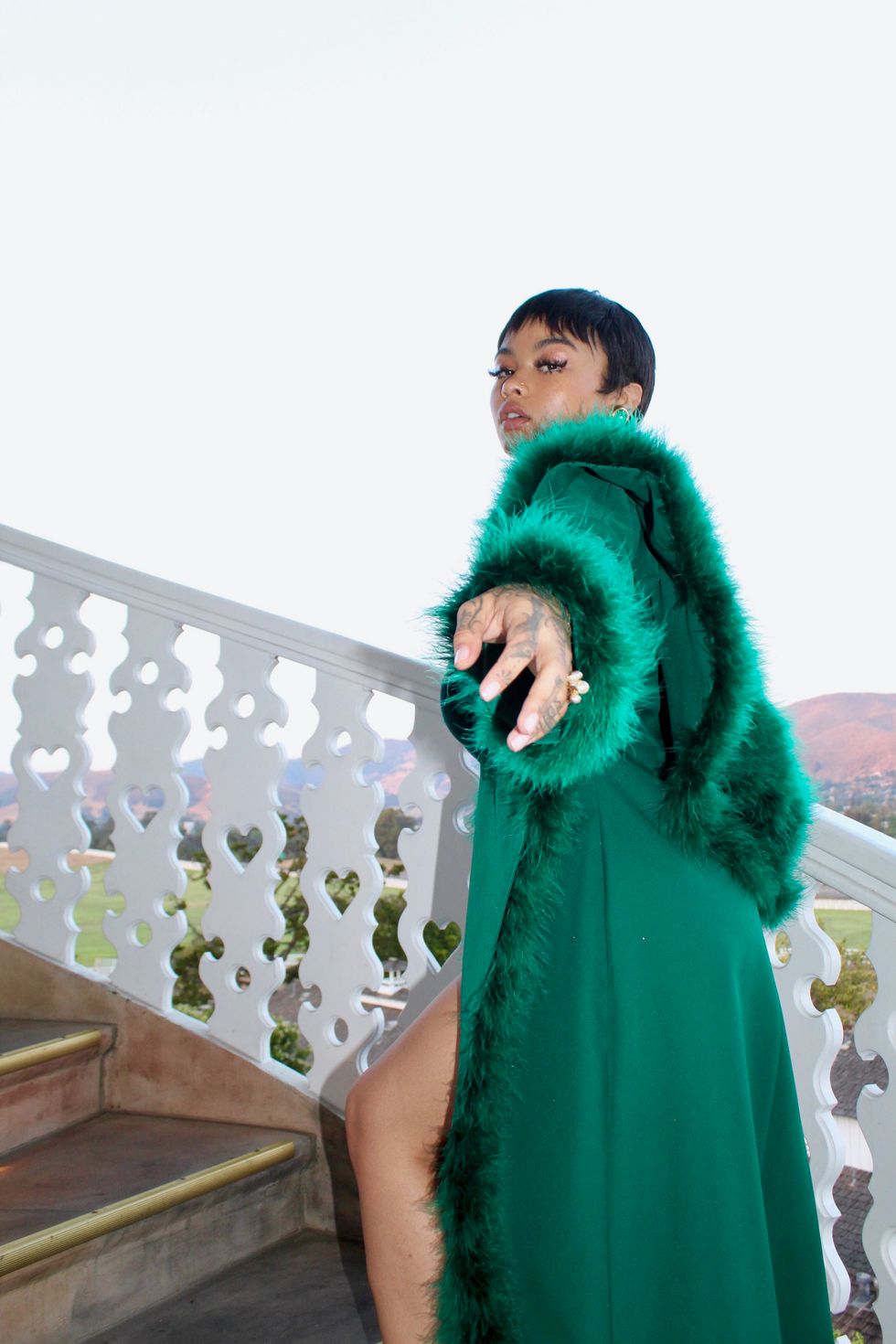 What it was like for you growing up?
In grade school, I lived in Compton until I was fifth or sixth grade and then we moved to Corona. I went to a Christian middle school and I got bullied there. I never understood why no one wanted to sit with me, everyone was cliqued up and they spoke behind my back. It was really weird for me because I am a Christian and very into God and I just never understood why at this school specifically, [my experience there] was that much worse. I got bullied online as well and growing up there were a lot of situations where I felt depressed and cared what people thought about me. I went through this stage where I was just being a teenager and didn't want to be sad or get tattoos anymore.
"It just took a lot of me talking to myself in the mirror to love who I am today — and not letting society dictate what my body should or shouldn't look like."
Tattoos?
My mom was so mad at me because I kept getting tattoos when I felt sad because that was the only thing that would help me cope with not being accepted in this world. So, it took a lot of my journaling, I write a lot in my diary about it, I express how I feel so I can look back at it later, I pray a lot, every single day I get closer to God and that helps me stay grounded and humble. It just took a lot of me talking to myself in the mirror to love who I am today — and not letting society dictate what my body should or shouldn't look like. It took a long time, I went through a lot of stages. I was into skateboards at one stage; I liked aliens; I wore bright highlighter colors; I went through these weird moments, but now I'm just thankful that I have so much knowledge and have learned so much from going through it all.
Who do you look to for inspiration?
I love Kelis. She very much inspires me, I love her as an artist, she has the craziest and coolest music videos — her colors and her hair is all very unique to me. Missy Elliott is so dope, I love her style and her rapping — her just being so unique and authentically herself is just so dope. Jhene Aiko, I love her soft vibe, it sounds like she's speaking but she's singing and it sounds so beautiful. And of course, Nicki [Minaj].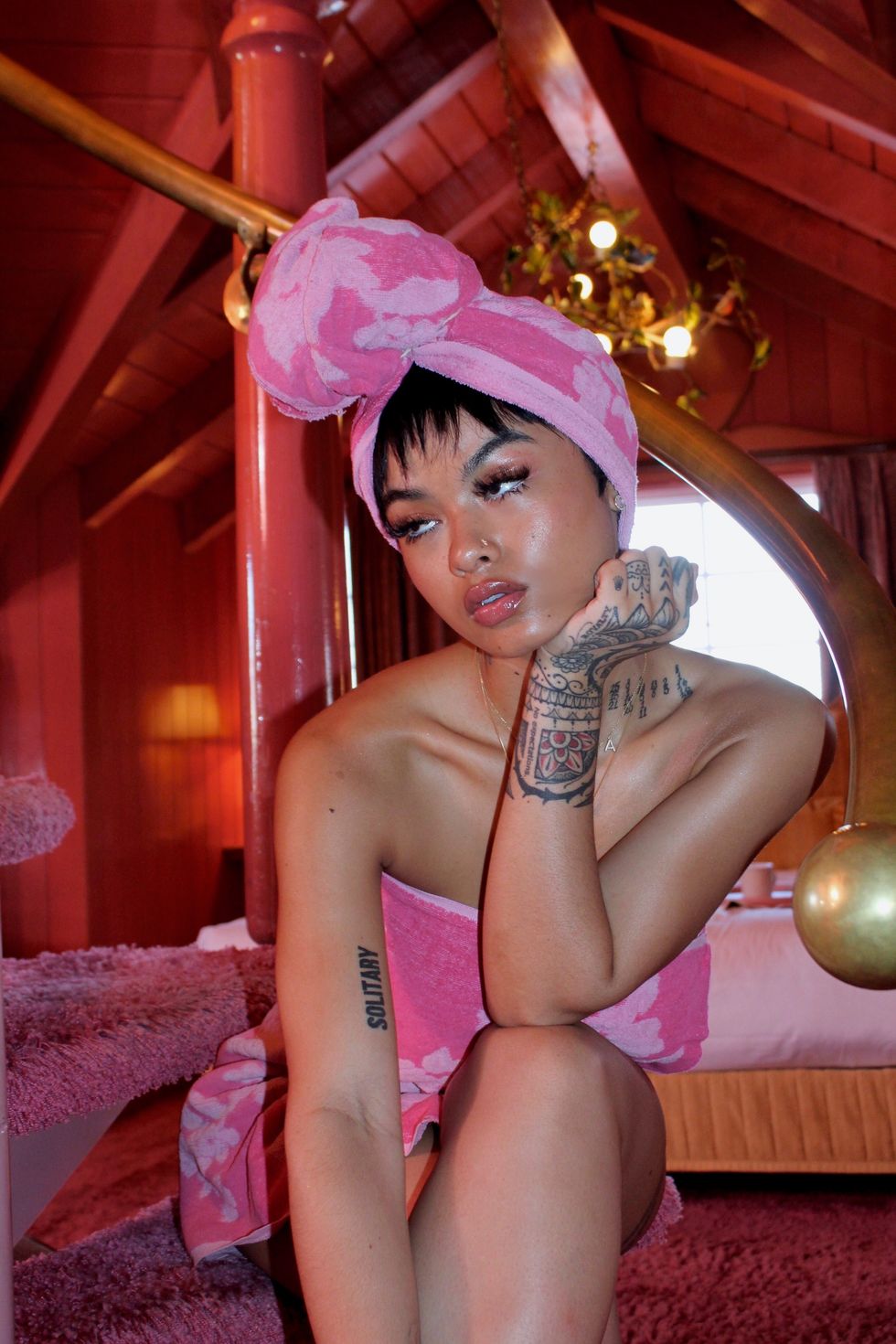 I also love how you decided early on to take some painful experiences and turn them into a tool to help inspire others.
Right. I look at myself as a walking example almost — or I try to be. The people who are inspired by me are the youth that look up to me. I probably made the mistakes that I have for a reason, so I can share my experiences so others can feel like they can get through it just like I did. I love getting DM's from people who are like, "I watched your interview the other day and you talked about this and I can relate to it on so many different levels." That type of stuff really makes me happy — that's really what I am here for, to share my experiences so people can grow from it and learn from it.
What can we expect from you down the road?
I can say that you can expect a single and a visual from me every month. I won't release music without a visual because I feel like I am very visual person. I feel like I am art, so I like to incorporate art into my music, everything I do is very artistic and I feel like it all ties into this beautiful story. I don't ever want people to just listen to me, I want them to see me, hear me, vibe with me, get the whole package.
Photography: Anthony Steven
Sign Up for the Morning PAPER