Today, a momentous event occurred on Ellen: Missy Elliott finally met her "funky white sister," Mary Halsey, who went viral with a note-perfect karaoke performance of Missy's 2002 smash "Work It."
The legendary rapper told us that Halsey is "one of the sweetest souls." She said, "I love her and her heart and she is so pure! I wish her nothing but happiness and success in all she do!"
Earlier this week, Missy performed at the American Express Yellow Ball at the Brooklyn Museum, hosted by the company's Platinum Card Creative Director, Pharrell Williams. The event was held in support of nationwide arts education; according to Williams, yellow is "the color of creativity and curiosity." A$AP Ferg and DJ Stretch Armstrong also performed, and artist Daniel Arsham set up a "multi-room art experience."
Icon is not a strong enough word for Missy Elliott, whose music, style, and videos continue to be massively influential. We sent her some questions about "Work It," and her enduring style.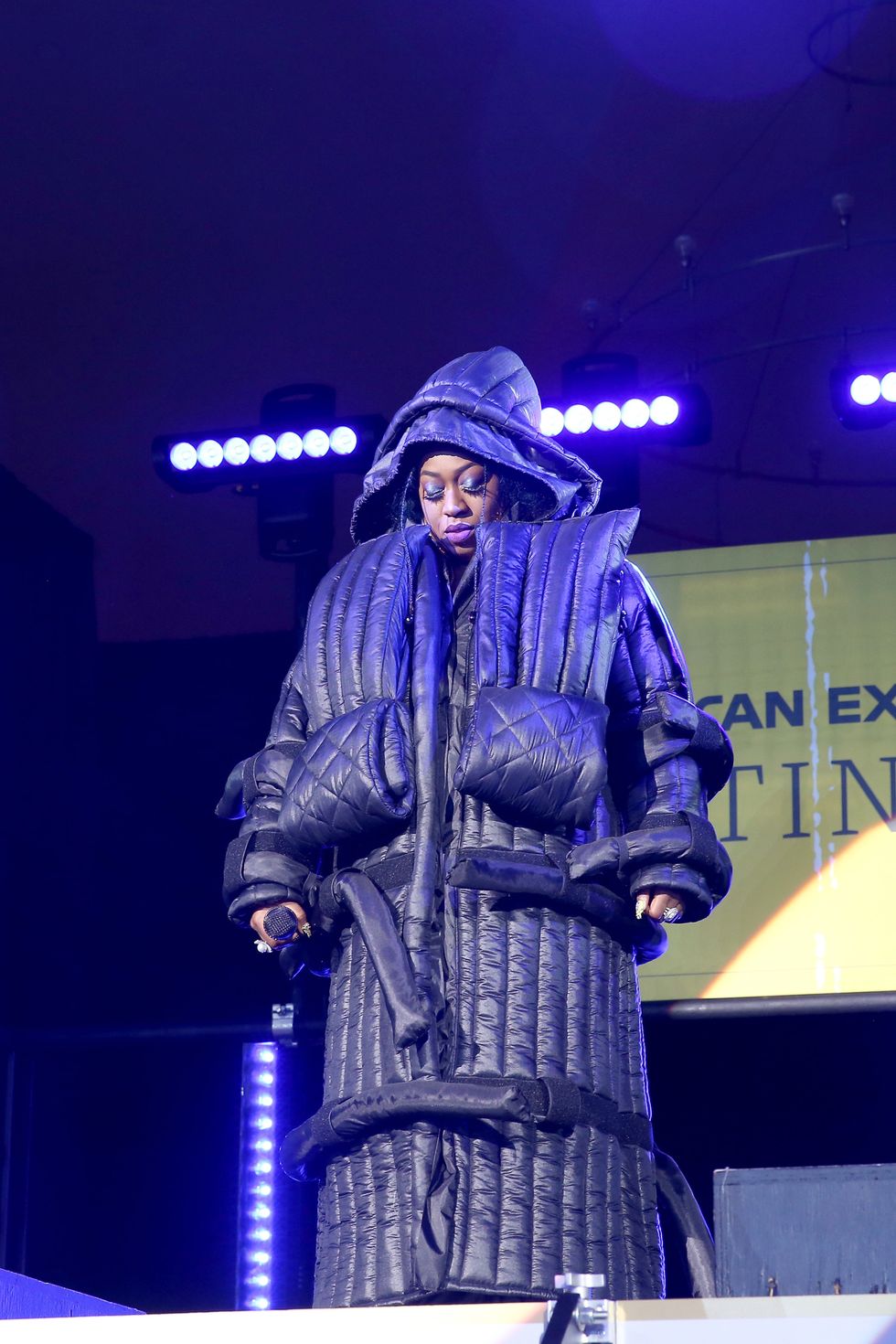 You recently tweeted about the 16th anniversary of "Work It," talking about how the famous backwards lyrics came to be! Could you tell us a bit about that day?
The day I recorded the song "Work It," I remember the vocals went backwards by mistake on the computer. I told the engineer, "Hold up I like that! Let's put that in the hook of the song and I'll write my lyrics around it."
It's fashion week, and so many styles these days are directly influenced by the early 2000s, aka you. Have you noticed styles that remind you of your own clothing, and what is that like?
I see a lot of fashion that looks inspired by my blow-up suit from my video "The Rain." There's a lot of big, black, patent leather jackets I see. But I love it! It's always good to see that you're apart of something so classic that over a decade later people are still inspired by it! I'm humbly grateful.
Your fashion and visuals are so impactful. What do you think about the style of young artists today? Is there anything you'd change?
There's a lot of fashion styles today that I see are innovative. The are some I see that are original. and then there are some who remix old vintage looks. I do see a lot of late 80's, early 90's styles incorporated in the new era with very bright neon colors!
I wouldn't change anything, but I would encourage people to not be afraid to rock some futuristic looks – take risks, because people are becoming more open to rocking different, out-of-the-box looks now.
You are the queen of music videos. Out of all of your magnificent work, do you have a personal favorite? Any crazy stories from filming?
My personal favorite video of mine is "She's a Bitch," because it's that video that is still 10 years ahead of its time to this day! There hasn't been anything like it and it was the hardest to shoot. We were in the middle of high waters and we had to hold our breath underwater and production had to bring in emergency boats because a few of my dancers had asthma attacks from being underwater too long — it was no joke!
But all of my videos had something crazy happening — but hey, I always wanted to make videos that would make people question what I was going to do next! I learned that from Michael Jackson, because that's how his videos were for me.
Photos courtesy of Getty for American Express