The crowd standing outside the VW Dome at MoMA PS1 in anticipation of Hayden Dunham's7 Sisters was perplexing. There were art-types, museum members, PC Music fans, friends and family of performers, and one woman who said that the space was "great for meditation." It is not unusual, though, for Dunham's work to attract such a stratified crowd; her work is revered by contemporary artists and art fans alike and her presence is felt in both Los Angeles and New York galleries and exhibitions, as well as Paris, London, Ireland, and China. Most of all, though, her reach is beyond that of any particular artistic discourse.
Dunham achieved nearly mainstream fame online in 2014 through her work as QT, an entity which served only, until recently, to market a self-made energy drink and perform a catchy jingle. Produced by the then-elusive hyper-pop pioneers, SOPHIE and A.G. Cook, "Hey QT" immediately caught fire; the song was considered a genre defining moment for a pop generation and cemented Dunham's name as a permanent fixture in a network far vaster than any singular art world: the Internet. Having been trained at one of the foremost international hubs of multidisciplinary conversations, New York University's Gallatin School of Individualized Study, Dunham would go on to create with other mediums and materials to spur new conversations. She would always, though, remain in conversation with the same type of invasiveness that the QT project represented.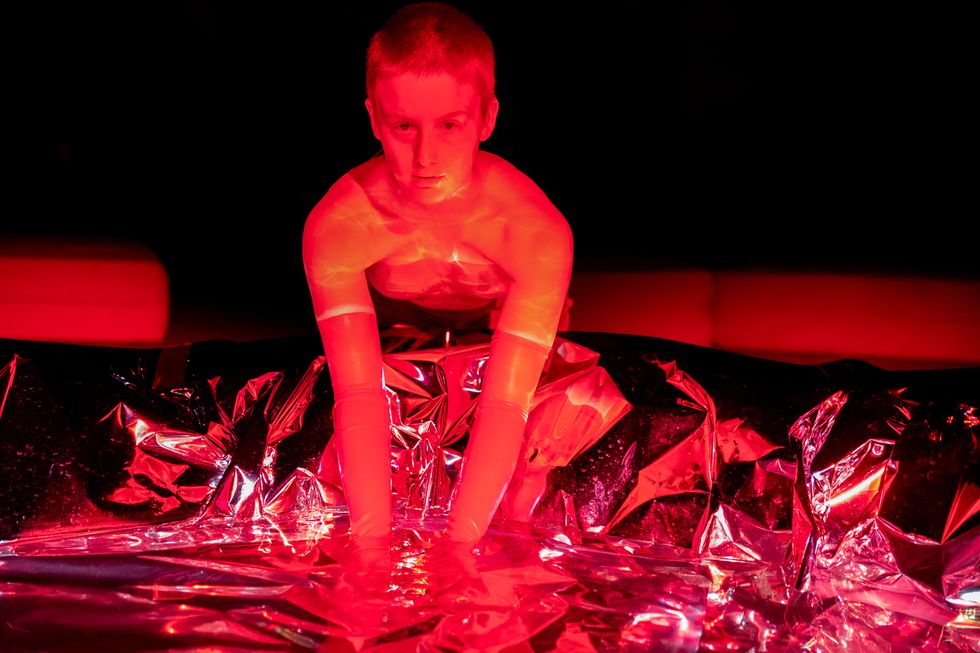 7 Sisters by Hayden Dunham presented as part of VW Sunday Sessions on February 10, 2019 at MoMA PS1, New York. Image courtesy MoMA PS1. Photo by Maria Baranova.
So, as the lights dimmed inside the dome, a palpable curiosity flowed through the crowd. How would Dunham attempt to connect the individuals from these extra-specific worlds, all for a performance concerning "the changing states and cultural resonance of oil through an internal nexus of empowerment and activation?"
Bang. Projected onto the convex ceiling of the dome, a car spun out in a roundabout on what seemed like an infinite loop. A buzzing score, composed by the boundary-edging Finn Keane, began to drone off of the walls. Other music played throughout was composed by umru, SOPHIE, and Cecile Believe.
Performers slowly emerged: some sat perched on platforms, while another circled the room, singing in Spanish about a resolve to live. One character, portrayed by Meriem Bennani, followed up the singing by thrashing around on a stage to an aggressive, yelping drop, which one could only assume was produced by experimental pop royalty, SOPHIE, two spotlights in-hand. The company took turns telling stories through movement, the spoken word, or both. While the company never explicitly addressed oil in these segments, their poems and motions expressed a larger consciousness of the five senses: Sight, smell, hearing, taste, and touch.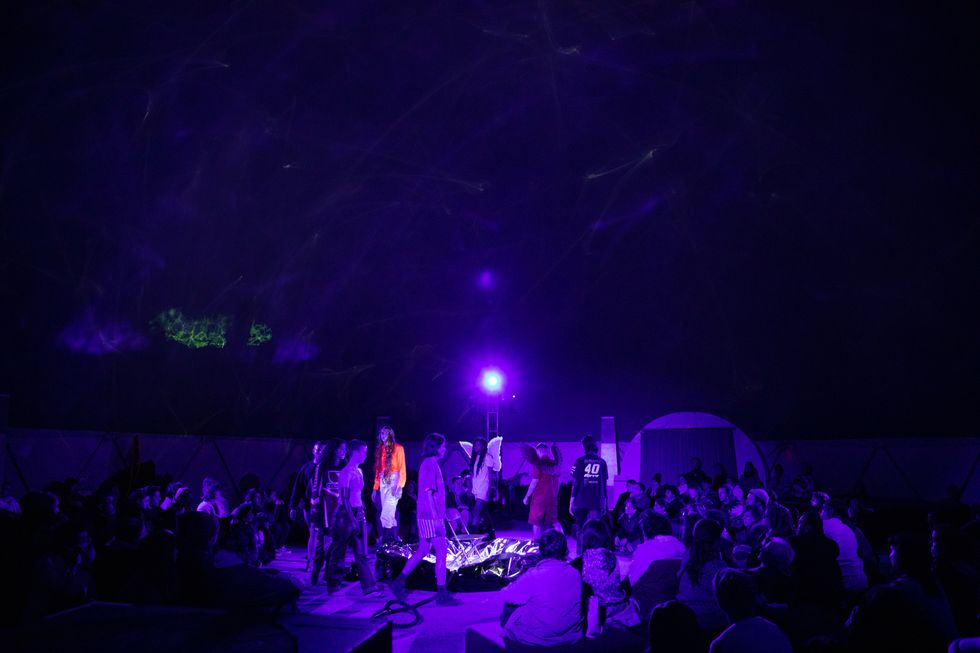 7 Sisters by Hayden Dunham presented as part of VW Sunday Sessions on February 10, 2019 at MoMA PS1, New York. Image courtesy MoMA PS1. Photo by Maria Baranova.
Two performers, outfitted in wings, stood firmly at opposing ends of the scene, watching over the other characters. Acting powerhouse Bobbi Salvör Menuez, who appeared in Amazon Originals' Transparent and I Love Dick, stood rigid against the dome, a backdrop of multi-colored film filling the negative space behind them. Menuez moved slowly toward the center of the dome towards a pool of water contained in a foiled basin before washing their face. Dunham emerged at one point in a long red wig, balanced out only by another performer who pulled at a rope around her waist before she fell forward into darkness.
More projections appeared throughout the performance — most noticeably being a series of tense clips showing Dunham interacting with a slick black substance, cut with whispers of a poem. These moments, spliced together with darkness and a vibrating backing track, were perhaps the most intense and sinister moments of the 45-minute performance. The structure of the piece was only broken by the conclusion, in which Dunham sat facing the audience in a folding chair, surrounded by the metallic pool, and asked, "Does anybody have any questions?" A mic'd voice then asked a series of questions about the Seven Sisters, which Dunham explained — in a reserved, skeptical character — is a reference to the pact between seven global petroleum companies, the star cluster, and the seven Pleiades sisters in Greek mythology. She stated that a star burns out, that it has a "finite amount of energy," just like oil.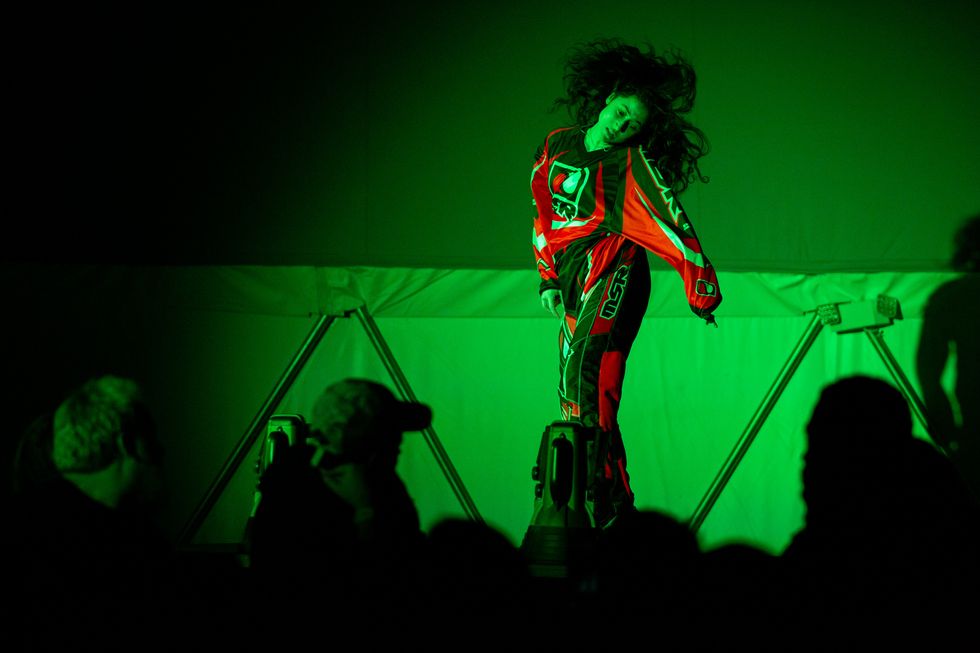 7 Sisters by Hayden Dunham presented as part of VW Sunday Sessions on February 10, 2019 at MoMA PS1, New York. Image courtesy MoMA PS1. Photo by Maria Baranova.
Only in the exploratory stages of understanding performance and movement-based art, I found myself a bit confused when trying to think about how all of the pieces of Dunham's performance intersected. It turned out that this confusion caused by overthinking was natural, mainly because the majority of the moments weren't meant to be thought about at all. "In darkness the audience is invited to focus on feeling. Feeling in their body," Dunham writes to me, "not thinking. The information that comes through by resting in darkness."
7 Sisters was a performance that existed mostly in darkness, even in moments where light was reflected off the center pool and whirled on the dome. Rather than observe the piece in a stationary sense, the audience was invited to observe through sound and feeling; the only thinking should have occurred with the arrival of light. "When light is united with darkness, lines begin to surface. Objects begin separating into different containers." The light only arrived at the end of the piece, Dunham explains. "The spot lights turned on and the person inside the pool began answering linear questions about why they are doing what they are doing. And quickly all of the information exchanged in the parts before were put into these containers to deliver information."
Each characterization in 7 Sisters was just as fixed; each cast member represented either the light, the ocean, fire, the sky, oil, a human, or darkness. They interacted carefully, but they all had something to say to one another since each form was connected through the Seven Sisters metaphor. "For example, when fire is united with oil it changes forms," Dunham writes, "When the Pleiades star constellation surfaces, sailors know they can't be on the water because it is too rough. In Greek mythology the Seven Sisters lived as water nymphs who eventually died and became stars."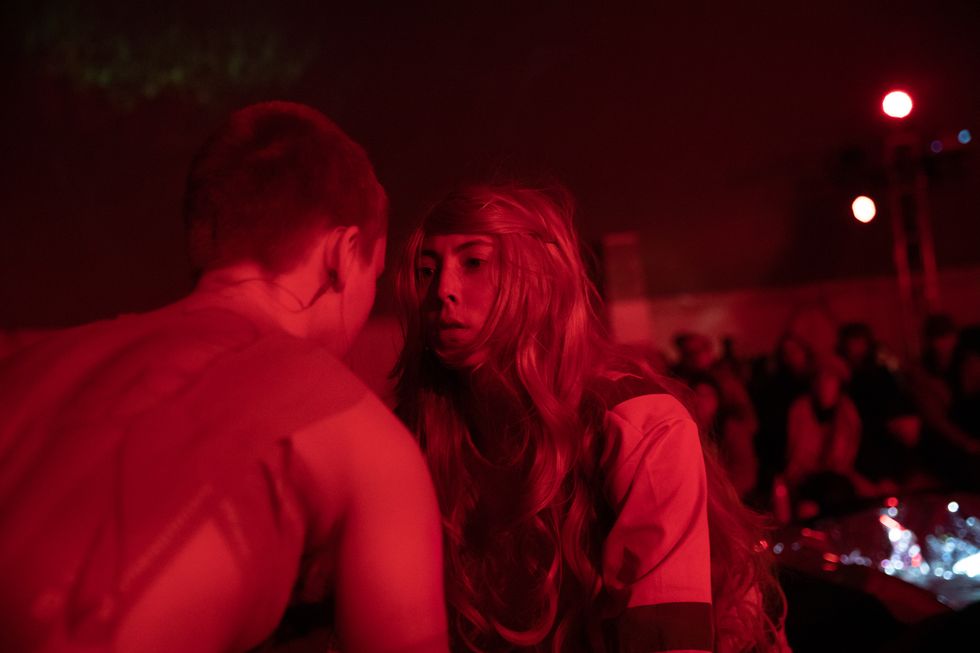 7 Sisters by Hayden Dunham presented as part of VW Sunday Sessions on February 10, 2019 at MoMA PS1, New York. Image courtesy MoMA PS1. Photo by Maria Baranova.
Rather than be consumed by the looming societal implications of having opposing entities be so responsive to one another, she took these forces, in their most basic forms, and lent them an open ear. Of course 7 Sisters was focused on making a statement, but it was not the statement that became most important when one considered that it had been conceived based on feeling. "All of this information is to say that we now need to be in a place of listening," Dunham writes to me after describing her intent.
I would argue that the conversation proposed by 7 Sisters was indeed about listening, but it was also about control, both of objects and of humans. The performance had been in the works for the last three years, throughout which Dunham had created other works that differed wildly in composition, but all came back to some new statement about control.
"All of this information is to say that we now need to be in a place of listening."
W Magazine editor Fan Zhong described Dunham's work as being obsessed with "outside influences on our bodies, especially those that are unseen or unrecognized." These influences on the body can be extrapolated to understand a larger obsession with influence as a cause and effect relationship, one with a nuanced conception of control and consent. For example, the Seven Sisters' cartel-like control of oil was a means to control price, extended to control human life; this same control can be followed down to a control of fossil fuel combustion's effects on the atmosphere and Earth's bodies of water, and then back to a control of the human body by way of climate justice. Some of Dunham's more literal iterations of this control can be found in her work for EVERYTHINGS, shown in 2015. She created a substance called GEL which traveled through the air vents of Andrea Rosen Gallery, thus modifying the composition of the gallery's air, entering into observers, and taking unseen control of the space.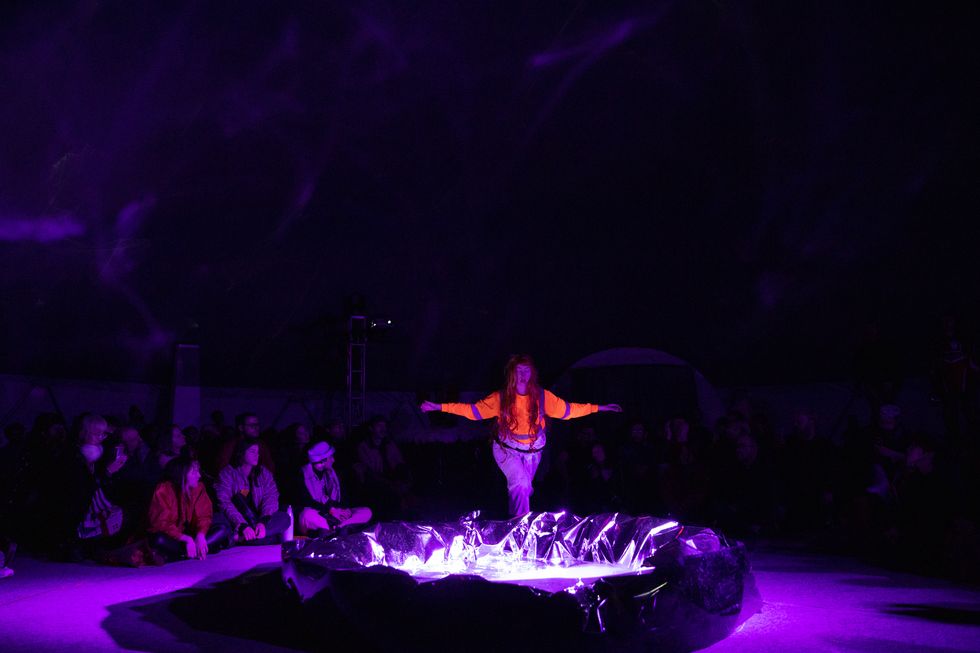 7 Sisters by Hayden Dunham presented as part of VW Sunday Sessions on February 10, 2019 at MoMA PS1, New York. Image courtesy MoMA PS1. Photo by Maria Baranova.
"There is this idea that my body is separate from your body. That we are all disconnected from each other," Dunham writes after speaking about lines, or in this case, a "catalyst," surfacing out of the darkness because of light. Ultimately, it seems that 7 Sisters was a way to address this divide: there isn't much separation when between bodies, objects, and ideas, and we're all being modified by the actions of another, the properties and "materiality" of objects. We're constantly at odds with such an idea when, in order to enact change, we must illuminate it even further.
Such an abstraction of the base material can get a bit headache-inducing, and as Dunham reminded Fan Zhong in 2016, "Language is really limited, you know?" Intrigued fans need not rely on language, though; 7 Sisters is a series, and it has only just begun.
"This is the first of seven performances," she writes. "Each one will take place at a different location and can be thought of as one act of seven acts." The remaining six "acts" will be announced in the future and will be performed in various locations, including Los Angeles and London.
Collaborators for 7 Sisters include: Meriem Bennani, Aaron Chan, Kai de la Cruz, Patrick Dunham, Bobbi Salvör Menuez, Lydia Okrent, Antonio Santini, Darrelle Vary, Marty Windahl, Sky Murray, and Chloe Morris.