New York-based artist, umru, has been on a meteoric rise ever since he burst on to the scene last year as a producer on Charli XCX's game-changing mixtape Pop 2. Having been scouted by PC Music mastermind, A.G. Cook, brought umru in for one of Pop 2's standout tracks, "I Got It," to give it the extra blown-out punch it needed to become the badass anthem it is today. Having almost come out of nowhere, the young musician has been celebrated as an exciting and fresh new voice to come out of a stagnated Soundcloud generation.
Featuring fellow artists Banoffee, osno1, Ravenna Golden, Lewis Grant, and Laura Les, umru has become the latest addition to PC Music's roster of artists for the release of his debut EP, search result.
Listening to search result, one almost gets the sense that you're listening to what pop would be if it was made in a post-apocalyptic dystopia overrun by heavily-armored robots. With clanking metallic beats, caustic trills, and densely-processed vocals, umru manages to create music that's intricately designed with a hard-hitting impact on the dancefloor. umru manages to smartly distill some of the most exciting approaches and sounds in electronic music today and make them his own.
An active Internet presence, umru is prolific in his ability to seamlessly integrate his artistic persona with memes in ways that are not only amusing but have had the potential to blossom into something far greater. He was recently part of the team that curated an entire music festival in the video game Minecraft, dubbed "Coalchella." Elaborately detailed with multiple stages, custom in-game merch tents, and a diverse group of performers, the experience was a chaotic cross between Boiler Room and Second Life that managed to offer a glimpse at the future of digital concert, opening up new avenues of creative expression without taking itself too seriously. umru's music is no different.
We caught up with umru to talk about the journey to his debut EP, search result, and what lies ahead for him:
What was the process of putting the EP together like for you?
It was definitely a long one. I started planning to make some project like this over 2 years ago when I was a very different producer, I think. since then the whole tracklist has totally changed and all these songs are less than a year old, but the process was definitely not very organized, the project just naturally came together from a string of collaborations that all began separately.
Was there anything that surprised you along the way?
I think it surprised me a bit how well everything started to fit together at some point. these are very different songs with quite unique vocalists, I imagined the hardest part would be forming a cohesive track list but a lot of things seemed to fall into place on their own. I've also always considered my music difficult to work with and write to, so it definitely came as a surprise how willing each of the collaborators were to work with me—it was my first time working with each artist except for Banoffee.
Did you envision a general arc or narrative to search result?
There's certainly an arc of energy and tone of the songs, they are meant to be heard in order, but it's not necessarily a narrative. The songs were written independently so they don't tell one cohesive story but it's a collection of frustrations, uncertainties, search queries that together make sense to me.
Your style comes across as very distinctive and recognizable, what was the evolution that lead up to settling on that specific palette?
I don't know if I'm at a point yet where I can look back and describe my evolution, I don't feel like I've settled on or become confident with a certain sound, I'm still in the middle of that kind of process and might always be. But the palette I'm working with definitely draws from a lot of influences. It's Soundcloud's "beat scene"—artists like Mr. Carmack, Woolymammoth, Sam Gellaitry—that first got me into taking production seriously, and of course there's a thousand other names I could list—SOPHIE, PC Music, Cashmere Cat, Sinjin Hawke, Arca—that have all had a huge effect on my work. I think I'm drawn to producers that have a very distinct "sound," you can tell it's them without the need for a beat tag. In terms of evolution, I definitely feel like I've tried moving away from the more EDM/trap sound i began with and am trying to make pop music—it interests me a lot more to influence the mainstream than to make "producer music" even if I end up doing that anyway.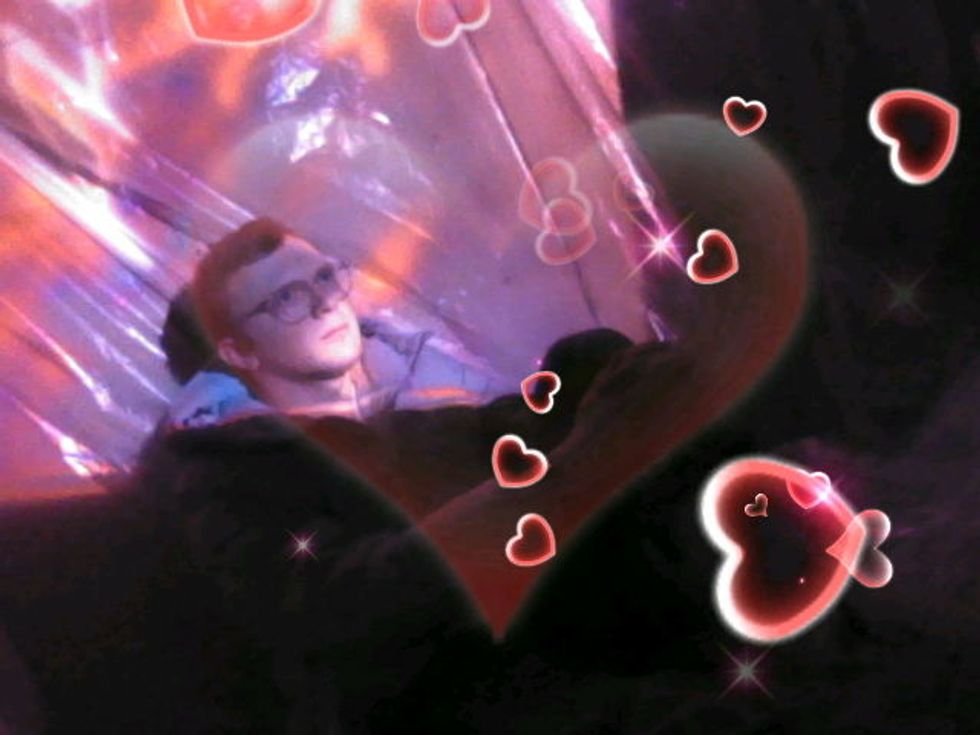 Photo by Elena Fortune
How did you initially end up working with A.G. Cook on Pop 2?
A. G. [Cook] emailed me over 2 years ago now, when I really feel like I had no good music out, because he found me randomly browsing Soundcloud. We spoke a little bit but I ended up not hearing from him for months until the day of the New York Number 1 Angel show, when he just told me I was on the list for this sold out show on a week night. I was still in high school and living 2 hours from the city at the time but I ended up meeting him there and going to a studio a couple days later and the rest is history, I guess. The Charli track also kind of came out of nowhere, I think I worked on it with him only a couple months before it was released.
How have things changed for you since "I Got It" came out?
I'd be lying if I said that song didn't change my life. It's very rare to have such a major pop track be my first real production credit, and for a few months maybe the song's impact didn't really hit me, but when Charli had me come up on stage at her New York's Pop 2 show it blew me away how anthemic it had become. I've since been able to perform with Charli, AG, Dorian Electra, and many other talented artists in Paris and at Charli's New York events, and they've truly been some of the greatest moments of my life. Words can't express how grateful I am to everyone involved in those nights and Pop 2.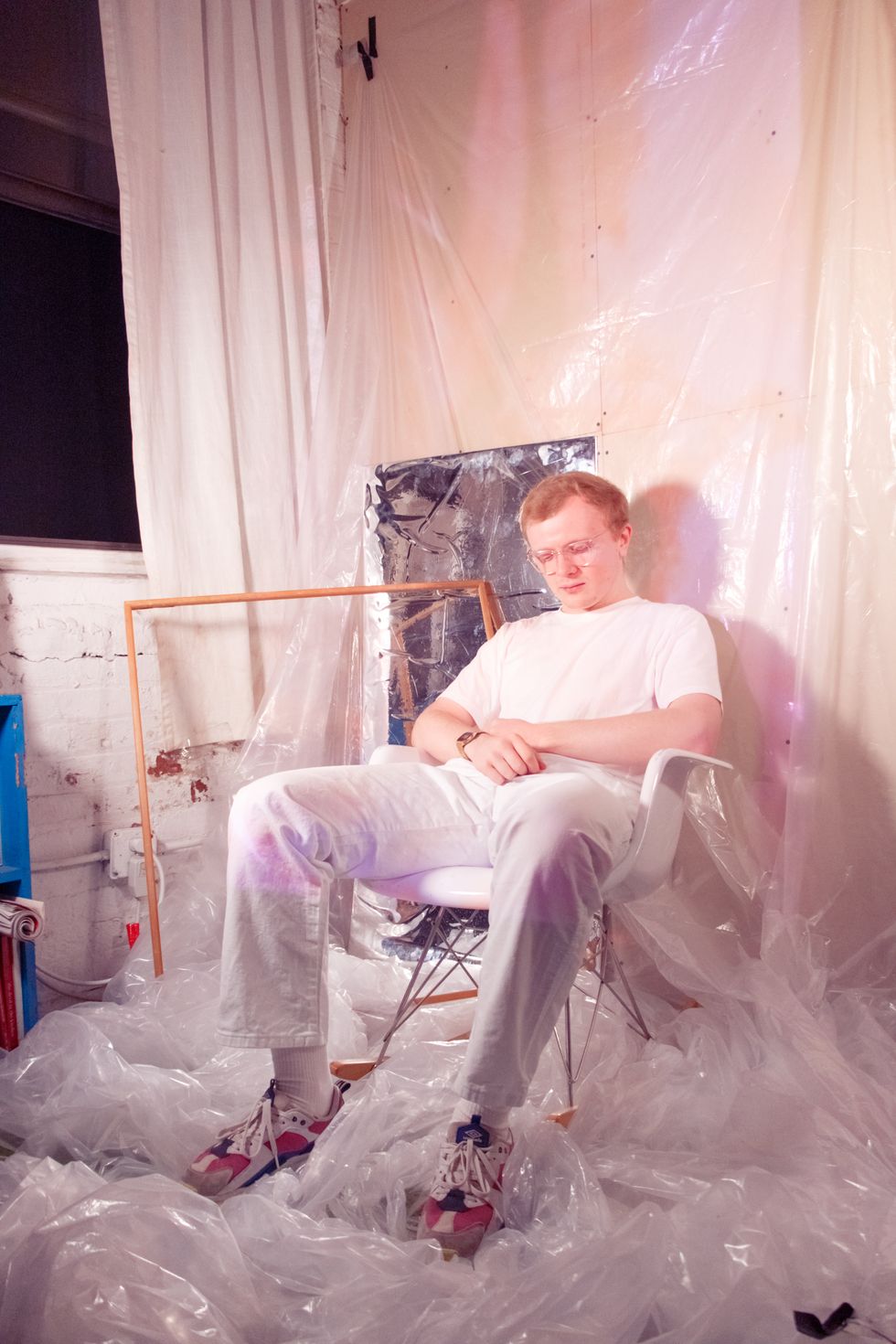 Photo by Max Schramp
What do you hope people ultimately take away after listening to search result?
I hope people find a little of what they've been searching for.
What plans do you have for the future?
Completely by accident, I'll actually have 2 more tracks coming out this month—a Ravenna Golden track I produced with Dylan Brady, out on the 26th, and a remix for X&G that I did with Blake Skowron on the 30th. after that, I'm not so sure. I really hope to get into more production for other artists, and also hopefully leave people with just a short wait until the next umru project. I'd also love to play another festival in Minecraft I hope they do another one of those.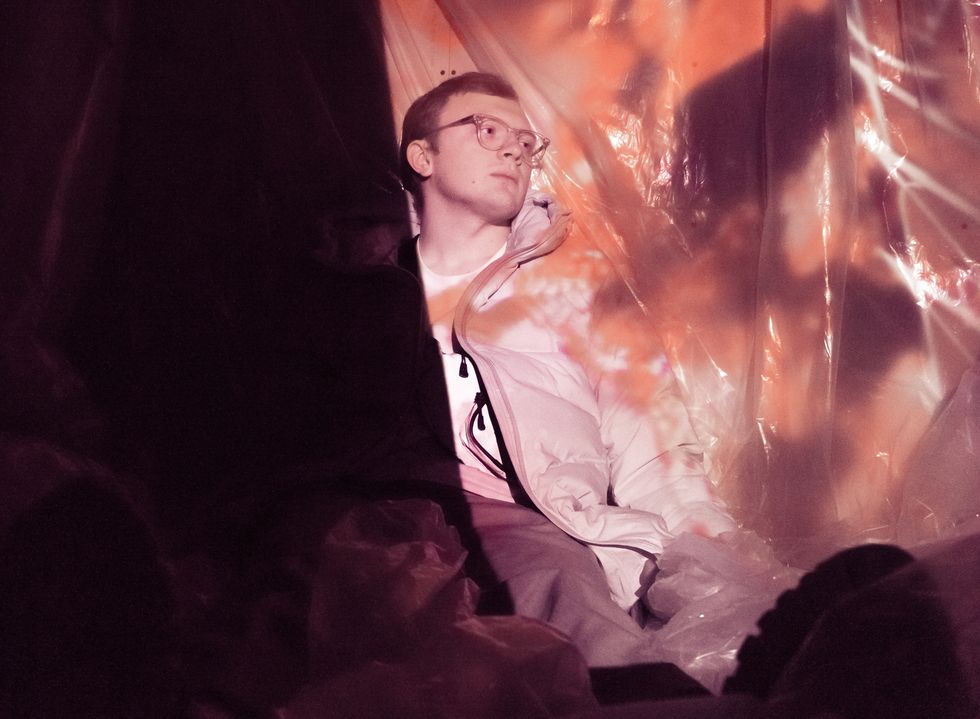 Photo by Max Schramp
search result is out now on all platforms. The debut EP also appears alongside the recent launch of PC Music's new weekly playlist, Perfect Music Friday, that looks to contextualize their new releases in a broader pop landscape and hijack playlist culture.