"I love the confidence that comes with wearing a bathing suit," says Emily Ratajkowski. The 27-year-old model-actress-entrepreneur is chatting about her swimwear brand, Inamorata Swim, which she launched last year. The entirely self-designed line includes one-pieces and bikinis in vibrant colors and polka dot prints sold direct-to-consumer online. These days, Ratajkowski's personal life is just as full as her list of professional obligations: She recently married longtime friend and film producer Sebastian Bear-McClard in a surprise, low-key ceremony after just a few months of dating.
The newlywed is seated across from me with legs crossed, emanating supreme yet unintimidating confidence. She's unapologetic about the pastiche of a career she is stitching together for herself — a collage of creative pursuits that includes modeling, acting and designing — even if she does intimate that she has not always been immune to insecurity. "I've always been really interested in many things," she says. But, "Even as a kid, I was always a little worried that I would spread myself too thin and never be the type of person who would find my passion and do this one thing and do it really well. I was envious of people who did that," she admits. She muses on how she thinks the world has changed as far as accepting and celebrating people who are multifaceted. "Before, being a model was a contradiction to being an actress or being a musician — you couldn't have a clothing line or be a designer," Ratajkowski says. "I don't think that's how creativity works... That's never how it worked for me, I was always someone who was writing, painting, doing whatever..."
As a child growing up in San Diego to a writer mother and painter father, Ratajkowski's first foray into — to steal a turn of phrase from Twyla Tharp — "the creative habit," was taking theater classes: Her parents figured acting could turn into a means to save up for college. Acting led to modeling, and the modeling took off first: She landed a contract with Ford Models. There was a stint studying art at UCLA for a year until she decided to take some time off to focus on working. The catalytic moment in her career came when she was cast in Robin Thicke's buzzy — and controversial — 2013 "Blurred Lines" music video. "Bizarre" is the word she chooses to describe the whole "meteoric rise" thing that resulted from that casting. She elaborates how at the time, she was thinking, "I will [model] for a couple of years, make some money and see how I feel about going back to school. To have something that I was just viewing so much as a 9-5 job turn into something I really was not expecting was super surprising."
In the wake of renewed cultural discussions about sexual consent over the last few years, Thicke's song has been re-appraised and criticized for the message it seems to promote. But whatever ire was directed at the song or at Thicke, the video served as a world-stage introduction to a woman who revels in her body and finds empowerment in her sexuality. Big modeling jobs followed, and Ratajkowski graced the covers of publications like GQ, CR Fashion Book, Marie Claire and more, along with runway castings in shows for Miu Miu, Marc Jacobs, Bottega Veneta and other luxury brands. But for as many people who encounter Ratajkowski on these covers or catwalks, there are perhaps many multiples more who discover the model and her particular brand of sensuality on Instagram.
"Even as a kid, I was always a little worried I would spread myself too thin."
@emrata, as she is known on the social media platform where she is followed by 19 million people, is more than conversant in how to wield the tool of the 'Gram. "I think of my Instagram as a magazine," she says, adding, when asked about what sort of magazine it would be, "It's a sexy feminist magazine." When asked if she feels her Instagram account espouses the full narrative of @emrata-hood, she gives the answer that should be obvious to all: "Of course not. I mean, does anybody's?" She continues, "I am not going to shout from the rooftops that I am smart on a visual platform."
While critics have argued that her sensual posts do not fit into the feminist paradigm (Piers Morgan once went as far as calling her a "global bimbo" in response to a shoot for LOVE magazine's annual advent calendar that featured the model covered in spaghetti), Ratajkowski stands behind the notion that they are, in fact, an act of feminist empowerment. "I think that the whole idea that because the body I was given might play into some patriarchal idea, I should be ashamed of it or be covering it up is ridiculous. I find empowerment in celebrating and sharing my sexuality. I think my body is beautiful and a lot of different bodies are beautiful," she insists. She does, however, balk at using the word "activism" to describe her actions. "Activism is a really strange word. Is social media activism? I shy away from that word because I don't really know what it means. I think of myself as a feminist, and the issues I am most passionate about are social issues." Ratajkowski does share that she was active in the Black Lives Matter movement in LA, "attending rallies, showing up, keeping the dialogue open, bringing attention to those issues," and she has also shared photos on Instagram of herself participating in the Women's March and protesting Trump's travel ban at LAX.
"You were living in a bathing suit. I love the confidence that came with that."
Pivotal though Instagram may be to Ratajkowski's career, it is far from her only stage. While she may feel some ambivalence about being described as an "activist," one descriptor that's a fixture in her multi-hyphenate melange is "actress." The very same sultry role she played in Thicke's video led directly to a movie role alongside Ben Affleck in David Fincher's 2014 thriller Gone Girl. Director Fincher told GQ that for the role of Andie, Ratajkowski's character in the film, he "wanted... someone who could be incredibly divisive among men and women in the audience," to which Affleck is said to have replied, "Yeah, like the girl in the 'Blurred Lines' video." The rest, they say, is history. Next came parts in 2015's Entourage movie, this past April's I Feel Pretty starring Amy Schumer, a number of indies sprinkled in the mix and now the soon-to-be-released Welcome Home, in which she stars alongside Aaron Paul. In the film, she and Paul play a couple that goes on holiday to the Italian countryside and stays in an "Airbnb-type situation," she says. Things spiral into a thriller as the couple finds itself victim to the homeowner's nefarious machinations.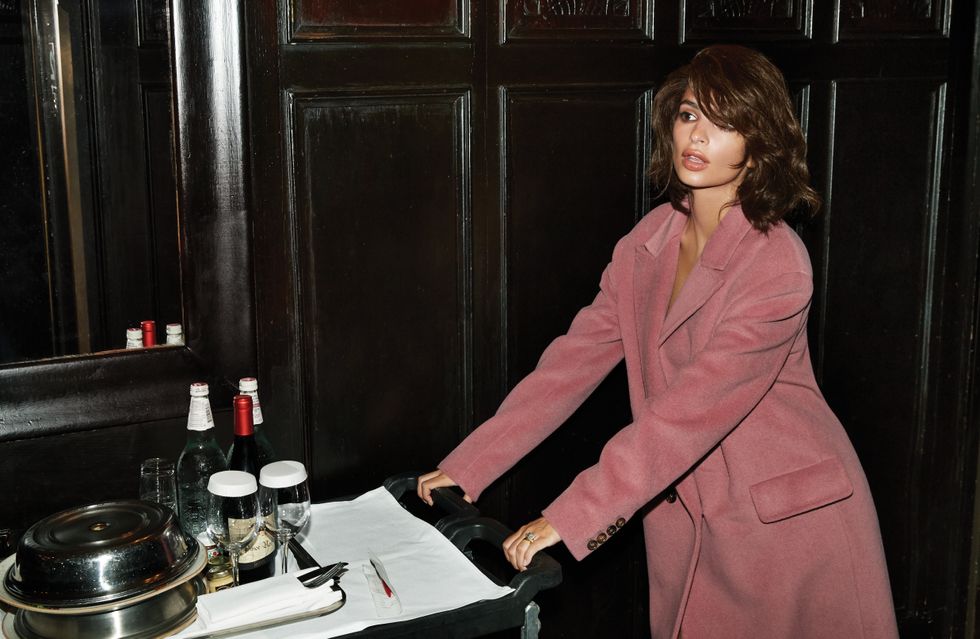 Coat: Max Mara
When I ask Ratajkowski which industry has challenged her the most, she blurts out the four-letter word, sans hesitation: "film!" She continues, "There are a lot of older white men at the top who still don't understand that just because you've seen a woman's body, you can also take her seriously." She goes on to note that the film industry also "has not found a way to marry the traditional timeline of making a movie with social media," lamenting a squandered opportunity for synergy between the film industry and the marketing platform that is Instagram.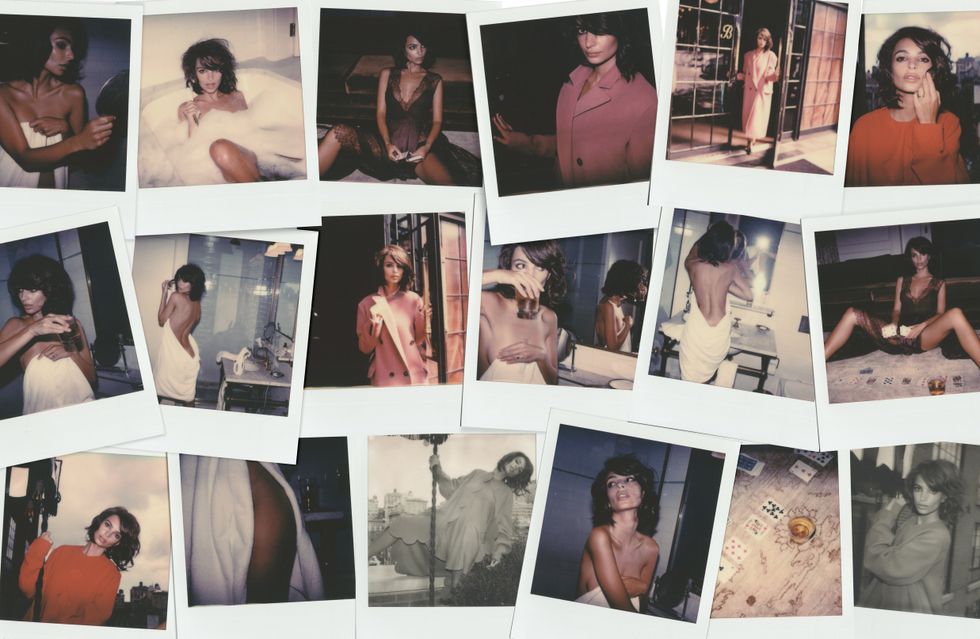 As for her experience with the fashion industry as a designer who, until recently, handled all aspects of her business, from designing to sourcing to marketing, by herself, she says the business is what you might think it is: "It is all about the surface level." Be that as it may, her interest in design and fashion can be traced much deeper, back to at least the third grade, when she recalls drawing wedding dresses for her teacher and "literally having, like, 27 options for her." So why design swimwear as opposed to any other kind of apparel? The answer harkens again to her roots: "I grew up in San Diego, and in the summer that is what you wore. You weren't even at the beach, but you were living in a bathing suit. I love the confidence that came with that... It fit with my ethos of how I want women to think of their bodies."
"I feel like I am controlling my narrative," says Ratajkowski. "Being able to have the agency to do the swimsuit thing is so empowering to me, and I'm hoping to be able to take that same entrepreneurial attitude to fashion, to film making and beyond and to utilize the tools that I feel lucky to have." It seems Emily Ratajkowski's one true calling is to be a plethora of things — to be a master of many trades in a world that claims she can only possibly be a jack; to live out, in the word of Walt Whitman, her "multitudes." There's no denying that in insisting on fanning the many fires of her creativity at once, Emily Ratajkowski is radical.