Luxury designers love to pretend outlets don't exist, especially during fashion month when brands unveil their flashiest, most expensive ideas to the world. They'd prefer a reality where all their customers can purchase off-the-rack at full price — a world where their precious concepts wouldn't dare be marked down and worn by an everyday person in everyday places. This cycle of constant newness, however, is exactly what perpetuates a vicious trend cycle and ultimately keeps outlets stocked, with customers clawing to stay relevant and further contributing to an industry that accelerates climate change.
In Amsterdam, Duran Lantink, who was nominated earlier this year for the LVMH prize, is repurposing designer clothes to make statements about a fashion formula that's rapidly destroying our global environment. "I think it's important to show people we are shifting culture by being aware of the huge problem in the industry," says the designer, who's made a practice of combining luxury labels — some of which who're direct competitors — into single, reimagined garments.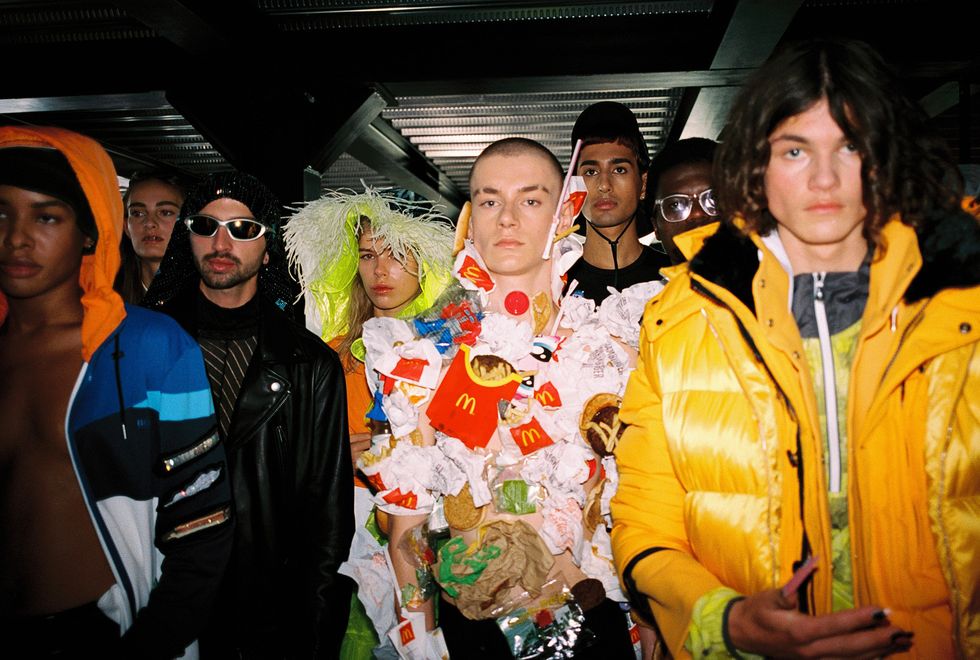 During Amsterdam Fashion Week, where Ninamounah also showed, Lantink spoke directly to the hysteria surrounding discount designer by partnering with Batavia Stad Fashion Outlet, which boasts 150 "sophisticated" stores and savings "from 30% to a massive 70%." He had three weeks to assemble 25 hybrid looks, using only pieces from the outlet stores, and also build a larger production for AFW that doubled as commentary on today's consumer culture.
"During the collaboration, Bataviastad invited me to shop in all their stores," Lantink says. "These stores are mainly shops like Adidas, Armani, and some local designers. This was kind of a challenge because we normally only work with high end leftovers. Now we had to combine high end with more mainstream brands, which I liked for this project because I think it's a reflection of what we see in the streets today — people combining Valentino with Levi's or Prada with Nike."
The resulting collection was an exciting grab bag of strange, multicolored silhouettes. "I think of it as a celebration of diversity," Lantink says, "and that's what makes it a collection," rather than a more traditional focused theme. An argyle sleeve sewn onto a turtleneck with a gold timepiece at the neck, worn with cream furry pants; layered men's boxers combined with intentionally sagging, oversized trousers; a puffer coat manipulated into a tight, poncho-style top; a sneaker bottom attached to a platform wedge attached to a gold strappy stiletto pump; workwear jumpsuits softened with dramatic layers of tulle. "We make everything in house and do a zero waste policy," Lantink says of the looks.
Critiques of consumerism extended beyond fashion and into the food industry, as well. One model appeared with her skin covered completely in gummy candies that matched the colors of her outfit. Another, easily the most clicky look from Lantink's presentation, emerged with his entire upper body concealed in McDonalds — not just the containers and wrapping, but the actual food: fries, patties, hamburger buns, lettuce, and more.
Lantink's AFW presentation was interrupted by a swarm of pedestrians, who filled the catwalk iin typical street clothes. They were all rushing, furiously bumping into each other — crazed and on a mission to nowhere — carrying giant shopping bags. This, paired with Enya's "Sail Away" as a soundtrack, offered tongue-in-cheek entertainment in the context of a fashion presentation, but doubled down on Lantink's greater, more serious message. "It was a reflection of the widely depressed consumer behavior," he says. "Looking for as much clothes as possible for a cheap price just to get that high."
Lantink isn't alone in designers producing upcycled fashion across the world, from New York's Gypsy Sport to London's Vivienne Westwood. But for Lantink, this small uprising against the larger luxury market isn't enough. When asked if he thinks it's "immoral" to continue producing new designs in 2020, his response is direct and clear: "Yes I do."
Watch Duran Lantink's Batavia Stad collaboration, below, and follow him on Instagram (@duranlantinkyo).
Sign Up For The Morning PAPER