Last season, we sadly reported that low-rise pants are back. Tight low-rise pants are depressing — they are unflattering and make your underwear stick out above your lower-waistline. But there is hope. Low-rise pants are the sister to sagging pants, a trend that is far more fun and more forgiving. Long live the Y2K revival.
At his Spring 2020 show, designer and CFDA/Vogue fashion fund nominee Victor Barragán presented a vital, fun take on Mexico City clubwear — a focused take on an aesthetic he's been developing for years. The Barragán models had slicked-back hair and glistening skin; the makeup included faux-hickies that dotted their necks created by artist Marcelo Gutierrez. And the clothes were styled to seem like they were about to slip off.
The Barragán look perfectly ascribes to what Vogue writer Liana Satenstein aptly described as "louche, sweaty style" (my ideal man). "For these men, there is no need to skew toward mass trends or consistent classics, no interest in copping the latest It piece," she wrote back in 2016. "Instead, they find luxury as well as self-satisfying comfort in their own sleazy selves, their utter lack of irony, and their absolute confidence." Enter the Barragán man.
Some of Barragán's models this season sported sagging pants with pockets unexpectedly placed at the knee. Stripes of contrasting color swirled around the groin; they are the best kind of sagging pants we've ever seen. Please take us to whatever party you're headed to next.
Barragán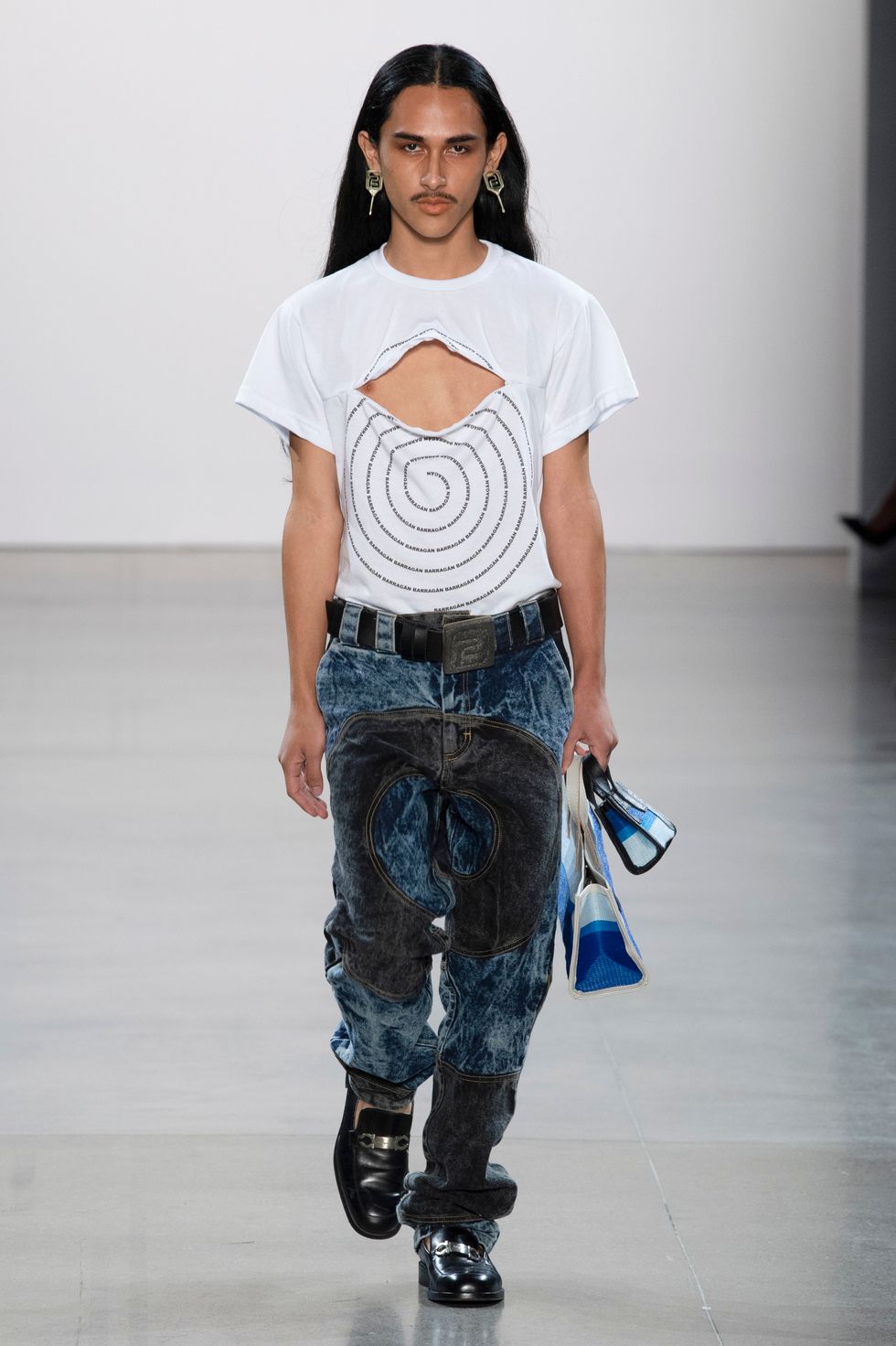 At Gypsy Sport, designer Rio Uribe makes collections that collections are genuinely unisex and agender; he shows clothing on male, female, and models who identify somewhere outside the gender binary (which almost feels ridiculous to point out; young designers in New York, like Uribe and Barragán, use organic, inclusive casting without a second thought, as it should be). Uribe's triumphant show included models done up in glittering makeup, like aliens. And sagging pants! Uribe showed wide-legged trousers and cargo pants that dipped well below hips, butt cracks poking out from behind.
Cargo pants have been gaining traction for a while, but they seem to really be the silhouette of the season; Maryam Nassir Zadeh had polished takes on the style, as did her design assistants Claire McKinney and Sophie Andes Gascon, who presented their new label, SC103, off the CFDA schedule. The SC103 show was my favorite thing I saw all week, joyful and original. And they showed cargo pants, including a pink floral pair that flowed beautifully.
The ass, in general, has been having a Moment that's lasted several years. And some designers chose to just show their models' whole butts. Kim Shui opened her Spring 2020 show with a dress that was entirely open in the back, strings criss-crossing down the model's back, her ass entirely exposed. "I like incorporating a qipao element," Shui said backstage. "And I thought, why not just be a little extra? Make it a statement from the back."
Kim Shui
The Priscavera collection also incorporated low-cut cargo pants and exposed cheeks; designer Prisca Vera Franchetti showed a short skirt lifted up to expose her signature flame-print rendered on underwear. Franchetti was directly inspired by the Hieronymous Bosch painting "The Seven Deadly Sins and the Four Last Things." And so backstage she said she was thinking about "what it means to sin, or be a sinner."
Franchetti's clothes were worn unbuttoned, flowing everywhere in the breeze on the roof of New Design High School, one of the best New York Fashion Week venues (in addition to its beauty, New Design also enlists high school students to help at the shows, giving them nice resumé boosts). Sex seems back for spring. In addition to the aforementioned butts, boobs were nicely on display at shows like Gauntlett Cheng and Section 8. It's time to finally let a little loose.