Brooke Candy has been impossible to pin down since she first burst onto the scene in 2013 with "Das Me." In her case, this is what makes her such a singular artist.
This shapeshifting quality helped solidify Candy's futuristic visual aesthetic, from couture body casts and warrior-like armor to swinging floor-length braids and wigs — which we caught a glimpse of when she danced in Grimes' video for "Genesis" the year before her solo breakout. It also helped blaze a trail for Candy's experimental sound: she was part rapper, part avant-garde pop star, and through the electronic undertones in her songs, part Internet-curated cyborg from the fifth dimension. She had a filthy mouth but refined taste, as numerous credits — including a MAC campaign, and starring in a short fashion film last year called Candy Crush co-directed by Thom Kerr — plus other major fashion co-signs for her art would ultimately prove. For example, Steven Klein shot her for various editorials and for her darkly glam video to "Opulence," the title track to a 2014 EP we still bump regularly. Nicola Formichetti tapped Candy to perform at his inaugural Diesel show in Venice.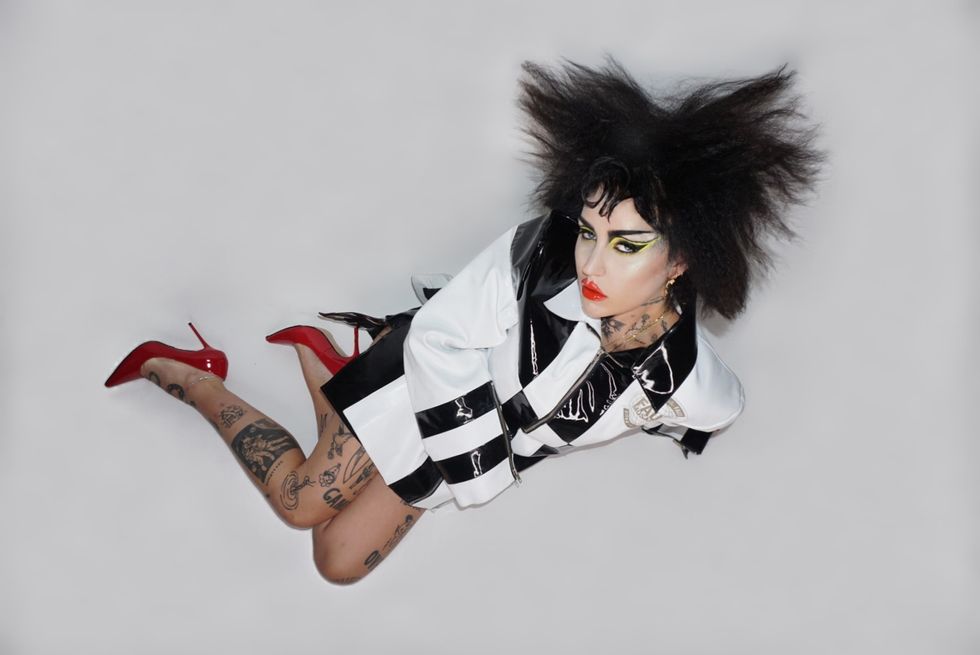 This attention helped Candy establish her cult LGBTQ following, while gamely catapulting her underground sensibilities further into the mainstream. She made songs with Sia for a while on label divisions of Sony Music (remember "Living Out Loud"?), and had a debut album in the works, Daddy Issues, that encountered delays. Coming from that experience, Candy continued working with Sia, and early, frequent collaborator Jesse Saint John, who wrote "Das Me," and took matters into her own hands as a newly independent artist.
This year has seen Candy returning to her punkier roots, and rightfully so. In this latest incarnation, in case it wasn't clear before, it's crystal now: Candy is taking no prisoners. So far, she's released the fiery tracks "War," "For Free," and the proudly feminist manifesto "My Sex," featuring an all-star cast of Pussy Riot, Mykki Blanco, MNDR, as promotional glimpses into her unstoppable creative future.
She premieres her newest track, boisterous rock banger "Nuts" with Lil Aaron, co-written by Saint John and Sarah Hudson, with PAPER today. The song is from her newly reworked forthcoming debut. She tells us that it's an unapologetically brash song about owning one's own wildness. After all, as she tells us: "Where would culture be without the untamed freaks and their insane brains?" Listen below and read on as Candy gets candid about her new music and where we are today.
How did you and Jesse Saint John connect for the creation of this song? How did Lil Aaron become involved?
Jesse is one of my best friends and earliest collaborators...he's been writing for me since "Das Me"... my first song ever! I just love working with him because he understands my message and knows how to translate it in a fun way...plus he's the nicest person ever! Lil Aaron got involved shortly after because I'm a fan and had wanted to collab on something and he loved the track. I think he's one of the best writers in the music business right now and has such a cool attitude. This song sums us both up pretty well [laughs].


It has been so fun watching your career take on different forms. You seem to be channeling a lot of punk/underground influences of late, which feels like a throwback to how fans first encountered you. How does "Nuts" fit into the new sonic direction you've been pursuing?
It's fun, aggressive and wild like an anthem for the outcast...."ya, I know I'm nuts and I know everyone on the internet must think I'm nuts! I know I have no filter when I speak, and look crazy at times but at least I own it." I'm not trying to hide the eccentricities that make me who I am. In fact, I'm proud of them. Where would culture be without the untamed freaks and their insane brains?
Going from indie artist to major labels can be jarring for any artist in pursuit of artistic freedom. You once said you're not interested in making mainstream pop anymore. How have you been able to maintain your integrity as an artist through your various transitions?

I'm constantly evolving in what form my expression takes but I think my first few releases like DAS ME & Everybody Does that Jesse and I did before entering the major label system are such strong mission statements and so expressive of what I wanna continue saying throughout my career. Those things I'm saying back in 2013 are still so relevant today and still fuel my content today so I think if I ever lose my way or experiment too "mainstream" I have a pretty strong compass pointing me back to the core of Brooke Candy.
There has always been a feminist bent to your music and visual narrative. Songs like "My Sex" with Pussy Riot, MNDR, and Mykki Blanco illustrate this, as well as the film you recently directed for Pornhub, I Love You. What has helped you become comfortable in expressing these messages/ this part of yourself in your art? To the world? Why do you feel it's important to do so?

I still feel like I'm one of the only ones saying it so directly. We live in a fascist regime here in the US and ignorance seems to be celebrated and we have tons of geriatric white guys making decisions on female bodies and discrediting femme identifying voices, so for me it's always gonna be a priority to speak to that. I'm just flabbergasted by this shit I see every day in my country and in my industry so I'll always work that into my art, whatever medium it takes.
What do you hope fans and listeners take away from "Nuts"?

Just go fucking nuts.

Photography: Gregory Russell

Sign Up For The Morning PAPER