For fans who began following Brooke Candy since the beginning of her career, "War" will sound like a refreshing return to the outsider energy that first made her famous. Viral rap tracks like "Das Me" and "Everybody Does" attracted the attention of RCA Records, who eventually signed Candy and recruited powerhouse vocalist Sia to executive produce a debut album that ultimately never got released. During this time, Candy was being fashioned into a full-fledged pop star, launching fun, radio-friendly songs like "Nasty" and "Living Out Loud" that were promising crossover hits, but strayed from her original DNA: the "motherfucking freaky princess," who notably reclaimed the insult, "slut," and turned it into a compliment.
Related | Welcome to the Feral, Freaky World of Brooke Candy
As a newly independent artist, it's fitting that "War" is rooted in rebellion, with a pounding beat and searing guitars courtesy of producer MNDR. "The government lied, the media lied, your mama lied, your grade school lied," Candy sneers, working through the list with pent up frustration. "Fuckin liars, fuckin liars, fuckin liars!" Through these anti-establishment lyrics, co-written by Jesse Saint John, you can still hear Candy's sensibility for a well-balanced pop song — one that unapologetically makes a statement, while still demanding repeated listens. The chorus is where it really hits: "So keep on pushing your position/ And make 'em swallow up your vision/ Another organized religion/ Dumb d-dumb dumb, they all fall down."
PAPER caught up with Candy to break down her new industrial pop-punk sound. Read our interview, below, and watch the "War" lyric video directed by Korean Instagram artist MLMA.
Your last release was "Volcano," which was from the era of RCA, Sia co-writes and major label support. Do you consider "War" your first real statement as an independent artist? It certainly has the attitude of an independent.

I think my first real statement as an independent artist was my release of "Das Me" — the first song ever released, long before Sony came into the picture, but this is also just as honest of a statement.
For a while, you were on a real pop trajectory. How do you contextualize this new track within your greater discography?
The music I put out before I signed my deal was hard edged and with a thoughtful feminist perspective, so considering that I think it fits in perfectly with my discography. I'm still trying to find balance within my sound and art. This song is just part of that journey.
Related | Jesse Saint John Captures Millennial Isolation on 'Fake It'
What inspired the lyrics? Are you speaking directly to the Trump administration, or is this commentary on America as a whole?
"War" speaks to what is happening on planet earth — how the political and cultural landscapes are so unfair. It's an anthem to wake people up and seek aggressive change in the world — to protest and shake things up.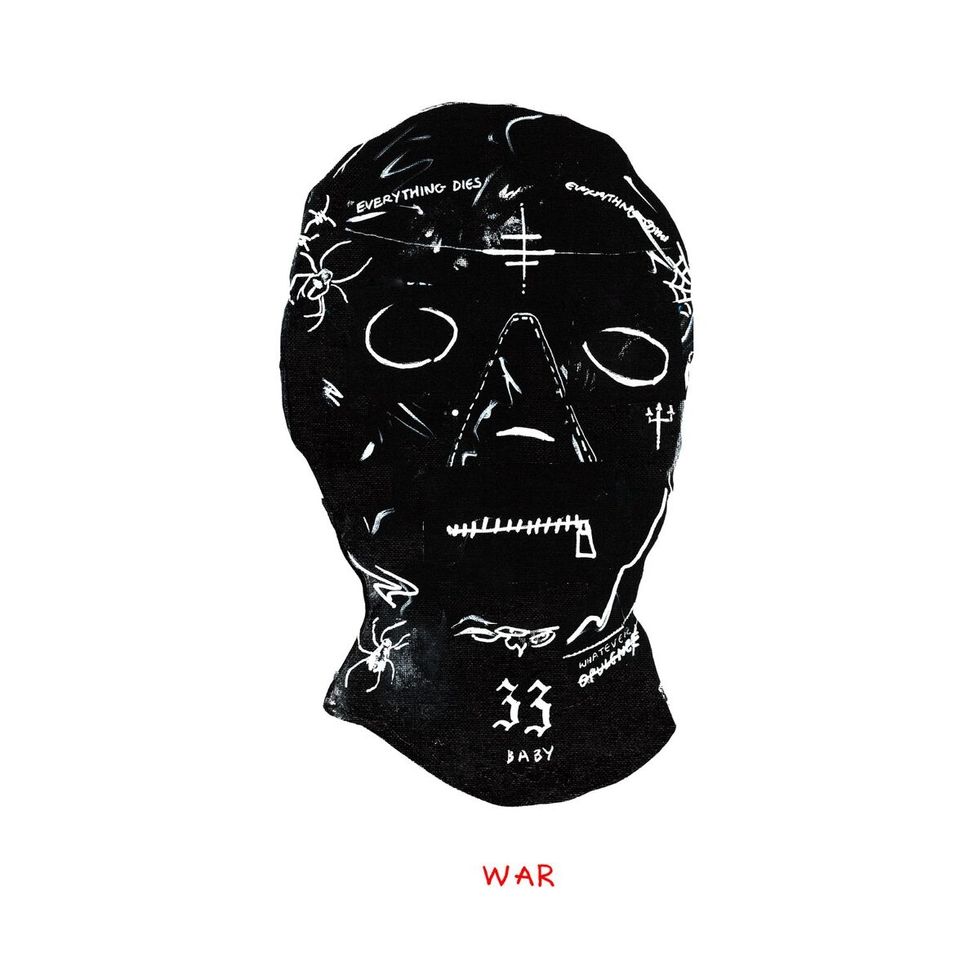 Sonically, how does this track reflect your own musical taste? I feel like you're always listening to more punk/metal than the pop your fans know you for.

I'm a metal head! How'd you know? [Laughs] This song is definitely more in line with the sound and scene I've always gravitated towards. I love industrial/punk music. I've always wanted to be like Wendy O, I just didn't believe in myself enough to pull it off. I'm finally ready.
"It's an anthem to wake people up and seek aggressive change in the world — to protest and shake things up."
Who'd you work with on this track for production and lyrics?
I worked with my pals Amanda Warner (MNDR), Peter Wade, and Jesse Saint John on this track. I was so excited to be making harder music with live instrumentation I could barely contain myself during the process. It was fucking lifechanging honestly. It felt really nice to have a group of people believe in my vision and voice — love them, man.
Related | The Set Designer Behind Arca's Hedonistic Car Crash Performance
What do you think about the state of contemporary music? Are you inspired by it?
I think there's beauty in everything you just have to find it. Musicians like Kelela, Abra, Arca, and SOPHIE are all changing the landscape. [I'm] obsessed with the LA/NY punk scenes right now too — Girl Pusher and Surfbort are badass, both fronted by women and both really really good.
How does "War" reflect the music that's coming next? I know you've performed a song produced by SOPHIE live...
I love SOPHIE! She's an icon. We don't really have very many of those anymore. I guess "War" as a bigger art piece reflects more honesty, and that's something that can be expected with every piece of art I put out from now on. Sonically it's definitely the direction of this new EP — Hard edged and emotional. Who knows where this will lead me... I'd love to put out an album of meditative frequencies [Laughs]. Binaural beats by Brooke!
Photography: Alis Pelleschi