You rarely hear of a series that highlights and uplifts the stories and sexual experiences of queer femme Asian-Americans (or queer Asian-Americans in general). Mainly, that's due to harmful and historical patriarchal stereotypes and perceptions Asian people are subjected to. TV and film at large portray Asians as less than desirable (it is also worth considering what deems something "desirable" in the first place, and who gets to decide that for the rest of us). You know the stereotypes, and maybe you've accepted them. They are shown as "the nerd who will fix your tech issues but can't get a date," "the submissive, docile service worker," or "the sexless sidekick."
Enter Yin Q (real name: Yin Quan), a New York-based professional dominatrix, educator, human rights activist and writer, whose new show, a BDSM comedic drama entitled Mercy Mistress, aims to shatter all of the above dehumanizing images and destigmatize kink by showcasing the sexuality of queer Asian-Americans in a truthful, sexy, nuanced, and humorous light.
Mercy Mistress is based on a memoir by Yin Q, and the series pilot has already been shown in major theaters throughout New York, Los Angeles, and Chicago. The show follows the character Mistress Yin, played by Poppy Liu, a queer first generation Chinese-American professional and lifestyle dominatrix living in New York City. It is directed by Amanda Madden, and was produced by Collective Sex, an intersectional storytelling and production company, after raising a team crowdfunded $77,000. Working with a team made up of primarily women, femmes and gender non-conforming people ensures that the stories of Mistress Yin and her cohort are told with depth, accuracy, and care.
Watch a teaser trailer for the show, below, and read on as Yin Q chats with PAPER about the challenges of depicting kink on-screen, consent, warmer portrayals of masculinity, and more.

How did you know that you wanted to turn your Mercy Mistress memoir into a series that people could actually see?
While I was writing the memoirs, I came up against this creative non-fiction problem that many memoirists come up against in terms of telling other people's stories from your perspective, without doing a disservice to those people in ways that don't emotionally feel good for people telling that story. I wanted to tell the stories of people that I have interacted with. I wanted to go deeper and explore how kink has changed them while also exploring what I have witnessed from kink changing them. It was transformative for me to write about this also, as a kink practitioner with clients who struggle with shame, with clients who wanted to come out to their partner, and then finally did through therapy and seeing me. They are not all happily-ever-after stories, for sure, but for the most part, I feel like the kind of work I see with pro-doms and a lot of sex workers provide to their clients goes beyond sessions: it goes into wellness, acceptance of sexuality, accepting their identity within each of their chosen lifestyles. I wanted to tell those stories in a way that felt true, but then I needed the fictional license to do so, but still come from an authentic space. Having the ability to go into script form gave me the opportunity to speak dialogue from their voices. It was great to give those people a voice, especially if they are people who wouldn't necessarily tell their own stories for various reasons.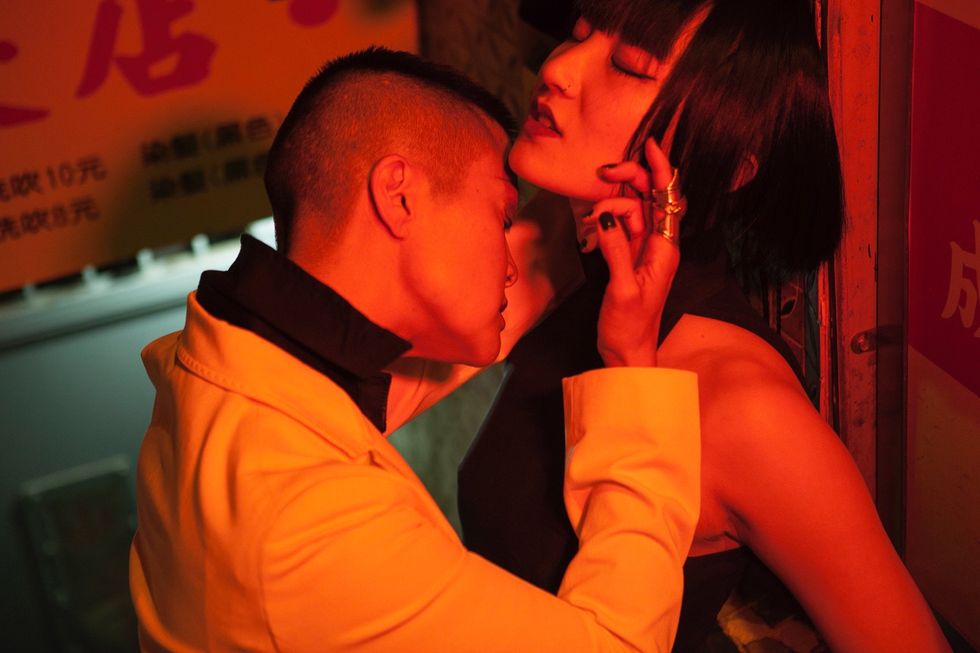 With all of that in mind, what do you feel was the biggest challenge of depicting kink on screen?
To go actually go beyond the layer of sensationalism. We're up against a challenge already of what pops into the person's mind who does not have experience within kink, whether it's the gimp character from Pulp Fiction, which shows non-consensual rape scenes to ideas within Fifty Shades of Grey, which is incredibly one shade of skin color, which makes it a problem for anyone outside of that box to relate to, or be able to own any part of that sexuality. So I'm coming up against that and these paradoxes of power and agency within sex work. When we think of female dominance, we see ideas of fashion come up, which, while beautiful and fetishized, are also the same things that, in some ways, cripple the dominance of a body, such as a high heel, which is powerful and sexy, but I want to show the many paradoxes to why it's beautiful: why we would wear it, why it is gorgeous. I also want to show the real problems of doing real bondage while you're wearing heels. I want to show the many layers, and I think that's a challenge to show on-screen and on-script : figuring out how to make it accessible for people who are curious or may not even have interest in exploring it. However, I have gotten some feedback from some people who are not part of the world and have watched the show who said "thank you so much for making it so understandable in the first pilot." I've been toying with the question of how much do I teach and how much do I explain as a writer, or is it safe to assume that the audience already is in the scene and knows what's going on.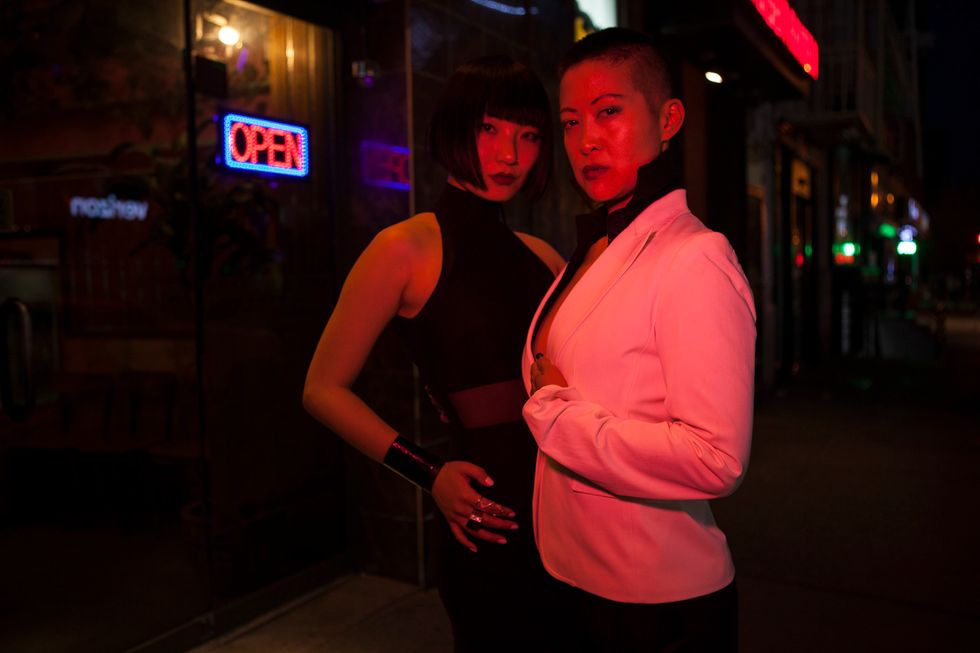 Projects like these are so revolutionary for how they de-stigmatize marginal perspectives and communities by showing a fuller truth. How do you feel that Mercy Mistress can help discussions about BDSM sexuality move beyond potential stigmas or even ideas of criminality?
I think we have to give a face to the people who are against sex workers, because they have an idea of who that is or might have this idea that this person is a victim of circumstance and should be saved in different ways. So many people still carry the idea that we should save the prostitute which is very second-wave feminism. I think that by giving these stories a face and a human story, and showing agency, that's how empowerment works. Also through narrative, people can understand that there are different sides to being a legitimate adult consensual sex worker that aren't tragic. Cultural change needs to happen before policy change, and we have seen that in the LGBTQ community. Before gay marriage was passed, we had to have people talk about it and celebrities come out; we needed to have shows about it, funny shows about it. We needed to have Queer Eye and Will and Grace. We had to have those kinds of shows to show the masses so that they could accept and understand. And I'm not saying that every kink person needs to come out of the closet, so to speak; I'm saying that for myself, because I would like to do that and champion it forward, as a way to make it safer for people to do so if they please.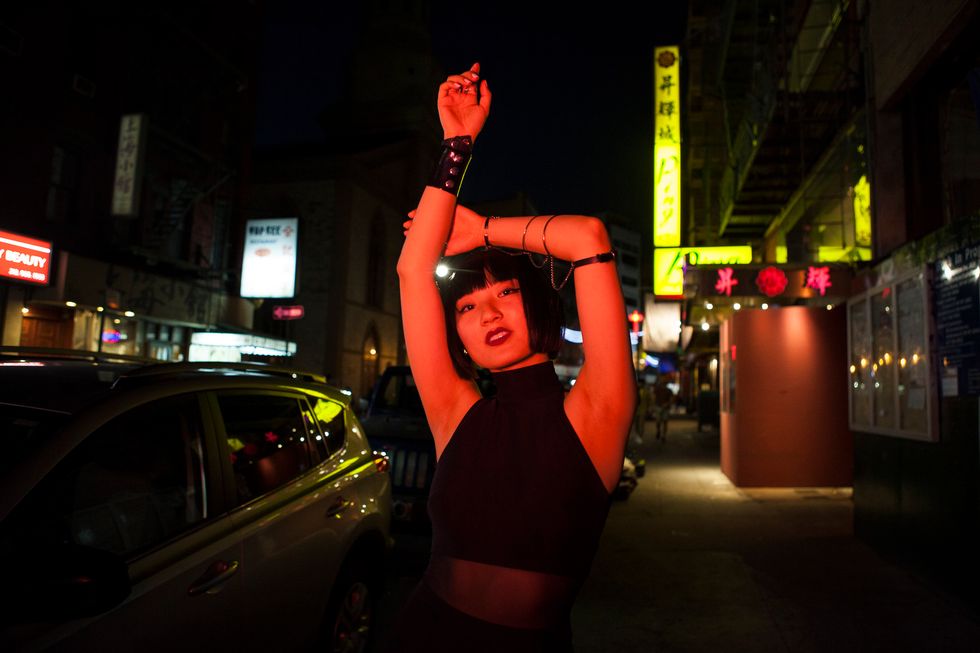 Who is this for?
When Fifty Shades came out, it did put the discussion of kink lifestyles and sexuality out to the atmosphere. Unfortunately, by telling that story by the same people, in the same form it then cuts so many of us out of the conversation to be able to relate. This series is for the kink community and for the sex workers. After a recent screening, during the Q&A part, a pro dom from Chicago said "thank you so much for your sex scene where the main character is in the classroom, and the teacher asks her what she does [for a living]" In that scene in the pilot, Mistress Yin has a really long pause after the question, and she kind of had to fumble around to decide what to say. She said that she does that all the time, and she always has to think about what she says and asks herself if she can be honest, is it safe to be honest. So, if you are a dom, or in the kink community, or a sex worker, and have to constantly consider these sorts of things, this show really is for you, so that you feel like your struggle is seen, that your own struggle is seen within society. This is for all the different shades of skin who struggle with words like "slave," that are within the kink dialogue that we use again and again, and people with darker skin come to it as the loaded word it is. They want to know how can someone can casually throw this word around in erotic play without discussion. And, well, maybe it's time to change that word to "submissive." It's important to understand how language can exclude people from communities they might find home in, especially if and when words that seem to be so playful are referencing the history of America's truth. This series is exploring those conversations, the ones that need to be had.
Related | The Black Dominatrix Who Gets Reparations From Her Clients
Are there any other stereotypes or ideas that you hope Mercy Mistress will help shatter?
I was just watching another video on Asian-American male masculinity. The male actor who plays Mistress Yin's love interest in the show is just so amazing as an actor, and in who he is as an activist. And a conversation that I had with him behind the scenes was about how so many hetero actors are being applauded to play gay scenes, whereas a famous gay actor had never been applauded for playing a straight scene. So having an Asian-American gay actor play a straight male who is wrestling with their shame, that's something behind-the-scenes that I would just like to see. But by upholding Asian-American masculinity in a loving way, like here is this guy who is a hip guy but in the end, he gets the girl. I feel like Asian-American men are either a tech-guy, the nerd, the guy that can get rid of your coding problem, but can't get a date. So not only upholding the woman, the femme, and their sexuality, but I want to uphold the men and their masculinity, because there are so many different shades of masculinity that can be sexy and not toxic. I not only want to build a better world for the girls but for the boys that they hang with.
Photos by Yana Toyber of Yin Q and the show's star Poppy Liu in NYC's Chinatown neighborhood.
Sign Up For The Morning PAPER
Nightlife
Story by Zach Shucklin / Photography by The Cobra Snake (Sponsored by Cuervo Tradicional Cristalino)
Nightlife
Photography by Ricardo Gomes / Interview by Nile Rodgers / Story by Patrik Sandberg / Styling by Eyob Yohannes / Hair by Andy LeCompte / Makeup by Wendi Miyake
Fashion
Creative direction by Jess Cuevas / Art direction by Sakura Bready / Photography by Drew Escriva