Never in my lifetime would I have imagined Anna Wintour or Miley Cyrus go down a New York City subway, but here we are, thanks to Tom Ford. The designer and CFDA chairman used an abandoned MTA subway platform on Broome Street as the setting for his Spring 2020 runway. His usual A-list crowd, including Ansel Elgort and Russell Westbrook, were all in attendance, after pre-gaming at Nom Wah Tea Parlor beforehand.
Real-life MTA workers were seen below the platform on the tracks in their official gear and vests. Chairs were lined up in single rows as tennis star Grigor Dimitrov sat next to Anna Wintour, while Cyrus, Elgort, and Westbrook all together nearby, as well as Japanese superstar Naoki Kobayashi.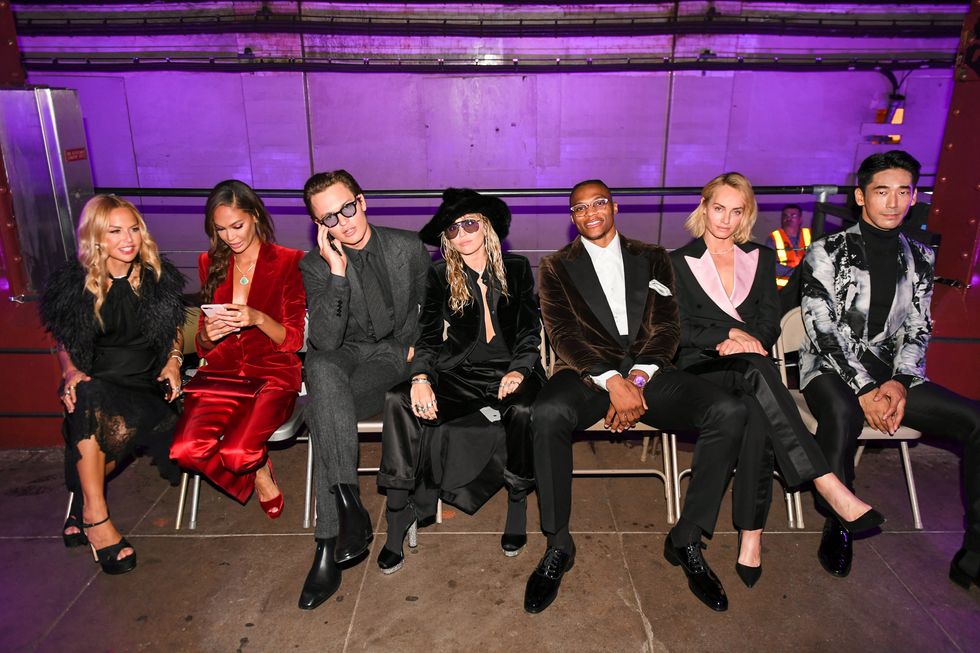 This was just not any typical subway stop, however. The whole platform was updated to resemble a true runway set complete with spotlights and portable AC. And as Fashionista notes, this is the same subway stop where Naomi Campbell's famous Valentino campaign took place where she was photographed in a train wearing a sequined couture look.

The peculiar venue the show came about after Ford saw an image of Andy Warhol and Edie Sedgwick coming out of a NYC manhole on the street in 1965. "Manhole, underground, subway," he said in a press release. "That was the thought process here. Subway. So completely New York."